Healthy, easy, and comforting, this simple winter cassoulet is a classic dish from the south of France easily adapted to dairy or gluten-free diets!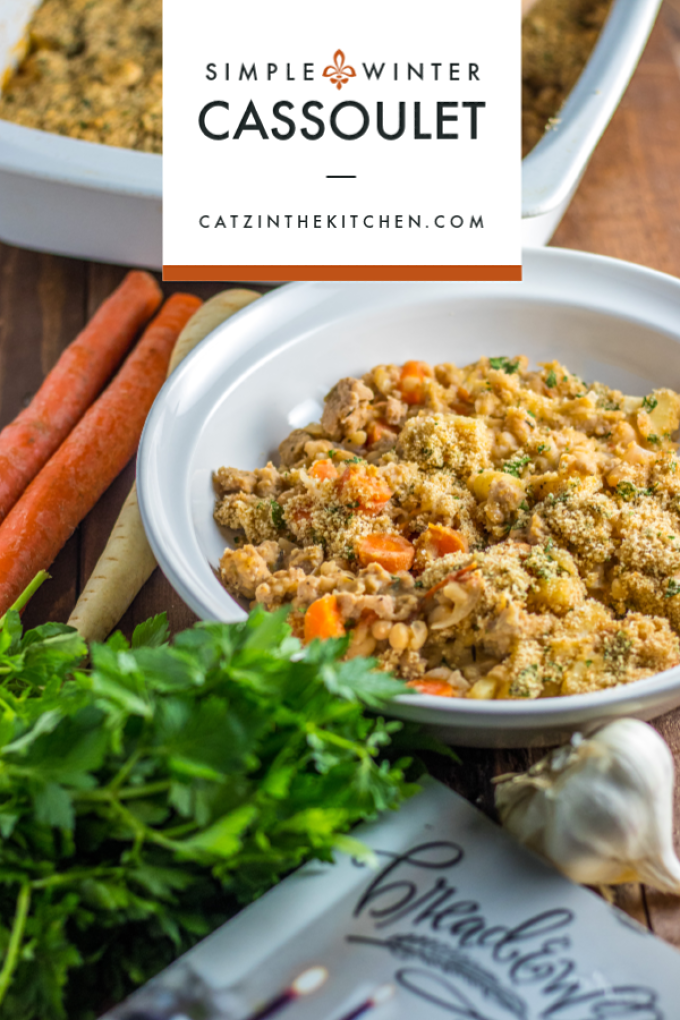 There are many reasons that France is one of the most popular tourist destinations in the world. With amazing landmarks, beautiful countryside, and amazing food, it's no wonder people flock to travel France.
I have yet to go, by the way – it's near the top of my bucket list of places to explore!
Since I'm unable to travel there in this particular season of life, I can at least enjoy a few things French here in the US of A, like French wine, French music, and…French food, of course! And I'm not talking French fries or French toast either, although those are dang tasty, too!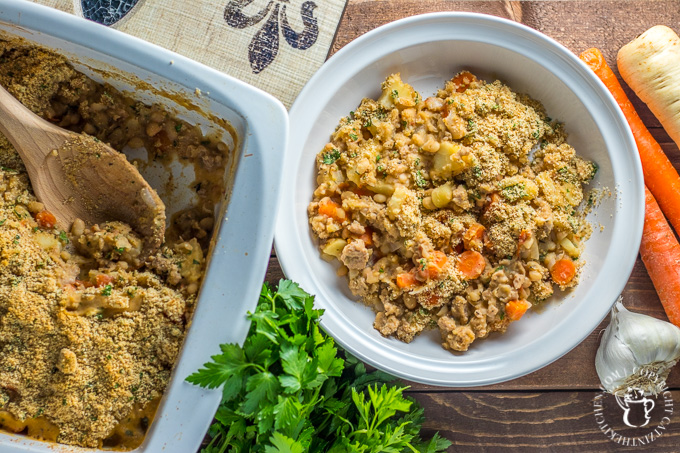 I'm talking about real French cooking. The kind that takes awhile to prepare so the flavors can really take on a life of their own. If you've made Bœuf Bourguignon then you know how good that is and you've tasted why it's necessary for it to cook as long as it does. I mean, it is a process – a meal saved for special occasions and seasons of life. I'll note that we've not made it since I was pregnant for that very reason. We just don't have all day to spend in the kitchen!
If you don't have time or are just not in the season for Bœuf Bourguignon, then perhaps you've got time for crêpes? They aren't nearly as time consuming, but just as amazing!
This is the thing I'm learning about French food, though, all the hype is totally legit because the food is really that good! Which leads me to why I'm sharing this recipe with you, a simple winter cassoulet. Cassoulet originated in the south of France and it is basically a slow-cooked meal made with white beans and some kind of meat.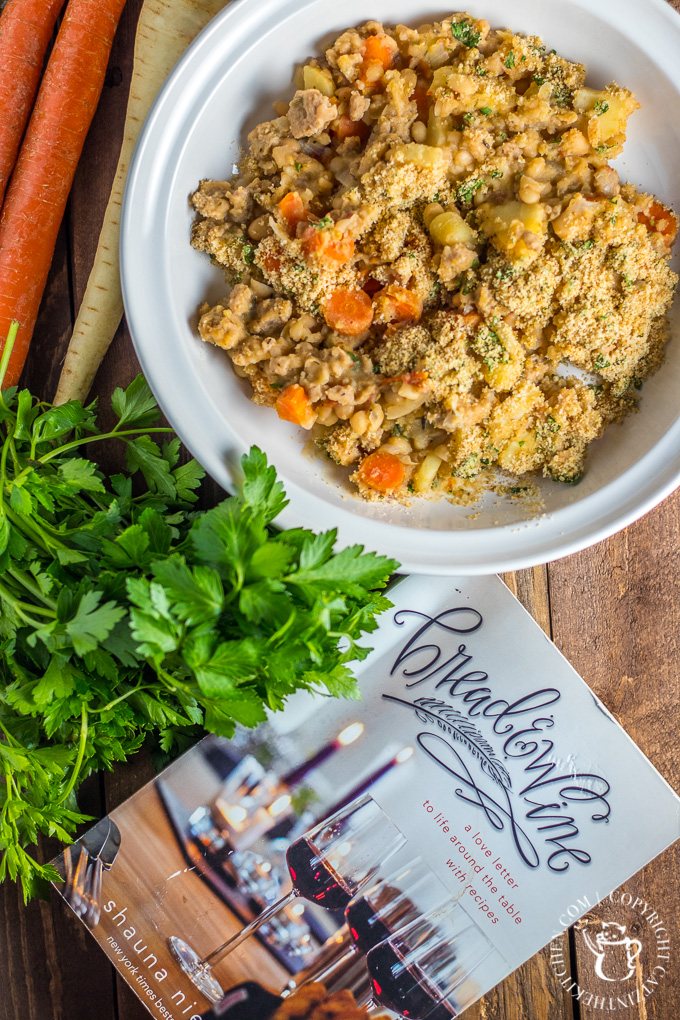 I came across this recipe reading the book Bread and Wine by Shauna Niequist which came highly recommended to me by more than one person. If you haven't read the book, you are in for a treat, because it's a book of really beautiful, honest stories from periods of Shauna's life that center around recipes – my kind of book!
Bread and Wine is an easy read. I read a chapter every night or so over a few weeks; the stories are beautifully laid out, raw, and revealing. Shauna hits a perfect mix of storytelling and recipe sharing that flow really well into each other – as a blogger I can tell you how hard that can be at times!
The only thing I didn't like about the book is that it had no pictures of any of the recipes! If you've read any of my other cookbook reviews then you know how I feel about it – I really like to see a picture of what I'm cooking.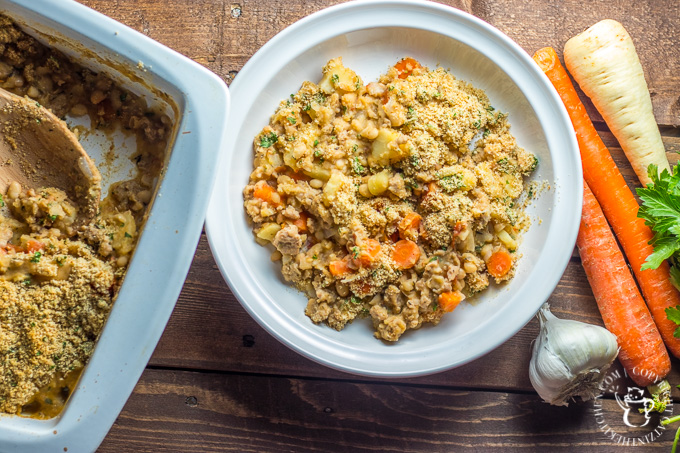 However, admittedly that hasn't stopped me from cooking from it. We've made the white chicken chili – which is even more amazing the next day as leftovers – and we made the breakfast quinoa one morning, too. My hint about that recipe if you make it from the book is to dice the onion instead of slicing it. Josh made breakfast that morning and the kids, while they like onions, did not like them sliced as much as diced.
Okay, about this French cassoulet. You should totally make this! It does cook for awhile, I'm not going to lie, but all the hard stuff happens in the beginning of the recipe and all the "cooking" happens when you can be doing life with your family. It's really only a hands on recipe for maybe the first 30 minutes, including chopping time.
The cassoulet cooks in a dutch oven (or pot) for awhile on the stove and then gets transferred to a casserole dish for the remainder of the time. And all of that wait is worth it, because it is really something!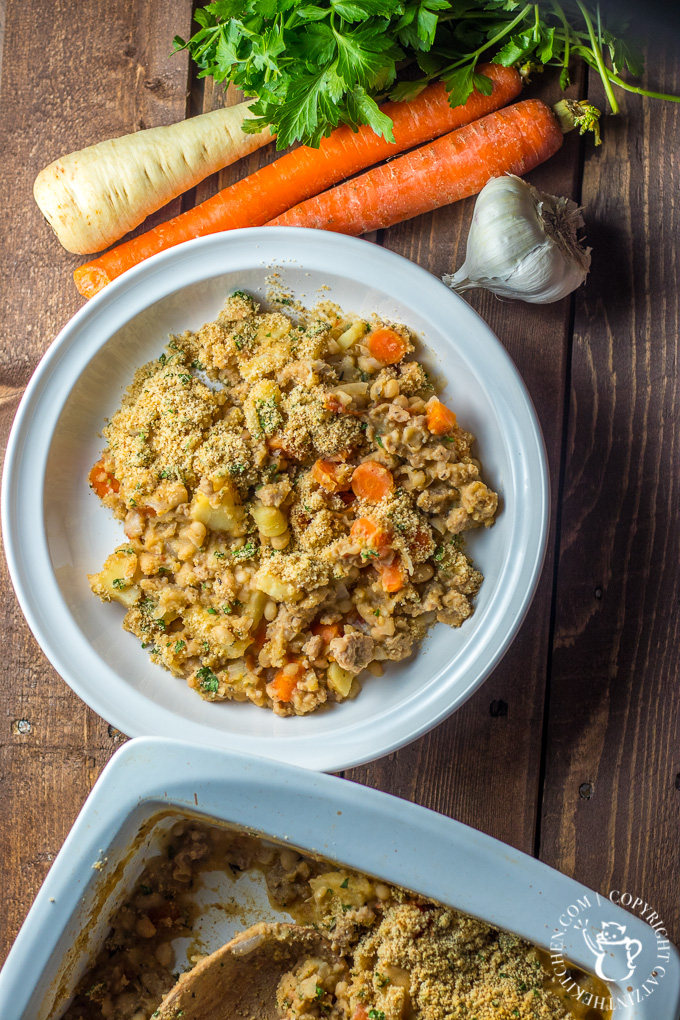 Even little one-year-old Ruby thought so – and she ate the leftovers for a few days afterwards. Basically, I'm saying this recipe made a lot of food and Ruby really liked it, which makes it perfect for babies or for entertaining!
I highly suggest you grab the book – it really is one of those books that you just may read again – and cook from it. Starting with this recipe right here, which also happens to be gluten-free (if you use gluten-free bread crumbs) and dairy-free. What I liked a lot about this meal was the amount of food it made – so I second everything Shauna says about this recipe being perfect for dinner parties, formal or informal gatherings, or like we did – a simple family dinner around the table (which is always the goal of this blog – inspiring you to bring your family back to the dinner table and talk about your day!).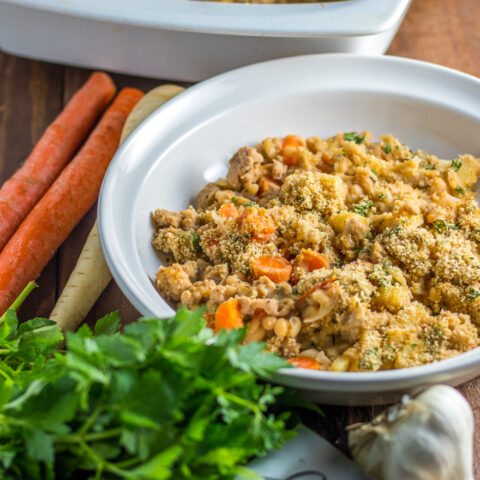 Simple Winter Cassoulet
Cook Time:
1 hour
20 minutes
Total Time:
1 hour
40 minutes
Healthy, easy, and comforting, this simple winter cassoulet is a classic dish from the south of France easily adapted to dairy or gluten-free diets!
Ingredients
1 tbsp olive oil
1 lb turkey Italian sausage, casing removed
1 1/2 cups chicken broth
1 onion, diced
3 carrots, diced
3 parsnips, diced
1 tomato, chopped
3 (15 oz) cans white beans (cannelloni beans), drained
5 sprigs fresh thyme or 1 tsp dried thyme
1/2 tsp salt - taste throughout the recipe, I ended up adding a bit more
1/8 tsp pepper
3 cloves garlic, minced
1 cup bread crumbs (use gluten free bread if needed and give it a whirl in the food processor to break it down)
1/4 cup fresh parsley, chopped
2 tbsp butter, melted (or oil if needed for dairy free)
Instructions
In a skillet, heat oil over medium heat. Cook the sausage until well browned, breaking it up with a wooden spoon. Remove and drain on paper towels; set aside.
In a dutch oven or stock pot on medium-low, combine the chicken broth, vegetables, beans, thyme, salt, pepper, and one-third of the garlic, and the sausage. Bring to a boil.
Reduce heat to low, cover and simmer stirring occasionally for about 1 hour, until thickened and the vegetables are tender.
Preheat oven to 400 degrees. Pour cassoulet into an ovenproof 9x13 baking dish. In a bowl, combine the breadcrumbs, parsley, butter, and remaining garlic. Spread evenly over the cassoulet and place in the oven, baking uncovered for 10-15 minutes, until the crust is golden brown.
To Make Ahead and Freeze
Prepare without bread crumb topping. Cover and freeze up to 4 months. When ready to cook, uncover the cassoulet, sprinkle with the bread crumb mixture, and bake, unthawed, 45 minutes to 1 hour at 400 degrees.
Nutrition Information:
Yield:

8
Serving Size:

1
Amount Per Serving:
Calories:

411
Total Fat:

14g
Saturated Fat:

4g
Trans Fat:

0g
Unsaturated Fat:

8g
Cholesterol:

61mg
Sodium:

857mg
Carbohydrates:

46g
Fiber:

9g
Sugar:

5g
Protein:

26g