What happens when you cross queso dip and classic mac & cheese (with a little kielbasa for good measure)? You get queso mac and cheese!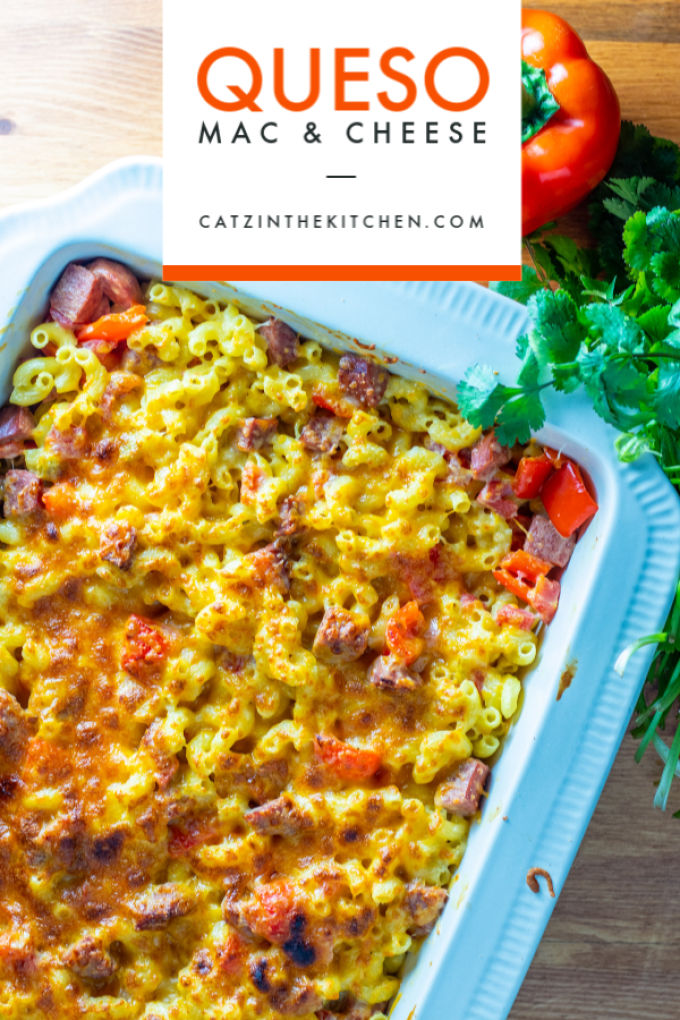 Back in December while we were having dinner one night, I asked Josh and the kids what they wanted to eat more of. Josh said seafood and Christian and Eden said macaroni and cheese, while Grace said cheesecake.
All very different opinions, haha! That's what you get when you have six people in your family. I, of course am happy to try all of these things, and then I got an idea. What if I made one new macaroni and cheese recipe a month…?! That would make 12 different Mac and Cheeses for a whole year. The kids of course, loved that idea and even Josh was on board.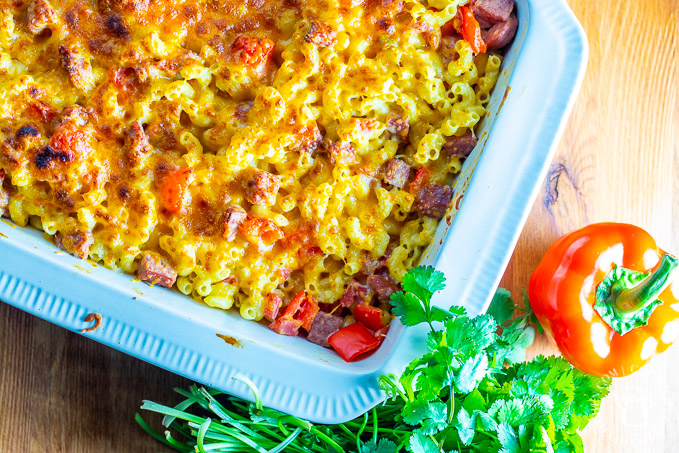 For January, we made this ques0 mac and cheese and it is so simple! I'm going to warn you though, this recipe uses processed cheese, known by the name of Velveeta. I don't know a whole lot about queso, but I do know that it almost always has Velveeta cheese in it, so if that is a problem for you, you may not want to read or make this recipe. But if you can get over that (and you probably should), it's amazing.
This week, I was thinking this would make a great side or meal to serve at a Super Bowl Party. I don't watch the Super Bowl, so I honestly have no idea what people actually eat during the game, but I imagine it's crazy good food that isn't all too concerned with being healthy. That's okay – everything in moderation right? And, frankly, the only reason I've ever been tempted to start watching the big game is for the food! But that's okay – I'll save my game day treats for the World Series.
I was a bit unsure how the kids would like this recipe. I mean, I didn't exactly ask them about it. All they hear is mac and cheese and forget the rest of the details. But this pasta does have a bit of a bite to it due to the Rotel (another queso ingredient), and if you don't know what Rotel is, it's basically a can of diced tomatoes with chiles in it, so it does pack a little heat. But the cheese does temper the heat a bit.
However, the kids LOVED it! They definitely felt the mild heat, but they said it wasn't so hot or spicy that they couldn't eat it – which I guess means it's kid-approved! I did keep a pitcher of water on the table, though, just in case – which, now that I think about it, serving something a little more medium in heat than they're used to is a great way to get them to drink more water! How's that for a mom trick/tip?!
If your kids are big fans of Mac and cheese or maybe you guys love a good queso dip – give this recipe a try one night. It's a pretty speedy dinner to make and tastes so creamy and zesty!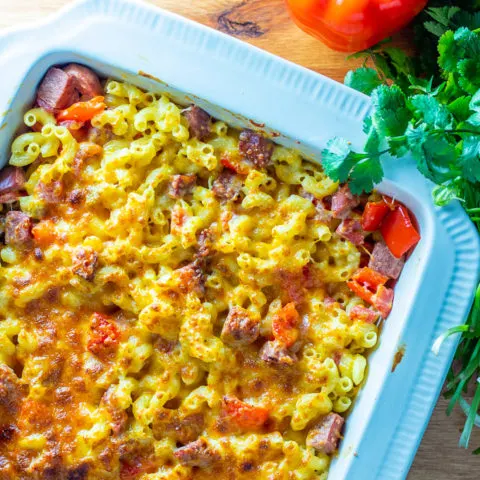 Queso Mac and Cheese
What happens when you cross queso dip and classic mac & cheese (with a little kielbasa for good measure)? You get queso mac and cheese!
Ingredients
1 lb. elbow pasta
13 oz. Hillshire Farm Turkey Polska Kielbasa, sliced and quartered
2 tbsp all-purpose flour
1 1/4 tsp chili powder
1/2 tsp ground cumin
1 1/2 tsp salt
2 cups whole milk
6 ounces Velveeta cheese, cubed
3 large eggs, lightly beaten
2/3 cup sour cream
1 red bell pepper, seeded and chopped
2 cups shredded Mexican cheese blend
Instructions
Bring a large pot of salted water to boil. Add the pasta and cook according to the box's directions. Drain, then transfer to a 9x13 baking dish.
In a medium saucepan over medium-high heat, cook the sausage until browned, about 5 minutes. Add the flour, chili powder, cumin, and salt stirring until combined, about 1-2 minutes. Slowly whisk in the milk, scraping up any bits. Add the processed cheese and whisk until smooth, 3-5 minutes. Remove the pan from the heat and carefully stream in the eggs while whisking. Return the pan to the burner over medium-low heat and whisk until thickened, 2-4 minutes. Whisk in the sour cream, tomatoes, and bell pepper.
Turn the broiler on. Pour the cheese sauce over the pasta and stir to combine. Sprinkle with shredded cheese and broil until melted and bubbling, 2-3 minutes. Serve with a salad.
Notes
If you want more heat, feel free to add tabasco sauce or even switch out the cheese to a pepper jack cheese. Still want more heat, use hot turkey sausage links instead of the kielbasa.
Recipe adapted from Food Network Magazine.
Nutrition Information:
Yield:

8
Serving Size:

1
Amount Per Serving:
Calories:

624
Total Fat:

38g
Saturated Fat:

17g
Trans Fat:

0g
Unsaturated Fat:

16g
Cholesterol:

214mg
Sodium:

1686mg
Carbohydrates:

32g
Fiber:

2g
Sugar:

9g
Protein:

38g