Got yourself some leftover cranberries, stuffing, and turkey? Wrap those Thanksgiving leftovers in a blanket and call it a meal!
I'll admit, I thought we had more recipes for Thanksgiving leftovers on the blog than we actually do. Chels and I were discussing it earlier this week, and I said I thought there were at least nine or ten, while she insisted there were only three! Turns out there are kind of four, so I suppose I could claim one of those "we were both wrong" moral victories here, but the reality is that…she was right. So consider this post a step in the direction of rectifying the situation.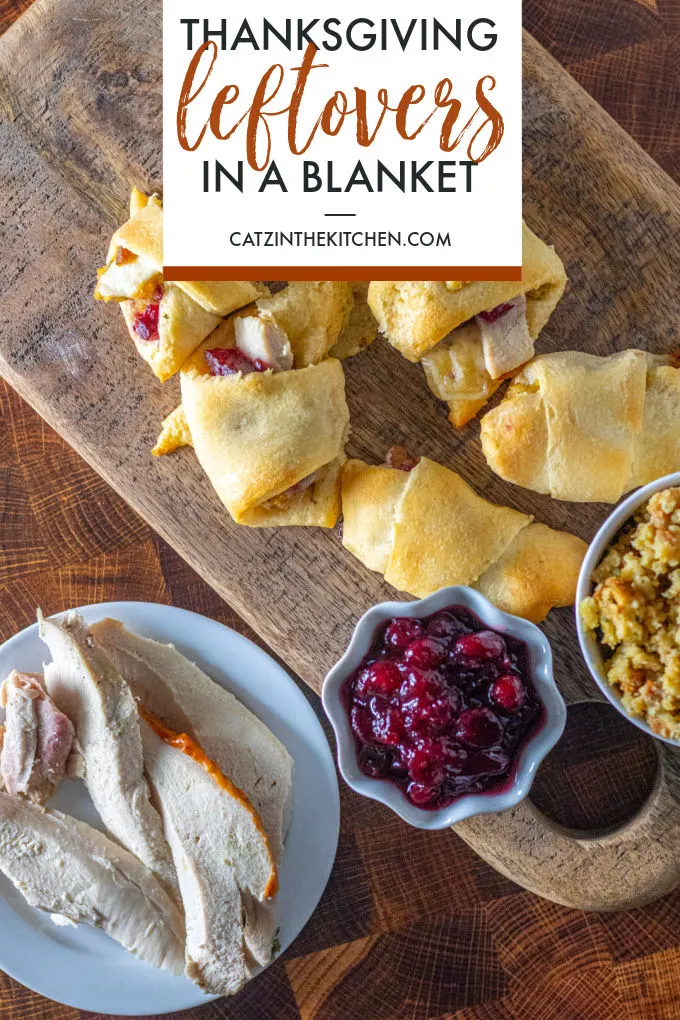 (The hard part about blogging Thanksgiving leftover recipes is that you have to do one of two things. Either you have to make your recipe with your actual Thanksgiving leftovers, photograph it, and then save the photos and post until the following year, or you have to make a Thanksgiving dinner ahead of time so that you have all of the ingredients.)
We love (like, love LOVE) our Thanksgiving Leftover Panini recipe, but we also recognize that not everyone has a panini maker at the ready (tsk, tsk). So…Chels got to thinking about what would be easier than throwing your typical Thanksgiving leftovers (e.g., turkey, cranberry sauce, stuffing) in between two slices of bread and grilling them, and she came up with this: take those same leftovers, add cheese, and wrap them in crescent roll dough. Given the proliferation of recipes available at this point, I have to imagine we're not the first ones to think of doing this, but maybe you're like us and the idea's new to you!
Simple, right? Right. I decided to complicate it a little. I've been on a multi-year puff pasty obsession of late, and so I countered with the idea of putting Thanksgiving leftovers into little puff pasty hand-pies or turnovers (or empanadas…Thanksgiving empanadas…hmmmmmm), and baking those up.
We tried both ideas. Hers was better.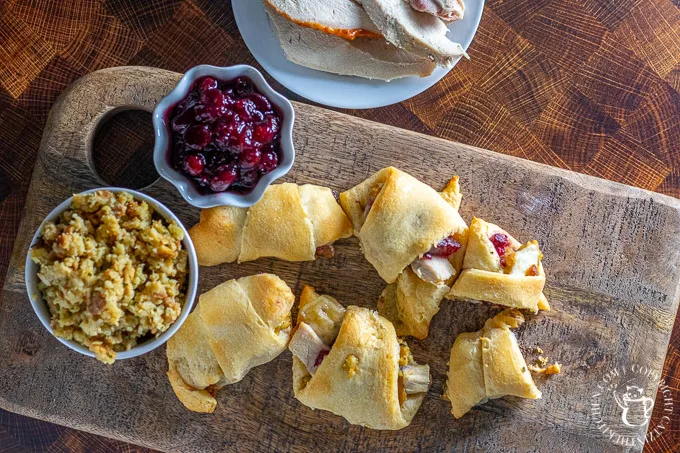 The hand-pie / turnover / empanada idea is fine. They taste very good, although the filling stays at the approximate temperature of Vesuvius for what feels like days on end, so you might need to step out into the snow and eat them there. They take a lot longer to make (thaw the puff pasty, roll it out a bit, cut it to shape, seal it, hit it up with the egg wash, etc), and I struggled a bit with getting the pastry size to filling ratio right.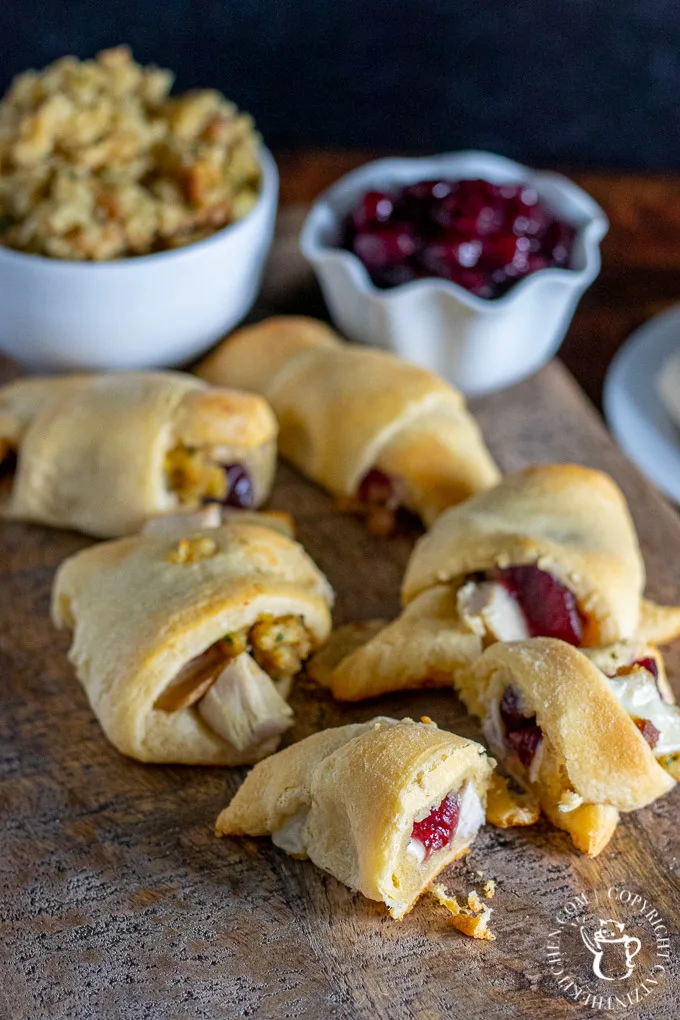 At the end of the day, you can definitely whip yourself up some Thanksgiving leftover empanadas if you so desire, but the easy, fool-proof way to go is crescent roll dough. Pop open that can, lay those triangles out, load them up, roll them up, and pop them in the oven. 10-15 minutes later you'll have slightly messy but delicious little rolls that straddle the fence between appetizers / snacks and a proper casual meal. Enjoy!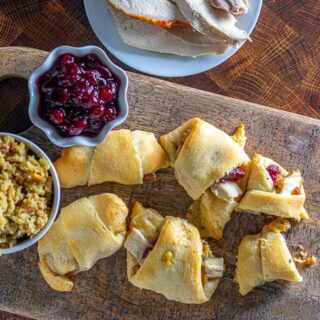 Thanksgiving Leftovers in a Blanket
Got yourself some leftover cranberries, stuffing, and turkey? Wrap those Thanksgiving leftovers in a blanket and call it a meal!
Ingredients
1 can crescent roll dough
approx 1 cup chopped turkey
approx 1/2 cup cranberry sauce
approx 1 cup prepared stuffing
approx 2 slices Swiss cheese (or other mild, white cheese, such as provolone)
Instructions
Preheat oven according to directions on can of crescent roll dough
Open can of dough and lay out precut triangles on a work surface
On wide end of each dough triangle, place a bit of turkey, about a tbsp of cranberry sauce, a bit of stuffing, and a 1/4 slice of cheese
Roll up dough triangles around the filling and place on a baking sheet covered in baking parchment or a silpat
Bake for 10-15 minutes, or until dough has risen and is beginning to brown
Serve immediately (filling may be hot!)
Nutrition Information:
Yield:

8
Serving Size:

1
Amount Per Serving:
Calories:

364
Total Fat:

19g
Saturated Fat:

8g
Trans Fat:

1g
Unsaturated Fat:

9g
Cholesterol:

41mg
Sodium:

384mg
Carbohydrates:

38g
Fiber:

2g
Sugar:

9g
Protein:

10g
Nutrition information isn't always accurate.