Forget the canned stuff and whip up a flavorful, homemade spiced cranberry sauce with pecans and raisins this Thanksgiving – in about 15 minutes!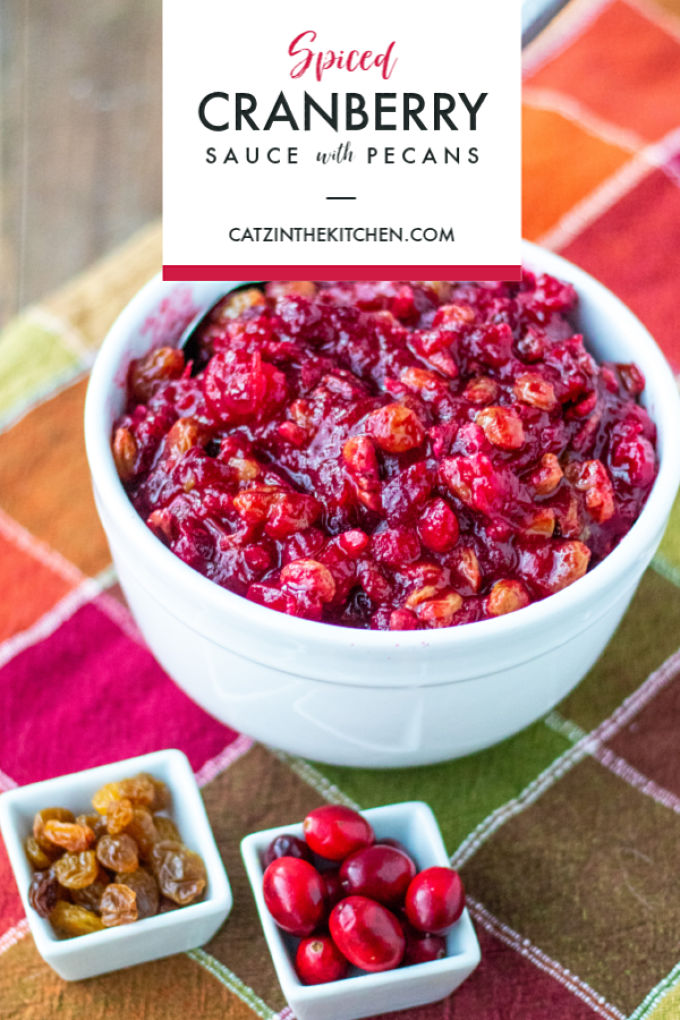 I'm not going to lie, I actually don't hate or even dislike canned cranberry sauce. I know, shocking, right? I think it gets a bad rap, and I kind of like it. Whether it's the jelly molded kind or a more traditional variety, I think it can be used as an excellent vehicle for other recipes.
For example, I used canned cranberry sauce in these chicken cordon bleu burgers, and it's good – a really fun fall and winter burger recipe.
However, we're not talking about burgers. We are talking about Thanksgiving. I think one of the reasons I like cranberry sauce, be it canned or homemade, is that it tastes…fresh. Something about how because it's not warmed up it adds that cooling factor to your plate…plus it's really really good mixed into your mashed potatoes, your turkey, your stuffing…I mean I don't think cranberry sauce can do anything wrong at Thanksgiving.
Or really any other time of the year.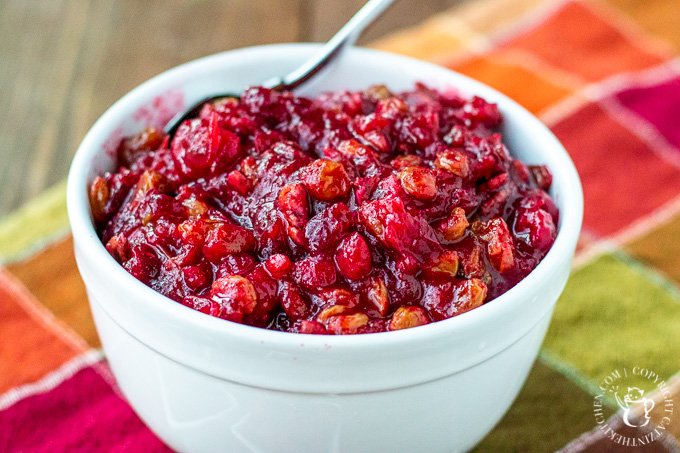 Have you noticed that cranberry sauce is the one thing that generally brightens up your thanksgiving plate, too? Most of the traditional thanksgiving dishes are pretty one-note in color, but if there is a green salad, sweet potatoes, or cranberry sauce, they make everything pale in comparison.
Did you know this is my first cranberry sauce recipe on the blog? Actually…I take that back. About nine years ago, I made another cranberry sauce recipe – I can't remember where I got the recipe, but I did post it to the blog along with some dreadfully awful pictures. But I have since deleted that post – shh, don't tell Josh. He gets annoyed when I do that. But really, guys, I'm doing you a favor because it was one of those posts I made the first year of the blog. I thought the flavor of the cranberry sauce was good, but I didn't like the consistency. Another reason why the recipe is gone. I only want recipes on the blog that I truly stand behind. Quality over quantity if you get my drift.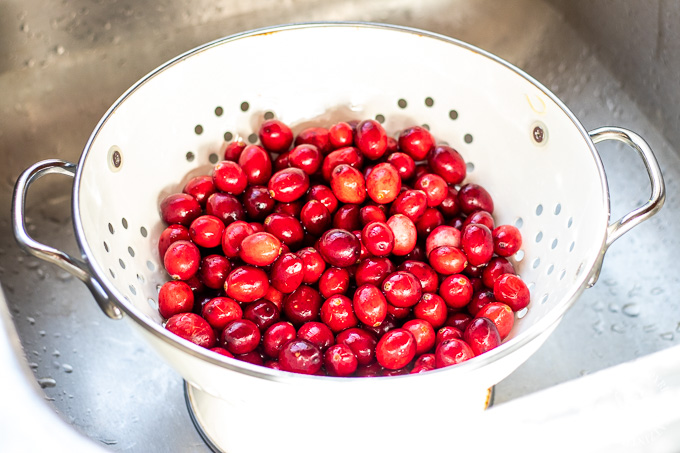 Today, I am bringing you a cranberry sauce that I completely stand behind. I love the flavor and I love the consistency of it and this sauce has one other thing the first one didn't.
Texture.
Oh, yeah, this isn't just some cranberries that have been boiled down in a simple syrup. No, this recipe has pecans and golden raisins.
Now, I know what you're thinking, but, Chels…you HATE raisins with every fiber of your being. And that is true. I do. But, there is something about golden raisins I can deal with. I'm not sure what that would be, but they just don't bother me as much as regular old raisins. Actually, I'm thinking it's the color. Because raisins are just like dried blueberries or cranberries – the only difference besides what kind of plant they come from is the color. The texture is the same.
Don't get too excited, though. If you serve me an oatmeal golden raisin cookie, I'll probably still turn it down.
Raisins do not belong in cookies. Fruit doesn't belong in yogurt. And nuts don't belong in ice cream (unless it's pistachio ice cream…).
Raisins (golden raisins!) and pecans do, however, belong in cranberries (apparently).
The only other things needed for this recipe are some juice, a little sugar, and a few spices and you've got this one in the bag. Did I mention that this whole thing takes like 15 minutes from start to finish? It does. And then it goes into the fridge until it's time to enjoy it.
As simple as that you have one flavorful, easy, homemade cranberry sauce full of texture – delicious texture that literally took you 15 minutes to prepare, freeing up your time for other Thanksgiving things.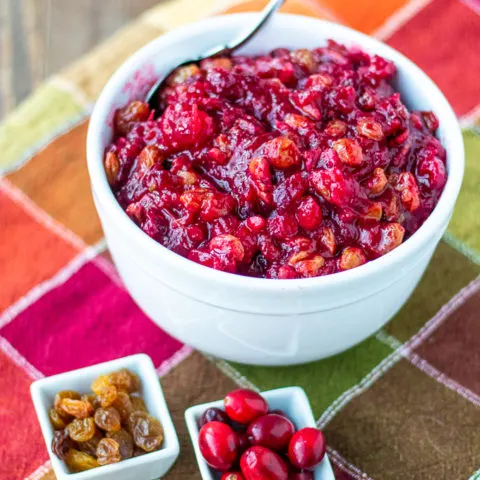 Spiced Cranberry Sauce with Pecans
Total Time:
2 hours
15 minutes
Forget the canned stuff and whip up a flavorful, homemade spiced cranberry sauce with pecans and raisins this Thanksgiving - in about 15 minutes!
Ingredients
3/4 cup apple cider (apple juice or orange juice will work)
1/2 cup sugar
1/4 tsp ground cinnamon
1/4 tsp ground nutmeg
1/8 tsp ground cloves
1 12-oz package (3 cups) fresh cranberries
1/2 cup golden raisins
1/2 cup chopped pecans
Instructions
In a medium saucepan combine apple cider, sugar, cinnamon, nutmeg, and cloves. Cook and stir oven medium heat until sugar is dissolved, about 5 minutes. Add the cranberries and raisins. Bring to a boil, then reduce heat. Cook and stir for 3-4 minutes or until cranberries pop. Remove from heat. Stir in pecans.
Cover and chill for at least 2 hours before serving.
Can be made in advance
Chill leftovers and use within 2 days.
Nutrition Information:
Yield:

10
Serving Size:

1
Amount Per Serving:
Calories:

149
Total Fat:

4g
Saturated Fat:

0g
Trans Fat:

0g
Unsaturated Fat:

3g
Cholesterol:

0mg
Sodium:

18mg
Carbohydrates:

29g
Fiber:

2g
Sugar:

23g
Protein:

1g