We basically think these goat cheese mashed potatoes are manna from heaven. They're an amazing side for any holiday, and you can make them ahead of time!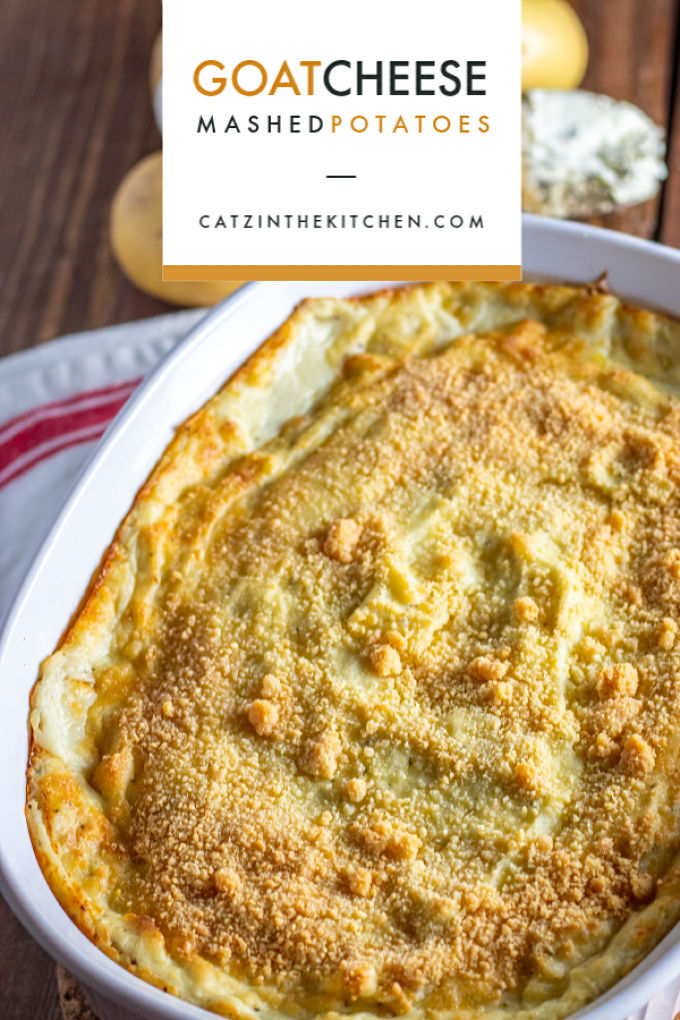 My goal this holiday season is to provide you with some delicious and easy recipes that you can whip out for any holiday dinner or even family dinner. I mean, who said goat cheese mashed potatoes is only for the holidays? I know I didn't!
And yes, you did hear me right, I did say, "Goat cheese mashed potatoes" and they are heaven. I'm not joking. Basically potato manna from the sky!
I went to reheat these potatoes the other day for a little lunch and discovered that Grace had already beat me to the punch. Between her and the other three kiddos, the potatoes were gone and from what she said, they reheated beautifully!
That's always nice to know, but pretty much a given with most potato dishes, I think. Speaking of potatoes, I have yet to meet a potato I haven't liked…or for that matter a cheese I haven't liked. Which is why this recipe is perfect for any cheese or potato lover. Or a hobbit!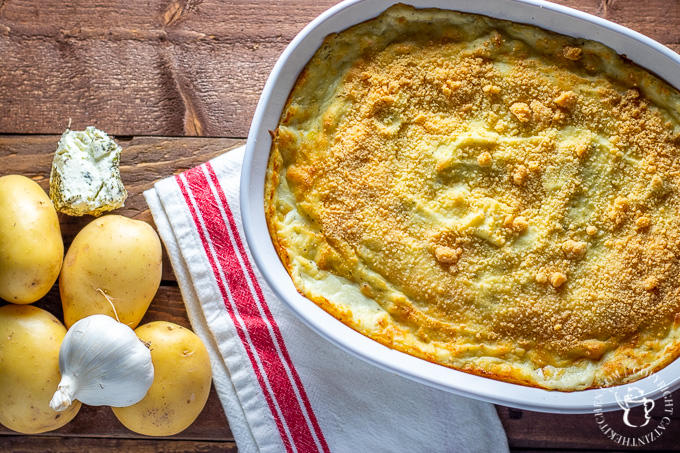 Have I lost you? I always think of the that scene in Lord of the Rings (I think it's in the Two Towers) where Sam is trying to explain to Sméagol what a potato is and all the things you can do with it.
Sméagol: "What's taters, precious?"
Sam: "Po-tay-toes! Boil em, mash em, stick em in a stew. Lovely big golden chips with a nice piece of fried fish."
Sounds good to me! I'll take all of the above!
Now I will tell you that this particular recipe is not…the healthiest. But it's the holidays and I don't know, I just don't concern myself too much with what I can and cannot eat. I've said it a million times – it is all about moderation. You can have sides like these goat cheese mashed potatoes but maybe have a smaller helping. That's pretty much my motto during Thanksgiving, too. I'll load my plate full, but I'll make sure that if serving a salad it is the biggest helping on the plate, but I will have smaller helpings of everything else.
I don't believe in depriving yourself and neither should you. Food is meant to be enjoyed and you will definitely enjoy this side dish. I mean, how could you not with golden potatoes mashed with garlic, herbed goat cheese, and sour cream. Oh! I can't forget about the parmesan. There's parmesan in here, too! All the best things in life include parmesan.
Potato manna from heaven, I tell ya!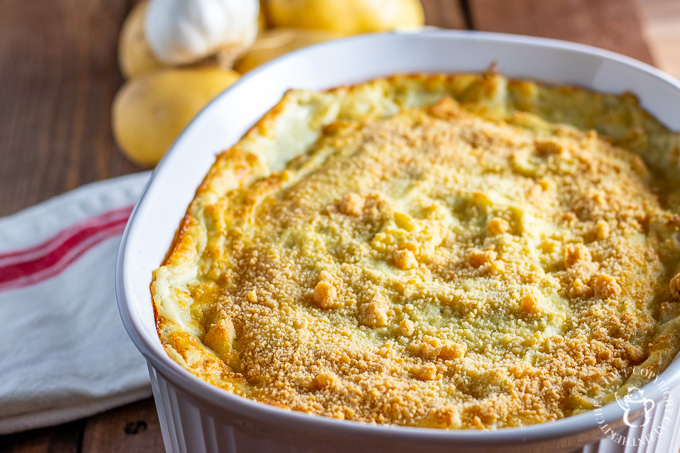 This particular side dish makes about 6-8 servings of potatoes and you can totally make this ahead of time…up to three days in advance! Which if you're hosting Christmas or Easter or Thanksgiving…any one of those holidays, this will be a time saver for you.
I'm all about saving time.
If you're looking for something a little more "dressed up" than Grace's rustic mashed potatoes, then you've got to try these out. I promise you will love them and probably crave them. Maybe even dream about them…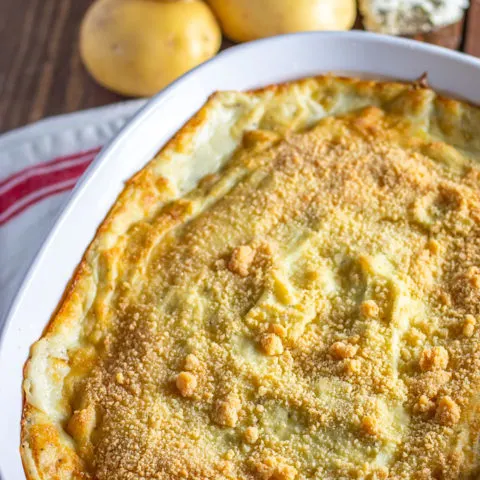 Goat Cheese Mashed Potatoes
Total Time:
1 hour
15 minutes
We basically think these goat cheese mashed potatoes are manna from heaven. They're an amazing side for any holiday, and you can make them ahead of time!
Ingredients
3 lbs. large Yukon gold potatoes, peeled and cut int0 3/4 inch chunks
5 large cloves of garlic, minced or grated
Kosher salt and freshly ground pepper
7-8 ounces of herbed goat cheese, at room temperature
4 tbsp unsalted butter, at room tempertaure
1 1/2 cups sour cream ( I used low-fat)
1/2 cup half and half (milk works too)
1/2 cup grated parmesan cheese
Instructions
Preheat oven to 375 degrees. Place potatoes and one tbsp of salt in a large pot with enough water to cover the potatoes. Bring to a boil over high heat, reduce to a simmer and cook for 20-25 minutes, until very tender. Drain the potatoes.
Using a potato masher or a Kitchenaid mixer with the paddle attachment mash the potatoes with garlic, goat cheese, butter, sour cream, half and half, 3-4 tsp salt and 2 tsp pepper until smooth.
Pour the potato mixture into a 9x12x2 oval baking dish, spreading the top evenly. Sprinkle the parmesan cheese on top and bake 30-40 minutes, until lightly browned. Serve hot.
Nutrition Information:
Yield:

8
Serving Size:

1
Amount Per Serving:
Calories:

353
Total Fat:

19g
Saturated Fat:

11g
Trans Fat:

0g
Unsaturated Fat:

6g
Cholesterol:

53mg
Sodium:

210mg
Carbohydrates:

41g
Fiber:

4g
Sugar:

4g
Protein:

8g