This easy recipe for freezer friendly breakfast burritos is a great grab-and-go meal, or a make-ahead breakfast for trips and tailgates!
Well, it's been a bit since I've had the opportunity to sit down and write a blog post. As a matter of fact, it's been over two months! The last one was that Ultimate Guinness Slider recipe I shared for St Patrick's Day – yikes! I've got a backlog of DIY posts to write, not to mention a number of recipes to share – just have to find the time (as per usual)…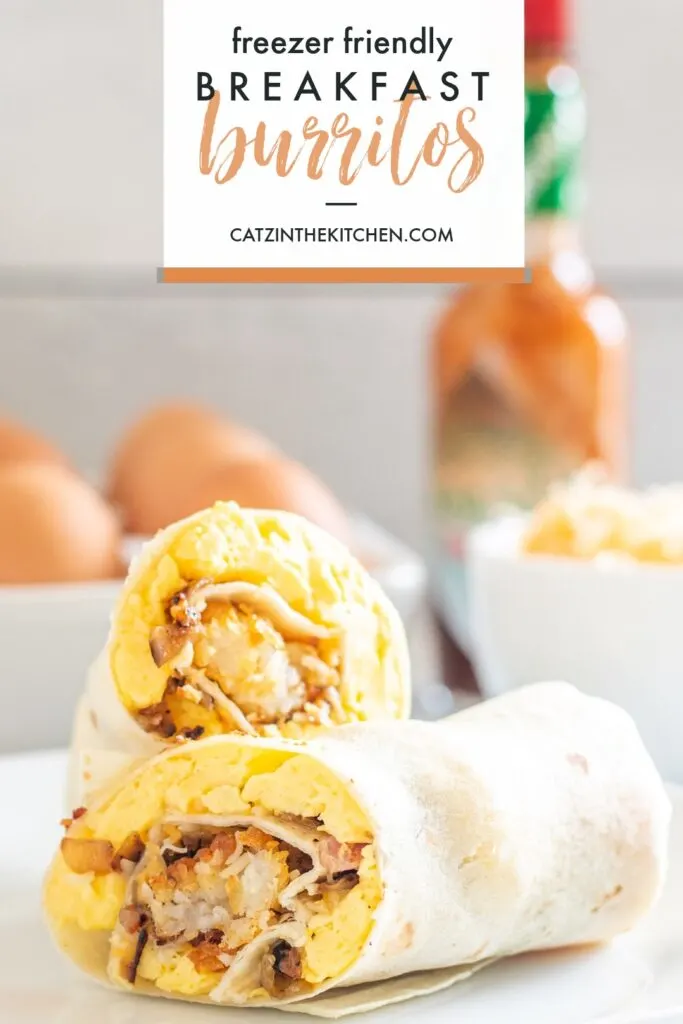 Let's talk breakfast. Breakfast is, always has been, and probably always will be, my favorite meal of the day. I love eggs (just, like, in general), waffles, pancakes, biscuits, crêpes, avocados, coffee cake, quiche, croissants…you get the picture. I think it's even better than dessert, personally (*gasp*).
Okay, but more specifically, let's talk breakfast burritos. I have always loved breakfast burritos. I think my dad used to make them once in awhile when we were growing up, but for sure when I was in my teens, the guys and I would find random amazing places where they had crazy breakfast burritos. In fact, I remember when my best friend lived near the little country town Chels and I now call home, the (now closed) bowling alley was known for serving the most outrageously huge and delicious breakfast burritos…the bowling alley! Who knew?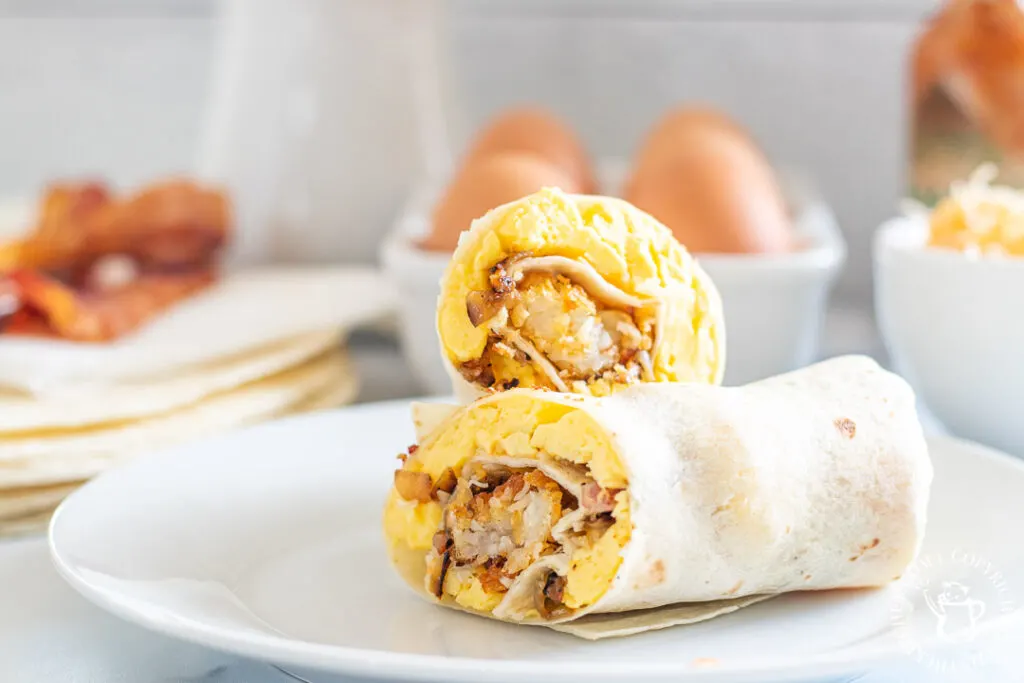 There's something about the fact that they are portable, stay hot for a long time, and can be filled with any variety of wonderful breakfast ingredients that just gives them a special place of honor in the breakfast pantheon.
I should back up for a moment, though, and set some context here. These breakfast burritos, while quite delectable in my humble opinion, are not some crazy, gigantic, open-wide kind of situation. These are the burritos I've been working on for years in an effort to create one that was reliable yummy, easy to put together, and, here's the key…freezer friendly.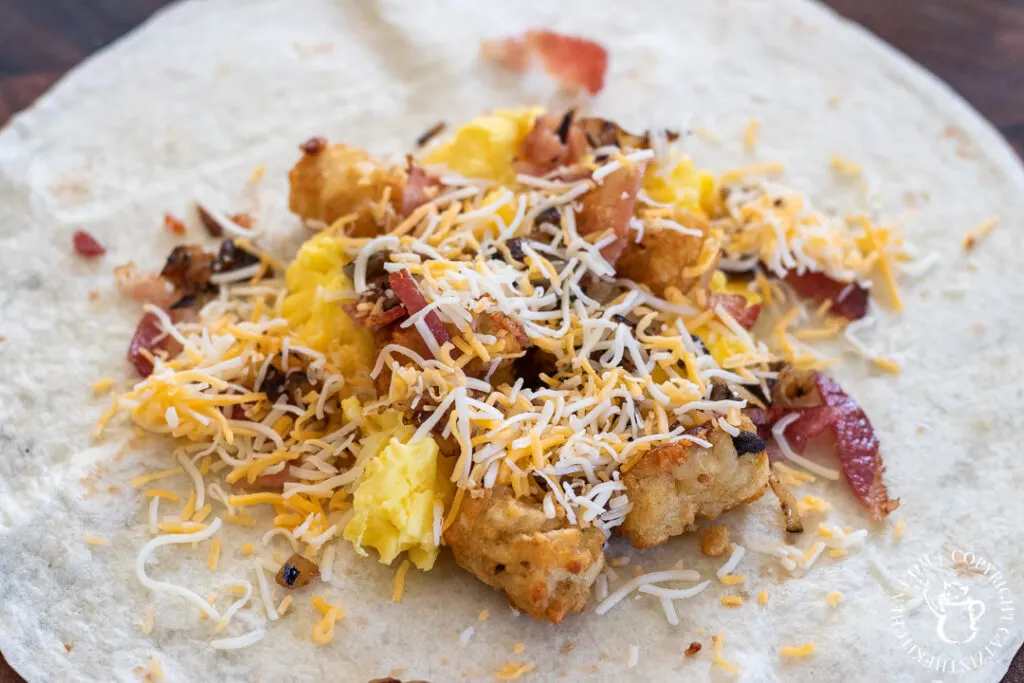 Why freezer friendly? It's simple – breakfast burritos are an amazing thing to have on hand in the freezer! Whether you're going on a trip where you'll need to be able to grab an early morning meal with little to no prep, you're hitting a pregame party on a tailgate somewhere, or you just want to have something on hand for those mornings when you don't know what to make…having these tasty fellas wrapped in foil and ready to throw in the oven is such a great feeling.
In fact, I put these freezer friendly breakfast burritos to use this past weekend. The guys in our family planned a rustic men's camping trip, and we weren't sure what we would have available in the way of cooking tools. The weekend before, I made these burritos for our little family here at home, and then made an extra batch while I had all of the ingredients out and through them in the freezer. When the next weekend rolled around, I tossed my frozen burritos in the cooler in the back of my truck, and off they went with me into the wilds of Eastern Oregon.
While fully prepared to heat these little guys up over the campfire, as it turned out, the cabin we stayed in (which featured a distinct lack or electricity, running water, or cell phone reception) had a propane oven. When the sun rose the next day, we heated these burritos up in the oven (which had no temperature gauge, so I guess that's a testament to the flexibility with which you can reheat these), and everybody had an easy, hot meal…with no dishes (important when you don't have running water…).
These simple breakfast burritos have been a work in progress here in the Rief household for a long, long time. The recipe is not complicated, but we had a hard time getting to a combination that wasn't too soggy, or too dry, had the right amount of texture (crunch!), and had a bit of flavor depth to it. Heavy whipping cream, frozen tater tots, and caramelized onions to the rescue! (Actually, the caramelized onion idea came from a colleague at work…thanks!!)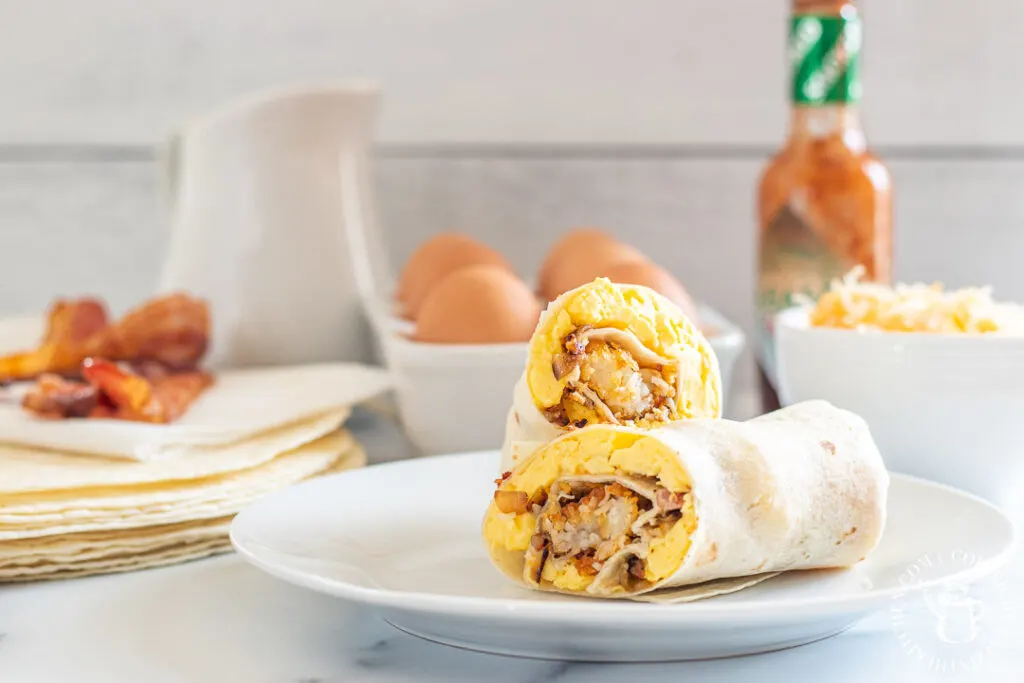 I hope you enjoy this tasty, easy recipe for breakfast burritos, regardless of whether you're making it morning of, or prepping for an event a few days hence. We sure love them!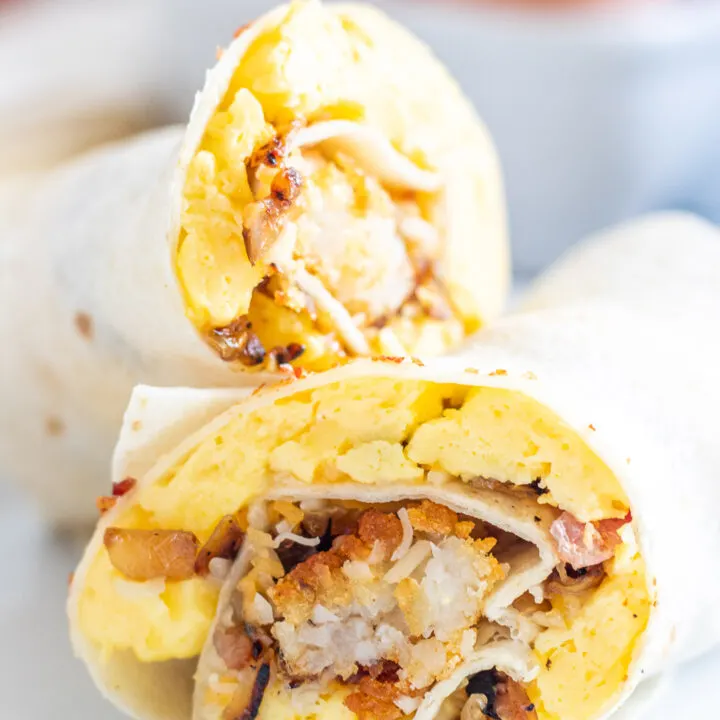 Freezer Friendly Breakfast Burritos
This easy recipe for freezer friendly breakfast burritos is a great grab-and-go meal, or a make-ahead breakfast for trips and tailgates!
Ingredients
8 eggs
1/4 cup heavy whipping cream
1 medium onion, roughly chopped
1/2 lb bacon
1 cup shredded cheese
1/2 bag frozen tater tots (16 oz)
8 burrito-size tortillas
2 tbsp butter (plus a little extra)
Instructions
Start by preheating your oven to the temperature recommended on the bag of frozen tater tots. You can cook the bacon in the oven as well, or in a skillet or griddle on the stovetop, if you prefer. I usually bake the bacon and the tots in the oven together, as the temperatures are similar, and neither one is particular fussy about temperature anyway. If your oven has a convection feature, you can also use that here to speed up the process a bit.
Bake the tots in the oven according to the directions on the bag, and cook up the bacon to desired doneness using your preferred method.
Meanwhile, caramelize the onions by melting the butter in a large, high-sided skillet on the stovetop, adding in the chopped onions, and stirring occasionally over medium heat. These are breakfast burritos, not french onion soup, so the caramelization doesn't have to be perfect (and neither does the onion chopping - chop them to the size you prefer!), but keep the onions moving enough so that they don't burn, adding a little more butter if needed. (If you're new to caramelzing onions, Bon Appétit has a brilliant tutorial with step-by-step videos you should check out.)
While the tots and bacon are baking and the onions are caramelizing, crack the eggs into a medium bowl and add heavy whipping cream. Whisk together vigorously until smooth and airy. Melt a small amount of butter (a tbsp or less) in a large non-stick skillet over medium heat, and then add the egg mixture. Slowly, gently move eggs around with a spatula until eggs are fluffy. Avoid overmixing or overcooking. (For more details on this step, you can check out our recipe for the best cheesy scrambled eggs we know how to make - this is just them without the cheese!)
When the bacon is done, transfer it to a paper-towel lined plate, and then roughly chop it. The onions are done when they reach your desired level of caramelization (I like mine pretty dark). Transfer them to a paper-towel lined plate of their own.
If you have a preferred method of heating up tortillas to make them more flexible and less prone to tearing, feel free to use it. I heat small tortillas on the gas stovetop and soft taco size ones in a tortilla warmer, but for these big burrito size ones, I put them on a plate, cover them with a slightly damp paper towel, and microwave for about 30 seconds, or until they are a little rehydrated and flexible enough to work with.
Attempt to divide your ingredients evenly, using roughly the amount I have in the pre-wrapping picture in this post. (If you're like me, you'll end up with some extra filling - that's fine! You can eat it, or make more burritos and freeze them for later!) I usually start with the egg, then add the tots, bacon, and onions, and top with cheese. If you want to add hot sauce, you can do it now, or when you actually eat them.
To wrap the burritos, place your ingredients roughly in the center, but slightly towards the bottom (the side facing you). Fold in the sides, and then roll tightly from the bottom. (For the picture that taught me how to roll burriots, check out the snapshot in our BBQ chicken wraps post.)
Serve immediately, or freeze for later! If serving, I usually cut these in half to peoiple can add their desired toppings - hot sauce, sour cream, etc. If freezing, double wrap tightly in foil, and then place in a freezer bag. I've stored these for a week in the freezer with no problems (the tots aren't as crunchy), and I suspect they would go longer if needed. To reheat, they need roughly 20-30 minutes in a 350 degree oven (still in their foil). You can use a meat thermometer to check if they are warm inside, which saves having to cut into them!
Notes
These are burritos, obviously, so feel free to sub in whatever you want! Sausage instead of bacon? Check. Hashbrowns instead of tots? Of course. Different cheeses? Healthier wraps? Bell peppers? Whatever. It's a burrito. The basic key here is the eggs and ingredients that keep the moisture down so your burrito doesn't...drip.
Nutrition Information:
Yield:

8
Serving Size:

1
Amount Per Serving:
Calories:

772
Total Fat:

42g
Saturated Fat:

18g
Trans Fat:

1g
Unsaturated Fat:

21g
Cholesterol:

273mg
Sodium:

1784mg
Carbohydrates:

63g
Fiber:

9g
Sugar:

6g
Protein:

37g
Nutrition information isn't always accurate.