Don't eat it every morning, but when you need a little brunch comfort food fast, this recipe for easy biscuits and gravy is what you want!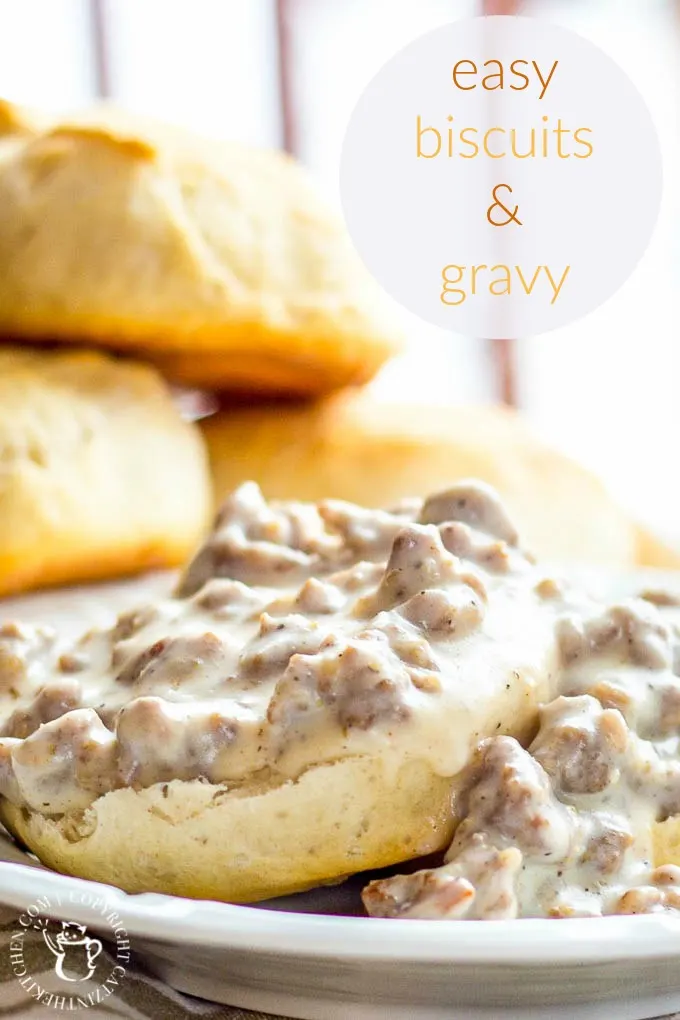 Without a doubt, one of the most comforting, indulgent old-fashioned breakfasts, from my perspective, is biscuits and gravy. I'm not from the South (though my grandma is), so I have no idea what the "traditional" preparation is supposed to taste like, but I know that the versions we have access to here in the Northwest are quite tasty. I've ordered it in restaurants, with varying degrees of success (generally, the cardinal sin seems to be an insufficient amount of salt), but nearly every time I've tried it at home, it's turned out perfectly. And little wonder – there are a just a couple of ingredients in the gravy, which is the easy part, and the only part I attempt! Yep, I use a can of Grands biscuits. Why? Because they're incredibly tasty. Chels makes some great drop biscuits, and maybe someday I'll learn how to do that, but right now, not being especially comfortable with baking but being incredibly comfortable with a skillet over open flame, I'll stick with what works.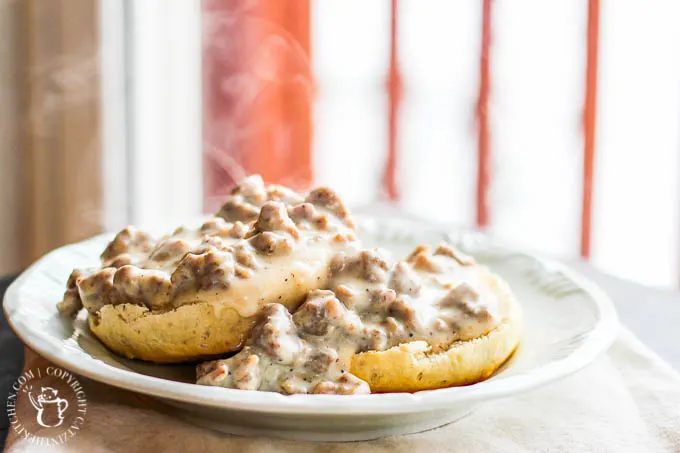 I've used many different sausage gravy recipes, and they all seem to aim for (and generally hit) that creamy, salty, slightly spicy mixture of goodness that makes this meal so fulfilling. The last one I tried, however, was more or less based on Ree Drummond's over at The Pioneer Woman, where I find a lot of the basics behind recipes I make. I adjust the amounts of various ingredients to make it the way I want it to be, but Ree generally nails these types of meals, and sausage gravy is no exception.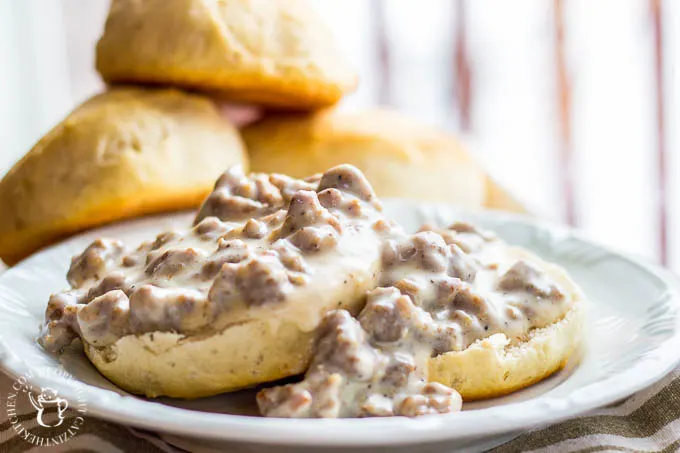 Seriously, it doesn't get much easier – sausage, milk, flour, a few seasonings, and a can of Grands. If this wasn't so unhealthy, I'd make it all the time! When I took these photos, we had just had nine inches of snow dumped on our heads, which here in the Pacific Northwest qualifies as Snowpacolypse (or so social media tells me). Needless to say, the roads, trains, buses, and many businesses were shut down completely. I broke Chels's Volvo out of the snow and ice, warmed it up, and made the quick one mile trek up the road to our local supermarket, and grabbed some sausage. That wasn't overly perilous, and it was worth it. Biscuits and gravy are the right meal for a snowy, stay-in morning.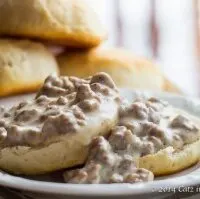 Easy Biscuits and Gravy
Don't eat it every morning, but for those days when you need a little brunch comfort food in a short amount of time, this recipe for easy biscuits and gravy is what you want!
Ingredients
12 oz breakfast sausage
1 can (8 biscuits) Grands biscuits
2 cups whole milk
5 tbsp flour
1/2 tsp seasoned salt
freshly ground black pepper, to taste
Instructions
Prepare biscuits as directed on container.
Brown sausage in skillet.
Add flour one tablespoon at a time, mixing in with sausage.
When sausage is well-coated in flour and slightly browned, add milk one cup at a time, whisking lightly with a large whisk.
Add seasoned salt and pepper.
Cook gravy over medium heat until thick, stirring frequently, adding additional milk if necessary.
Split biscuits in half, and spoon gravy over hot biscuits. Serve immediately, seasoned with additional table salt and pepper to taste.