Looking for a simple, healthy breakfast you can whip up for one person or more in about 15 minutes? Try these avocado baked eggs!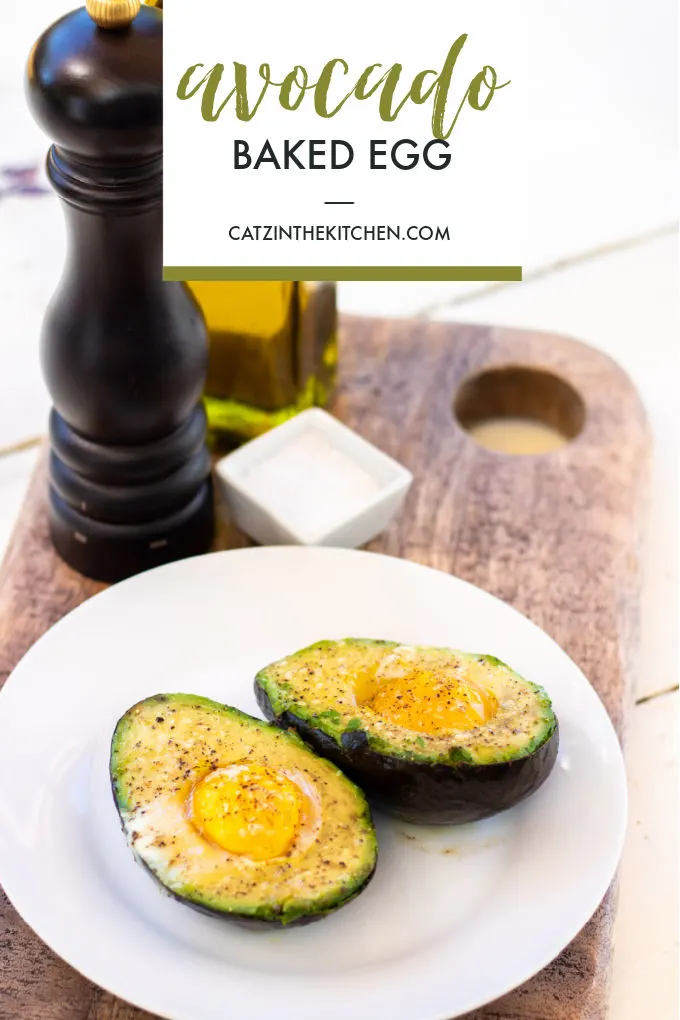 Okay, there's a short story behind this recipe. Chels and I took a trip to Maui last year for our 15th wedding anniversary…a year late, so it was actually over our 16th wedding anniversary! Little Ruby was not quite a year old when our 15th rolled around, so we enjoyed a night away closer to home that year, and saved the bigger trip for later. It all worked out. But…we had never been to Hawaii before (I went when I was two months old – doesn't count!), and we were slightly skeptical that it would live up to the hype. We're not typically "beach people," if you know what I mean – we don't just lie out on a beach in the sun, we don't surf, don't fish, etc.
As any of you who have been can attest to, it lives up to the hype. We just…relaxed. And it was wonderful. But, this is a food blog, not a travel blog, so returning to the topic at hand…one thing we really enjoyed was eating fresh, healthy breakfasts each morning (typically followed by more indulgent, adventurous meals later in the day!). One breakfast Chels especially enjoyed was among the simplest of all the dishes we sampled – these avocado baked eggs. She loves all things avocado, even more so after not being able to eat them for several years after giving birth to Christian (they just didn't sound good!).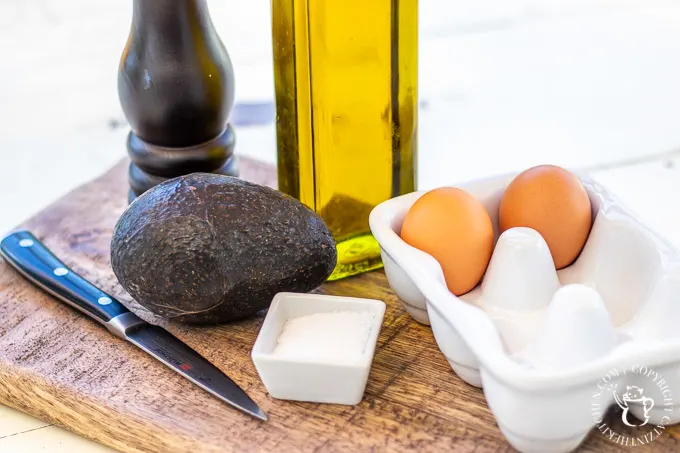 I snapped a quick picture with my phone, thinking, wow, these seem like they would be easy to make at home! Naturally, though, by the time we actually got home, I had forgotten all about this tasty little breakfast. It wasn't until nearly a year later, when we were headed for a little family "escape" to Central Oregon to get out of our home during quarantine, that I remembered this dish and randomly whipped it up for Chels one morning.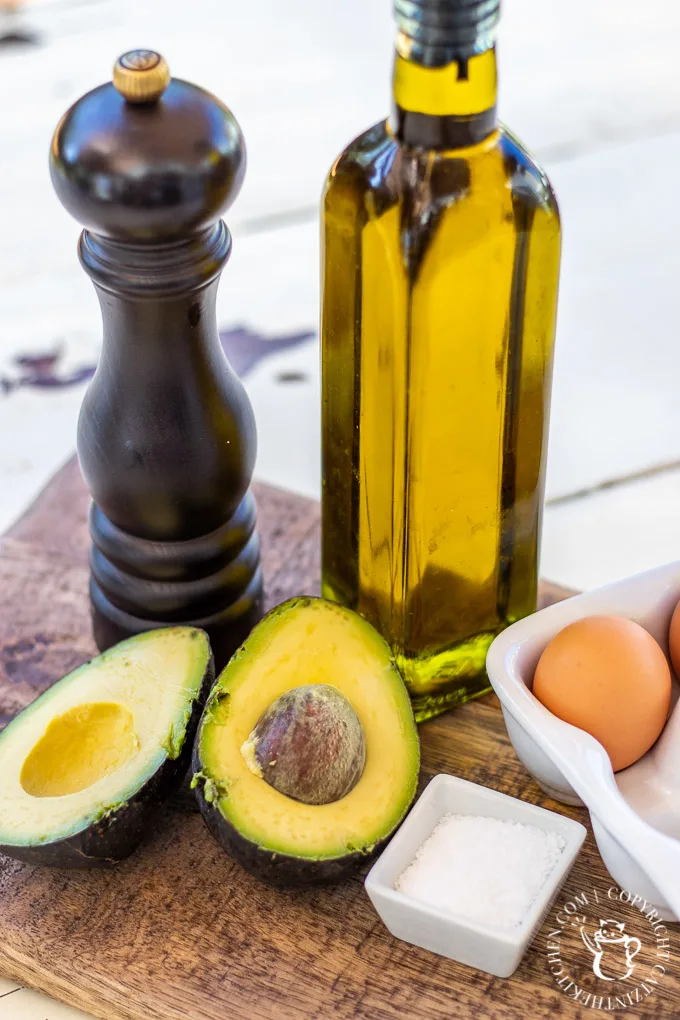 Recipes don't get much simpler than this. You slice the avocado in half, remove the pit, separate the eggs, drop the yolks in the hollow previously occupied by the pit, season, and bake!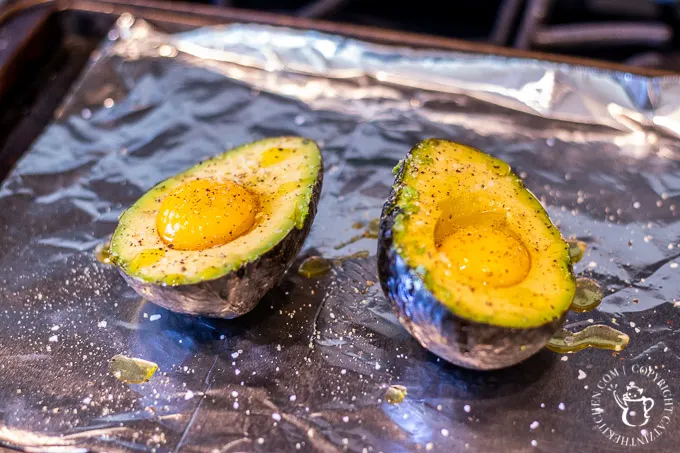 To really make this easy, I bake it on a small sheet of foil. That way, when I'm done, the only real dishes I have are…a knife? I guess? Maybe a dish for the egg whites if I chose to save them for an egg white omelet (which I often do).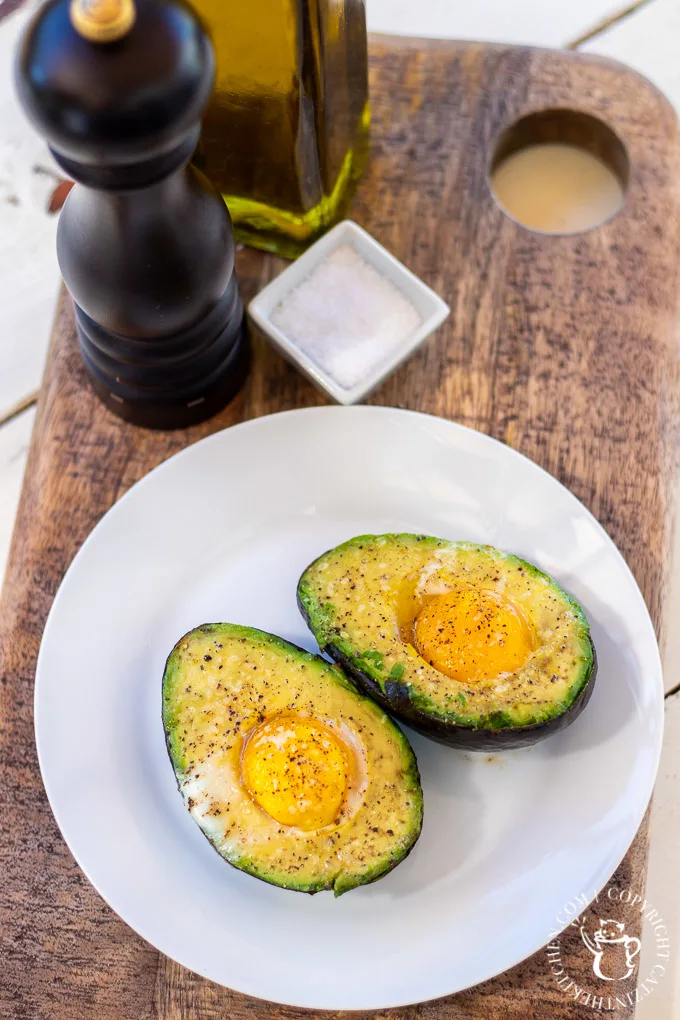 At any rate, that's it, and Chels is hooked. I would say she asks me to make this for her about once a week. It takes all of 15 minutes, it's healthy, and as long as we have avocados in the house, we've pretty much always got all of the ingredients. If you like avocados, give it a try! And, hey, if you want a little more flavor, throw on some "everything but the bagel seasoning" or add a little salsa!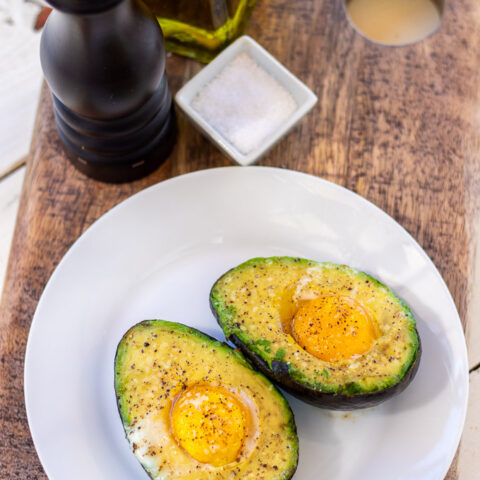 Avocado Baked Eggs
Looking for a simple, healthy breakfast you can whip up for one person or more in about 15 minutes? Try these avocado baked eggs!
Ingredients
1 avocado
2 eggs
kosher salt, to taste
freshly ground black pepper, to taste
extra virgin olive oil, drizzle
Instructions
Preheat the oven to 400 degrees.
Carefully slice the avocado in half lengthwise and remove the pit.
Separate the eggs, either discarding the egg whites, or saving them in the fridge for another recipe.
Line a small cookie sheet with foil and place the avocados cut side up on top of it. Drop one egg yolk into each avocado half.
Drizzle with olive oil, sprinkle with salt and pepper, and bake for about 10 minutes, or until egg yolks have set to your preferred consistency.
Serve immediately.
Nutrition Information:
Yield:

2
Serving Size:

1
Amount Per Serving:
Calories:

295
Total Fat:

26g
Saturated Fat:

5g
Trans Fat:

0g
Unsaturated Fat:

20g
Cholesterol:

186mg
Sodium:

369mg
Carbohydrates:

10g
Fiber:

7g
Sugar:

1g
Protein:

8g
Per avocado half. Nutrition information isn't always accurate.