Make it with fresh berries or frozen – either way, this blueberry coffee cake is an easy, slightly indulgent way to start any morning!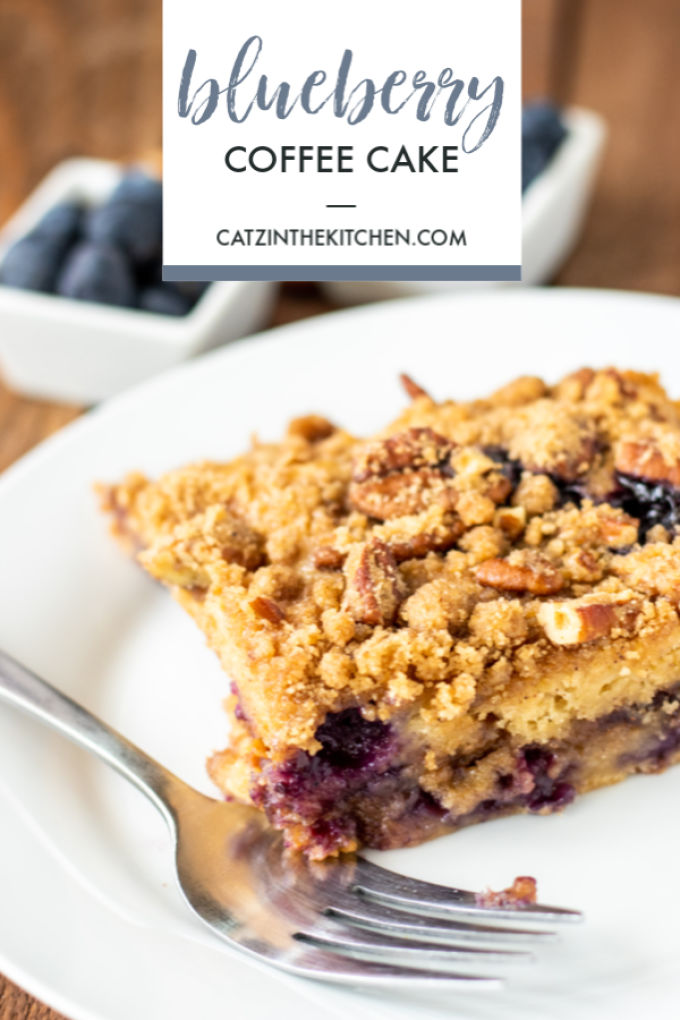 Josh's job has recently had a shift which is requiring him to travel at least once a week and for how long he's gone for varies depending on the needs of his clients. While it sucks to have him gone, I'm determined to make the most of it and I've been using dinner time as a chance to do a lot of recipe testing.
So, during dinner time we're playing with recipes. Grace is currently working on a macaroni and cheese recipe to share and I've been working on a bunch of new recipes for dinner, dessert, and I've got some seasonal ideas, too. One of the recipes I worked on while Josh was out of town a few weeks back was the Oven Baked Fried Chicken – and we love it if you haven't made it yet!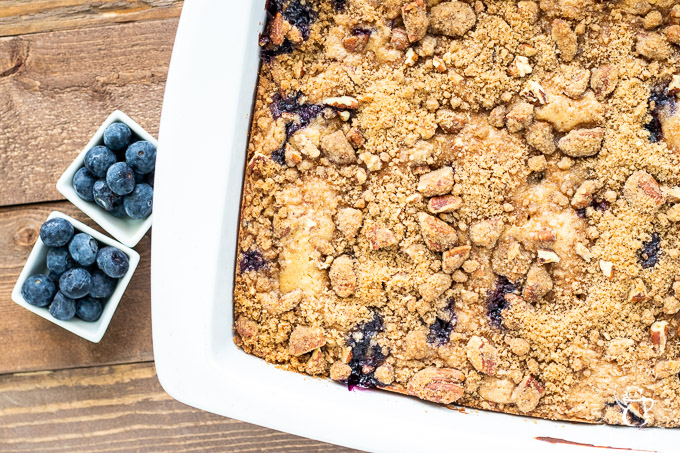 This blueberry coffee cake is one of the recipes I've made a ton of times recently. I tried two different methods of assembling it and then made it several times making sure you would get the same result each time and…I think it is a winner. It reminds me a little bit of the Blackberry Coffee Cake I made a few years ago, but this is even more breakfasty and less dessert-like than that one.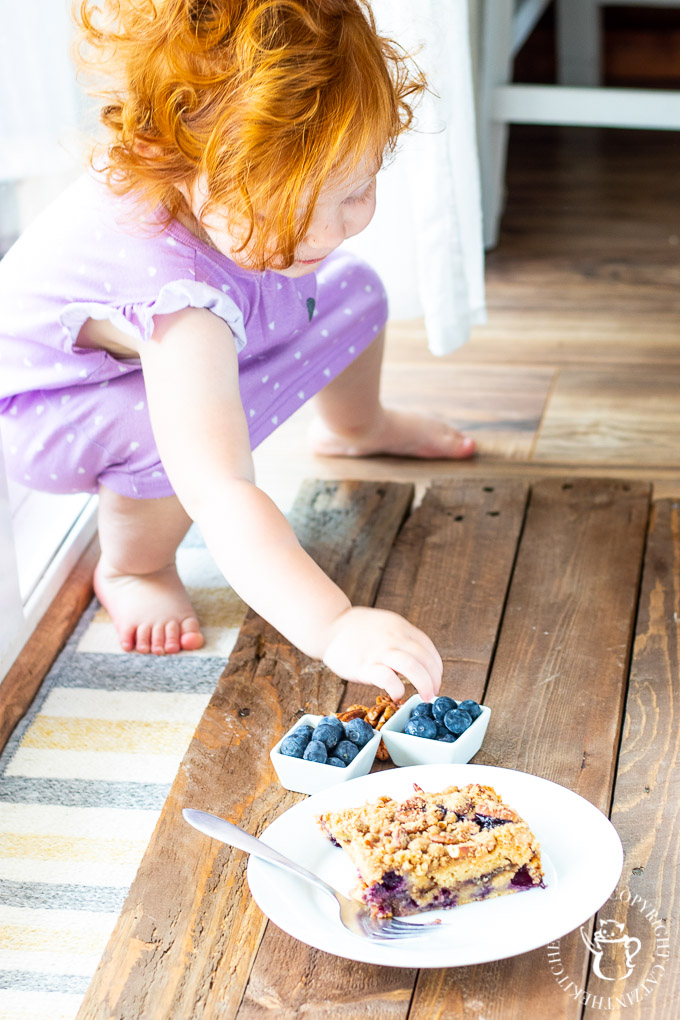 It is one of those coffee cakes that is really fun for a weekend breakfast – which is literally how we had it the last time I made it and Josh snapped all of these pics, as evidenced by my robe and hair – this is real life and exactly how I look every Saturday morning! If I make breakfast on the weekends (usually Josh or Grace does), I start the breakfast before my shower and get back downstairs in time to serve, usually just before I'm ready to style my hair – still sporting pjs and robe.
There is no shame in my mom game! ;)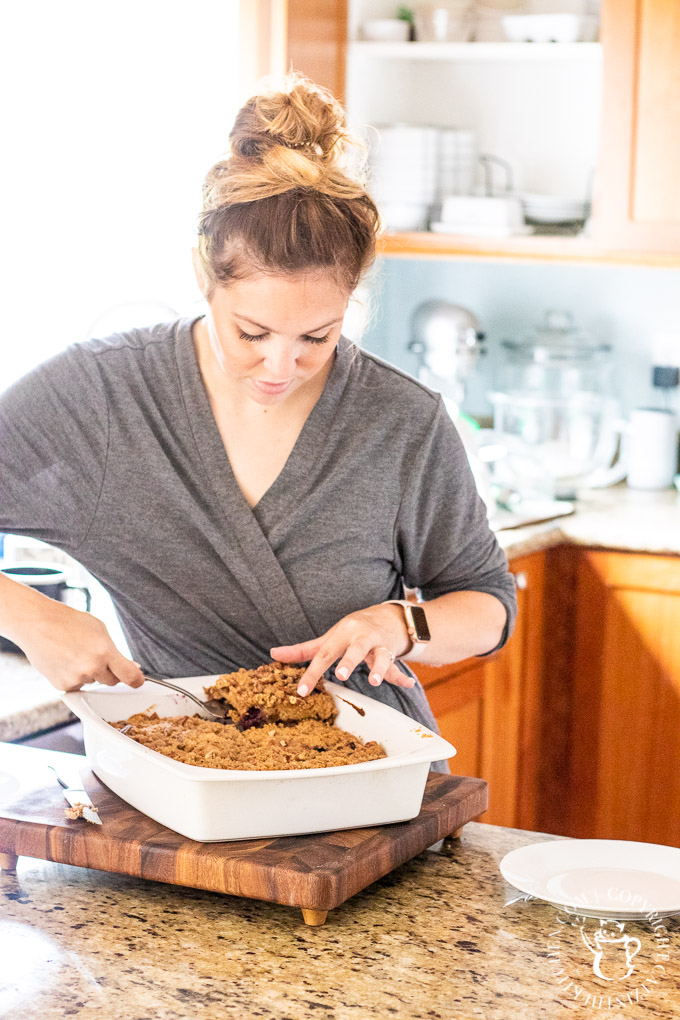 The blueberry mixtures gets layered in this coffee cake along with the nutty topping, so you get ultimate texture and flavor throughout the whole cake. I like that this coffee cake isn't too sweet, making it appropriate for breakfast or even for brunch if you pair it with smoothies. I think I only had once slice leftover at the end of breakfast and Grace staked her claim on it for breakfast the next day – perks of being the oldest, I guess!
What I love about this dish is that it would be easy to "assembly line" and make one more of. Make one for you and another for a friend. Make one for a friend (maybe someone who is going through a tough time or just had a baby) and bring one to church for a potluck.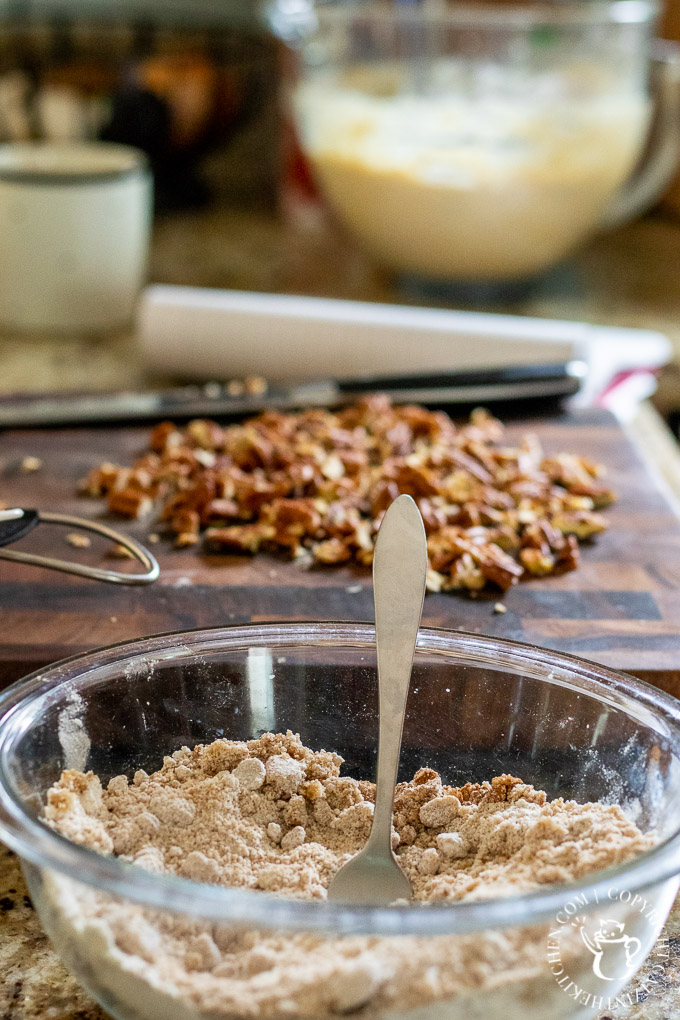 It's just one of those great recipes that you can fall back on for anything. It's worth noting that I used fresh blueberries, given the current season. You could use frozen blueberries, but I would be careful to not thaw them too much. The more frozen fruit thaws, the more juice it leaks out, which will then stain the batter and I don't know why, but for some reason that always bothers me. You probably wouldn't even notice once it's baked, but I like my batter to be streak free. (OCD much?)
If you go berry picking, make sure you reserve enough to make this coffee cake one morning for your family or friends. This time of year, you can't beat fresh blueberries – they just make everything taste sweeter!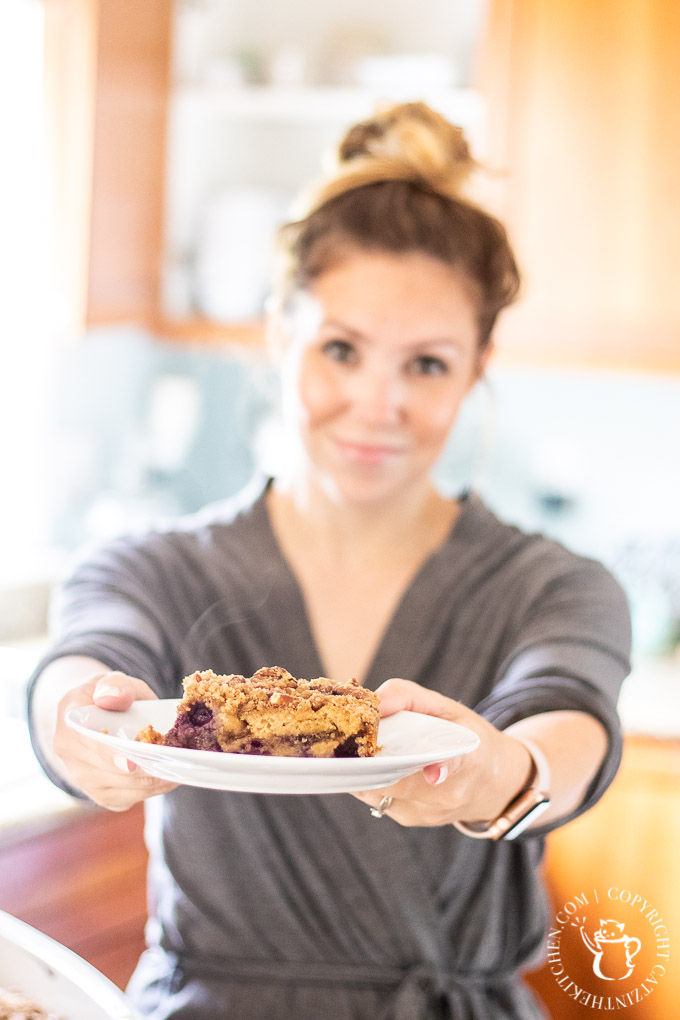 Blueberry Coffee Cake
Make it with fresh berries or frozen - either way, this blueberry coffee cake is an easy, slightly indulgent way to start any morning!
Ingredients
Batter
2 cups all purpose flour
1 tsp baking powder
1 tsp cinnamon
1/4 tsp salt
1 cup sugar
1 cup of unsweetened apple sauce
2 eggs, room temp
1 cup plain Greek yogurt
1 cup brown sugar
1 tsp vanilla extract
2 cups blueberries
Topping
1 cup all purpose flour
1 1/2 cups brown sugar
2 tsp ground cinnamon
1 cup chopped pecans
6 tbsp butter, melted
Instructions
Grease a 9x13 baking dish with nonstick cooking spray and preheat oven to 350 degrees. In a medium bowl, whisk to combine flour, baking powder, cinnamon, and salt. Set aside.
In a large bowl, beat sugars and applesauce with the paddle attachment on your stand mixer or electric hand mixer until light and fluffy. Beat in eggs, one at a time. On low, stir in yogurt and vanilla extract until evenly combined.
Mix flour gradually into the batter and when evenly combined, use a spatula to gently fold in the blueberries. Spread half of the batter onto the bottom of the baking dish.
In a small bowl, mix together the topping ingredients: flour, brown sugar, chopped pecans, and cinnamon. Gently stir in the melted butter and continue to stir until you get coarse crumbles.
Sprinkle half of the topping mixture over the batter in the prepared dish. Pour the remaining batter over the topping mixture - don't worry, there won't be enough batter to carry it to the edges, that's okay. Sprinkle with the remaining nut topping. Bake for 45 -50 minutes. Stick a toothpick in the middle of the coffee cake to make sure it comes out clean. Allow to cool for 5 minutes before serving.
Notes
Instead of using unsweetened applesauce, you can substitute one cup of softened butter. I prefer the applesauce because it leaves the cake moist and it's a bit of a healtheir alternative to the butter.