Pan Seared Chicken with Apples and Pears is a yummy, easy, reliable one pan meal that you'll want to make over and over again!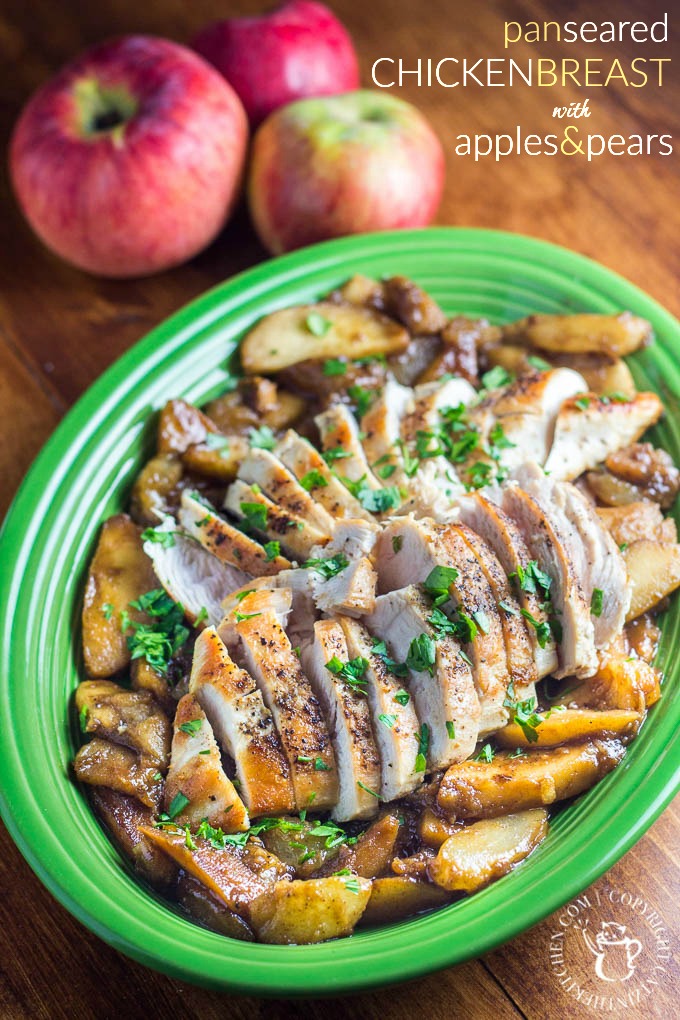 For some reason, I've decided that this was the season of apples for me. I've only made three pumpkin recipes this year (which is rather unlike me) and whole-heartedly embraced the apple. I guess this isn't too surprising of a thing. I love apples. I eat a Granny Smith every day, but I think subconsciously, I knew I had an abundance of pumpkin recipes already on the blog, but not a lot of apple.
So I'm bringing you another apple recipe, and you could totally make this all year long if you wanted to. Since we had so many apples leftover from when we went apple picking I knew I wanted to do something that wasn't breakfast or dessert.
The way I see it, we can always use one more chicken recipe in our arsenal to switch things up a bit and make that boring weeknight chicken dinner really a winner!
See what I did there? Haha! That's what we call a play on words my friends. Or…something like that. Okay, moving on now.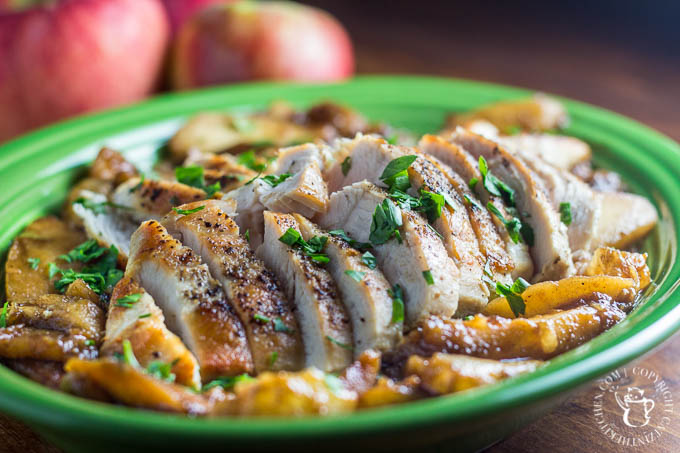 I've made this dinner several times in the past using chicken tenders or boneless thighs. Sometimes, I use only apples and omit the pears or just pears and omit the apples! Regardless, it's delicious and pretty impossible to screw it up. Unless you overcook the chicken.
Don't overcook the chicken.
Did I also mention that this is a one pan meal? Tee hee hee, I love those! One pan meals are made for the busy moms and dads of this world. It's like a beautiful gift wrapped up that says, "Here's an easy dinner to make, and one that won't have you washing dishes for long afterwards either!"
Except, in my house, I rarely wash the dishes anymore. That's what the minions kids are for. If I make dinner, chances are Josh or the kids will be taking care of all of those dishes. But don't worry…this is not child labor. This is what I like to call earning their keep. This is my way of helping my children not turn into entitled humans who think they run the world (or my house). Sometimes it even works.
Also, it's what I call parenting. And despite what you may hear, there are definite perks to being a parent!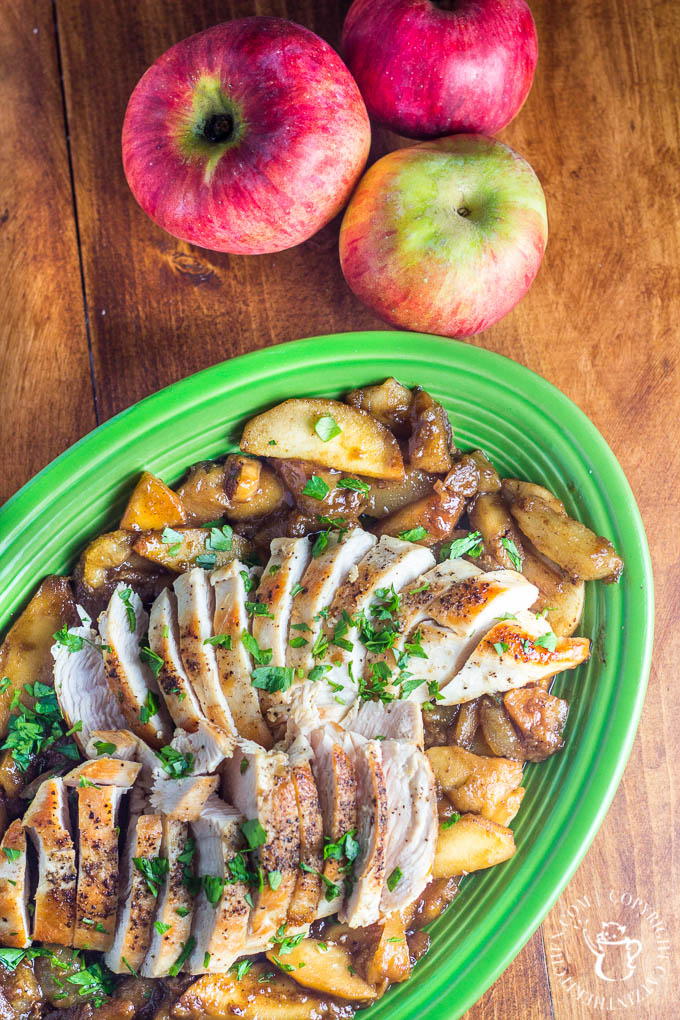 To finish off the meal, I will sometimes ask Grace to make mashed potatoes. She makes really yummy mashed potatoes, using a recipe from my sister in love that Grace has tweaked to make it her own. Or…I'll serve a baked sweet or regular russet potato on the side, making dinner easy, filling, and delicious. But…if I'm feeling really adventurous, I'll make mashed sweet potatoes. It doesn't happen often around these parts because it's much easier to throw a sweet potato in the oven (because I'm, you know, busy parenting or whatever) than going through the process of mashing it, but sometimes I'll surprise the fam bam with that little gem.
No matter what, though, the real stars of the dinner plate will be those sautéed apples and pears. I would say throw in an extra pear and apple to saute. You'll be sorry if you don't. Everyone is going to want more of that good stuff. You gotta give the masses what they want, otherwise you'll have rioting and picketing on your hands (pitchforks, fire, etc). Just kidding, but go ahead and make them do the dishes. That'll teach em!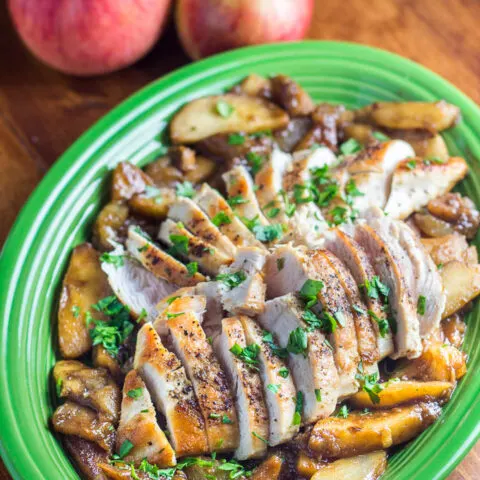 Pan Seared Chicken with Apples and Pears
Pan Seared Chicken with Apples and Pears is a yummy, easy, reliable one pan meal that you'll want to make over and over again!
Ingredients
2 tbsp extra-virgin olive oil
5-6 boneless skinless chicken breast
Salt and pepper to taste
4-5 tbsp butter
2-3 apples, any variety you like - peeled, cored, and sliced (galas are delicious here, but so would honey crisp)
3 Bosc pears peeled, cored, and sliced
1/4 tsp nutmeg
Zest and juice of 1 lemon
2-3 tbsp honey
3 tbsp chopped parsley
Instructions
Heat olive oil in a nonstick skillet over medium-high. Season the chicken with salt and pepper on both sides and cook the chicken until golden and firm, about 12 minutes, turning once. Place the chicken on a plate and cover with foil to keep warm.
In the same skillet, melt the butter over medium heat; add the apples and pears and season with salt and nutmeg. Stir in the lemon juice and zest and cook for 5 minutes, or until tender crisp, then stir in the honey and cook for one more minute.
Slice the chicken on an angle and serve with apples and pears and sprinkle the parsley over the chicken and apples.
Nutrition Information:
Yield:

6
Serving Size:

1
Amount Per Serving:
Calories:

738
Total Fat:

47g
Saturated Fat:

26g
Trans Fat:

2g
Unsaturated Fat:

18g
Cholesterol:

204mg
Sodium:

446mg
Carbohydrates:

42g
Fiber:

5g
Sugar:

34g
Protein:

38g