Finding spaghetti and meatballs a bit bland? So were we! This recipe for the classic pasta dish is easy, cheap, and bursting with flavor!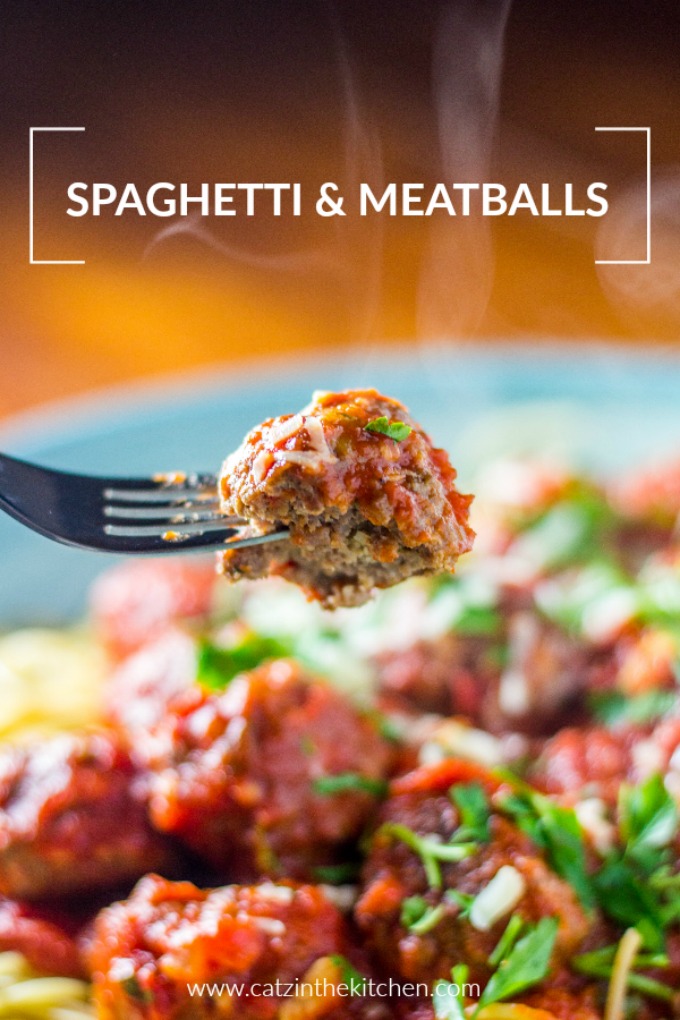 For many reasons, I love my daughter Eden. I consider her the middle child right now because she's 9 years old – whereas Grace is almost 14 and Christian is 5 and Ruby is well, very small (does that make sense?). Sometimes the middle child can get overlooked because she's not the baby anymore, but she's not the oldest either. But her place in our home is just as important as all of the others.
Out of all of my kids, I would say that currently, she is the most like me. She's likes to organize, dance around the house (I do this way to often – I blame my time in ballet), she's got my green eyes, and enjoys the same foods I do!
One of the things I really appreciate about her is that sometimes she'll make a dinner request out of nowhere and it's usually pretty random. "Mommy, can you make a casserole?" I recently put a casserole on the weekly menu, just for her. Didn't really matter what casserole…just a casserole.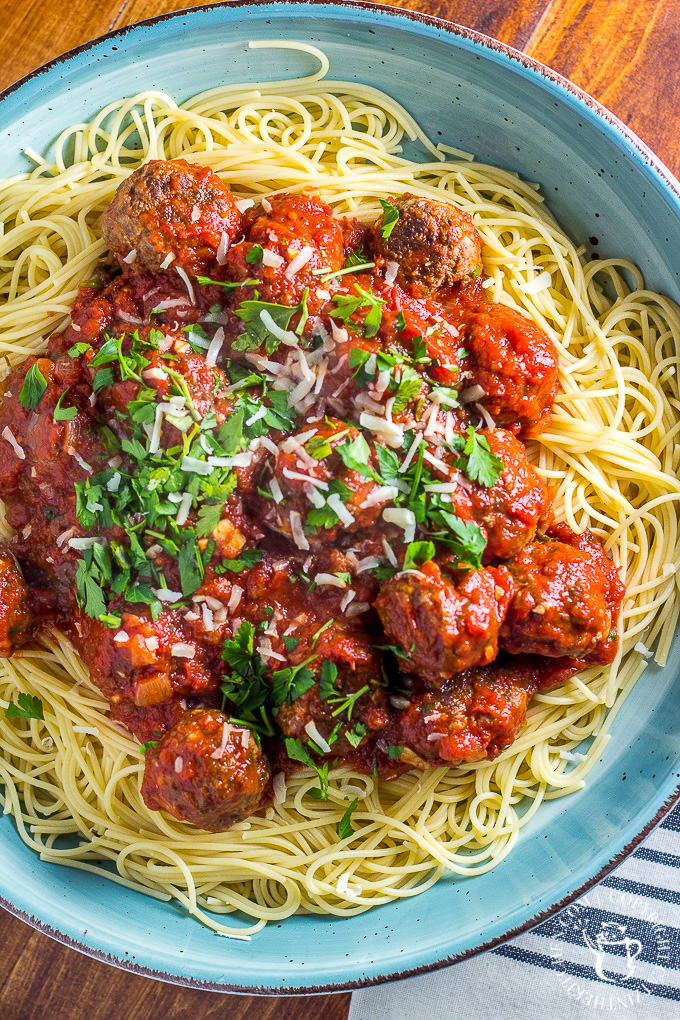 One of her latest requests was spaghetti and meatballs. The idea I think came from her simply because she knew I had a lot of ground beef in my freezer – I'm not sure why other than it must have been on sale at one point! So I asked the kids if they had any dinner suggestions involving beef.
BAM! "Mommy, can you make spaghetti and meatballs?" Uh, sure!
Now, there were two things I saw about this request that I immediately did not like. First, I think frozen meatballs from the stores taste kind of weird – and they are expensive. (Cheaper to make your own, in my opinion.) The other being that I've made spaghetti and meatballs before on several occasions, trying variants of different recipes. I didn't really like anything I tried. I thought the meatballs were on the flavorless side and while I understand browning the meatballs first, they never held together well. Also, I didn't really care for any of the sauces – all a bit watery and again, kind of bland.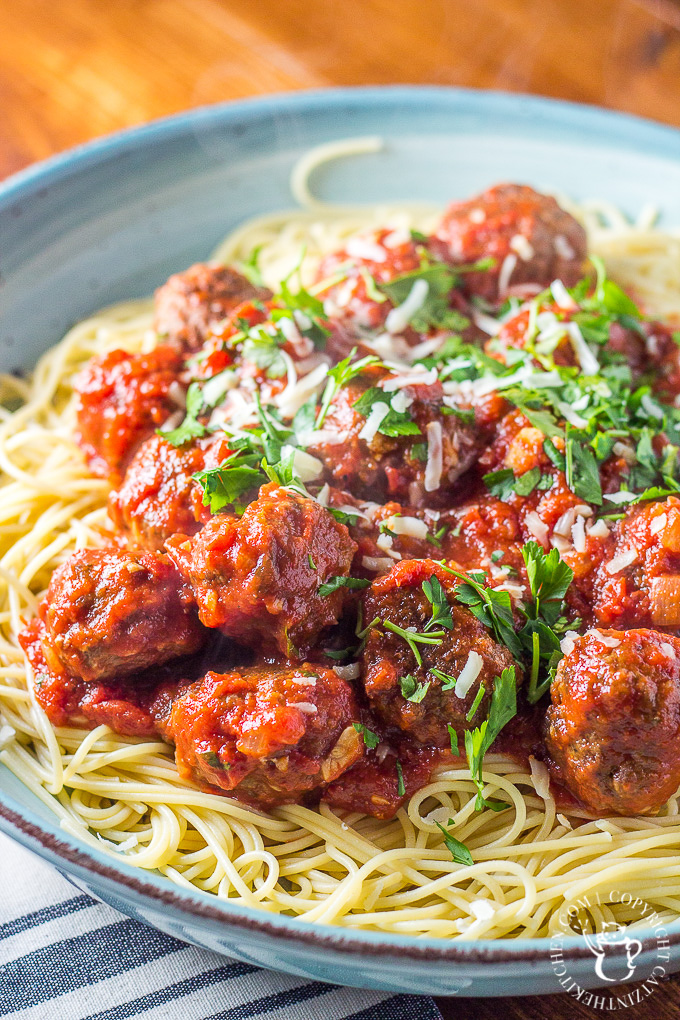 If I want spaghetti and meatballs, I just usually leave it to the professionals at The Old Spaghetti Factory.
However, heading out to a restaurant to satisfy my daughter's request wasn't going to fly – I knew I needed to make my own version!
I think though, too, there is something kind of awesome about having your own family's spaghetti and meatball recipe that can be handed down over generations that is a bit romantic and nostalgic.
So I played with the meatball recipe, adding fresh parmesan cheese (shredded with a box grater) and garlic to add flavor. I decided to bake the meatballs. Anything I can do to make it a bit healthier and eliminate extra unwanted grease cleanup on my stove is a win. While you can certainly use a big spoon to scoop out the meat for the meatballs – I highly recommend this cookie scoop. It makes the job so much easier!
And for the sauce, again, it was all about playing with flavors, while trying to keep it simple and affordable. I mean, for most families, spaghetti is one of the most economic meals you can make, and if you can make it so you control what goes into the sauce and it doesn't take forever – that's just another added plus.
One of the things I did to add an extra layer of flavor to my sauce was to add (aside from the basic garlic and onion) a hint of cayenne pepper (not enough that my kids would object) and a bit of red wine. However, you could easily sub the red wine for beef broth if you wanted to. I added freshly chopped Italian parsley to the sauce as well. Dried would be fine, too, but I love the clean, bright flavor of fresh parsley.
Eden, however is not a fan of parsley or cilantro (heathen!) – so I guess you can't please everyone 100% of the time, right?
Dinner was a hit! These were seriously some of the best meatballs I've ever eaten, and Josh, who typically finds spaghetti and meatballs a bit boring, went back for seconds and said they were the best he'd ever had, too! I served gluten-free spaghetti noodles just because I really try to cut back on the amount of wheat we eat at night (it can be kind of heavy), but any pasta noodle would work well.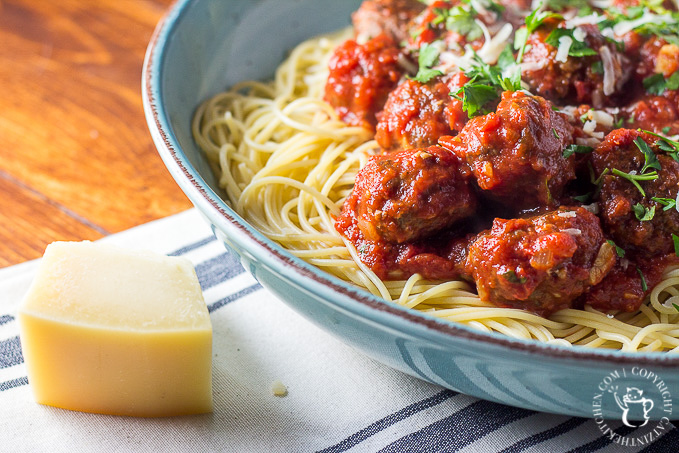 And since no matter how much you're going for, you always end up making enough pasta to serve an army…it's a good thing the leftovers are divine!
Spaghetti and Meatballs
Finding spaghetti and meatballs a bit bland? So were we! This recipe for the classic pasta dish is easy, cheap, and bursting with flavor!
Ingredients
Meatballs
1 lb ground beef
2 tsp Worcestershire sauce
1/2 cup Italian breadcrumbs
1/4 cup freshly grated parmesan cheese
1 egg, beaten
2 cloves garlic, minced
Pinch of salt and pepper
Spaghetti Sauce
2 tbsp extra virgin olive oil
3 cloves garlic, minced
1/2 sweet yellow onion, chopped
1 (28 oz) can crushed tomatoes
2 TBSP (heaping) tomato paste
1/2 cup good quality red wine or beef broth
1/4 cup chopped fresh Italian parsley + 3 tbsp chopped - reserved for topping
1/8 tsp tsp cayenne pepper
1/2 tsp Kosher salt
Freshly ground pepper, to taste
1 16 oz box of spaghetti noodles
Top with additional shredded parmesan
Instructions
Bring a large pot of water to boil and cook pasta according to the boxes directions.
Preheat oven to 425 degrees.
In a medium sized bowl, combine beef, Worcestershire sauce, breadcrumbs, cheese, garlic, salt and pepper and egg. Mix together ingredients thoroughly, making sure everything is evenly combined. (This is not an overly wet mixture. Using a cookie scoop (about 1 1/2 tbsp), scoop out meat and roll evenly into a ball and place on a parchment lined baking sheet or one lined with a silpat. Continue rolling out meatballs until baking sheet is filled - you should get about 20 meatballs.
Bake in oven for 10-12 minutes or until a meat thermometer reads about 145 degrees when inserted into a meatball. Remove from oven and set aside.
To make the sauce, sauté garlic and onion in olive oil until softened about 4-5 min. in a high side pan or pot. Stir in tomato paste and let cook for a minute or two. Pour in crushed tomatoes, red wine, salt, pepper, parsley, and cayenne pepper and bring to a boil. Add meatballs to pot and reduce sauce to a low simmer, for 15-20 minutes.
Serve over spaghetti noodles and top with additional chopped parsley and shredded parmesan cheese.
Nutrition Information:
Yield:

6
Serving Size:

1
Amount Per Serving:
Calories:

467
Total Fat:

21g
Saturated Fat:

7g
Trans Fat:

1g
Unsaturated Fat:

11g
Cholesterol:

103mg
Sodium:

721mg
Carbohydrates:

35g
Fiber:

2g
Sugar:

3g
Protein:

30g
Nutrition information isn't always accurate.
Save
Save