Crunchy on the outside, soft and hot on the inside, with just the right amount of zesty kick, these Copycat McMenamins Cajun Tots are where it's at.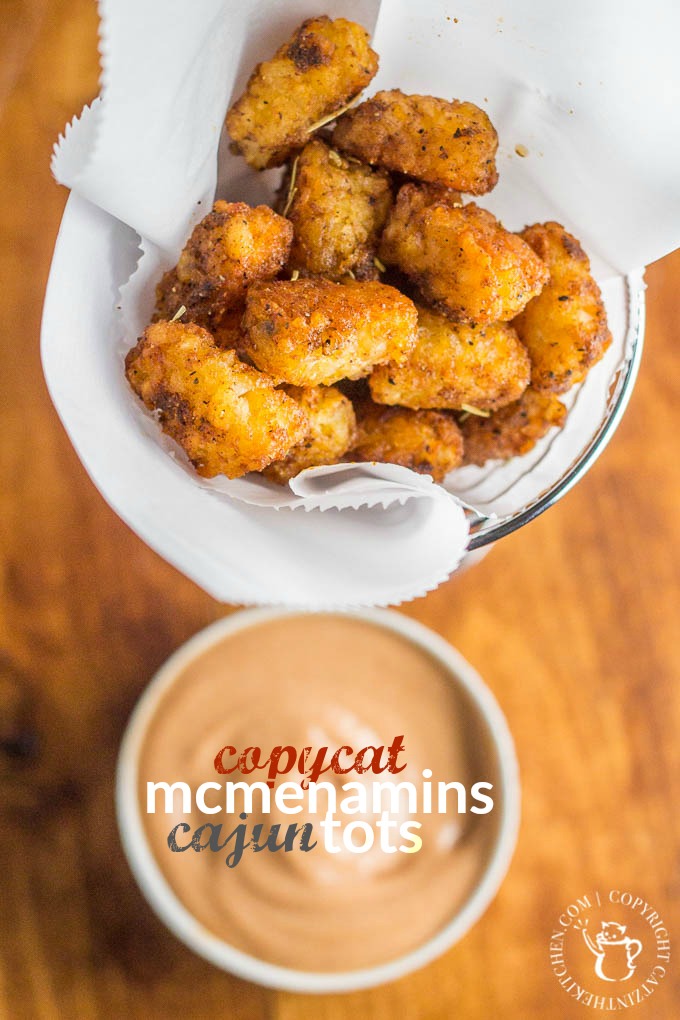 Remember how back in October I posted my new favorite recipe for beer batter fish…and chips…without the chips? But I promised that the chips were coming? Well, these were the "chips" I had in mind. There are a lot of seriously good recipes for fries out there (including one we've been making but never posting for years…need to fix that!), but when we were working on the beer batter fish, we just felt like we wanted something different. Something with a little kick to it.
Something we crave all summer long.
If you don't live in the Northwest the name may not be familiar, but out here there's a chain, if you can call it that, of closely-held, family owned restaurants, inns, and concert venues called McMenamins. Each one is unique, crafted from some old, sometimes mildly historic, but always charming building. No two McMenamins are alike in appearance, but they all serve excellent local pub fare. Our local one has an outdoor deck overlooking the Willamette River, and Chels and I often find ourselves craving one of their simple, delicious burgers, which inevitably come with a side of not fries, but tots.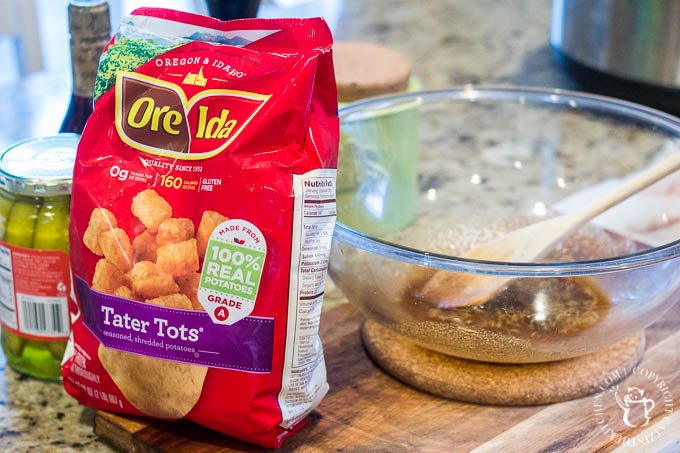 This is the part where I say if you live in the Northwest and haven't had a burger and tots at McMenamins, stop reading this post, grab your coat and keys, and go. Just go get one. And get the cajun tots. Crunchy on the outside, soft and hot on the inside, with just the right amount of spice-fueled kick.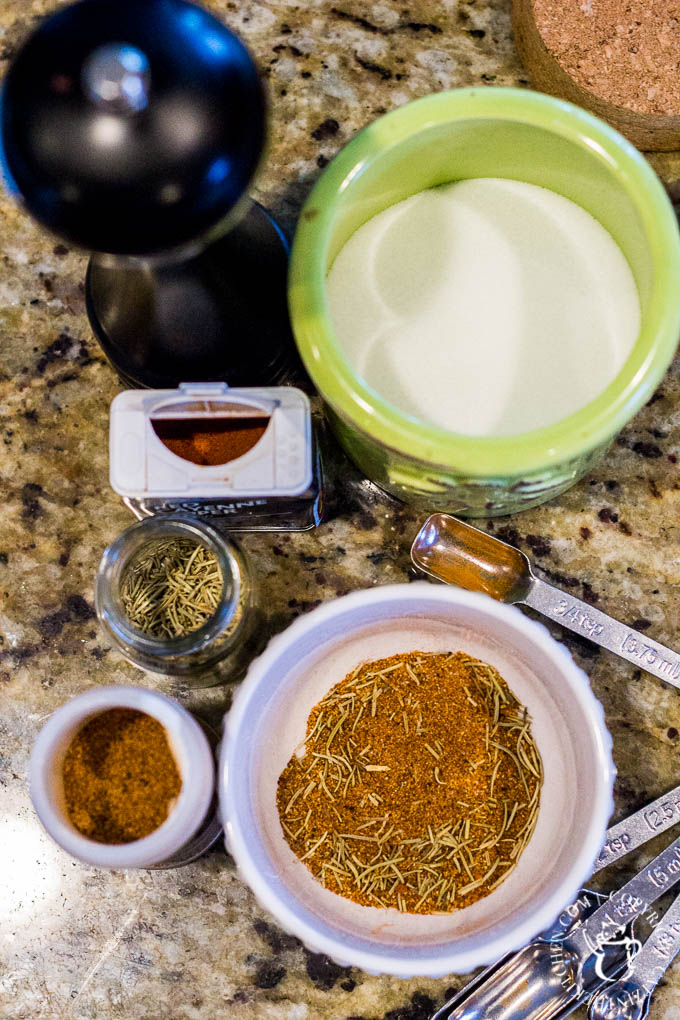 On the other hand, if you're still iced in (like so many of us are), or you live in some part of the world not yet graced by a McMenamins, we have endeavored to find you a venerable copycat McMenamins cajun tots recipe…and it is good!
Since we moved further out of town last year, the drive to McMenamins got quite a bit further, and it seemed to make good sense to figure out if it was possible to whip up some cajun tots at home. Enter Sandy at Everyday Southwest, apparently not a Northwest native, but someone who visits often enough to know what's up. Admittedly, they aren't quite the real deal, but they're dang close. They will definitely get you through until your next fix.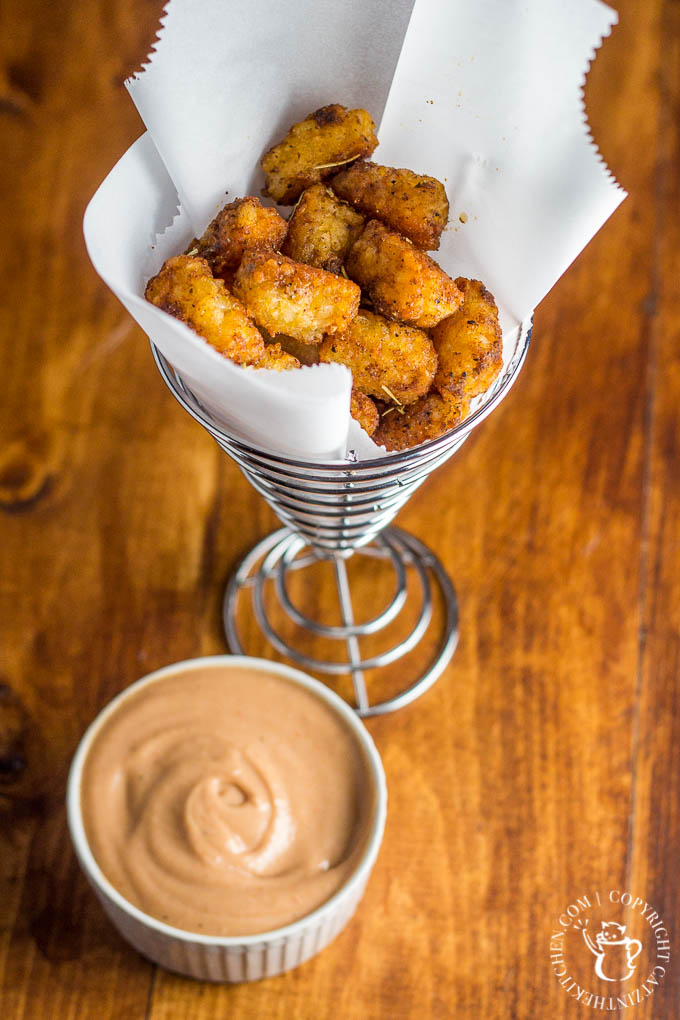 We made the recipe twice, once using the fresh ingredients Sandy suggests (fresh onions and garlic) and working the tots into the infused oil/butter in batches, as suggested, and a second time using all dried ingredients and tossing everything all at once in a very large bowl. We thought they were equally delicious both times, so I would say go the easy route! It is pub food, after all!
We dipped our tots in the simple Sweet Baby Ray's / mayonnaise mixture known as camp sauce from this recipe from way back when, but ranch or ketchup will work just fine.
You can use any cajun seasoning you like, but we used Dean's Natural Grill – it's my great uncle's (he's Dean), and you might as well keep it all in the family…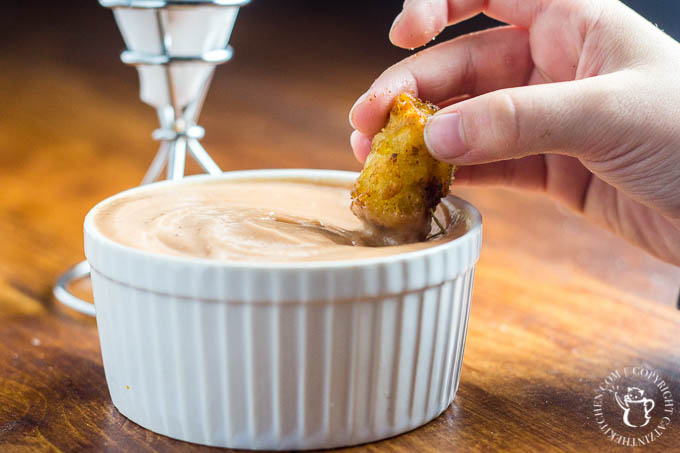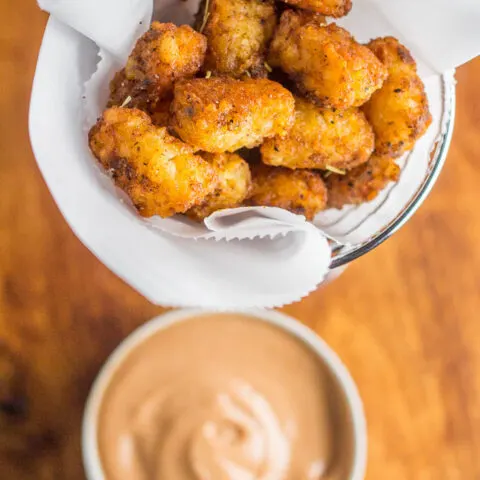 Copycat McMenamins Cajun Tots
Crunchy on the outside, soft and hot on the inside, with just the right amount of zesty kick, these Copycat McMenamins Cajun Tots are where it's at.
Ingredients
1 bag Ore-Ida tater tots, frozen (2 lbs, or 32 oz)
6 tbsp unsalted butter
2 tbsp vegetable oil
1 tsp garlic powder
1/2 tsp onion powder
1/2 tsp salt
3/4 tsp cayenne pepper
1 tsp rosemary
1 tsp black pepper
5 tsp cajun seasoning
Instructions
Preheat oven as directed on bag of tater tots.
Pour oil and butter into a small pot or high-sided sauté pan, heating over medium heat, stirring to combine, until it just begins to boil.
Meanwhile, combine all spices in a small bowl and stir to combine.
Remove the oil/butter mixture from the heat and add spices, stirring until well combined.
Add frozen tots to very large bowl and drizzle oil/butter/spices mixture over them as evenly as possible.
Cover bowl tightly with plastic wrap and gently toss until all tots are coated evenly.
Spread tots out evenly in a single layer on a large baking sheet and cook according to directions on bag, or until very crispy. Serve immediately.
Nutrition Information:
Yield:

10
Serving Size:

1
Amount Per Serving:
Calories:

90
Total Fat:

10g
Saturated Fat:

5g
Trans Fat:

0g
Unsaturated Fat:

5g
Cholesterol:

18mg
Sodium:

657mg
Carbohydrates:

1g
Fiber:

0g
Sugar:

0g
Protein:

0g