Heirloom Tomato Bruschetta is our favorite, simple go-to recipe for light, healthy summer grilling! This recipe has five ingredients, & is ready in 15 min!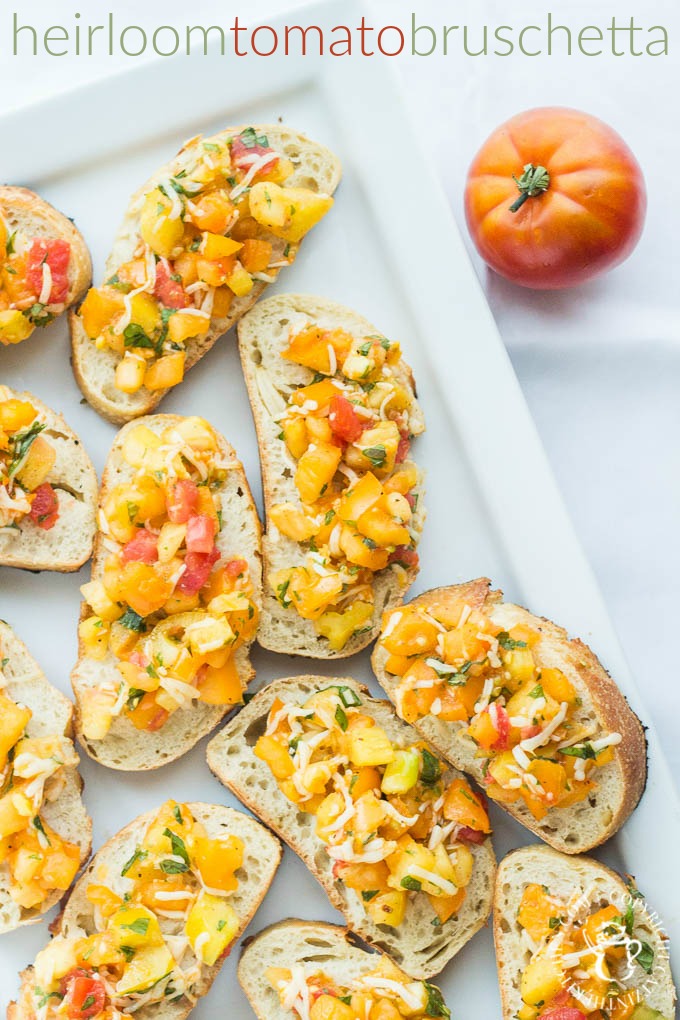 This post originally appeared on Catz in July of 2014. The original photos were of the recipe as prepared with Roma tomatoes and French bread, even though our favorite way to make it, and the way the post recommends, is with heirloom tomatoes and a rustic loaf of garlic clove bread, so we just had to update it! Heirloom tomatoes can be tough to get your hands on early in the summer, but our local market was carrying a few imported ones from Mexico, and while they weren't cheap, they were worth every penny! Try this super simple Italian staple this summer – you'll wonder how you ever lived without it!
One of our favorite, simplest,
most-grilled recipes
during the summer is "bruschetta". As I understand it, in traditional
Italian cooking
, bruschetta is an antipasto, made with thick slices of grilled bread and some combination of tomatoes, olive oil, and garlic. While I haven't tried fixing this strictly traditional version yet (I will, I will…), our standby is pretty simple as well. Five ingredients: bread, olive oil, mozzarella, basil, and tomatoes. And it's so good it's ridiculous.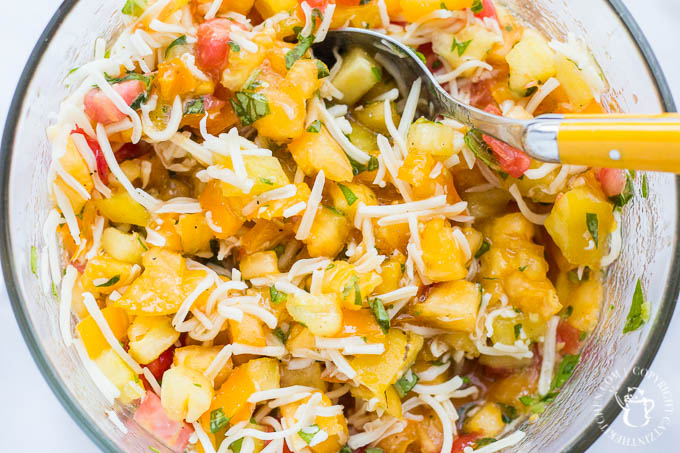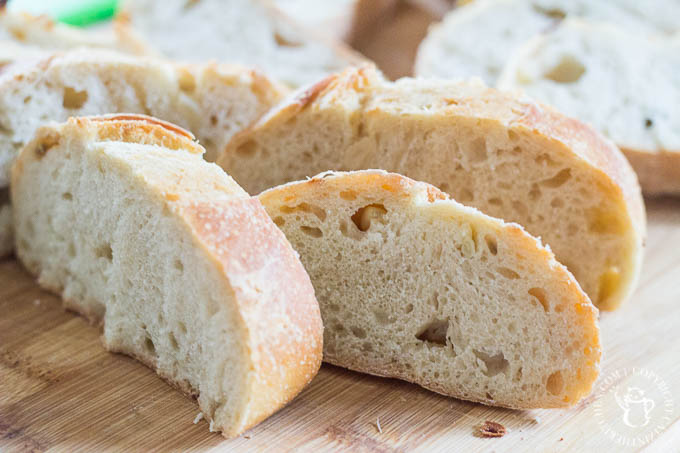 Yes, this is supposed to be an appetizer, but we fix a big plate and call it dinner. Selecting the bread is key – Italian bread (ironically) does not work well, as it's too soft to hold up well and burns quickly. French bread is okay, and some sort of crusty artisan bread, with garlic cloves roasted inside, sliced thickly, is perfect. Buy that. You'll love it…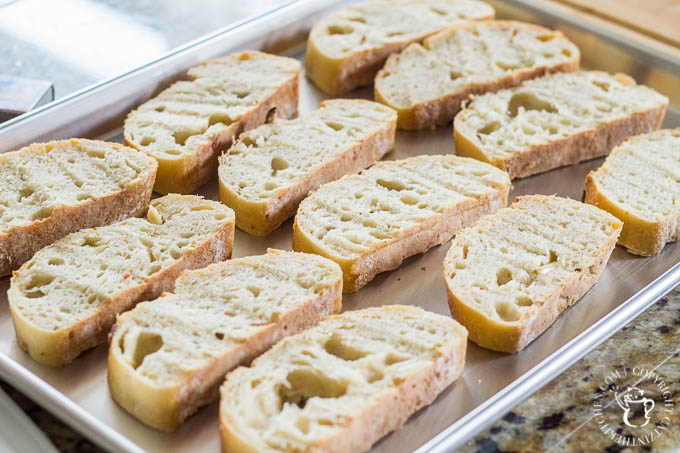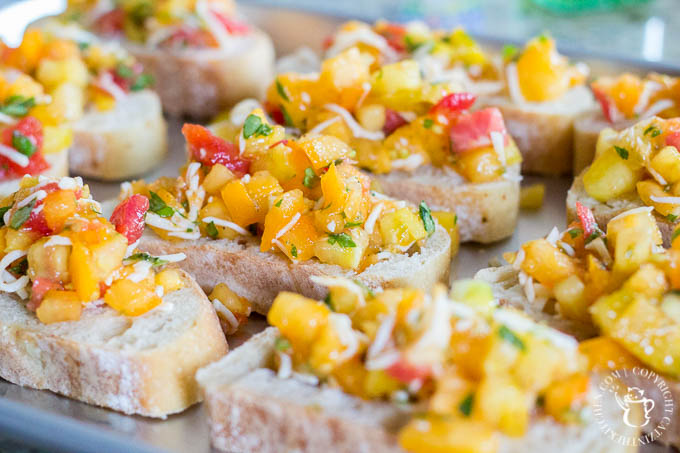 You can do a lot of things with this basic idea. We've made heartier versions with bacon and chicken (I tried making one with shrimp – don't do that), but you could certainly go farther out on a culinary limb, if you were adventurous. My absolute favorite variation thus far? During the summer, on Saturday mornings, we head for our local farmer's market. There's a small French stand called
Petite Provance
from a local
boulangerie
and
patisserie
. Their bread is out of this world (or at least this continent), so I buy a loaf of that. Then I swing around to the other side and grab a pint or two of heirloom tomatoes. Not only is the end result the most beautiful bruschetta you've ever laid eyes on, it tastes unbelievable. If you can, do that.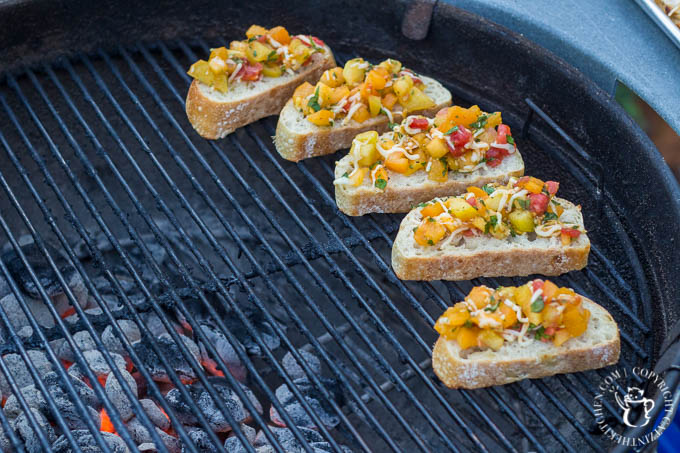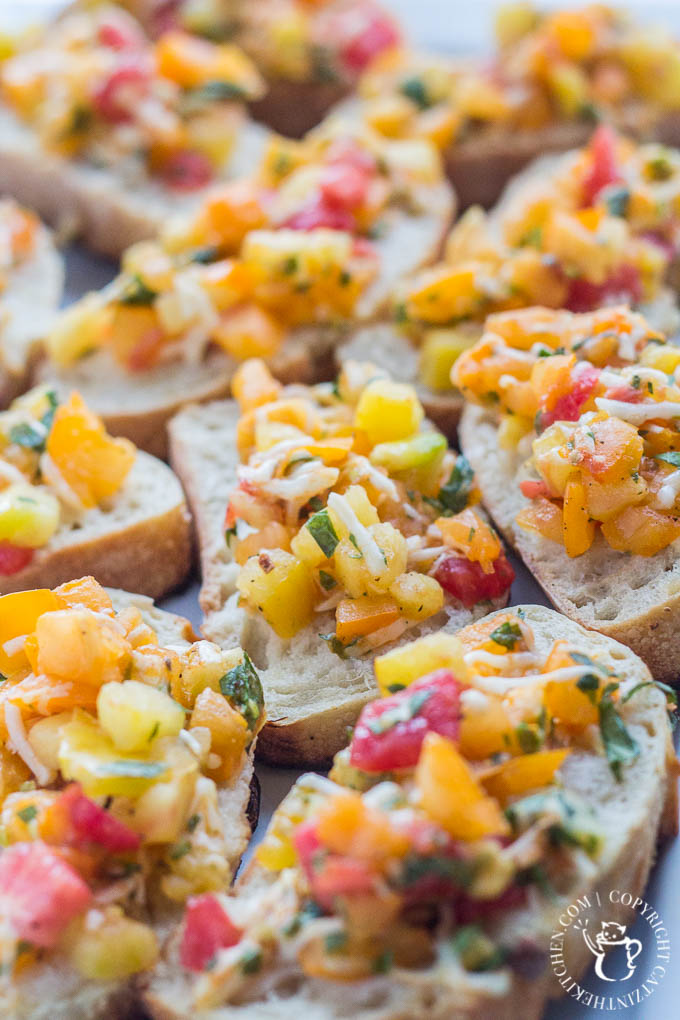 I hope you enjoy this very basic recipe – we've been grilling it for years, and it is a summer staple here in the Catz kitchen!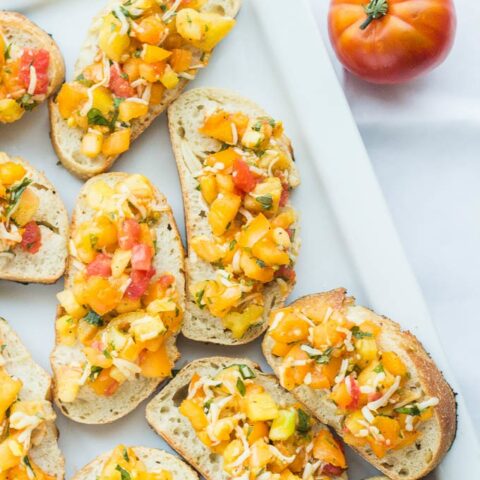 Heirloom Tomato Bruschetta
Heirloom Tomato Bruschetta is our favorite, simple go-to recipe for light, healthy summer grilling! This recipe has five ingredients, & is ready in 15 min!
Ingredients
1 loaf crusty bread, sliced thickly
4-5 large heirloom tomatoes
1/2 cup shredded mozzarella cheese
1/4 cup chopped fresh basil
1 tablespoon extra virgin olive oil (plus more for drizzling and basting)
Kosher salt and freshly ground black pepper to taste
Instructions
Preheat a grill to medium heat.
Baste one side of the bread slices with olive oil, and place them oil-side down on a large platter.
Add tomatoes, cheese, basil, and tablespoon of olive oil to a large bowl, and toss.
Spread tomato mixture evenly over the tops of the bread slices. Drizzle with additional olive oil.
Working quickly, add bread slices oil-side down to heated grill. Close grill lid at once and allow to grill for about two minutes. Within a very short time period, bread should brown and begin to blacken on the bottom, and cheese should melt.
Remove from heat and serve immediately.
Nutrition Information:
Yield:

12
Serving Size:

1
Amount Per Serving:
Calories:

202
Total Fat:

4g
Saturated Fat:

1g
Trans Fat:

0g
Unsaturated Fat:

3g
Cholesterol:

2mg
Sodium:

361mg
Carbohydrates:

34g
Fiber:

3g
Sugar:

6g
Protein:

7g
Nutrition information isn't always accurate.