A late summer salad that is simple, healthy, colorful, and easy to make for crowds? That's where this summer squash caprese salad comes in!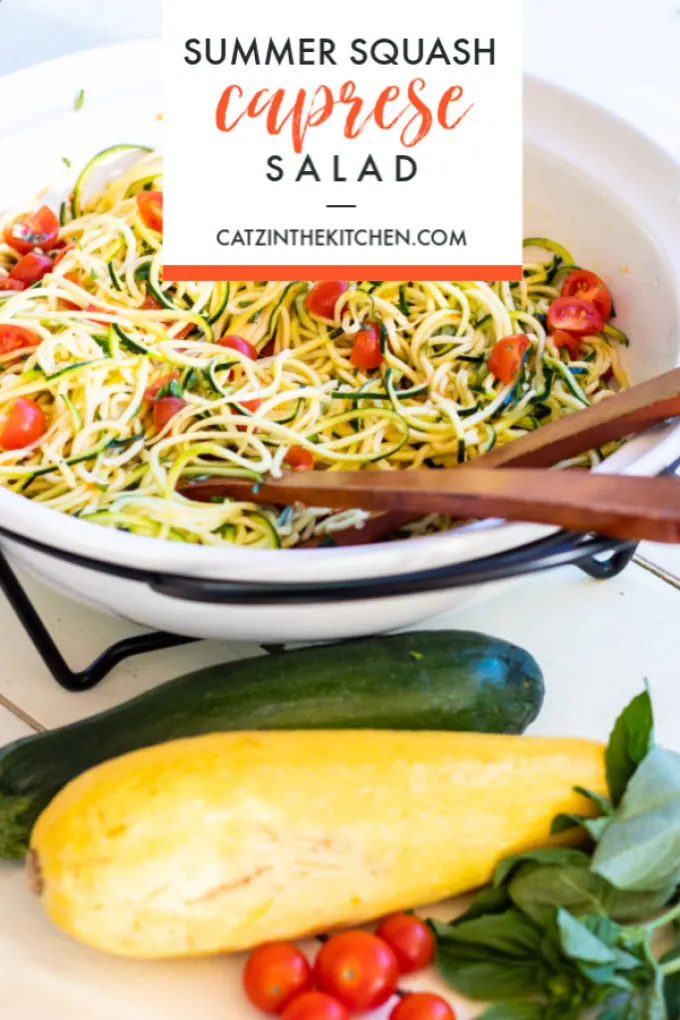 I love good cooking. I mean who doesn't, right? I appreciate people who understand flavors and enjoy creating beautiful dishes…and then there is, of course, the eating of said dishes. I love good food. Eating good food excites me, but I also I love taking time off from cooking because it gives me a break and I always come back to my kitchen refreshed. I mean, again, I really love cooking, but everybody needs a break, right?
For the last three years, I have been attending the Club31Women Writer's Retreat in Central Oregon. Lisa, who runs Club31Women brings all of her contributors together for three days of relaxation while encouraging, learning, and growing with each other.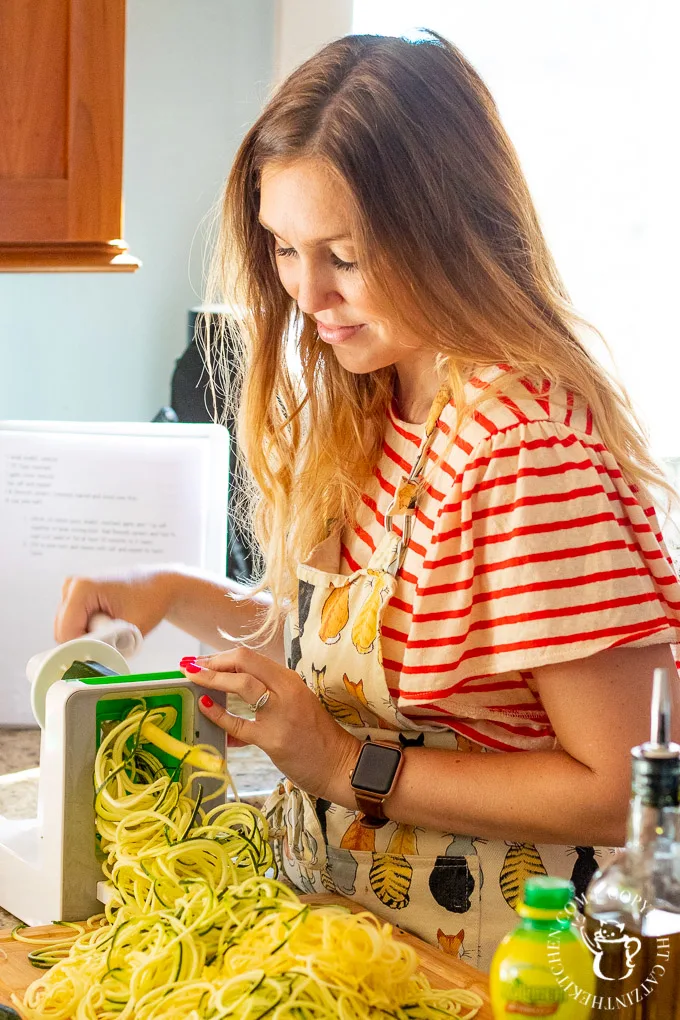 We had our biggest year yet with 18 women being able to attend. We were able to find a house big enough for all of us on a gorgeous piece of land. However, at any retreat or gathering, people need to eat and that is where our friend Neysa comes in. If I could link to a blog where Neysa resides, I would, because she is amazing – but she doesn't have a blog (sadly!). She does, however, have an IG account, so you can go follow this sweet and talented soul over there if you'd like.
Neysa attends Lisa's home church fellowship and the first year of the retreat she volunteered to cook for the group. She's been coming back every year since to cook for us – which, believe me, is a feat, because that is three meals a day, plus snacks, drinks, and dessert, plus all the prep that goes into making the meals, not to mention picking out the recipes, buying the groceries, hauling said groceries to the house, etc. It's a labor of love and one for which I am truly grateful.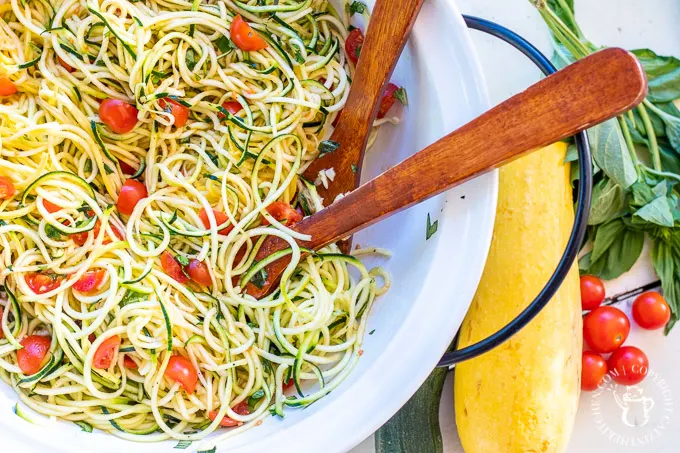 I do want to mention that we (all the ladies who are not Neysa) do the dishes, so she isn't cooking and cleaning, and this year, we did have the lovely pleasure of having Lisa's husband and their three sons serve us a beautiful three course meal. Such a treat!
The recipe I'm sharing today is this Summer Squash Caprese Salad – Neysa has been preparing this salad for us the last three years and it is heavenly and so simple. Not only is it beautiful, but also super flavorful, and full of very good things for you. What I love about this side dish is that you get to serve it cold. I mean, you could warm it up by steaming the zoodles for a few minutes if you wanted to, but I prefer to keep things simple and serve it cold. Also, did I mention it is all put together in one bowl? I mean, simplest side dish for summer and early fall EVER!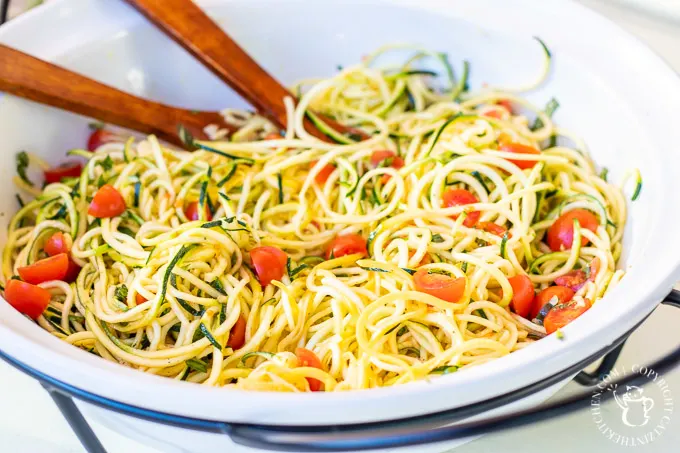 For making the "noodles" of squash, I really like this spiralizer from OXO. I've had it for about a year – it works beautifully and is really easy to use.
Before summer is over and the summer squash season is over with it, I'm telling you, make this side dish for a meal. It is really great for big crowds and I promise is just simply delicious, beautiful, and easy.
Summer Squash Caprese Salad
A late summer salad that is simple, healthy, colorful, and easy to make for crowds? That's where this summer squash caprese salad comes in!
Ingredients
4-6 zucchini/yellow squash
1 cup cherry tomatoes, quartered
1/4 cup basil, thinly sliced
1 clove garlic, minced
1/4 cup extra-virgin olive oil
Sea Salt and black pepper to taste
Instructions
Chop the ends off the squash and peel down the center seedy section with a julienne vegetable peeler or use a vegetable spiralizer to make spaghetti-like noodles.

Combine the cherry tomatoes, basil, garlic, olive oil, salt, and pepper in a medium sized serving bowl.
Toss the squash with the tomato mixture and serve.
If you want the dish to be warm- steam the squash noodles for 2 minutes. Remove squash from steamer pot and and allow to sit in the basket over a plate and drain for 10 minutes before combining with the tomato mixture.
Nutrition Information:
Yield:

6
Serving Size:

1
Amount Per Serving:
Calories:

127
Total Fat:

10g
Saturated Fat:

1g
Trans Fat:

0g
Unsaturated Fat:

8g
Cholesterol:

0mg
Sodium:

53mg
Carbohydrates:

8g
Fiber:

2g
Sugar:

5g
Protein:

2g