This coconut chicken tikka masala recipe is kid-friendly, make-ahead easy, and ready to add some variety to your weeknight meal plan!
I did so much cooking during our self-quarantine this past spring, like a lot of people, I bet. I wasn't making as much banana bread as some people, but I was in the kitchen…a lot!
One of the things I did was cook through some of my cookbooks – and I use the term "cook through" loosely, because I don't want to imply I cooked every recipe in the cookbooks I focused on. I didn't. In the Magnolia Table Volume 2 cookbook, I think I made like 17 recipes out of the book, or something close to that number. I just chose cookbooks that were on my shelf and bookmarked all kinds of recipes that looked good to me. One of them was this Coconut Chicken Tikka Masala, and it's so good, I've made it 3-4 times since!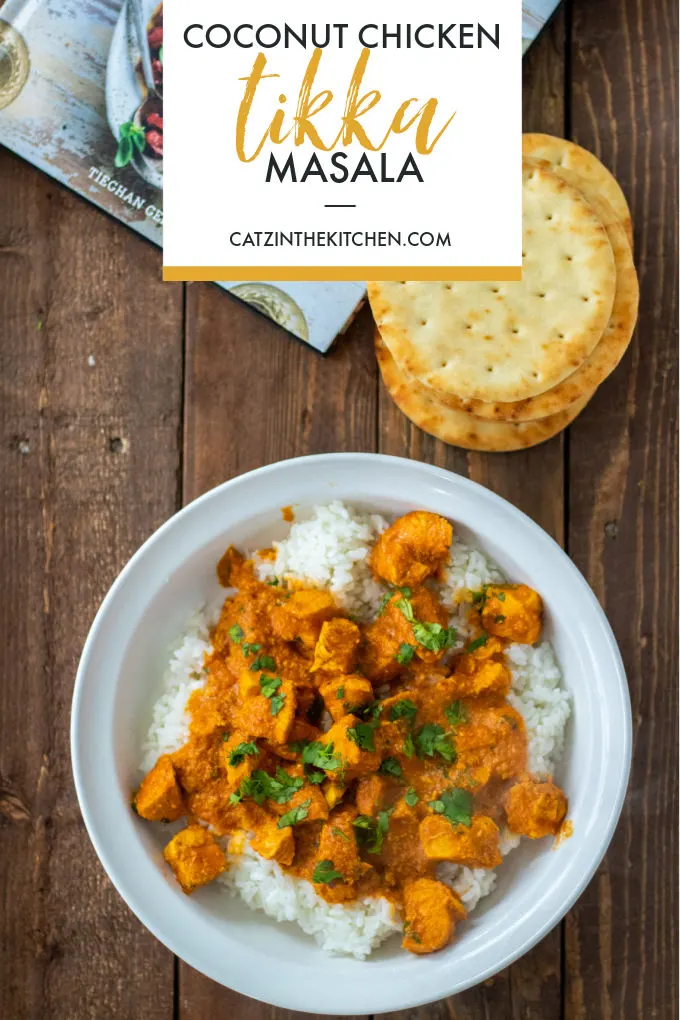 Coconut Chicken Tikka Masala is a really easy recipe with pretty typical ingredients. The only spice you may not have in your pantry is garam masala – which for some reason I had on hand! I'd bought it from my favorite spice seller at our local farmer's market, The Spice Pilgrim. However, everything else in this recipe is easy to find at your local grocery store.
One of the other things I like about this recipe is that you can prep the curry paste ahead of time and keep it in the fridge until you need it. Or, make the paste ahead of time and use some of the paste, the diced up chicken, and the yogurt, and marinate the chicken ahead of time so you can leave it overnight in the fridge. When dinner the next night rolls around, you're ready. You can even freeze the paste – I'll include directions for that in the notes section of this post in case you're interested.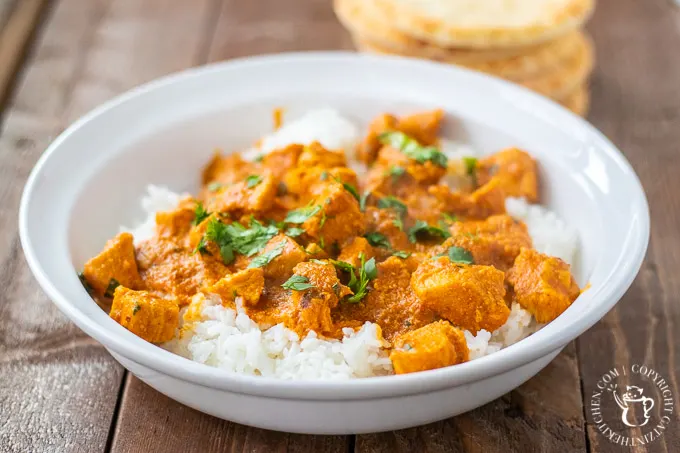 I think this makes for a really great back to school dinner idea because, like I mentioned above, you can prep some of the ingredients ahead of time (the paste and the chicken), it's healthy, but also it's not a very hands-on dish. The chicken cooks in the sauce and simmers in a pan with a lid on top for 15-20 minutes, which is enough time to either do dishes, set the table, read a book to a kid (or two), go over a homework lesson, give your spouse a smooch (or two), text a friend back, check your email, pay a bill (or…four), or even read a few pages of a book you're working on. And if you've got a rice cooker, then it just got even easier, because that gizmo does all the work, too!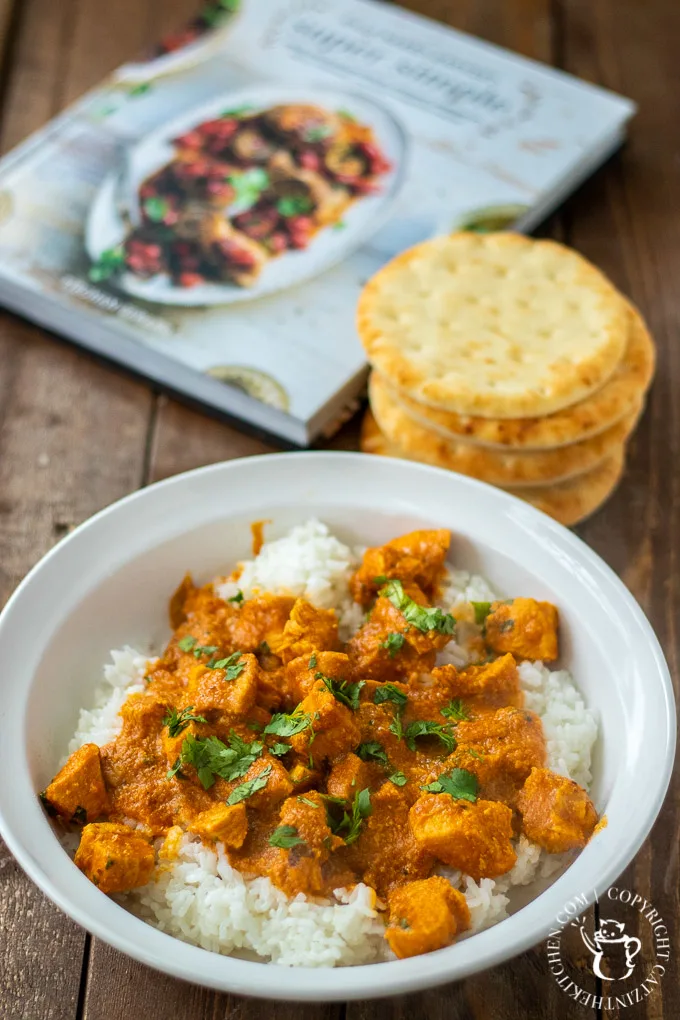 With this dinner, I honestly don't worry about sides. Between the chicken and the rice that's basically enough. However, my family is obsessed with naan bread, so I always buy it from the store for this recipe as a side. My favorite commercially available naan brand is Stonefire, and one of the cool things is they sell a container with 12 Naan rounds in it for around $4.99 – which is more than enough for my family. (I shop at Fred Meyer, by the way, which is a Kroger affiliate if you want to look for it where you shop – spendy on Amazon!)
One more reason I like this meal is because my kids don't get to eat Indian food a lot and this is a great way to kind of test out their tastebuds on flavors they're not used to. Don't worry, this is not a spicy dish! If it were, my kids would probably not touch it, haha!
Give this dish a whirl real soon on one of your back to school nights and let me know how you're family enjoyed it!
Coconut Chicken Tikka Masala
This coconut chicken tikka masala recipe is kid-friendly, make-ahead easy, and ready to add some variety to your weeknight meal plan!
Ingredients
Curry Paste
1 medium yellow onion, diced
1 shallot, halved
6 cloves garlic, minced
2 (1-inch) pieces of fresh ginger, peeled
3 tbsp garam masala
2 tsp ground turmeric
2 tsp kosher salt
1 tsp crushed red pepper
Zest of 1 lemon
Chicken
2 lbs. boneless, skinless chicken breast, cubed
1/2 cup plain Greek yogurt
1 (14 ounce) can full-fat unsweetened coconut milk
1 (6 ounce) can tomato paste
1/4 cup cilantro, chopped
4-6 cups cooked rice, for serving
Instructions
Make the curry paste: In a blender or a food processor, combine the onion, shallot, garlic, ginger, garam masala, tumeric, salt, red pepper flakes, and lemon zest and pulse until a smooth paste forms, about one minute.
Make the chicken: In a gallon-sized ziplock bag, combine 2 TBSP of the prepared curry paste, the chicken, and yogurt. Seal the bag and massage the mixture into the chicken to cover completely. Marinate at room temperature for 30 minutes or if you're prepping ahead of time, refrigerate up to overnight.
Heat a large, high-sided skillet over medium heat. Add 1/4 cup of the curry paste to the pan and cook until fragrant, about 1 minute. Stir in the marinated chicken, coconut milk, and tomato paste. Cover and cook until the chicken is cooked through about 15-20 minutes. Remove the lid and simmer until the sauce is slightly thickened, about 5 minutes.
Stir in cilantro and serve the chicken over rice with Naan on the side.
Nutrition Information:
Yield:

6
Serving Size:

1
Amount Per Serving:
Calories:

1129
Total Fat:

9g
Saturated Fat:

3g
Trans Fat:

0g
Unsaturated Fat:

5g
Cholesterol:

129mg
Sodium:

910mg
Carbohydrates:

188g
Fiber:

5g
Sugar:

3g
Protein:

67g
Nutrition information isn't always accurate.