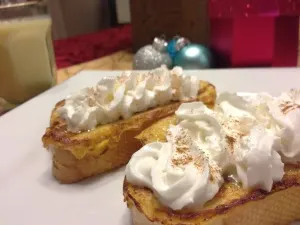 I seem to be on something of a holiday French Toast kick lately. You know what? I'm totally okay with that. French Toast is always wonderful, and always a bit reminiscent of the holidays, what with its hints of nutmeg, suggestions of cinnamon, and whispers of vanilla. It can be Christmas in July, Thanksgiving in February, or Winter Solstice in May. Needless to say, I'm a fan. However, as we participate in the actual holidays themselves, it's fun to take those hints and whispers and turn them into focal points. Pumpkin was something of a forgone conclusion, I suppose, but what about egg nog?
I find that egg nog can be something of a polarizing subject for many people. It seems as though you either can't get enough of the unique flavor profile, or you just can't stand it at all. Luckily, the majority of the people I engage in culinary conversation seem to be of the former opinion, and that conclusion is well-supported by the facts at hand. In much the same way that pumpkin-flavored everything surfaces as Thanksgiving draws near, so, too, do all things egg nog with the advent of Christmastime. Egg nog ice cream, Coffee-Mate, cookies, and fudge all vie for our tastebuds, and I, for one, don't mind a bit. In fact, our most popular recipe ever here at Catz was Chels's egg nog fudge from last year. My constant indulgence come the holiday season? Egg nog in my coffee, each and every morning. If you haven't tried it, you should.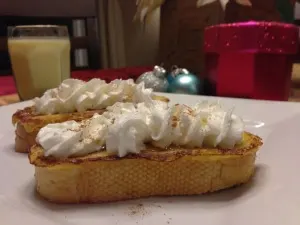 A few weeks ago, Chels brought to my attention an egg nog French Toast recipe she found on Pinterest. I immediately loved the simplicity of the ingredients and preparation – I'm all for in-depth, complex recipes that leave me in the kitchen for hours on end, but, let's face it, you can only fix that sort of thing so often. This looked to be one of those things you could whip up anytime, with little or no advance notice, in a matter of minutes. And so it proved to be – I made a couple of ever-so-minor adjustments, tried it out, and loved it. I think the entire process took about fifteen minutes. So, why not whip this up for your family as the holidays draw near? It doesn't need to be a special occasion, and you won't need to add much to your grocery list. You'll love the simplicity, the flavor, and the gentle undertone of egg nog flavor. Give it a try!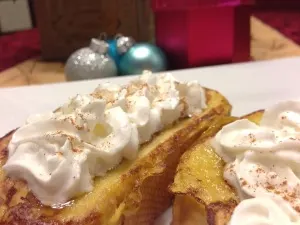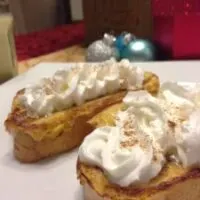 Egg Nog French Toast
Ingredients
A small loaf of French or Italian bread, sliced roughly half an inch thick
6 eggs
roughly one cup of egg nog (adjust to taste)
about a tablespoon of vanilla (again, adjust to taste)
pinch of salt
butter for frying in pan
1/4 tsp of nutmeg
Instructions
Beat eggs, egg nog, vanilla, salt, and nutmeg together in a large boal until smooth.
Heat skillet to medium heat, and melt some butter (about a tablespoon) in the pan.
Dip slices of bread in the egg mixture, allowing them to coat thoroughly.
Fry in pan until golen brown on both sides, turning once.
May keep finished slices warm in 170 degree oven. Serve topped with butter and syrup.
Nutrition Information:
Yield:

6
Serving Size:

1
Amount Per Serving:
Calories:

137
Total Fat:

9g
Saturated Fat:

4g
Trans Fat:

0g
Unsaturated Fat:

4g
Cholesterol:

216mg
Sodium:

140mg
Carbohydrates:

5g
Fiber:

0g
Sugar:

4g
Protein:

8g
Nutrition information isn't always accurate.