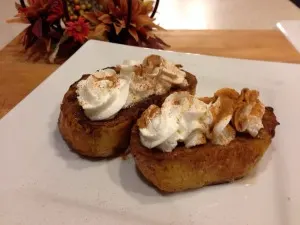 There's a meme going about – I'm pretty sure Chels has already posted it elsewhere – that shows a picture of Sean Bean from (I'm assuming) Game of Thrones. He's leaning heavily on his sword, full beard, eyes weary, with a massive fur coat draped across his shoulders. My understanding (I don't have HBO) is that the first episode of Game of Thrones is titled "Winter is Coming." Appropriately enough, then, the meme's upper title reads "Brace Yourselves" – the lower title says "Pumpkin Flavored Everything Is Coming."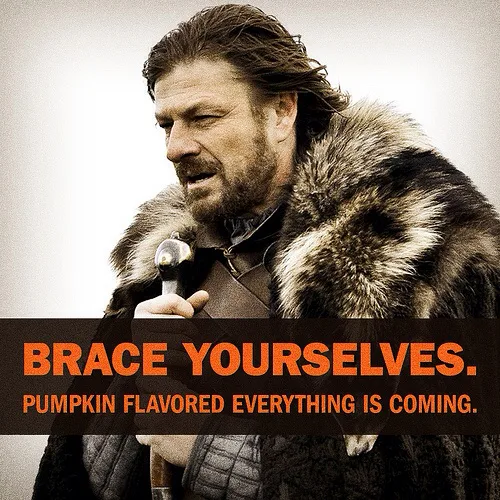 It's quite true. This time of year, it seems as though pumpkin is the magical ingredient that can be added to virtually any recipe with spectacular, homy, sentimental, savory results. Pumpkin lobster? Pumpkin tuna? Pumpkin scrambled eggs? Knock yourself out. Okay, don't do that. Even pumpkin has its limits.

It does turn out to be true, however, that those limits are considerably less constrictive than the vast majority of ingredients. Realistically, pumpkin coffee drinks, shakes, pies, cakes, mac and cheeses, and pancakes are all looking pretty tasty. Chels came across a recipe quite some time ago that she stocked away to try some quiet evening, and tonight turned out to be that evening. Pumpkin Pie French Toast? Yes, please. This recipe is very simple, uses primarily ingredients you're sure to have in your spice drawer, and is simply decadent.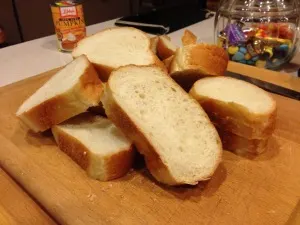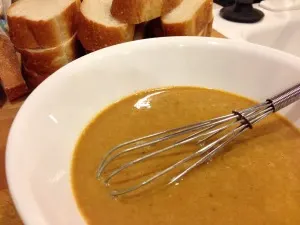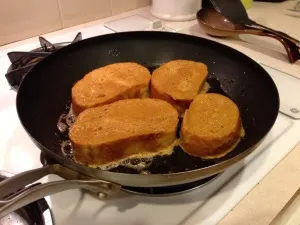 A couple of tips, now that I've made this and adapted it. First, use fresh French bread. Most supermarkets bake their own French bread these days, and you shouldn't have any trouble finding a loaf that was just baked a few hours ago. Use a loaf, not a baguette. Secondly, don't cut the bread thin. Shoot for about an inch in thickness. On your average size loaf of French bread, this should yield around ten usable slices. I've adapted the recipe Chels found up by about fifty percent to accommodate ten inch-thick pieces of French Toast. If you end up with extra, throw it in a plastic bag and put it in the fridge – breakfast tomorrow, anyone? In addition, finishing the plate off with whipped cream and a dusting of cinnamon is simply the proverbial icing on the proverbial cake. It's a must. Just do it.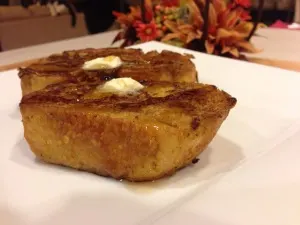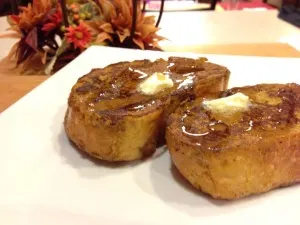 The high notes in this dish are subtle, indulgent ones. While the vanilla, nutmeg, and cinnamon are pretty standard fare for any good French Toast recipe, the ginger, brown sugar, and cloves took me by surprise. The flavor after cooking is simply delightful, led by the vanilla and cinnamon, but with distinct undertones of pumpkin and spice. Try it – you'll like it.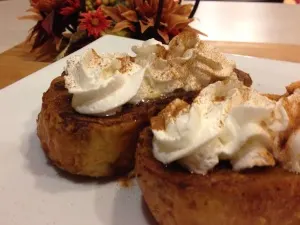 3 eggs
3/8 cup milk (6 tbsp or 3 oz)
3/8 cup of pumpkin puree (not pumpkin pie filling)
1/2 tsp vanilla
3/4 tsp cinnamon
3/8 tsp ginger
Heaping 1/8 tsp nutmeg
Heaping 1/8 tsp cloves
3 tbsp brown sugar
1 loaf fresh French bread
3 tbsp butter
Cut French bread into one inch thick slices. Add all ingredients except bread and butter into shallow, wide bowl and beat until combined. Heat skillet to medium heat and add one tbsp butter. Dip each side of a piece of bread in the bowl, ensuring the bread is well covered. Add to pan and cook about 2 minutes per side, or until browned. Repeat with remaining slices, and keep warm in 170 degree oven until ready to serve. Serving suggestion: top lightly with butter and syrup, and finish with whipped cream and a dusting of cinnamon.