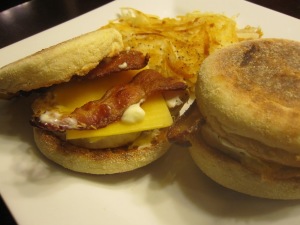 Customarily, if one is the mood for an egg muffin sandwich (the "Mc" is a McDonald's copyright), one makes a beeline to the nearest Micky D's. It's not expensive, generally pretty yummy, and probably one of the more authentic-tasting foods one will procure from the golden arches. However, let's face it: fast food for breakfast is generally not a great idea. I have no crusade against fast food establishments in general, or McDonald's in particular, but the reality is that consumption of such mass-produced meals ought to be limited to infrequent occasions. Besides, why make the trip to your local burger joint for a simple scrumptious breakfast sandwich, when you can just as easily whip one up at home?
Enter my homemade egg muffin sandwiches. Once you get the basics down (and they are basic), you can do pretty much whatever you feel like doing with the ingredients – leave off the meat, add on more meat, sub the bacon out for the Canadian variety, add a tomato, switch up the sauces, etc, etc, etc. In a couple of minutes, you can have your very own egg muffin sandwich anytime you want, without leaving the house, and without any residual guilt.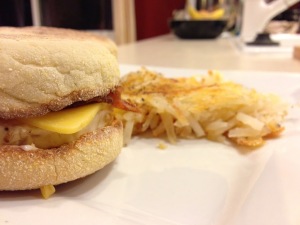 There's really one key point to this exercise. You need egg rings. Have to have them. If you don't, go and get some. I use them for everything, from little perfectly round pancakes to these sandwiches. They're pretty cheap, easy to clean, easy to use, and extremely versatile. They come in sets of two, four, or even singles, if you really want to build your collection one at a time. You can't find them everywhere, but I have seen them at Kitchen Kaboodle, among other places. The benefit to using the egg rings here is that your eggs will turn out exactly the right size, every time, and they will look incredibly appetizing – remember, appearance is important (I'm still figuring that out…)!
So, without further ado, here it is: the basic recipe for egg muffin sandwiches, which I encourage you to get comfortable with and customize – make the changes mentioned above, switch the muffins out for biscuits, and find the amount of horseradish that's right for you.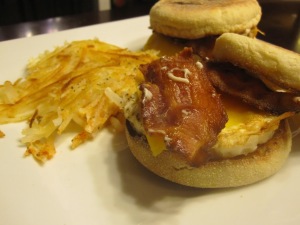 Homemade Egg Muffin Sandwiches
A tasty and simple breakfast idea, sure to become a go-to meal in mornings, afternoons, and evenings!
Servings: 4
Cook Time: 15 minutes
Ingredients
4 sourdough English muffins, cut in half
4 large slices of cheddar cheese
Mayonnaise and horseradish, for spreading
Non-stick cooking spray, for the egg rings
1 tbsp of butter
Directions
Heat butter in a large non-stick skillet. Spray insides of egg rings with non-stick cooking spray, and place in heated skillet.
Meanwhile, toast English muffins, either under a broiler or in a toaster oven. Toast until just browned on the edges.
Crack one egg directly into each egg ring. Puncture yoke before it has a chance to set. Allow eggs to cook in the egg rings until somewhat stable, with a minimal amount of liquid egg whites on top. Using tongs or an oven mitt, grasp and remove the egg rings from pan, leaving the eggs in place. If the rings stick to the eggs, run a knife around the inside edge of each ring. Flip the eggs once, allowing the top to fry for a moment.
Spread mayonnaise on the bottom half of each English muffin, and immediately place an egg on each half. Top with a slice of cheddar cheese, and then snap each piece of bacon in half, placing the two halves on top of the cheese. Spread horseradish on the top half of each English muffin, and place on top to finish the sandwich. Serve immediately, or keep warm in an oven at 170 degrees (briefly – they will dry out quickly). Serve with fresh fruit, hashbrowns, or any other breakfast side that appeals to you.