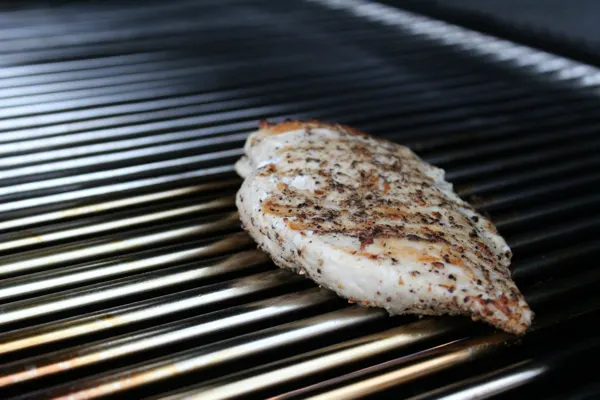 Okay, this is technically more of a continuation of the "grilling basics" theme from yesterday. This lemon pepper chicken isn't something I would recommend making as a main course all on its own – it's my go-to grilling recipe for any meal that needs sliced chicken breast when I feel like grilling it. Making a caesar salad and want to add grilled chicken? This is an easy way to do that. Fettuccine Alfredo with a tender, flavorful bit of protein? Look no further. Point being, when I want to add grilled chicken to my entree without making things complicated, I do it this way. And, hey, it's pretty dang tasty to boot.

You'll need completely thawed chicken breast for this method, so try to plan ahead if you can. Of course, you can use the microwave to thaw the chicken in a pinch, but it's hard to get the center thawed through, and you run the risk of drying out the ends.
Grab a shallow glass baking dish, and lay the chicken breast out in it completely flat. Drizzle the chicken in olive oil, allowing the excess to gather in the bottom of the dish. Use a pepper mill to grind fresh black peppercorns over the chicken, and then sprinkle with salt. Use a spice grinder to sprinkle the chicken with a basic lemon pepper mixture. Use tongs to turn the chicken breast over and repeat the process for the other side.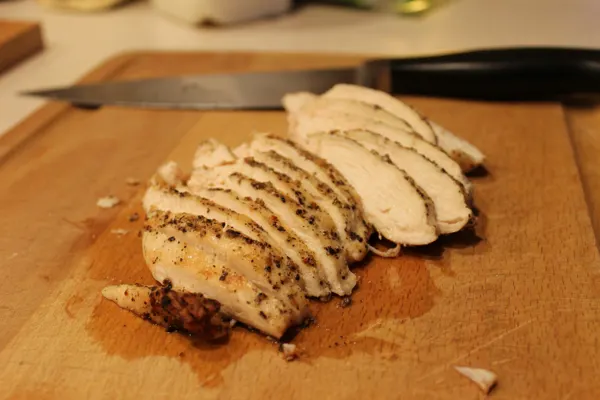 Let the chicken sit in the olive oil while you preheat the grill – about ten minutes. Grill the chicken breast on an oiled grill grate on high heat for about six minutes per side, or until the the center reaches an internal temperature of 165 degrees. Try to time the grilling with the completion of whatever dish you're adding it to, so that you can slice and serve the meat hot. Unlike beef or pork, there's no need to let the chicken rest before slicing it – when the temperature's right, use tongs to transfer it to the cutting board and make nice, clean slices with a chef's knife across the chicken breast (if you're planning to serve the chicken breast sliced in a highly visible way – on top of rice, for example – a slight diagonal angle to the slice improves the visual appearance). As always, the juices from the chicken should be running clear, or there may be something wrong with your meat thermometer!
And that's it! Slice it, dice it, serve it in hot pastas and cold salads – it's a simple, universal recipe that takes no time at all to prepare and goes with a wide variety of meals. Of course, feel free to change up the spice mixture to suit the dish you're making – enjoy!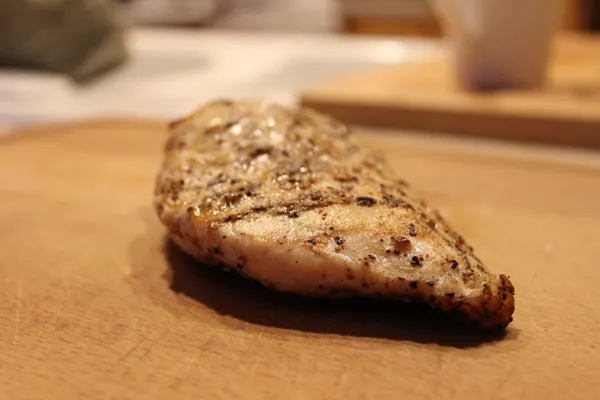 Simple Lemon Pepper Grilled Chicken
A highly versatile basic grilled chicken recipe that can be paired with a wide variety of entrees.

Servings: Depends on dish
Prep Time: 5 minutes
Idle Time: 10 minutes
Cook Time: 10-15 minutes
Total Time: 25-30 minutes
Ingredients
1 boneless skinless chicken breast
2 tablespoons olive oil (approx)
1/2 teaspoon freshly ground black peppercorns (approx)
1/4 teaspoon salt (approx)
1/2 teaspoon freshly ground lemon pepper (approx)
Directions
Place chicken breast flat in the bottom of a shallow glass baking dish and drizzle with olive oil.
Sprinkle both sides of chicken breast with ground peppercorns, salt, and lemon pepper, and allow to stand for 10 minutes. While chicken breast is standing, preheat grill to high heat.
Grill approximately six minutes per side, or until chicken breast reaches an internal temperature of 165 degrees and juices run clear.
Transfer to cutting board to slice and serve immediately.