I'm not normally the one who writes the "low calorie" posts. Chels does a fantastic job watching what she eats, which is why she looks so unbelievably fantastic two months after having a baby. I, on the other hand, am not as good. My favorite snack? A piece of multigrain bread slathered in chunky peanut butter and chocolate chips. Some protein there, to be sure, but each slice is close to 500 calories. Generally, though, we both avoid fast food, snacking between meals, and pop (except on special occasions!), and we exercise regularly, leading me to avoid spending too much time counting calories (or buying new jeans). Once in a while, though, I come across a meal that ticks all three boxes – low calorie, nutritious, and tasty. Normally, you have to sacrifice at least one of those boxes to enjoy a decent meal (often you're sacrificing both of the first two), but we try to check off as many as possible as often as possible. This is one of those "all three boxes" meals.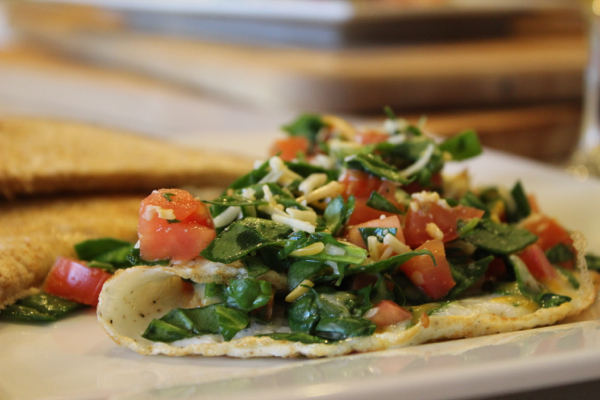 Chels and I are both big omelet fans – my dad did most of the breakfast cooking at home when I was growing up, but omelets were always my mom's specialty. In fact, it's probably the only breakfast food she taught me to make – lots of dinner and lunch, though! I had never had an egg white omelet until Chels and I had been married for quite a few years – I guess I just never saw the point. I love eggs (especially the yolks), I was in my early 20's, and I weighed about 130 pounds. I needed all the egg yolks I could get. Now, though, as I'm closing in on 30, still slim but not skinny, I don't think there's any harm in reducing my fat and cholesterol intake a bit now and then. Chels is very appreciative, and I like our girls to get used to the idea that you can make something healthy that also tastes delicious. So, egg whites. Chels likes me to keep the yolks in a plastic bag in the freezer so she can use them for baking later (sometimes I forget), but otherwise it does seem wasteful just to throw them away. That's probably my biggest issue with just using the whites. Other than that, they're surprisingly tasty, and they cook up beautifully – I'd say an egg white omelet is done in about one third the time of a regular one, and is much easier to cook evenly.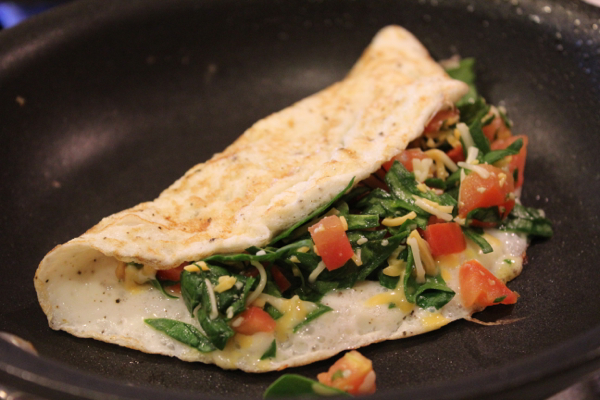 All of that being said, the other morning it was just Chels, myself, and baby Christian here (no omelet for him), and I came downstairs to make breakfast. I had farm fresh eggs from my mother-in-law's chickens, raw spinach leaves that we keep in the fridge for Grace's rabbit, leftover Roma tomatoes from making The Pioneer Woman's chicken tacos, and a variety of low fat cheese blends. Omelets sounded good, but I knew Chels and I were both in the mood for something light, so I didn't reach for the sausage or ham in the freezer. Instead, I Googled my ingredients and found about ten different tasty-looking omelet recipes. Some involved feta cheese, which I had but was low on, and some involved dill weed (a story for another time). I ended up just deciding that the ingredients obviously went well together and plunging ahead. What I ended up with is similar to a variety of recipes out there, but probably most closely resembles this one at Reader's Digest Asia.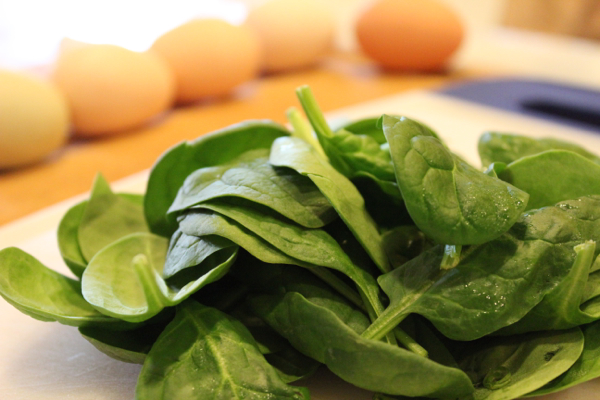 Raw spinach leaves are the most awesome kind of green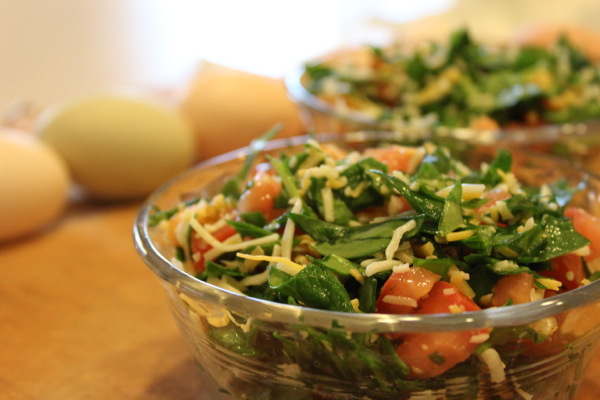 Colorful food tastes better
I need to get those cast iron skillets you can eat out of…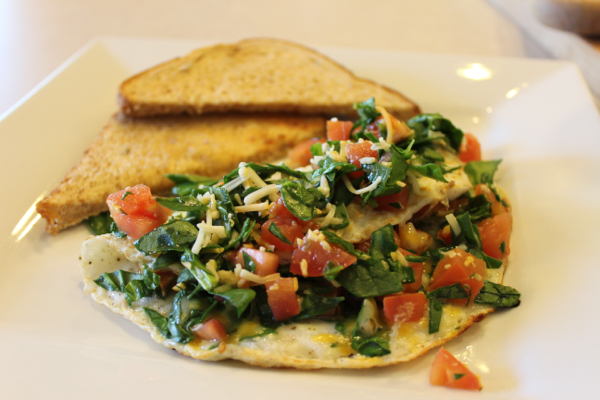 Even the kids liked them – no kidding!
The beauty of this recipe is threefold: it looks incredibly appetizing, with it's beautiful color palate; it tastes delicious and won't weigh you down at only about 120 calories; and it's quick, cooking up in about ten minutes. As an aside, I would definitely recommend keeping spinach and Roma tomatoes around the house – they're versatile and healthy ingredients that are amazing to have nearby when you're trying to come up with something yummy on the fly. The acid test for these omelets, of course, was when I made them again on Monday morning with the girls at home. A four-year-old and an eight-year-old can put any healthy recipe to the test. The verdict? They loved it, both cleaning their plates! As a secondary aside, 120 calories isn't a lot if you're (a) a growing child or (b) planning some physical activity – such as going to the gym – later in the day. We supplemented with multigrain toast and orange juice. That doubles or even triples the calorie count, but those are pretty good calories. My estimate of the calorie count says 112, but I know this is approximate, so I rounded up to 130. Enjoy!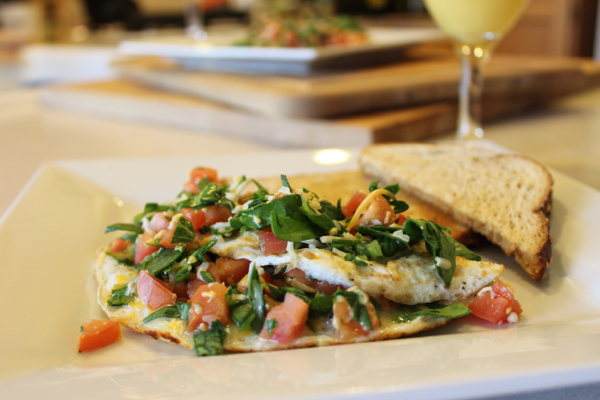 130 Calorie Egg White Omelet with Spinach and Tomatoes
This omelet is so delicious, you won't be able to believe it has fewer calories than the piece of toast at its side!
Servings: 2
Prep Time: 5 minutes
Cook Time: 5 minutes
Total Time: 10 minutes
Ingredients
6 egg whites
1 cup chopped spinach leaves
1 diced Roma tomato
ground pepper
4 tbsp (1/4 cup) low fat Mexican cheese blend
Directions
Place three egg whites each in two small bowls. Pepper to taste. Beat until small stiff peaks form.
Place 1/2 cup spinach, half Roma tomato, and 2 tbsp cheese into one small prep bowl. Repeat for remaining ingredients in second small prep bowl.
Coat two 8″ skillets lightly with non-stick cooking spray. Heat to medium heat. Add one bowl of egg whites to each pan, and lift and swirl pan to ensure even distribution across the bottom of the skillet.
Cook for about one minute, using a spatula to lift cooked edges slightly and move uncooked egg white in center of pan to the outside.
Split one prep bowl's vegetable and cheese mixture to between the pans, placing the mixture on one side of each omelet. Fold the uncovered side of the omelet over about 3/4 of the way, leaving a portion of the vegetable mixture exposed.
Cook for another one to two minutes, and then slide directly from pan onto plate. Split the remaining bowl of vegetable and cheese mixture between the omelets, sprinkling over the top and serving immediately.
Nutrition Information
Approximate (per omelet)
48 calories – 3 egg whites
3 calories – 1/2 cup raw spinach
11 calories – half Roma tomato
50 calories – 2 tbsp cheese blend
112 calories – total