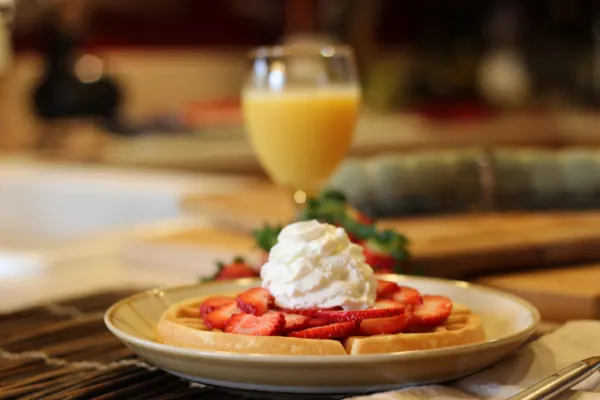 I made Belgian waffles for breakfast last weekend for a couple of reasons. First, Chels doesn't like waffles, and I am continually trying to win her over. Who doesn't like waffles, right? They're so good! A breakfast staple! I continue to believe that one day the right waffle recipe will cause her to see the light. Secondly, my brothers and sisters gave my dad a new rotating Belgian waffle maker for his birthday at the beginning of February, and I've been wanting to make them ever since.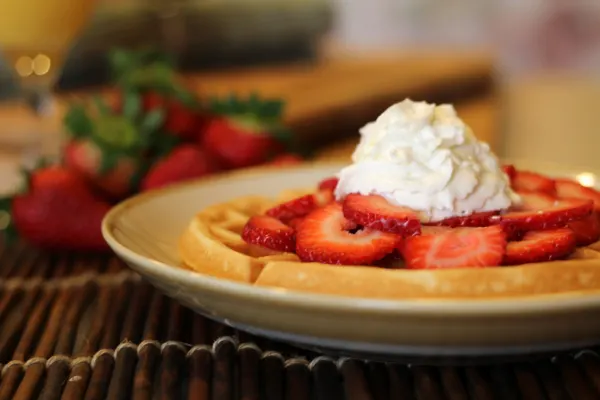 This recipe is an interesting one – it's a bit more involved than most of the recipes for waffles I've made in the past, supposedly because it's more authentically "Belgian." I'm not enough of an authority on Belgian waffles to be able to attest to whether or not that is true, but I can tell you this: it has yeast in it. The flavor of the end product is very good, and the texture of the waffles themselves (when cooked properly) are just right – light, fluffy, and a bit springy. Another thing I like about this recipe – it makes a lot of waffles! The recipe itself claims a yield of eight waffles, but with my traditional seven inch Belgian waffle iron, I actually got about ten. Your mileage may vary, naturally. If you're serving a crowd, this is just the ticket. If you're not, put them in the fridge or the freezer, and you've got a quick and easy homemade breakfast just a moment away.
A couple of tips! Always serve Belgian waffles with fresh berries (I normally recommend and use strawberries or blueberries, but almost any berry will do). Additionally, I didn't find that my batter quite "doubled" in volume the way the source recipe says it ought to, but it still turned out just fine, so don't let that scare you off. Enjoy!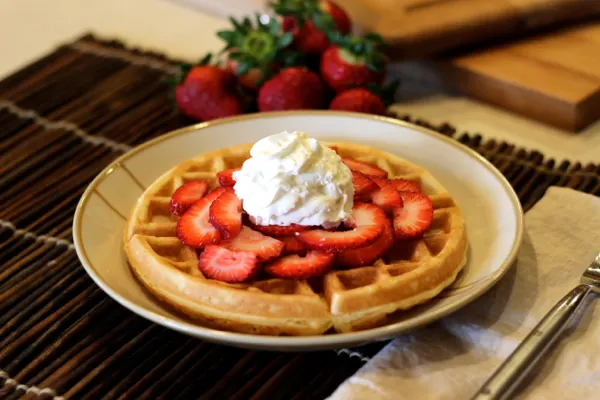 Belgian Waffles for a Crowd
Sourced from Allrecipes.com
Craving a light and fluffy Belgian waffles to top with your favorite berries? Need to feed a crowd, or want to have some leftovers to get you through the week? This recipe is your answer!
Servings: 8-10
Prep Time: 10 minutes
Idle Time: 1 hour 10 minutes
Cooking Time: 30-40 minutes
Total Time: About 2 hours
Ingredients
2 1/2 tsp active dry yeast
1 tsp sugar
3 cups warm milk (roughly 110 to 115 degrees)
3 eggs, divided into yolks and whites
3/4 cup butter, melted and cooled to just under the temperature of the milk
1 1/2 tsp salt
1/2 cup sugar
2 tsp vanilla
4 cups flour
Directions
Dissolve yeast in 1/4 cup of the warm milk, adding the teaspoon of sugar and stirring just enough to combine. Set aside until frothy (about 10-15 minutes).
Preheat oven to 250 degrees.
In a very large bowl (min 4 qt) beat egg yolks, another 1/4 cup of the warm milk, and butter together. Stir in sugar, vanilla, salt, and yeast mixture from step 1. Alternating back and forth, stir in remaining warm milk and flour, ending with the final cup of flour.
Turn off preheated oven.
In a separate bowl, beat egg whites until soft peaks form. Fold into batter.
Cover batter with plastic wrap and place in warm oven for one hour.
Preheat waffle iron and brush with vegetable oil (for most non-stick waffle irons, you will only need to do this once). Ladle on enough batter to fill center of waffle iron (usually 1/2 to 3/4 cup).
Cook waffles approximately three to four minutes, or until a light golden brown. Keep warm in 200 degree oven until ready to serve. Top with butter, syrup, berries, whipped cream, or any combination of the above.