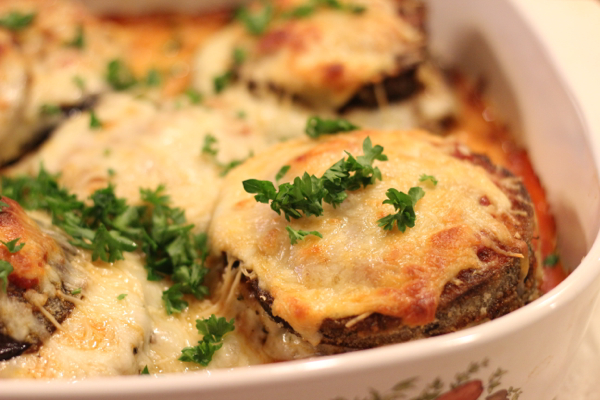 This is one of those meals I had planned on making several times in the past. I had bought all the ingredients and then, I don't know, it never got made and that beautiful deep purple fruit (yes, I thought it was a vegetable too) would waste away.
As a kid, I was always very weary of eggplants. To my knowledge, they were the things only vegetarians ate, and I was happily a meat eater. I had met more people in my life who didn't like eggplant than liked it. But as I grew into the foodie I am today, eggplant was one of those things I really wanted to try and I really wanted to like it.

I finally got my chance to try eggplant for the first time last May in San Francisco, when yes, once again, our dear friends Karen & Jared (and now baby Ethan- has joined the family) made us eggplant parm. I was so excited and so nervous at the same time to try it. But I was hooked within the first bite. And so was Josh, and so was Grace, and so was Eden.
So last week, when I saw eggplants were 5 for $5 at the store, I bit the bullet and bought everything I needed to make it. I'm so glad I did because it was just as amazing as I remembered it. I highly recommend this dish, especially if you like Chicken Parmesan. Don't be intimidated by it's deep puple oblong shape. This fruit has got quite a flavor and is a great way to mix up one of your weekly dinners into a meatless one.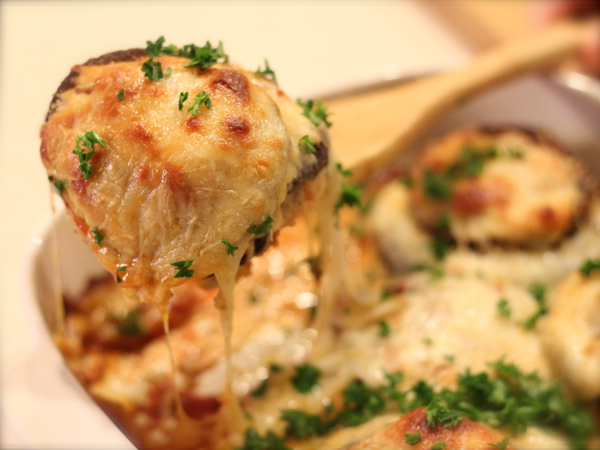 Eggplant Parmesan
Sourced from Table for Two
If you love Chicken Parmesan, then you will love this meatless version!
Servings: 3-5
Prep Time: 75 minutes
Cook Time: 25 minutes
Total Time: 1 hour and 40 minutes
Ingredients
1 large eggplant, sliced into 3/4 " thick slices
2 TB kosher salt
1 1/2 cups Italian seasoned breadcrumbs
3 eggs
1/2 cup milk
4 TB vegetable oil, for lightly pan-frying
3 cups marinara sauce
2 cups mozzarella cheese, shredded
1 cup parmesan cheese, shredded
Directions
Salt both sides of the eggplant slices and let them drain in a colander for 45min-to 1 hour.
When your eggplant has finished draining, brush off excess salt.
In two shallow bowls, add breadcrumbs to one and whisk eggs and milk into the other. Dip both sides of the eggplant slices into the egg mixture and then into the breadcrumb mixture. Place on a large baking sheet, repeat with the remaining eggplant slices.
Pre-heat oven to 375 degrees.
Heat a skillet over medium-high heat. Add 1 TB of veggie oil to the pan. When hot, place two slices into the pan and cook on both sides until golden brown. Remove and place on a plate with a paper towel to soak up any remaining grease. Repeat with with 1 TB of oil for every two eggplant slices.
In a large casserole dish, add about 1 cup of marinara sauce to the bottom of the dish. Add a layer of eggplant slices. The using about 1/4 cup of sauce, dot the slices with the sauce and then cover in a layer of mozzarella and parmesan cheese. Repeat until you run out of eggplant slices and cover with more cheese.
Bake for 20-25 minutes, until the cheese is brown and bubbly on top.