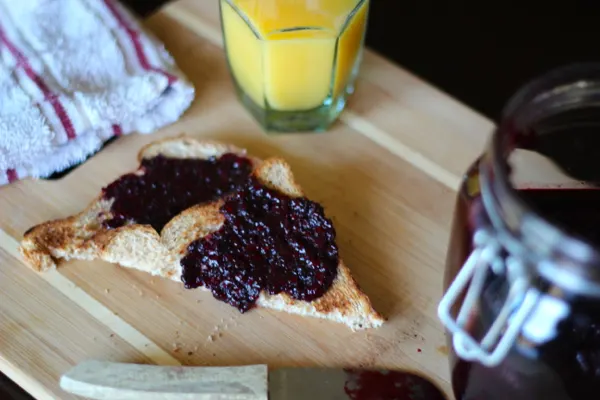 Right now I've got an abundance of mint growing in my garden. It grows like a weed! Literally! I had to cut some back the other day because its tall limbs were blocking all the sun from my basil, which is definitely a no-no! I've also got a freezer full of marionberries thanks to Jessica's (my sister in love) boyfriend, Paul. Paul's dad owns like a gazillion acres of marionberries and when he dropped off a huge box of berries for Jessica and the rest of Josh's family to enjoy, I think he took pity on me and gave me my own huge box of berries because I was walking around with this mopey, nobody loves me expression on my face. Just kidding! I just talked non-stop about what I was going to make with them if I had some. I think he got the point because I ended up with quite the plunder on my hands. Thanks again, Paul! I tell ya, a guy who brings your family loads of berries…that's a guy to hang onto…and I'm not just speaking out of my own greedy selfishness. Okay, maybe I am…just a tad! ;)
A few years ago, I was watching the food network and Giada made this delicious jam with blackberries and basil. It looked amazing! I have such a thing for jam, but I've always been a little anxious of making my own. I mean the process of canning is so so so much work and I didn't grow up with a canning family so I don't have the foggiest of what to do.
Once I got the berries and saw that my mint was going out of control, I thought that marionberries and mint might make a delicious change to blackberries and basil, and I was right! This jam is so delicious!I could eat it right out of the jar. While I enjoy eating jam on toast, this would be great in ice cream, or drizzled over some grilled chicken! Don't ya just love the good eats that summer brings?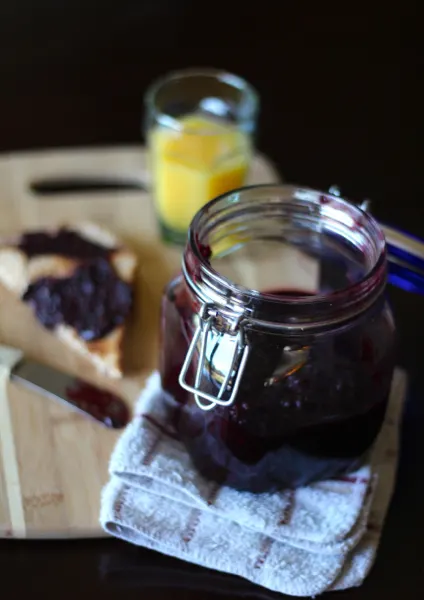 Marionberry & Mint Jam
Adapted from Giada De Laurentiis
A sweet and slightly savory jam that is delicious on a plain piece of toast or succulent on some grilled chicken.
Makes: 1 1/2 cups
Prep: 10 minutes
Cook Time: 30 minutes
Total Time: 1 hour and 40 minutes
Ingredients
2 cups of marionberries, thawed and juices reserved
2 cups of fresh mint leaves
2/3 cup sugar
1/4 cup orange juice
3 TB fresh lemon juice (about 1 medium lemon)
Directions
Place the marionberries and their juice in a medium pot and lightly mash with a potato masher or a fork.
In a food processor (or a blender), combine the sugar, mint leaves, orange juice, and lemon juice. Blend until smooth.
Pour the mixture into the pot and stir the berries into the mixture to combine and bring to a simmer over medium heat. Simmer until the mixture thickens, about 25-30 minutes stirring occasionally.
Remove the pan from heat and allow to rest and come to room temperature for one hour. (Jam thickens as it cools.) Refrigerate in an airtight container for up to one week!