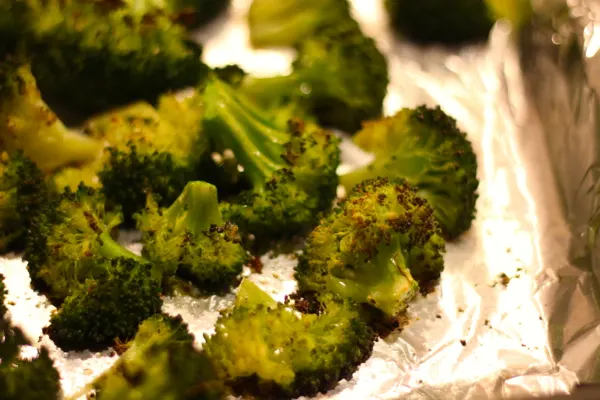 I love broccoli! Like, I L.O.V.E. it…A LOT! It was always my favorite vegetable as a kid. I would always take seconds if they were available and I'd steal the little trees off of my dad's plate when it was stir-fry night. I just love it!
I'm not sure how you all grew up eating broccoli, but I grew up with my mom steaming it with salt and pepper and topping with some cheddar cheese, which is how I always used to make it. I say used to, because when I roasted broccoli for the first time, I got weak in the knees. The vegetable I was already head over heels in love with just got better being roasted in the oven. I should have known better. I haven't met a vegetable that doesn't like being roasted in the oven.
It's super easy too! Here, let me show you with these nifty pics I took!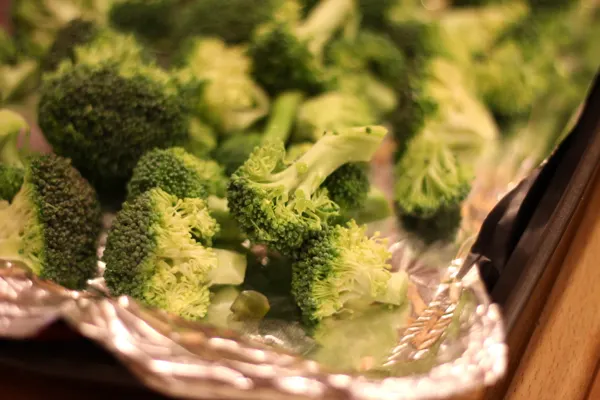 Wash your broccoli and chop it up into florets and throw them on a baking sheet that's covered in aluminum foil. (I heart aluminum foil because it makes clean-up is a cinch!)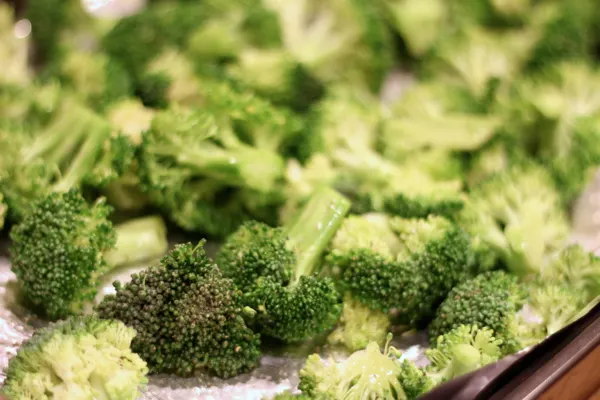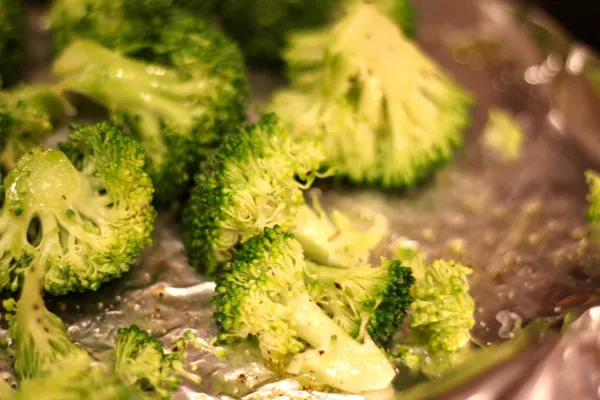 *Sorry bout the wacky lighting- Oregon can't make up its mind if it wants to be sunny or cloudy!*
Drizzle the florets with extra-virgin olive oil, salt, and pepper.
We keep it pretty simple 'round here, folks!
Then roast it in your pre-heated oven at 425 degrees for 15-20 minutes. You'll know it's done because it will smell fabulous and the little sprigs on the the florets will have turned a little dark because it got toasted it up in all that evoo, salt-n-peppa goodness!
Speaking of Salt-n-Peppa-who remembers them from the 90's? "What a man, what a man, what a man, what a man, what a mighty good man!" Sorry, I can't help myself! I have issues. Clearly! You can thank me later when you find yourself humming to the tune of this while surfing your phone later!
Remove the baking sheet from the oven and you've got one tasty side dish that was super easy. Good luck keeping all your family members' hands out of it. One bite and you'll be beating them off with your wooden spoon!
Like I said, this is my new favorite way to cook broccoli and probably the only time I'll steam my broccoli again is if my oven is already in use…because I haven't got me a double oven yet. Someday, people. Someday!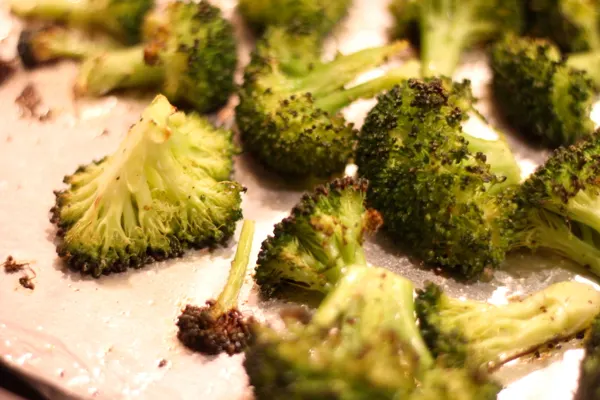 Roasted Broccoli Florets
These little green trees are roasted to perfection with just a little bit of seasoning allowing these bite size beauties to let their natural flavors tease your tastebuds!
Serves: 4
Prep: 5 minutes
Cook Time: 15-20 minutes
Total Time: 25 minutes
Ingredients
2-3 cups fresh broccoli, chopped into florets
3 TB ( a nice drizzle) extra-virgin olive oil
Salt and pepper to taste
Directions
Pre-heat oven to 425 degrees. Line a large baking sheet with aluminum foil. Scatter chopped florets on baking sheet.
Drizzle with olive oil, salt and pepper and toss together with your hands to ensure even coating.
Place baking sheet in the oven and roast for 15-20 minutes or until broccoli is tender and the bristles have started to turn a nice toasty brown.
Remove from oven and gently toss with a spatula and serve immediately.