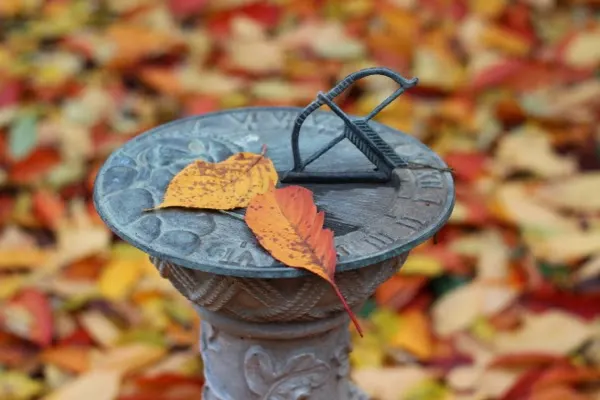 So, I don't usually write Tuesday's Tidings, but I haven't had a meal to blog in a while (it's been almost a month – my last post was my Cinnamon Apple Spice French Toast back in October!), so Chels asked if I would want to write this post (maybe once a month going forward – we'll see). It's not that I haven't been cooking – I have – but with the new job and being sick for the last two weeks, I just haven't been playing with a lot of recipes or having time to photograph them. So, without further ado, here are my "Tuesday's Tidings!"

1. Leaves. They are everywhere. The picture above is from our side yard, which always has the most. There are several gorgeous trees that border the yard (some are ours, some are the neighbors'), and come November, all of that beautiful foliage is unceremoniously dropped on our grass. Without fail, the entire lawn is covered – not a green blade to be seen. I see raking in my future.
2. We started submitting some of our food photography to
Foodgawker
this week. Much like
TasteSpotting
or
Tasteologie
,
Foodgawker
is a curated food photography website, meaning, unlike
Pinterest
, you can't just post whatever you want. Each submitted photograph is reviewed manually (as in, by a human being!) and accepted or rejected. When the photos are rejected, the reviewer sends you an email with short critique, which I am finding very helpful (i.e., poor composition, white balance issues, overly shallow depth of field, etc). I think we've submitted about 20 photos, of which nine have been approved. I'm going to use a sports analogy (odd for me) and say that I'll take a batting average over .333 any day. You can check out the photos we've had approved
here
! Another thing I'm really liking about
Foodgawker
is that, unlike
TasteSpotting
, which can take weeks to approve or deny a photo, the site generally responds to your submissions within 24 hours.
3.
The trailer for Noah is out.
If you haven't seen it or heard about it yet, Russell Crowe and Darren Aronofsky have decided to bring the Biblical story of the flood to the silver screen. I'm not sure how I feel about this. I'm all for the masses being exposed to Biblical stories, but (a) I doubt there are a ton of people out there who haven't heard the story of Noah and the ark, and (b) I doubt even more that many will be driven to read the actual story in Genesis based a Hollywood-ized version of the story. I'm sure Crowe can play a fine Noah, but Aronofsky at the helm is another concern – he's insanely talented, to be sure, but also way out there (
The Black Swan
?
Requiem for a Dream
?). All of that said, the trailer is great. Maybe I'll just watch that and be happy with it – pretend the movie's only two minutes long.
4. It was dramatically windy here over the weekend (for us – we're talking 25 mph winds, nothing tornado alley-esque), which can be annoying, not only because it acerbates the afore-mentioned leaf problem, but also because it drives away the remaining birds that normally inhabit our backyard. However, even in the strongest wind, these little guys stick around, foraging on the ground, clinging to branches bereft of foliage, and seeking shelter in our little birdhouses.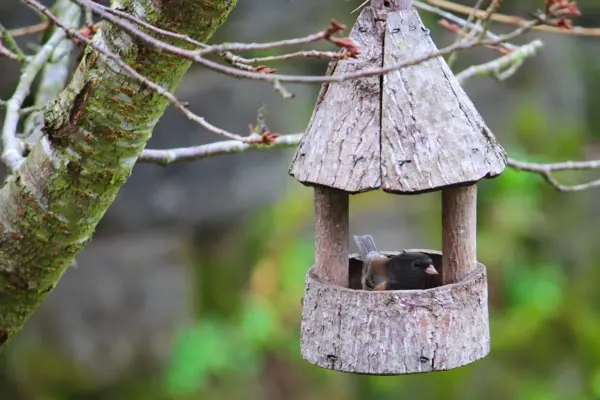 5. As I've mentioned in many a post, I like to cook with hot oil, and I almost always burn myself. The tips of my fingers are so burnt at this point that I barely have any feeling left in them (very nice when playing a steel string guitar, I have to say). Unfortunately, though, I still have plenty of feeling left in my forearms. When I was making breakfast on Saturday (I was testing out a new breakfast potatoes recipe for you – it turned out, but the pictures didn't), a pan of oil heated up far faster than I anticipated, and when I added the potatoes, my forearms were splattered in hot oil. Looks like the burns are second degree, because they're blistering. Yay. Showers will be fun for awhile.
6. So, lighting is hard. We've had our DSLR for about nine months now, and though we've learned a lot, it feels like we're still just beginning to scratch the surface (which is undoubtedly true). Where food photography is concerned, our primary challenge is lighting. Yes, composition, setting, angles, etc are all areas we can work on, but none of that seems to matter if the lighting is poor, and now that it gets dark at 4:30, well…dinner is tough to photograph. So, shall we prepare everything ahead of time and reheat for dinner, photograph only on the weekends, or invest in some lighting equipment?
7. Christian has had quite a week! All at once, he is army crawling (Chels calls it zombie crawling because of his personal twist on the conventional style), pulling himself up to a sitting position from being on his stomach, hanging on to the furniture, referring to Noel (the cat) as "didi," and preferring all of our food over his. Some of these are "early" and some of them are "late," but as I'm always telling Chels, every baby is different. Our experience with our three babies has certainly borne that out. Still, this week it was hard to keep up!
8. Poor Edie had a reaction to her flu shot (which wasn't really a shot, as she keeps reminding me – "Daddy, it was a vaccine…"). It was a nasal spray this time, which is nice, but 24 hours later she had a fever and felt awful. Edie never (ever!) gets sick, so it was hard to see her dealing with that. To make matters worse, we were over at my parents' house for my brother's birthday, which she wasn't really able to enjoy – she loves a party!
9. Speaking of my brother, Jeff, he turned 21 last week. Which is insane. That is all.
10. Actually, that's not all. He's taking an engineering class at Portland State University, and he's been working on building and programming a fan. Yeah. It doesn't sound like much, but it's amazing how complicated it is. He had to design the parts, have them cut and shaped out of plastic, wire the engines, and then write the programming code that would govern the fan speed, when it started and stopped, and the oscillation. I found myself quite fascinated by the process. He finished it while we were over for his birthday on Saturday night – he was underwhelmed as the fan blade spun and the head moved back and forth. I'm sure it seemed a minor accomplishment after weeks of work, but I was ecstatic and very proud – he made it work! I have infinitely more respect for my oscillating fans at this point.