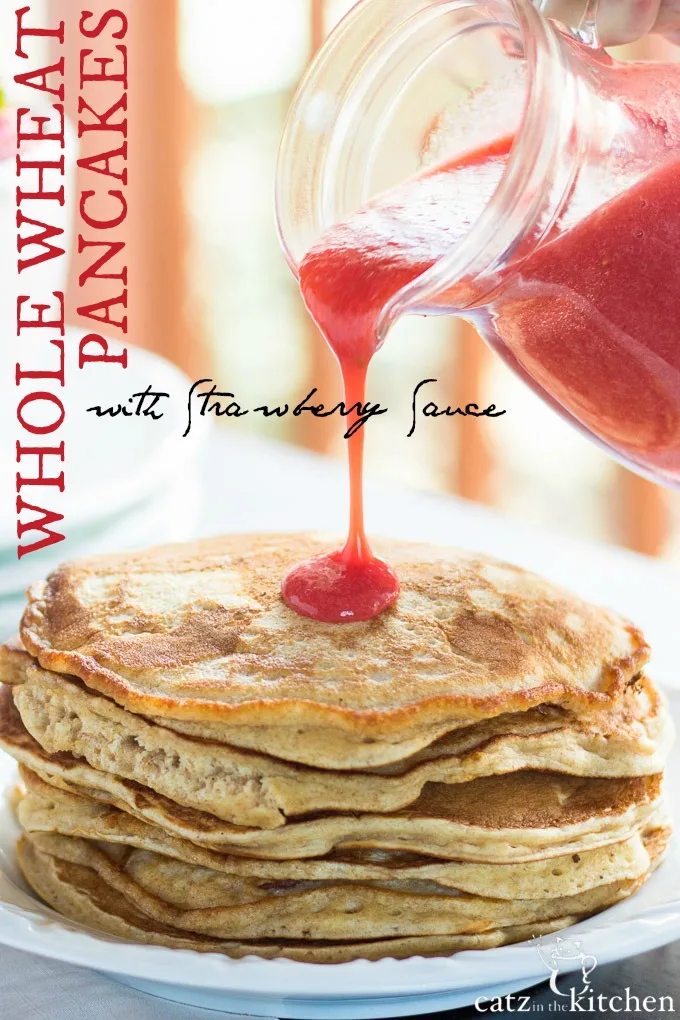 Editor's note: This recipe was originally published on Catz back in 2010. We've brought it back from the archives for several reasons. First, it's a wonderful recipe that you should all try! Second, we've recently re-shot it, with better results. Third, the recipe needed a bit of tweaking, and we've finally gotten around to doing that. Lastly, it's almost Valentine's Day, and this wonderful brunch certainly looks the part! Try it! You won't regret it!
I love breakfast…but I like yummy big breakfasts…not cereal or yogurt. Those plain meals just don't hold much excitement for me. But let me be very clear here…I am never the one to make the "Big Breakfasts." My husband takes much joy in preparing those meals. He loves to get in there and experiment. I however…don't do a lot of experimenting…I make the things I know how to make.
A couple of years ago when I was pregnant with Eden I was watching the Food Network Channel. This recipe caught my eye because all I craved during that pregnancy was fruit and I had a huge love of strawberries then…still do actually. The recipe was Whole-Wheat Pancakes with a Strawberry Sauce. Doesn't that just sound delicious? Well, imagine a 6 month pregnant person watching it and then not being able to eat it when the show was finished…pure torture. So that weekend I went out and I recreated it and it was out of this world. And now…I am bringing the recipe to you. :) Aren't you lucky readers :)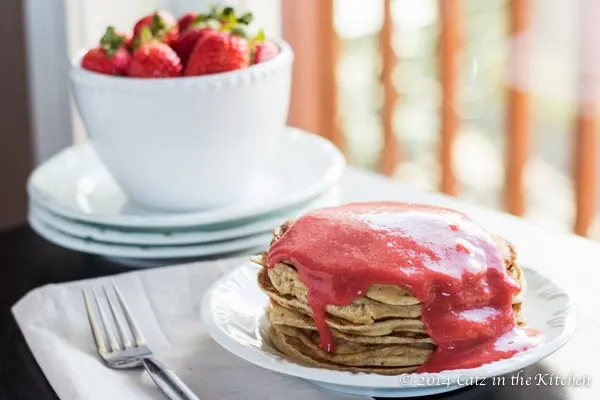 I have always made my pancakes out of a box…but when I saw the show's host "Ellie Krieger" make pancakes out of scratch…it just looked so easy…why wasn't I doing this before?
Do you ever feel like you almost become someone else when your cooking? Like maybe you feel like Julia Child when your making Boeuf Bourguignon or Martha Stewart when you decorate a cake. I feel like Betty Crocker when I make something from scratch. And that's how I felt while I was mixing together a bunch of dry pancake ingredients, is that silly?
The recipe calls for Buttermilk. Now I didn't have any buttermilk and Josh couldn't find any at the store on his way home, but you wanna hear a cool little trick? If you need buttermilk, take a Tablespoon of Lemon Juice and pour it into the bottom of a cup or bowl. Then take about a cup of milk and pour it on top of the juice. Let it stand for 5 minutes and your good to go. So once the dry mixture was ready to go and I had the wet mixture ready, I combinend to two and it will make a lumpy like batter. All you need is about 1/3 cup, maybe a bit less and start making your pancakes on the griddle. The batter will kind of puff up and make these beautiful pancakes that are really thick and fluffy. While the pancakes are cooking, puree the strawberries and pour into a saucepan until warm. Then add a bit more lemon juice and maple syrup and it's done. So simple…and smells sooo good.
You can pour some of the sauce onto the plate first and then top with the pancakes and powdered Sugar or Pancakes, strawberry sauce, and powdered sugar. You can't go wrong; either way it is going to end up tasting delicious! Grace had the sauce poured onto her plate first and Josh and I did the other way…so the choice is up to you!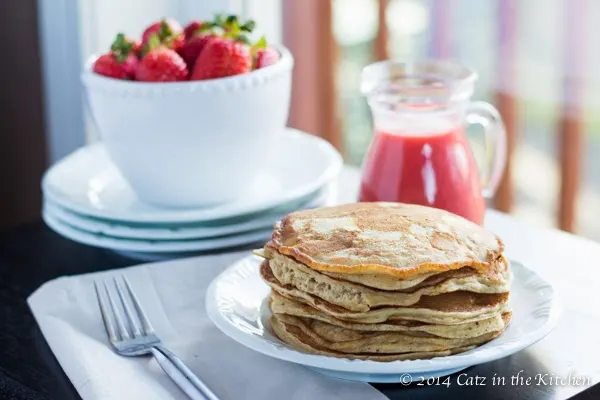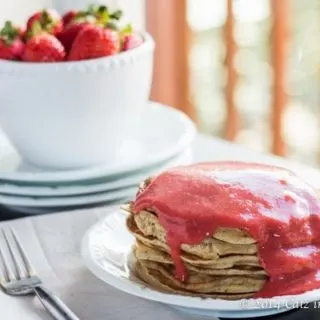 Whole Wheat Pancakes with Strawberry Sauce
Looking for a healthier pancake with a natural syrup free of added sugars but still sweet enough to satisfy your breakfast cravings? You've come to right place!
Ingredients
Pancakes
1 1/2 cups all purpose flour
1 1/2 cups whole wheat flour
1 tbsp baking powder
1 tsp baking soda
1/2 tsp salt
4 eggs
2 cup slow fat buttermilk
1 cup skim milk
2 tbsp honey
1 tsp vanilla
Strawberry Sauce
16 oz strawberries, quartered
1 tsp lemon juice
2 tbsp maple syrup
Instructions
Pancakes
Preheat oven to warm (170 to 200 degrees).
In a large bowl, whisk together the dry ingredients. In another large bowl, beat together buttermilk, eggs, milk, honey, and vanilla.
Preheat a large non-stick griddle or skillet to medium heat (medium-low on a gas range).
Gently stir or whisk the wet ingredients into the dry ingredients, mixing only enough to combine them. The batter will be lumpy.
Add a small amount of vegetable oil to the griddle or skillet and spread it around evenly.
Use a 1/4 cup measuring cup to ladle the batter onto the griddle or skillet. Flip the pancake when the top is bubbly and it is golden brown on the bottom.
Cook until the other side is golden brown. Hold on a cookie sheet in the oven until the entire batch is ready.
Serve stacked topped with strawberry sauce.
Strawberry Sauce
Puree strawberries in a blender to a smooth, slightly chunky consistency.
Heat the puree in a small saucepan over low heat, until they are just warm.
Stir in lemon juice and maple syrup and serve immediately.
Nutrition Information:
Yield:

20
Serving Size:

1
Amount Per Serving:
Calories:

113
Total Fat:

2g
Saturated Fat:

1g
Trans Fat:

0g
Unsaturated Fat:

1g
Cholesterol:

38mg
Sodium:

261mg
Carbohydrates:

21g
Fiber:

2g
Sugar:

6g
Protein:

5g
Nutrition information isn't always accurate.