Oriental Chicken Salad is light, yummy, and full of crunch – a perfect summer salad! It's an easy way to feed a crowd – or make sure there will be seconds!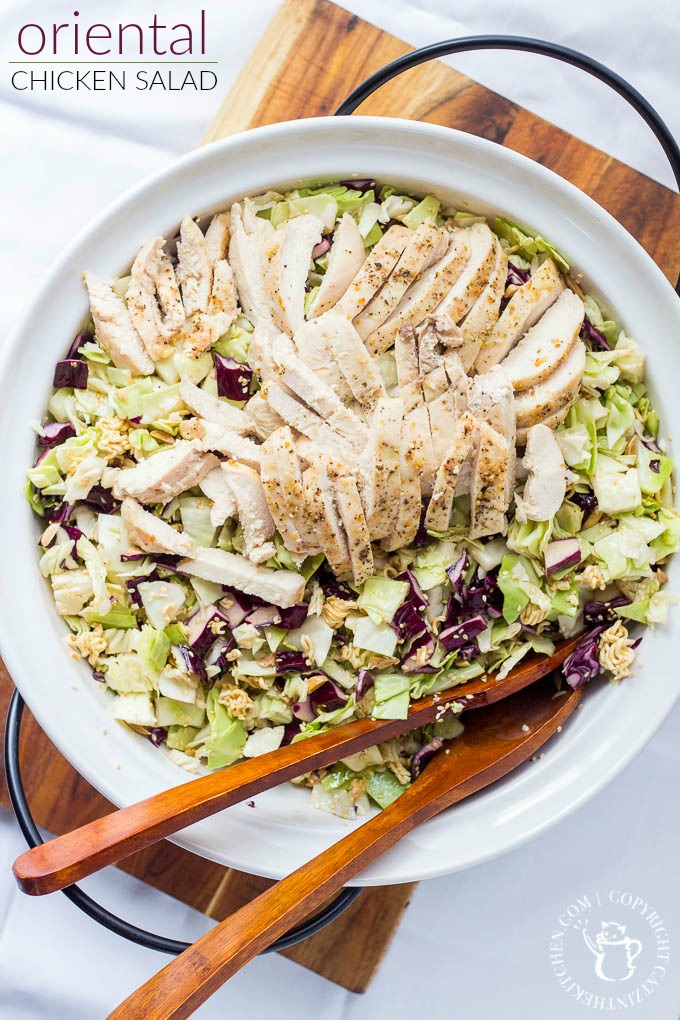 This post originally appeared on Catz in the summer of 2012 (Chels was pregnant with our son Christian – he's three now!). We've made this oriental chicken salad recipe many times since then, and while we often still bake the chicken, sometimes we grill it! We've also started using purple cabbage to brighten things up a bit! At any rate, we've updated the photos and thought we would share this amazing standby recipe with you again!
I remember many wonderful things from my wedding day eight and a half years ago. Saying, "I do," to my best friend and love of my life, celebrating with my friends and family…and oriental chicken salad! (That's not everything – there's more!) I can't say I remember too much about the rest of the food, though. Only this salad, I remember. Maybe I remember eating it because it's my husband's favorite…? It's something of a traditional recipe in Josh's family, and he grew up with his mom making it when guests were over, for church potlucks, and almost any celebration that involved lots of people. (When she wasn't making this oriental chicken salad, she usually made
trainwreck crock pot taco salad
– another family favorite!)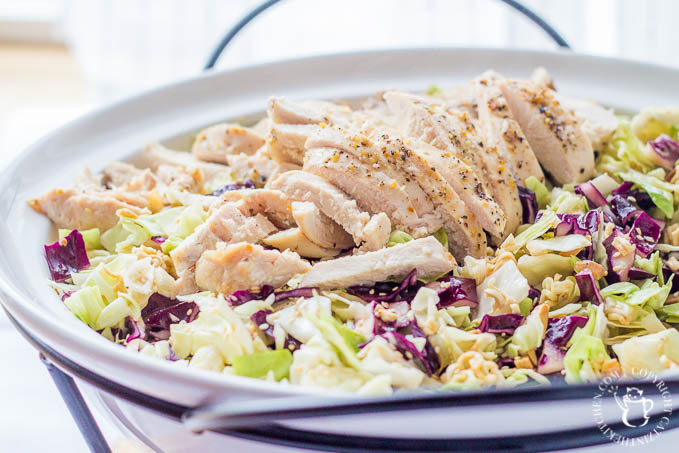 At any rate, with summer here and all, my anxiety is reaching an all time high…probably has something to do with the fact that I'm 15 weeks pregnant, too. We do not have air conditioning in this house. Josh recently bought a unit for our bedroom so I can have a cool place to run off too when the rest of the house is sweltering. But, I still have to get dinner on the table, and I can't very well do that from the bedroom! Thank goodness this dinner only needs the oven for a few minutes – which can be done ahead of time (earlier in the day) before the heat has a chance to really set in!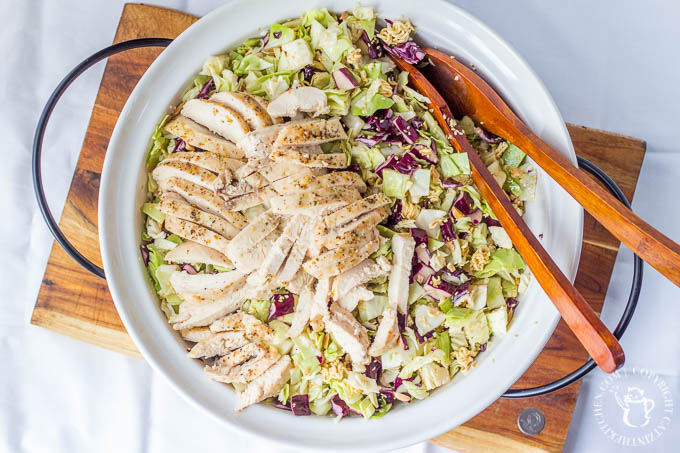 I think salads are such a great summer dinner. They can be as light or filling as you want, and this oriental chicken salad is no exception. I usually pair it with rolls or some kind of bread (just like Josh's mom does!). I do make it in the winter, too, and I've been known to pull this salad together for Josh's birthday, because I know he enjoys it so much. It can be rather perfect because it feeds a crowd! Not having a bunch of people over? No problem. It also works works well if you want to cut the recipe in half or whip the whole batch up and eat if for lunches or dinner. If you go that route, dress the salad with dressing as you prepare it. Otherwise, you'll have a soggy salad the next day. Not fun. No matter what, working a salad into your sunny summer months is a great dinner alternative and an excellent way to introduce new vegetables (like cabbage) into your family's diet!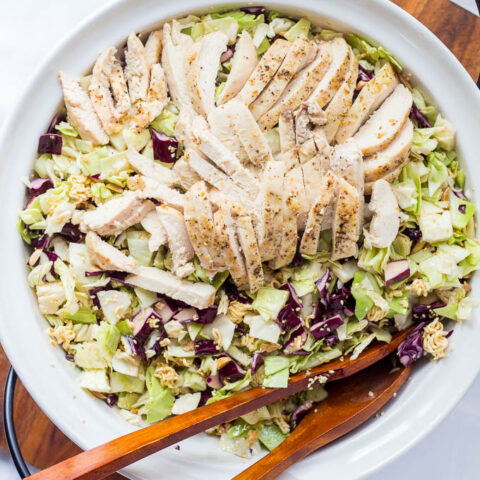 Oriental Chicken Salad
Oriental Chicken Salad is light, yummy, and full of crunch - a perfect summer salad! It's an easy way to feed a crowd - or make sure there will be seconds!
Ingredients
2-3 cups cooked chicken breast, chopped
1/2 cup sesame seeds
3/4 cup slivered almonds
1 pkg. Top Ramen, Oriental flavored
1 medium head cabbage, finely chopped (add some red cabbage as well, if desired)
1/2 cup vegetable oil
1/4 cup rice wine vinegar
1/4 cup sugar
Flavor Pkg. from Top Ramen
Salt and pepper, to taste
Instructions
Pre-heat oven to 350 degrees. Crush or break apart the noodle portion of the top ramen and place the broken up noodles, sesame seeds, and slivered almonds on a small baking sheet and toast for 10-20 minutes. stirring around the mixture half way through and rotating the pan so everything gets evenly toasted. Set aside to cool.
In a large bowl, place the finely chopped cabbage, chopped chicken and toasted mixture and gently toss.
In a small bowl, combine the dressing ingredients; the oil, rice wine vinegar, sugar, oriental flavor packet, and salt and pepper. If not using to dress the salad, store in the refrigerator. Otherwise, gently drizzle over the salad tossing as you go so the dressing gets evenly distributed. (For the chicken, sometimes we bake a chicken breast ahead of time and season it with salt, pepper, and a few shakes of lemon pepper, with a drizzle of olive oil. Or we grill a seasoned chicken breast or two on the barbecue.)
Notes
Original recipe from Lisa Rief
Nutrition Information:
Yield:

8
Serving Size:

1
Amount Per Serving:
Calories:

518
Total Fat:

29g
Saturated Fat:

5g
Trans Fat:

0g
Unsaturated Fat:

23g
Cholesterol:

89mg
Sodium:

526mg
Carbohydrates:

24g
Fiber:

3g
Sugar:

7g
Protein:

39g
Nutrition information isn't always accurate.