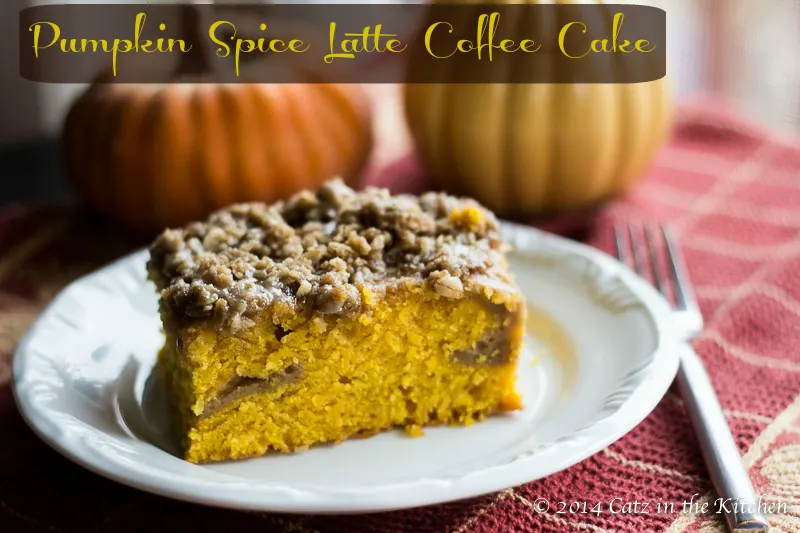 Yesterday, I brought you a
"fall" breakfast round-up
. Today, the pumpkin breakfast trend isn't ending – oh, no! Now that it's fall, it's on like donkey kong! All things pumpkin are making appearances. I've got two more pumpkin posts just waiting in the wings (what does that even mean?), and I've got several other recipes with the main ingredient being pumpkin just waiting to be cooked up.
Aren't you EXCITED?
Tell me you're as excited as I am?! Tell me. Now!
Okay, now that I'm done bossing you around, I'm going to share this coffee cake. Yes, another coffee cake. Did you know that I've got FIVE different coffee cakes on my blog (not including this one), and that two of those are pumpkin-flavored? I guess I like my coffee cakes as much as Josh likes his french toast recipes.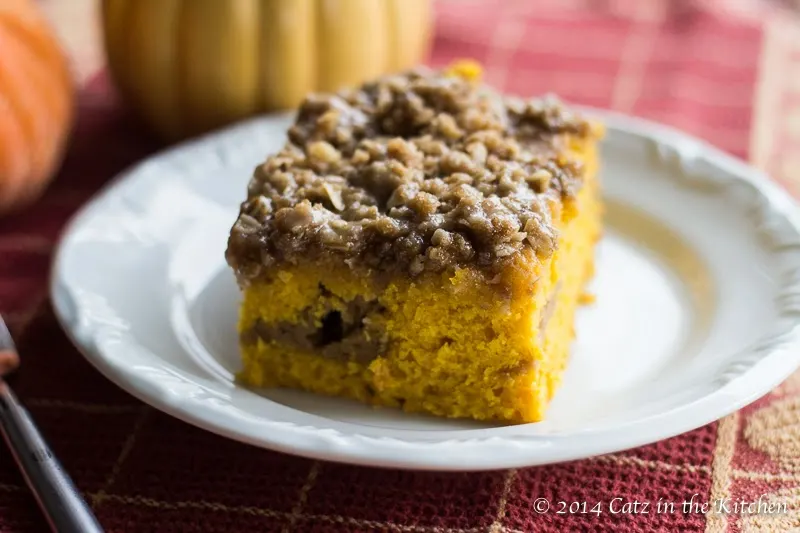 This coffee cake I had in mind for Josh because not only is there espresso in it, but also brewed coffee. It's like a coffee lover's dream breakfast. In case you missed it, Monday was National Coffee Day and just because it's Thursday, doesn't mean you still can't embrace coffee day. If you ask me, everyday is National Coffee Day – for a lot of us, it's like liquid oxygen (does that even make sense?) – we need it to survive!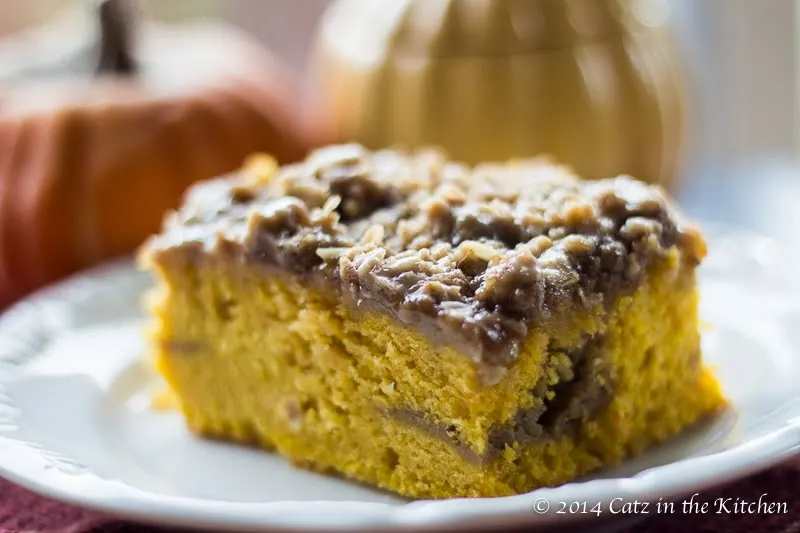 This cake is a bit of work, I'm not going to lie. I got up early (for me) on a Saturday, which let me just say, never happens (Saturday is the one day a week I allow myself to sleep in a bit later). But this Saturday, I had plans for Josh. He had just gotten back the day before from another business trip. The second one in two weeks, and I figured he needed a nice breakfast. So, after making the cake and Grace making the streusel, it finally went into the oven. And baked. For about an hour. Guess what – then it had to cool for like 45 minutes before topping it with a coffee drizzle. There are steps involved in this recipe that you don't want to miss and I don't want you coming back to me yelling, because it was more of a lengthy recipe than you bargained for on your Saturday morning. So, I'm just warning you, kids. Plan on working on this baby for awhile.
That being said…it is worth every moment you spend in the kitchen. No lies! It is good! No, it's better than good. It's freaking awesome!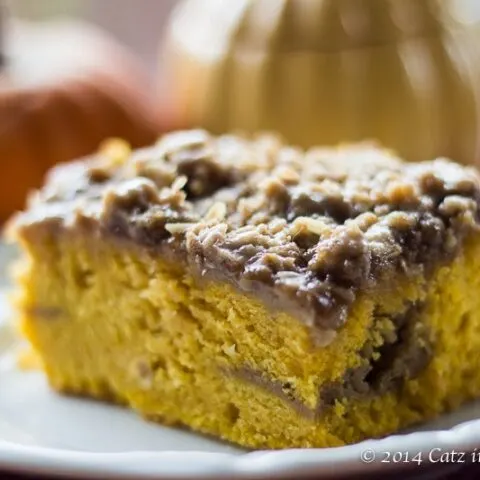 Pumpkin Spice Latte Coffee Cake
Cook Time:
1 hour
30 minutes
Coffee cake that's laced with strong coffee but with all the flavors of pumpkin pie that's been baked together for one sweet breakfast treat!
Ingredients
Coffee Cake
5 eggs
2 tsp instant espresso coffee powder or instant coffee granules
1 (8 oz) pkg cream cheese, softened
2/3 cup sugar
2 tbsp flour
1 tsp vanilla extract
3 cups flour
2 tsp baking powder
1 tsp pumpkin pie spice
1/2 tsp baking soda
1/2 tsp salt
1/2 cup butter, softened
1 1/2 cups sugar
2/3 cup pumpkin puree
1 cup buttermilk
Streusel
1/2 cup packed brown sugar
1/3 cup rolled oats
1/4 cup flour
1/2 tsp pumpkin pie spice
1/4 cup cold butter
Coffee Drizzle
1 1/4 cups powdered sugar
1 tsp light corn syrup
1 tbsp cooled espresso or strong coffee
Instructions
Pre-heat oven to 350 degrees. Grease a 9x13 baking dish; set aside. In a small bowl, stir together two of the eggs and the espresso powder; set aside. In a medium bowl, beat cream cheese with an electric mixer on medium speed until fluffy. Beat in 2/3 cup sugar, the 2 Tablespoons flour, and the vanilla until smooth. Beat in egg/espresso mixture, set aside.
In a medium bowl stir together the 3 cups flour, the baking powder, pumpkin pie spice, baking soda, and salt. Set aside.
In a large bowl beat butter with an electric mixture on medium speed for 30 seconds; gradually add in the 1 1/2 cups sugar, beating until fluffy. Add the remaining 3 eggs, one at a time, beating well after each addition. Beat in pumpkin puree. Alternately, add flour mixture and buttermilk to pumpkin mixture, beating after each addition until combined. Spread half the of the batter into the prepared baking dish. Spoon half of the cream cheese by small spoonfuls over the batter. Add the remaining pumpkin batter; carefully spreading the over the cream cheese mixture. Top with spoonfuls of the remaining cream cheese mixture. With a knife, swirl batter to marble.
To make the streusel: In a medium bowl combine brown sugar, rolled oats, flour, and pumpkin pie spice. Using a pastry blender, cut in cold butter until crumbly.
Sprinkle streusel over the top of the batter.
Bake in pre-heated oven for 45-60 minutes or until a toothpick inserted in the middle comes out clean. Cool in pan on a wire rack for 45 minutes.
To make the coffee drizzle: In a small bowl stir together powdered sugar, and corn syrup. Stir in enough coffee (1-2 tablespoons) to make the drizzle the consistency desired.
When coffee cake is done cooling, spoon the coffee drizzle over the top of the coffee cake in a lacy pattern.
Nutrition Information:
Yield:

12
Serving Size:

1
Amount Per Serving:
Calories:

507
Total Fat:

15g
Saturated Fat:

9g
Trans Fat:

0g
Unsaturated Fat:

5g
Cholesterol:

111mg
Sodium:

403mg
Carbohydrates:

87g
Fiber:

2g
Sugar:

57g
Protein:

8g
Nutrition information isn't always accurate.