This warm, aromatic recipe for roasted garlic chicken is ready in about 30 min, makes your house smell amazing, and is pretty healthy!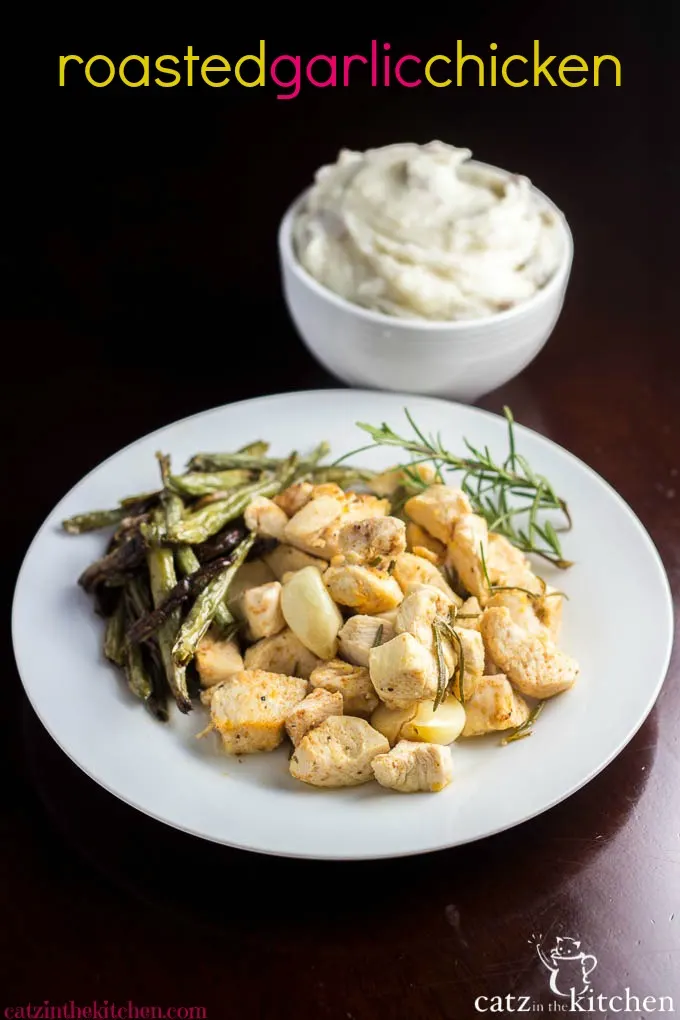 Josh makes fun of me because I tend to get these dreamy, unrealistic ideas in my head of how I want things to be. For example, I'll get an idea of how I picture a Saturday afternoon with just us and the kids and then life throws lemons and it pops my daydream. Then I do the complaining thing where I say something like, "…but it just didn't go as I pictured it would."
Josh is like, duh! I could have told you that would happen (He says it way nicer though and then he'll poke fun at me).
But I can't help it. I just picture these little scenes in my mind that seem so perfect.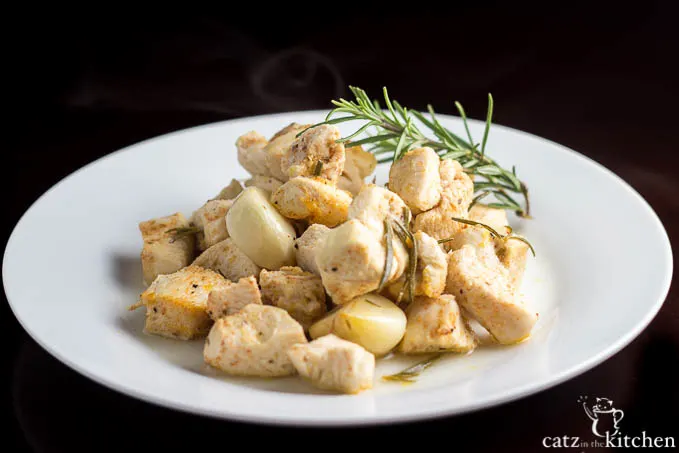 The reason I bring this up is because this dinner brings a certain image to mind. I picture myself, older with Josh, living in our home and our kids are all grown, married, and out of the house and we have grandkids. I imagine that on Sunday evenings, we have all the kids and their spouses and children over for a typical Sunday dinner. Something comforting and hearty that makes the whole house smell good.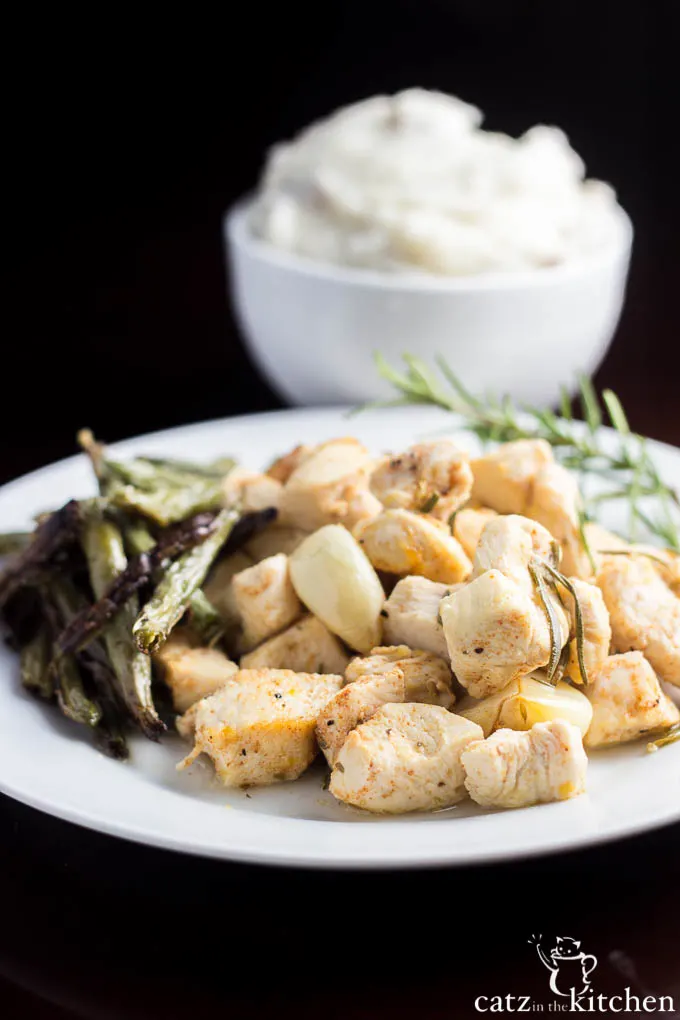 I see us all gathered around a ridiculously huge dinner table, with high chairs pulled up and kids shrieking and me glancing over at Josh with a smile at how beautiful and amazing our little life is.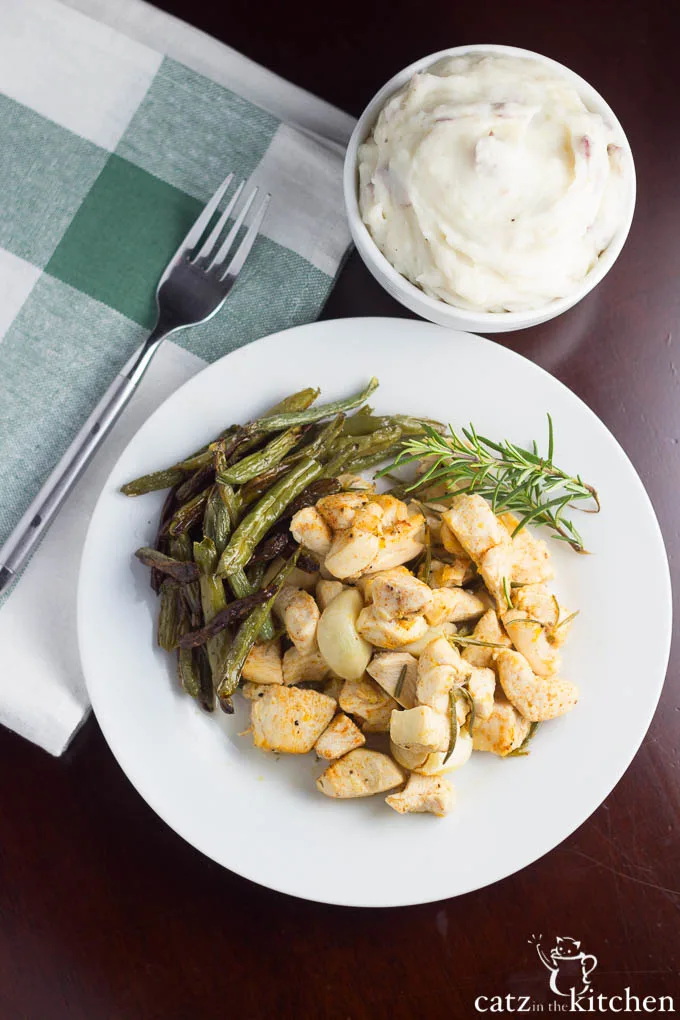 After dinner, the guys do all the dishes while all of us ladies go into a sitting room and chat and drink coffee or tea and the kids entertain themselves until the dishes are done and then we all sit around playing games.
It just seems perfect. It feels like the way it is supposed to be when you get older and your children have children, ya know what I mean?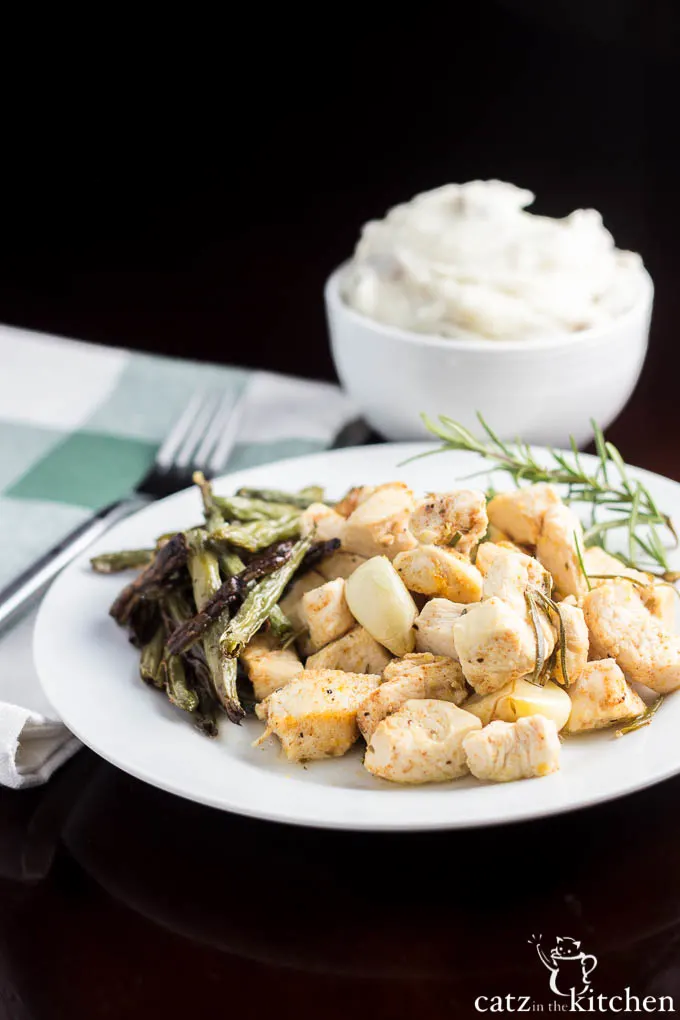 However, I'm still a long ways away from that being the case. Until then, I will make comforting, hearty, and smell-worthy dinners during the weeknights and make a few shortcuts.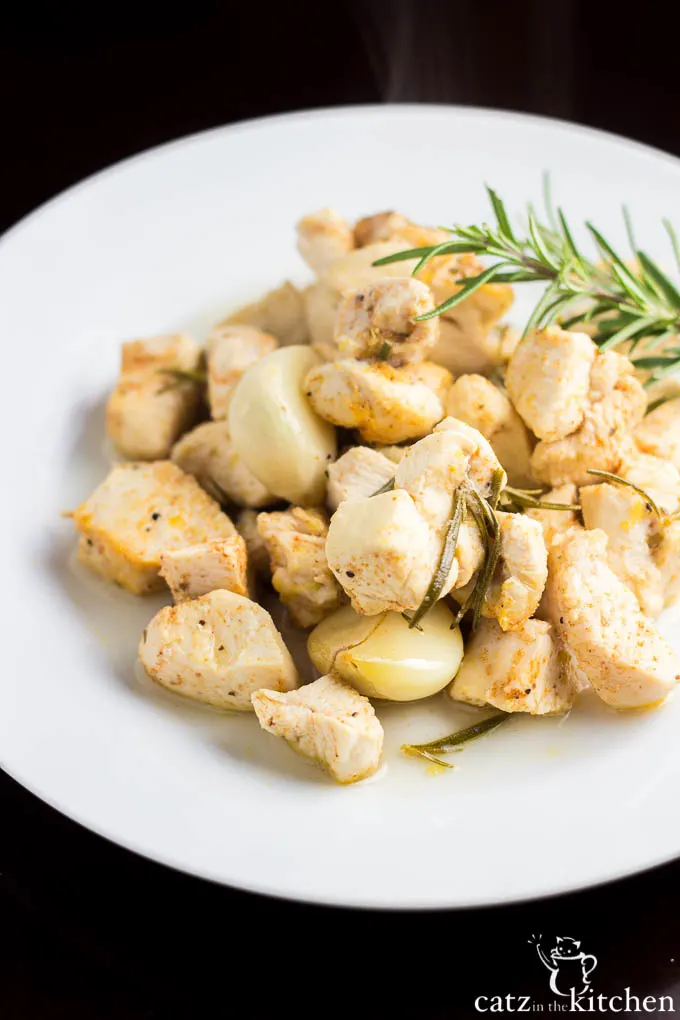 This roasted garlic chicken is a dinner I've been making for years!!! I love it because it reminds me of one of my favorite dinners, oven roasted chicken, but without all the work. This dinner comes together really quickly and smells amazing cooking away. I love to pair it with homemade mashed potatoes with a side salad or roasted green beans.
As an aside, if you find yourself loving the whole garlic cloves served in this dish, you may discover yourself craving even MORE roasted garlic (as I often do…). There's a great rundown here on a whole bunch of mouthwatering ways to get your roasted garlic fix!
This is also a great meal to have already assembled and then bring to someone who needs a meal. Just pop the chicken in the oven and the aroma will bring them back to their childhood. Try it!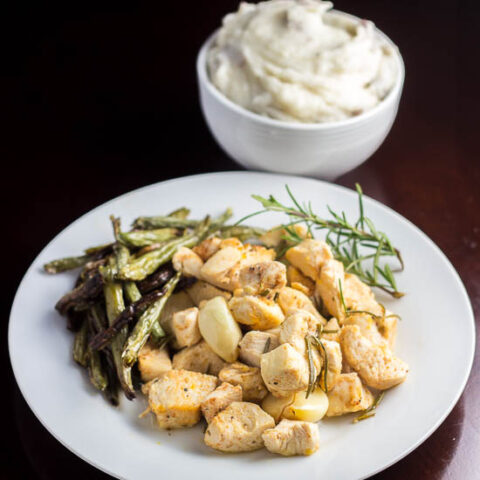 Roasted Garlic Chicken
This warm, aromatic recipe for roasted garlic chicken is ready in about 30 min, makes your house smell amazing, and is pretty healthy!
Ingredients
2 1/2 lbs boneless, skinless chicken breast cut into chunks
6 cloves garlic, crushed
3 tbsp fresh rosemary with leaves stripped from stems
3 tbsp extra-virgin olive oil
1 lemon, zested and juiced
1/2 cup white wine
Instructions
Pre-heat oven to 450 degrees. In a 9x13 baking dish, drizzle olive oil over the bottom.
Add garlic, rosemary, lemon zest, and grill seasoning. Toss and coat the chicken with all of the ingredients.
Roast in the oven for 20 minutes. Remove from oven and pour in the lemon juice and white wine return to oven and turn the oven off.
Let chicken stand in oven for about 5 minutes before serving. Spoon pan juices over the chicken.
Notes
If bringing this meal to someone, combine all of the ingredients, including the wine and lemon juice and roast for the entire 20 minutes.
Nutrition Information:
Yield:

4
Serving Size:

1
Amount Per Serving:
Calories:

592
Total Fat:

20g
Saturated Fat:

4g
Trans Fat:

0g
Unsaturated Fat:

14g
Cholesterol:

241mg
Sodium:

1352mg
Carbohydrates:

3g
Fiber:

1g
Sugar:

0g
Protein:

88g
Nutrition information isn't always accurate.