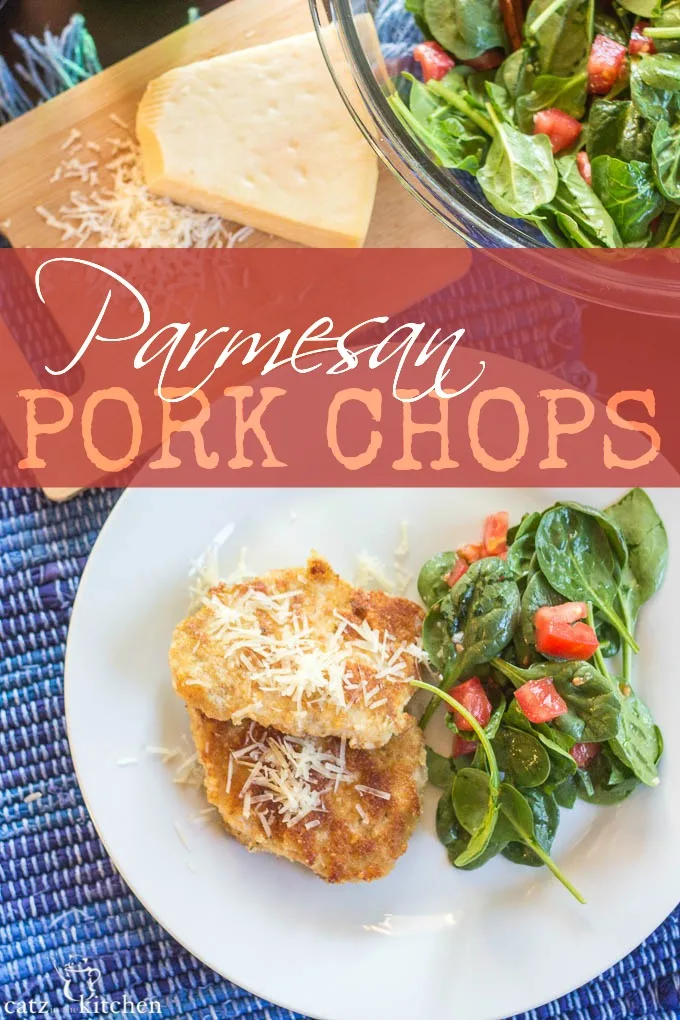 So there is this season called spring and it is a lovely time for our beautiful state. Everything blooms, the sun comes out, and the temperatures rise. Sounds pretty ideal right? Well, for some it is – for me, not so much. When everything begins to bloom and the sun comes out and the temperatures rise, that's when I go into hiding because it is the perfect storm for an allergy sufferer like me.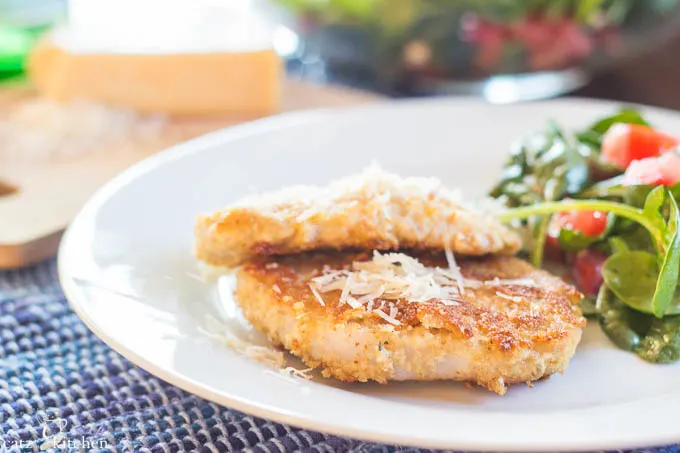 That's why this dinner is perfect for the allergy sufferer for two reasons. You ready to hear them? Okay…first of all, if you chose to spend your time outside, darn the consequences, this dinner comes together in 30 minutes or less. Less time cooking means more time sitting on the couch or hiding out in your bedroom sneezing to death and hiding from your spouse the fact that you are also rubbing your eyes and making it worse (Not that I do that. I don't rub my eyes, because that wouldn't be smart…). The other reason is, whether you are suffering from allergies or not, you can still appreciate the beauty of this simple dinner and the simple spinach salad that accompanies it.
No matter what, you are going to feel like super woman (or man) because you overcame stupid allergies and got dinner on the table without beckoning your significant other to pick up icky fast food. Or you're going to feel that way because you fed your family a flavorful and healthy, not to mention beautiful, dinner!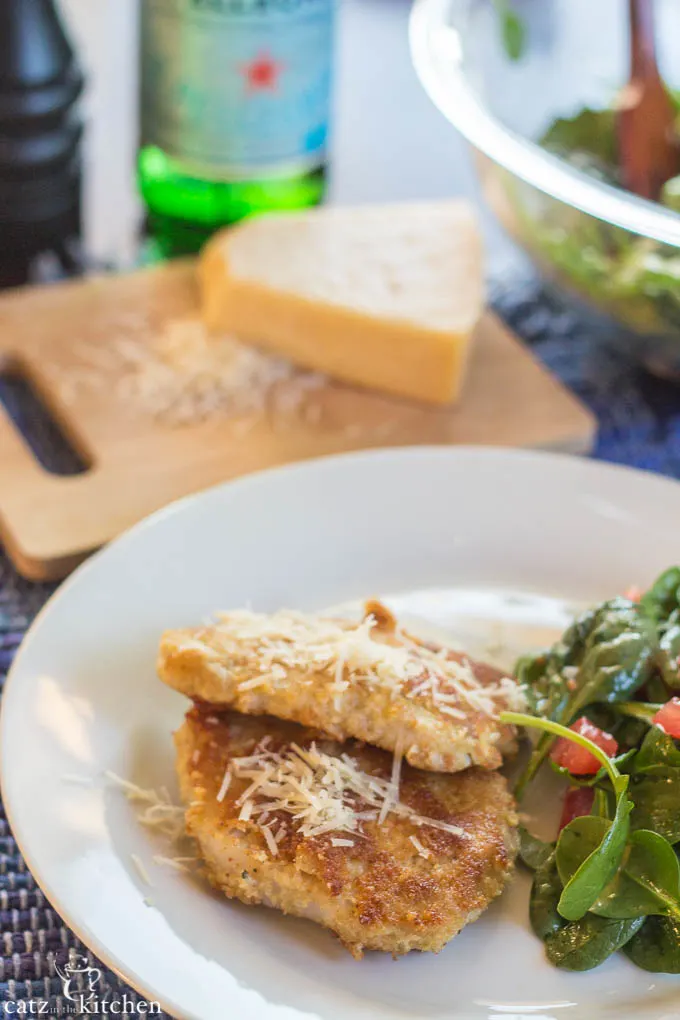 Either way, way to go, give yourself a pat on the back, and go ahead and hide out upstairs rubbing your eyes. I won't tell if you won't!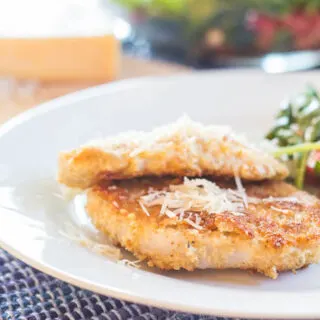 Parmesan Pork Chops with Spinach Salad
This easy parmesan pork chops recipe is tender inside, with a subtle crunch outside, and the delectable flavor of parmesan discernible throughout - simple, but yummy!
Ingredients
3 medium tomatoes, seeded and chopped
1 TBSP extra virgin olive oil
1 TBSP lemon juice
1 small garlic clove, minced
1/2 tsp. salt divided
1/4 tsp. pepper, divided
2 egg whites
1 TBSP Dijon mustard
1/2 tsp. dried oregano
1/2 cup dry bread crumbs
3 TBSP grated Parmesan cheese
4 thin boneless pork loin chops (1/2 in. thick and 3 oz. each)
4 cups fresh baby spinach
Instructions
In a large bowl, combine tomatoes, oil, lemon juice, garlic, 1/4 tsp. salt and 1/8 tsp. pepper; toss to combine.
In a shallow bowl, whisk egg whites, mustard, oregano, and the remaining salt and pepper until blended. In another shallow bowl, mix crumbs with cheese. Dip chops in egg mixture. Turn to coat and dip the chops in the cheese mixture, front to back.
Place a large nonstick skillet coated with cooking spray over medium heat. Add pork chops; cook 2-3 minutes on each side or until golden brown and pork is tender.
Add spinach to tomato mixture; toss to combine. Serve with pork chops.
Nutrition Information:
Yield:

4
Serving Size:

1
Amount Per Serving:
Calories:

299
Total Fat:

13g
Saturated Fat:

4g
Trans Fat:

0g
Unsaturated Fat:

8g
Cholesterol:

71mg
Sodium:

654mg
Carbohydrates:

16g
Fiber:

3g
Sugar:

4g
Protein:

29g
Nutrition information isn't always accurate.