There's just something about this recipe for crispy chicken tacos – there aren't ever any left overs! You can't make enough!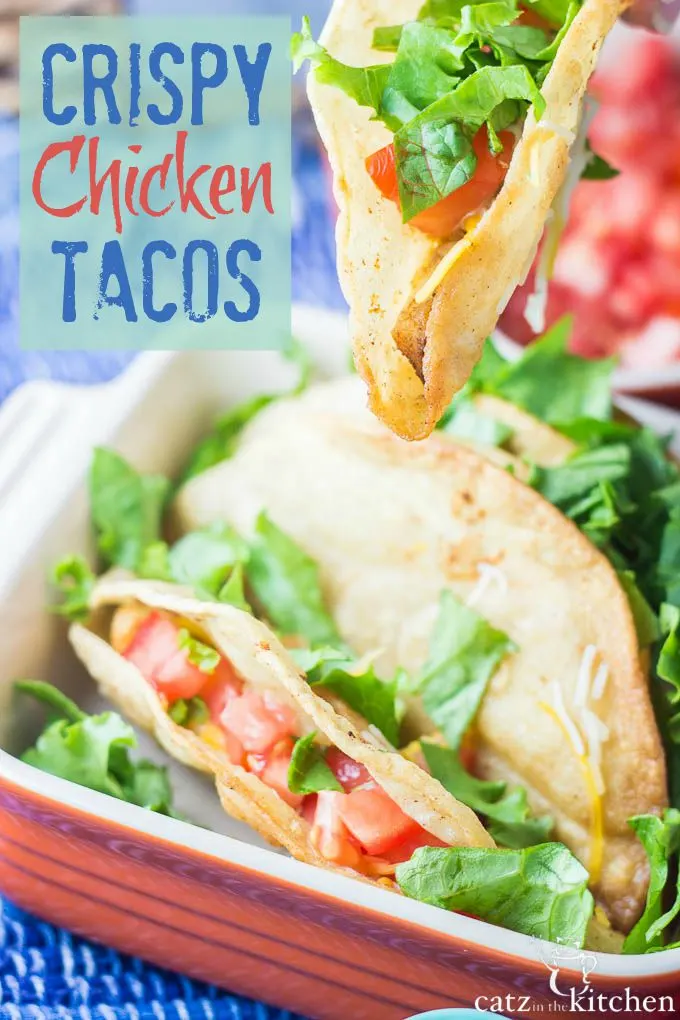 Sadly, undeniably, as we move from late summer into early autumn, grilling season begins to recede into recent memory (at least here in the Pacific Northwest – we know you southwest and southeasterners get to grill all year, and, yes, we are jealous!). Typically, that means fewer posts from me and more from Chels, which I'm totally okay with – I'm just standing here in the background with the camera snacking on a variety of pumpkin-infused goodies. Really not such a bad situation after all.
However, I do still get into the kitchen on a regular basis, even during the fall and winter. My cooking medium of choice when the grill is not available? Why, that would be hot oil. Who knew?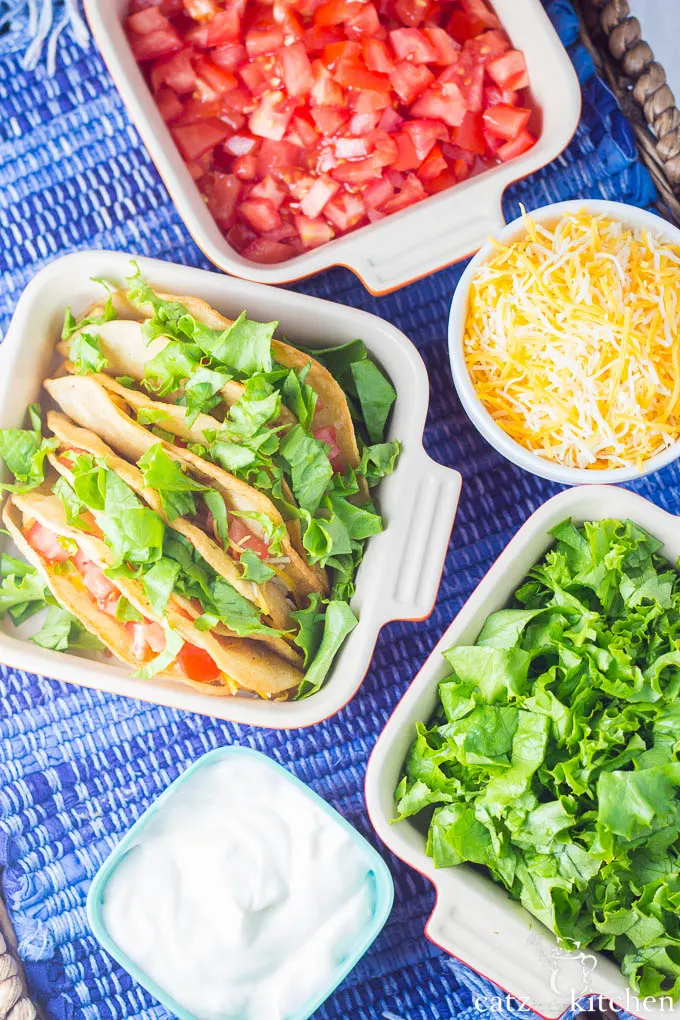 About eight years ago (c. 2007), Chels and I discovered Costco's huge, cheap packs of amazing white corn tortillas. Back then, they were something like $3 for a pack of 100! Even now, I think they're only about $4. That's a lot of good food wrapping (and many, many recipe possibilities) for the money! Don't have a Costco nearby? Most supermarkets carry them in slightly smaller packages (75-80) for a dollar or two more – still a great value. Naturally, I started playing with the idea of frying up those tortillas in oil to make chicken and steak tacos.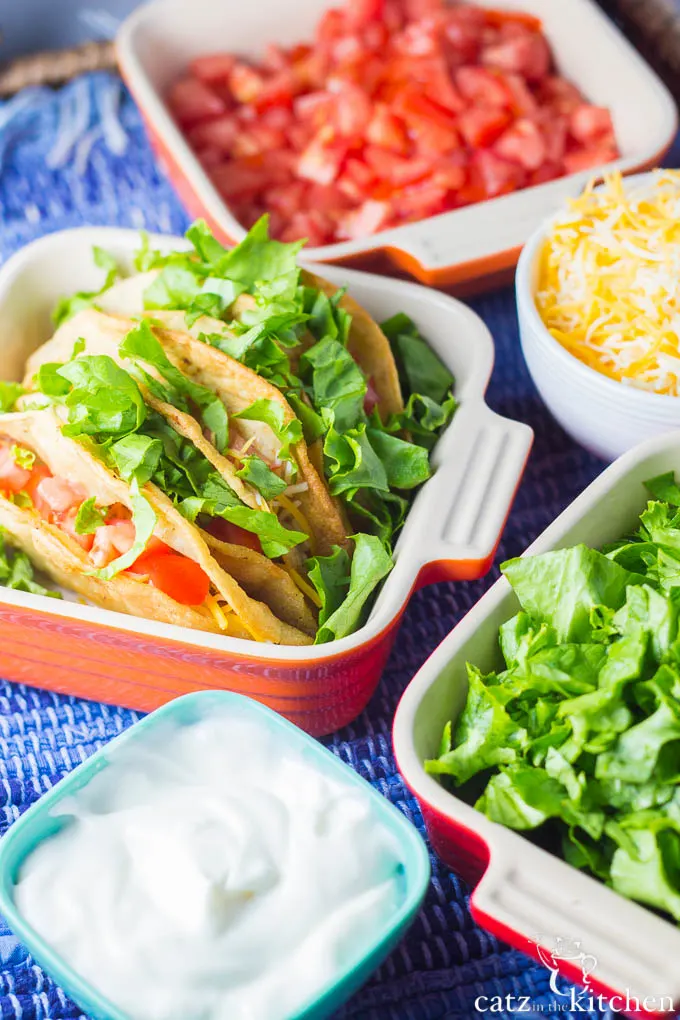 They were good – really good. But they were greasy, and they weren't crunchy at all. We really enjoyed them, but they weren't the sort of thing you would want to eat weekly – just a bit too heavy (especially for tacos). A couple of years later, Chels came across The Pioneer Woman's "My Brother's Chicken Tacos." And…they were exactly what I had been trying to make! Most of the grease gets drained off / out, the shells are crispy and crunchy, the chicken has just enough spice to be interesting, but not so much that the kids won't eat them, and they're stuffed full of fresh lettuce and tomatoes. I could eat them every week for sure – maybe every day! In fact, our only problem with these tacos is that we never seem to make enough!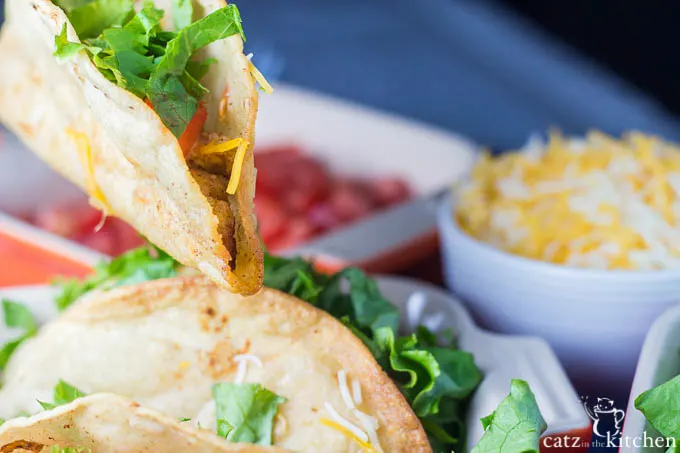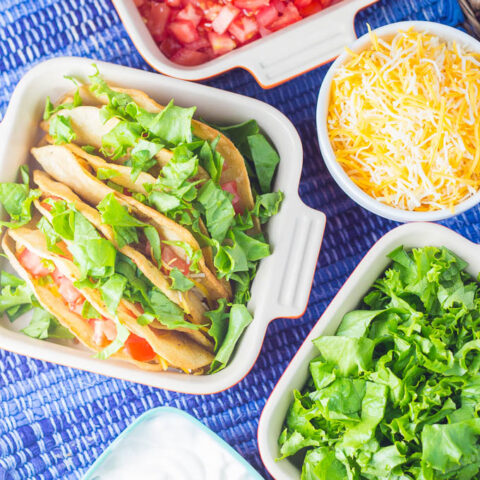 Crispy Chicken Tacos
There's just something about this recipe for crispy chicken tacos - there aren't ever any left overs! You can't make enough!
Ingredients
About 20 small (6 in) white corn tortillas
2-3 large boneless, skinless chicken breasts, diced
1 can diced green chiles
salt
cumin
chili powder
canola oil
about 1 cup grated cheddar cheese
about 4 tomatos, diced
about 2 cups chopped lettuce (green leaf, iceberg, or romaine preferred)
hot sauce or taco sauce
Instructions
Preheat oven to 170 degrees, or warm setting. Place large cookie sheet in oven, preferably topped with a cooling rack to use to drip grease from tacos.
Heat 2 tbsp canola oil in large skillet.
Season diced chicken with salt, cumin, and chili powder.
Add diced chicken to hot skillet and cook until color of chicken has turned from pink to white.
Add can of diced green chiles and continue to cook until chicken is cooked through. Turn off heat.
In another large, deep skillet, heat an inch or two of canola oil to medium heat.
When oil is hot, using tongs, carefully place two or three tortillas in the oil, and immediately fill with a small amount of chicken mixture. Using tongs, carefully fold the taco over itself and hold for a few seconds, until it stays on its own.
Fry for a minute or two on each side, until golden brown. When done, lift tacos from the oil with tongs carefully, angling to allow oil to drip out.
When all oil has dripped out, place taco on rack in oven to stay warm.
When all tacos are fried, remove them from the oven and carefully stuff them with cheese, hot sauce, tomatoes, and lettuce.
Serve and eat immediately!
Nutrition Information:
Yield:

20
Serving Size:

1
Amount Per Serving:
Calories:

118
Total Fat:

4g
Saturated Fat:

1g
Trans Fat:

0g
Unsaturated Fat:

2g
Cholesterol:

21mg
Sodium:

109mg
Carbohydrates:

12g
Fiber:

2g
Sugar:

1g
Protein:

9g
Nutrition information isn't always accurate.