Simple, easy, fast, convenient, tasty, and even portable! What more could you ask for in a grab-and-go recipe? Try these skinny veggie egg muffins!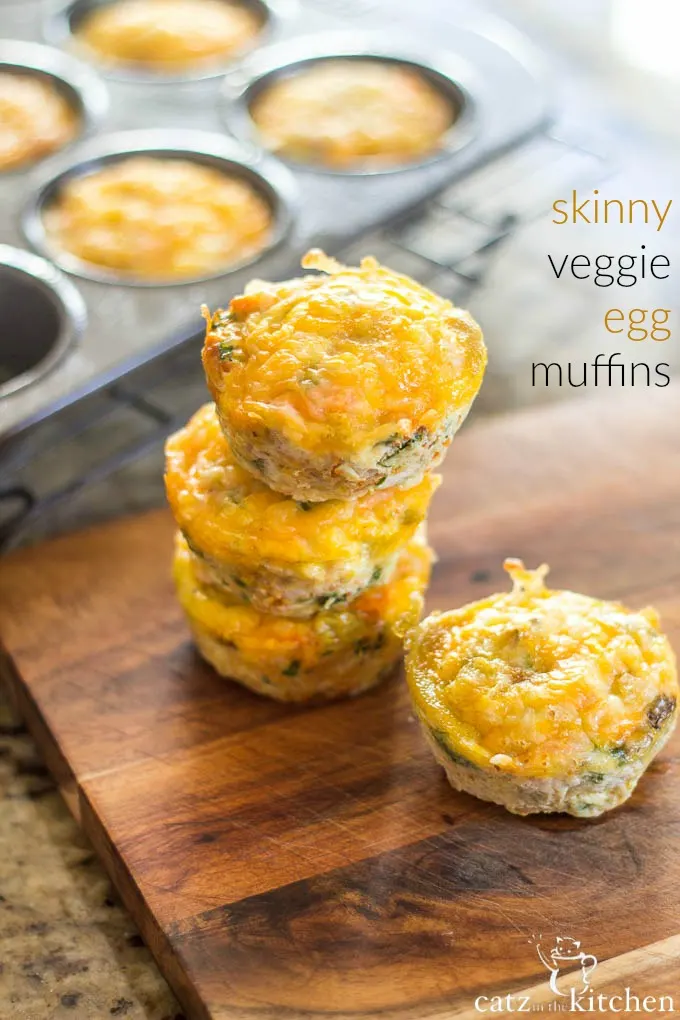 I'm a fan of anything healthy that tastes good. I think we can all agree that healthy food that tastes bad isn't even worth eating. #AmIRight?
But these skinny veggie egg muffins are so good! They are healthy, but they contain all goodies I happen to love, like cheese!
I find that these breakfast muffins are a great way to use up leftover produce in the fridge or freezer. If you've got carrots starting to go bad, spinach that's looking wilty, leftover mushrooms, bell peppers, etc – by all means, throw them into these muffins!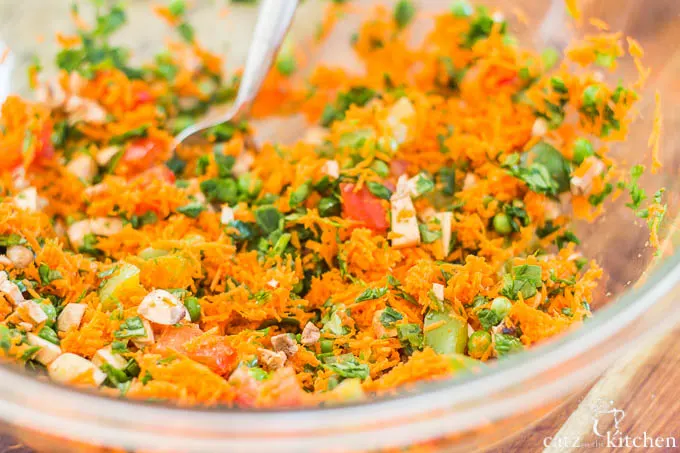 I recently made a batch of these when my family and I drove up to northeastern Washington to visit Josh's sister and her family. We wanted to leave as early as possible that morning, so I whipped these muffins up the day before we left so we could eat them during the drive – so much better than stopping for fast food!
That was my other reason behind making these veggie muffins – I didn't want to buy fast food on the road (I even went as far as making us a packed lunch for the road which we kept in a cooler in the trunk). I don't have anything against fast food, except for the fact that it generally makes me feel sick and I think it can be wasted money (so, maybe I do have something against fast food?).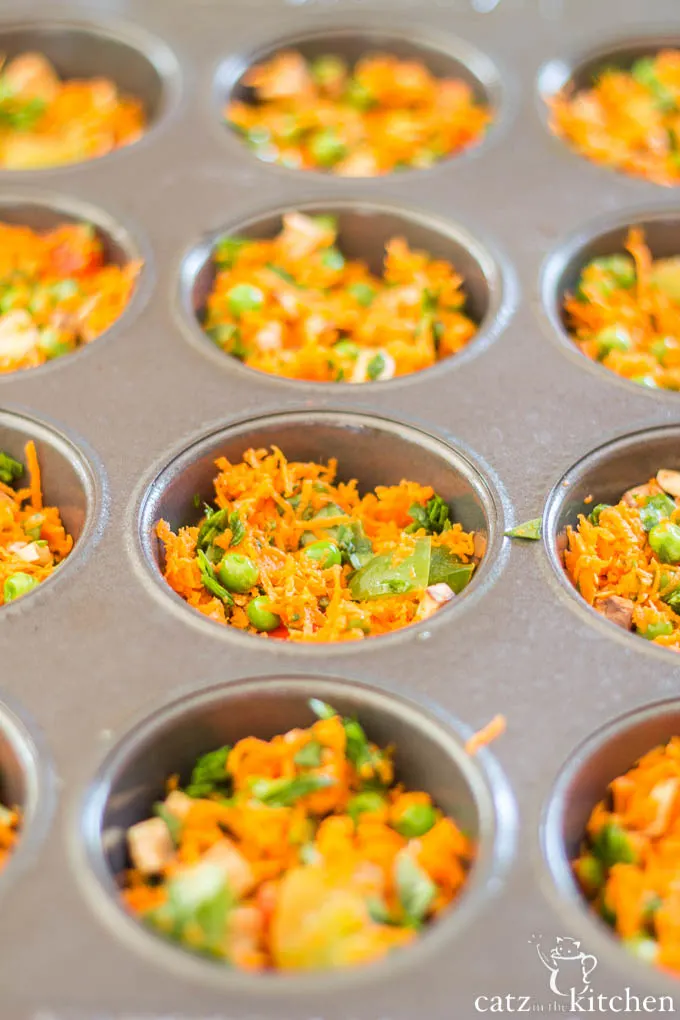 Since we were leaving for over a week and our fridge was going to be bare, I had no problem throwing all the leftovers into one big breakfast/lunch for the road.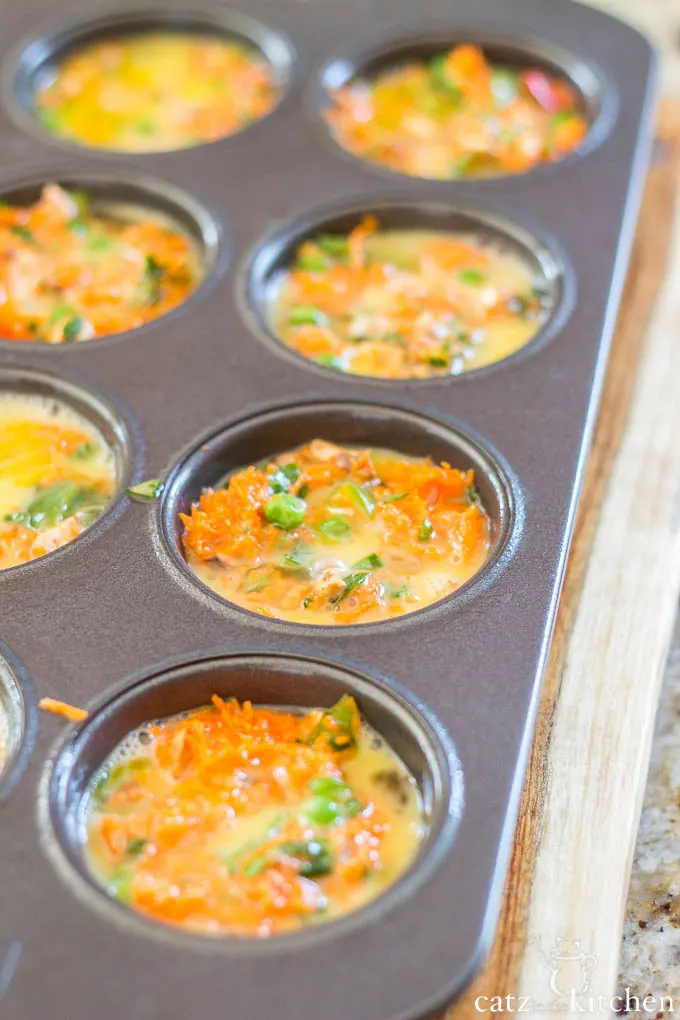 I will also mention for you parents that have a hard time getting your kids to eat their veggies, this is a great way to entice, disguise, or broaden your kids' horizons related to how good veggies are.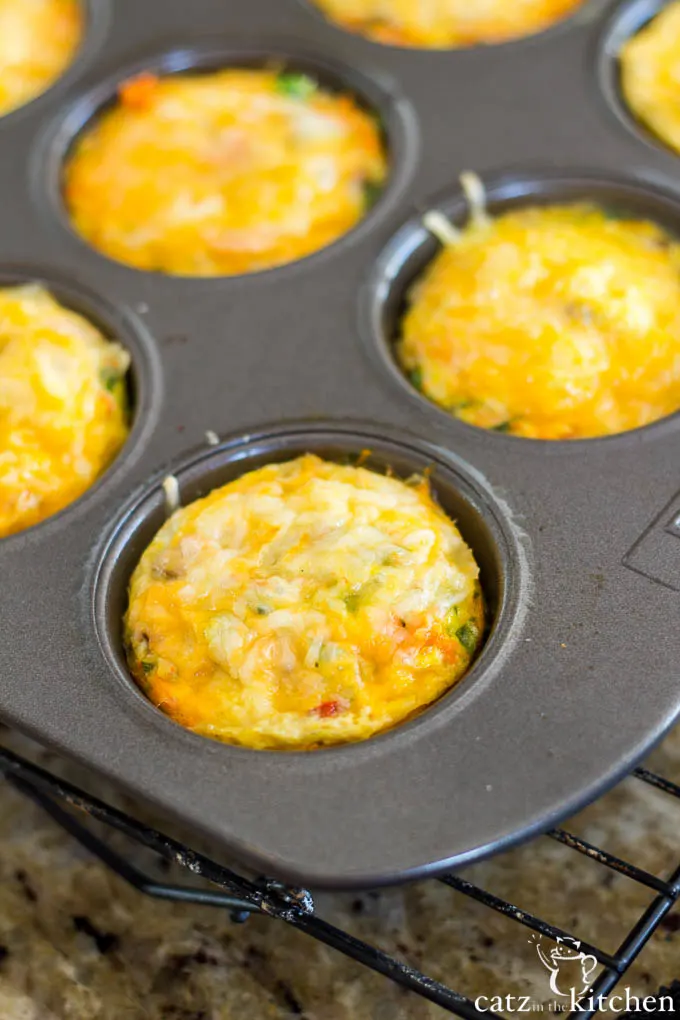 You might be surprised how much you'll like them, too!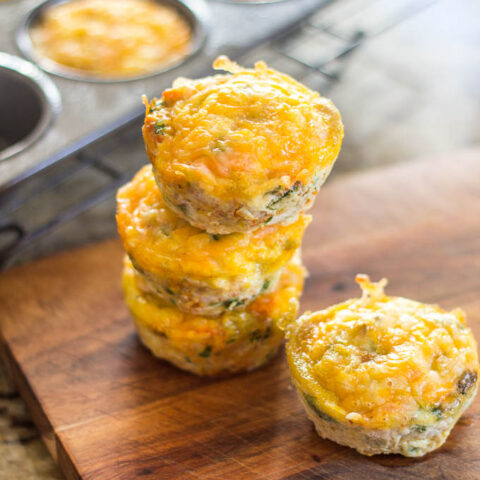 Skinny Veggie Egg Muffins
Simple, easy, fast, convenient, tasty, and even portable! What more could you ask for in a grab-and-go recipe? Try these skinny veggie egg muffins - you'll love them!
Ingredients
1 1/2 cups shredded carrots (about 3 medium, peeled and trimmed)
1/2 cup diced bell peppers (any variety)
1/2 cup frozen peas
1/2 cup chopped fresh spinach
1/2 cup diced mushrooms
8 large eggs
salt and pepper to taste
12 tbsp shredded cheese, any variety (about 1 tbsp per muffin)
Instructions
Preheat oven to 375*. Spray a non-stick 12-cup regular muffin pan extremely well with cooking spray. Spray the entire cavity of the muffin hole liberally. Set aside.
In a large bowl, add carrots, peppers, peas, spinach, and mushrooms. Toss to combine.
Loosely pile about 3 tbsp of the vegetable mixture to each muffin cavity, or enough so that each is filled to about 2/3-3/4 full, distributing equally.
In a 2 cup glass measuring cup, crack the eggs and lightly beat with a whisk. Add the salt and pepper, to taste and whisk to combine.
Pour about 2-3 tbsp of egg into each cavity, equally distributing among the cavities. They will be about 3/4 full after being filled with the egg. Top each muffin cup with about a tablespoon of cheese.
Bake for about 18-20 minutes, or until the muffins are set, cooked through, and are golden. It's normal to see the muffins puff up in the oven and deflate once they've cooled. Allow the muffins to cool in the pan on a wire rack for 10 minutes before removing.
Use a small knife to run alongside the inner cavity of each muffin to dislodge the muffins. Store muffins in an airtight container for one week, reheating in the microwave or serving cold. You can also freeze them and thaw before reheating.
Nutrition Information:
Yield:

12
Serving Size:

1
Amount Per Serving:
Calories:

91
Total Fat:

6g
Saturated Fat:

2g
Trans Fat:

0g
Unsaturated Fat:

3g
Cholesterol:

131mg
Sodium:

134mg
Carbohydrates:

4g
Fiber:

1g
Sugar:

1g
Protein:

7g
Nutrition information isn't always accurate.