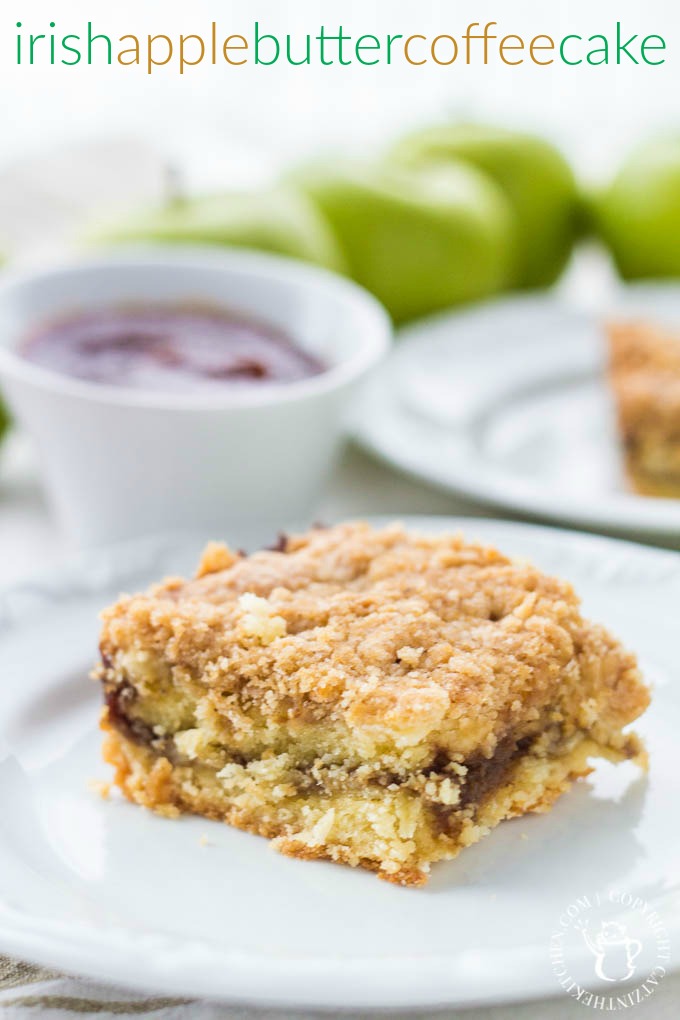 What makes this Irish Apple Butter Coffee Cake Irish?
Um…the apples? Probably just the apples. Possibly the dough preparation, which is a little on the unusual side, at least from my perspective. The base recipe that Chels found for Irish coffee cake had boldly labeled itself as such, and so we kept the countried moniker once we added our modifications. Identifying a recipe or meal with a particular national heritage just makes it more fun somehow, and with St Patrick's Day right around the corner, it just made sense. We like "Irish" recipes, if you haven't noticed…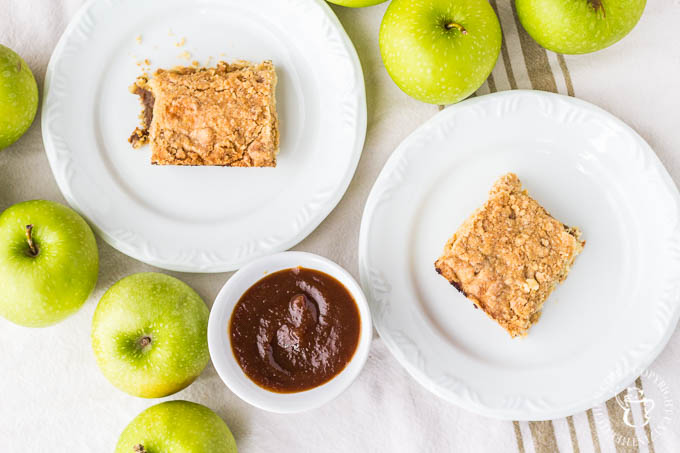 This recipe, however, whatever its true national origin (American Apple Butter Coffee Cake?), is wonderful. The crumble on top is a natural slightly crunchy offset to the warm cakey body of this breakfast treat, and the apple butter adds a delightful spice to the whole mixture. Actually, there are some great spices in the cake itself before you even get to the apple butter, and just to top it off, this is one brunch that stays nice and warm! We were all astonished by how well it held its heat, making it a perfect centerpiece of weekend brunch!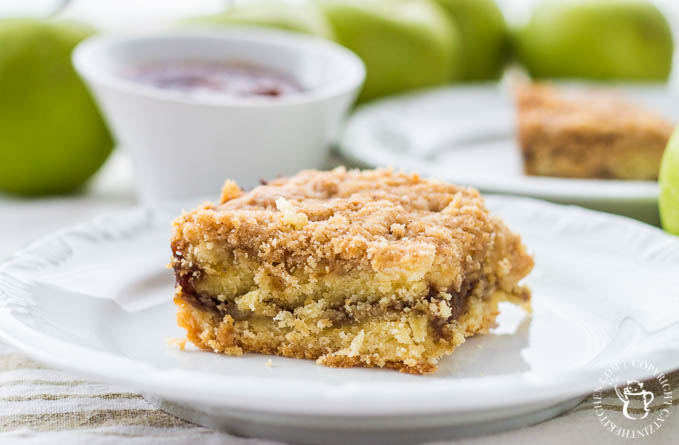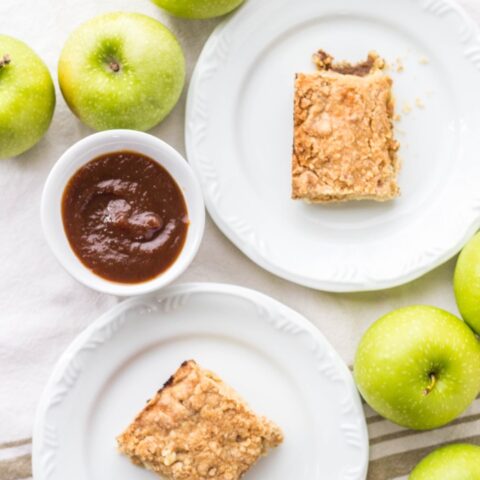 Irish Apple Butter Coffee Cake
Total Time:
1 hour
10 minutes
This slightly savory (but mostly sweet) brunch recipe for Irish Apple Butter Coffee Cake is full of warm apple flavor and lots of wonderful spices!
Ingredients
Coffee Cake
3 cups all purpose flour
3/4 cup sugar
1/2 tsp salt
3 egg yolks
1 cup (2 sticks) softened unsalted butter
1 tsp lemon juice
1 1/2 cups unsweetened applesauce
1/4 cup apple butter
1/2 tsp ground cinnamon
1/4 tsp ground cloves
Topping
3/4 cup flour
6 tbsp brown sugar
5 tbsp sugar
pinch of salt
1/8 tsp ground cinnamon
1/8 tsp ground nutmeg
3/4 cup chilled unsalted butter, cut into pieces
Instructions
Coffee Cake
Preheat oven to 350 degrees.
Grease a square baking pan (8x8 or 9x9) with shortening or cooking spray.
Gently mix flour, sugar, and salt in a large bowl.
Using a stand mixer if available, beat in egg yolks, butter, and lemon juice and thoroughly mix.
In a separate small bowl, stir together applesauce, apple butter, cinnamon, and cloves.
Separate the dough into halves. Roll both halves out flat, to roughly the size of the baking pan, and press one half into the bottom of the prepared pan.
Spread the applesauce mixture over the top of the dough, and top it with the remaining flattened dough, gently spreading it out to completely cover the mixture and dough beneath it.
Topping
In a medium-sized bowl, mix the flour, brown sugar, sugar, salt, cinnamon, and nutmeg.
Using a pastry cutter or your hands, cut or mix the pieces of chilled butter into the flour mixture until large clumps have formed.
Sprinkle topping over coffee cake and bake for about 45 minutes, or until a knife inserted comes out clean.
Nutrition Information:
Yield:

9
Serving Size:

1
Amount Per Serving:
Calories:

506
Total Fat:

19g
Saturated Fat:

11g
Trans Fat:

0g
Unsaturated Fat:

7g
Cholesterol:

106mg
Sodium:

154mg
Carbohydrates:

79g
Fiber:

2g
Sugar:

38g
Protein:

7g
Nutrition information isn't always accurate.