Looking for a quick and easy meal you don't have to babysit on the grill? These Grilled Chicken Sausage Foil Packets are tasty, fun, and flexible!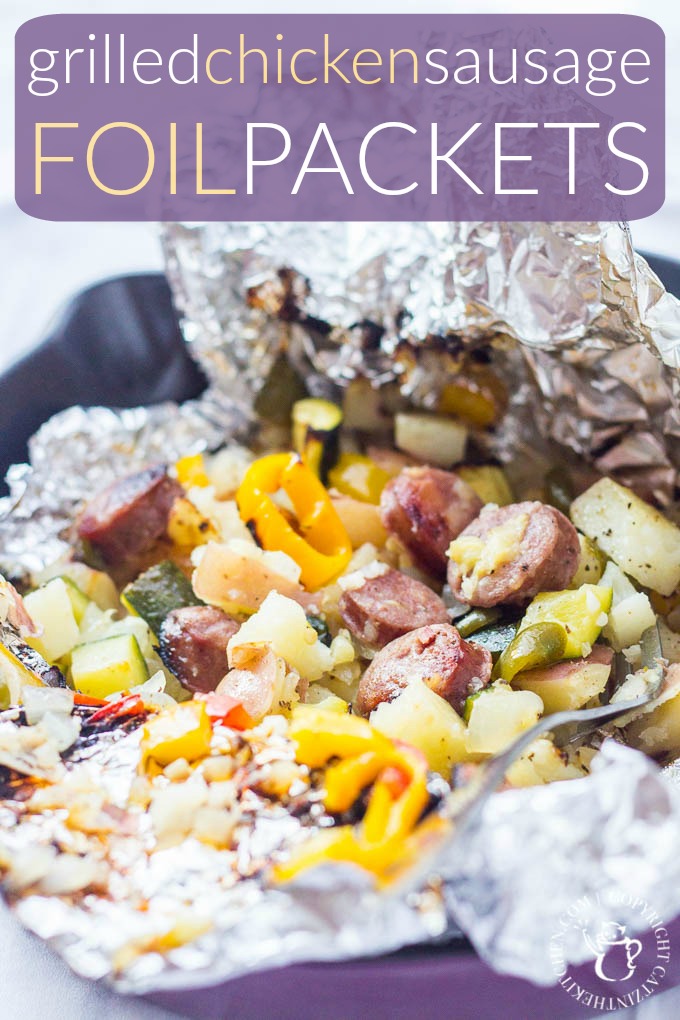 Do you have a Costco near you? We do, and like apparently everyone else in the world, we do our "monthly Costco trip" on a Saturday. We like to go when it's busy because…samples!
Sometimes Josh and I wonder if we're crazy or just plain stupid (or both) for doing a Costco run on a half-empty stomach just so we can enjoy the samples. But in order to get these "coveted" samples, you have to carefully park your cart out of the way of the sea of people and patiently stand there and wait for the sweet (often older) people to hand out the samples.
The longer you wait, the more hangry you get. And let's just say "first come, first serve" isn't always applicable in these situations because there are always the people who jump in front of you and take the last sample that you were calmly impatiently waiting for.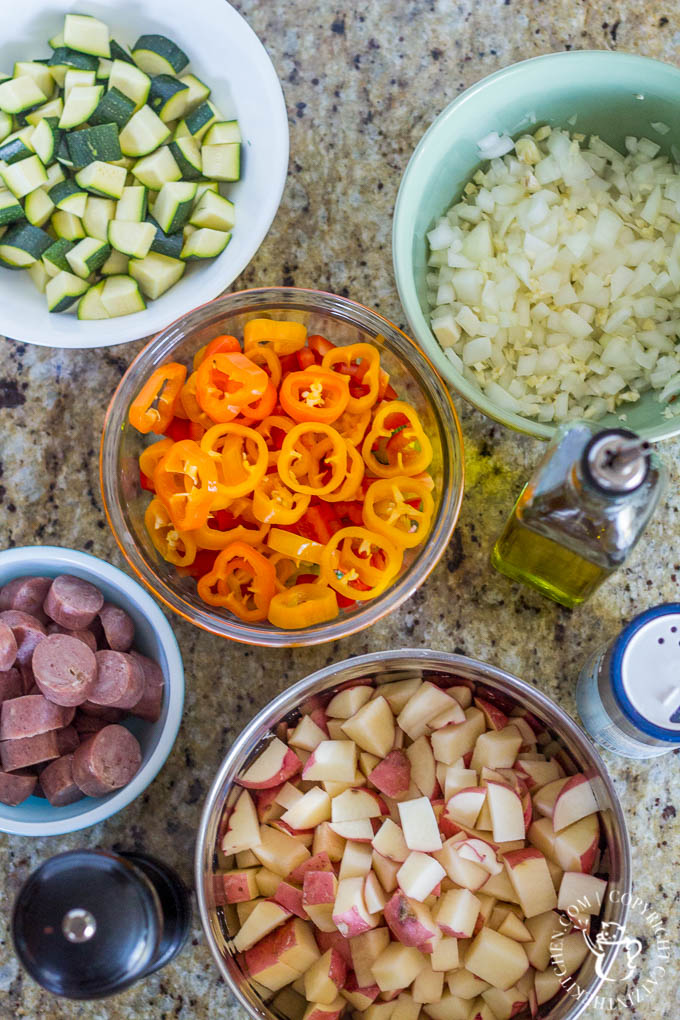 When you've got three hungry kids in tow and a now hangry spouse…things can get tense, real fast! Josh and I've each have tossed out a biting remark or two in these situations. "I'm sorry for what I said when I was hangry!"
People say that if you can survive Ikea then you can survive anything. I say, if you can survive a Costco trip on an empty stomach with two or more kids in tow, then you can survive anything!
Apparently, Josh and I just love a challenge because we are repeat offenders on both accounts. I know. We just eat first.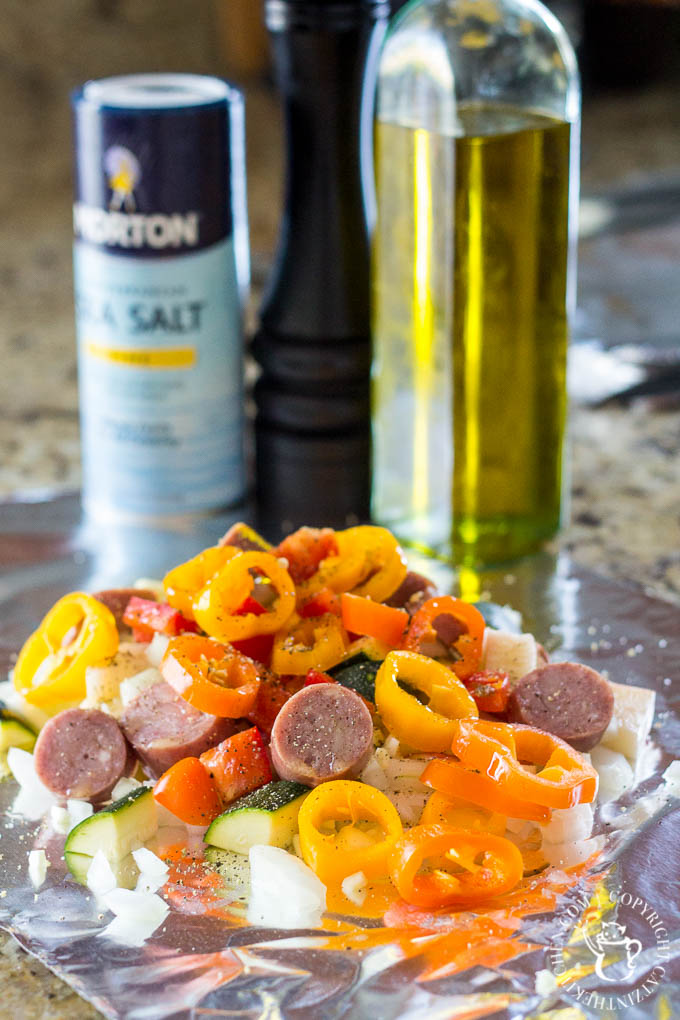 But, you know what I say? God bless the sweet people of Aidells sausage because when they show up at Costco on a Saturday, it is truly crazy around their little tented serving station (note: this is not a sponsored post for Aidells!). However, these servers are professionals…they just seem to thrive around the organized chaos of people stealing toothpicks of perfectly cooked and seasoned sausage from each other. They hand out their samples with a smile and patiently wait while you go back for two and three more samples so that each one of your kids can get a taste too, all the while promoting their buy three get the fourth free products.
"I'M SOLD! You just fed me and my family five different kinds of tasty sausage with a smile, and I'll buy the whole dang lot!" (For this particular recipe, I prefer the Pineapple & Bacon Chicken Sausage because the sweet and salty pairs with the rest of the ingredients well).
Speaking of tasty sausage, you can do anything with that stuff! We've topped our pizzas with it, made hearty breakfast bowls, and thrown them on kabobs. But one of my favorite things to do is throw them into foil packets and grill them, and we've been doing this for years! Maybe you have, too, but if not…let me just enlighten you with how easy this summer dinner can be.
You chop up veggies you like – I like to use a lot of what I already have on hand and layer it all on separate sheets of aluminum foil. Drizzle each sheet with some olive oil, sea salt, and pepper and wrap it up really tight. Then, you throw it on the grill! Voila! In 30 minutes, your dinner is cooked, smoky, and HOT! Open up those foil packets and dig in.
See? It couldn't be any easier! I really like using these sausages because they are so flavorful and my kids think it is really fun to search through their foil packets to find each morsel of sausage. It's like a treasure hunt for them. Plus, it's already cooked, so the kiddos can help dollop a handful of sliced sausage into each packet. But believe me, no matter how many sausages I slice up, it's never enough. It's their favorite part of the whole dinner.
If you're looking for a flavorful, kid-pleasing, super simple dinner that you could fix while camping, at home, or at the park, look no further! You'll be having requests for this dinner all summer long.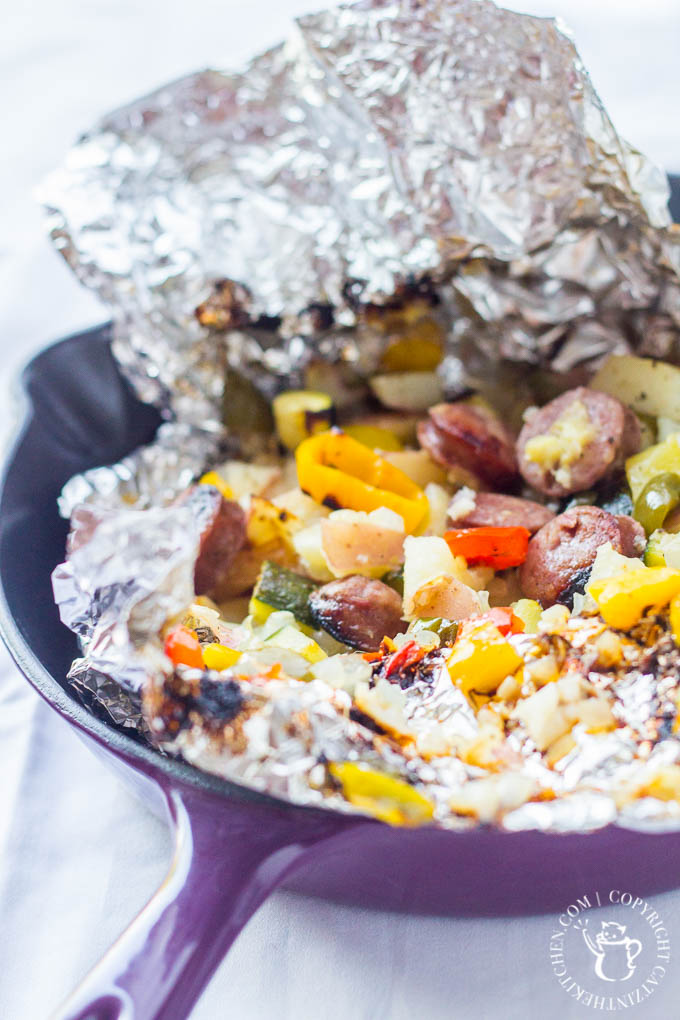 I was not paid or endorsed or even approached to write about Aidells products. I simply enjoy their food and their delightful service to hungry families across American warehouse stores!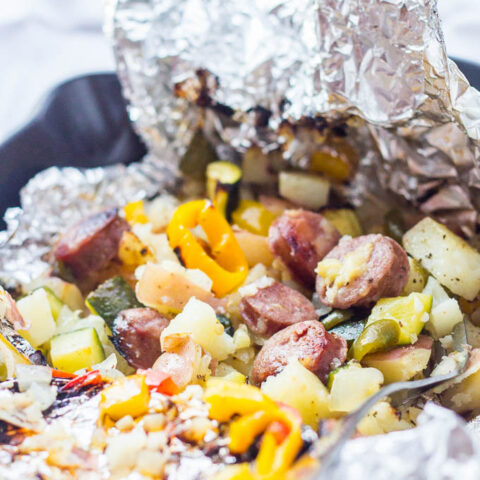 Smoked Sausage Grill Packets
Looking for a quick and easy meal you don't have to babysit on the grill? These Grilled Chicken Sausage Foil Packets are tasty, fun, and flexible!
Ingredients
4 bell peppers, sliced or chopped - any colors you like (or you could slice a bag mini peppers, instead)
2-3 zucchinis, halved and sliced into chunks
5-7 red potatoes, chopped ( I figure one potato per person)
1-2 large sweet yellow onion, diced
7 cloves garlic, minced
1 12oz package of Aidells Pineapple & Bacon Chicken Sausage, sliced
2 1/2 tsp fine sea salt, divided
Freshly ground black pepper
5 tbsp extra-virgin olive oil, divided
Instructions
Preheat your grill or barbecue to medium-high heat.
In separate bowls, place each chopped/sliced ingredient, except the sea salt, pepper, and olive oil.
Rip off 5 separate sheets of aluminum foil and spread out in front of you to make an assembly line and begin evenly layering ingredients onto each sheet. Sprinkle 1/2 tsp of sea salt, pepper to taste, and 1 tbsp of oil over each sheet of foil and give it all a toss, so that the salt, pepper, and olive oil is mixed through and coating everything.
Tightly wrap up each foil packet and place on the grill for 30 minutes, flipping the packets halfway through.
Open each packet and enjoy...but be careful, it's hot!
Notes
Feel free to add different veggies like carrots or cauliflower to the packets or use up whatever is in your fridge. This recipe is more of a method or idea around foil packets.
Nutrition Information:
Yield:

5
Serving Size:

1
Amount Per Serving:
Calories:

914
Total Fat:

20g
Saturated Fat:

3g
Trans Fat:

0g
Unsaturated Fat:

14g
Cholesterol:

21mg
Sodium:

1443mg
Carbohydrates:

174g
Fiber:

19g
Sugar:

69g
Protein:

22g
Nutrition information isn't always accurate.