Whether you love the Latin flavors of a tinga sauce, or have never tried it, these healthy 30-min chicken tinga tacos are a tasty way to get your fix!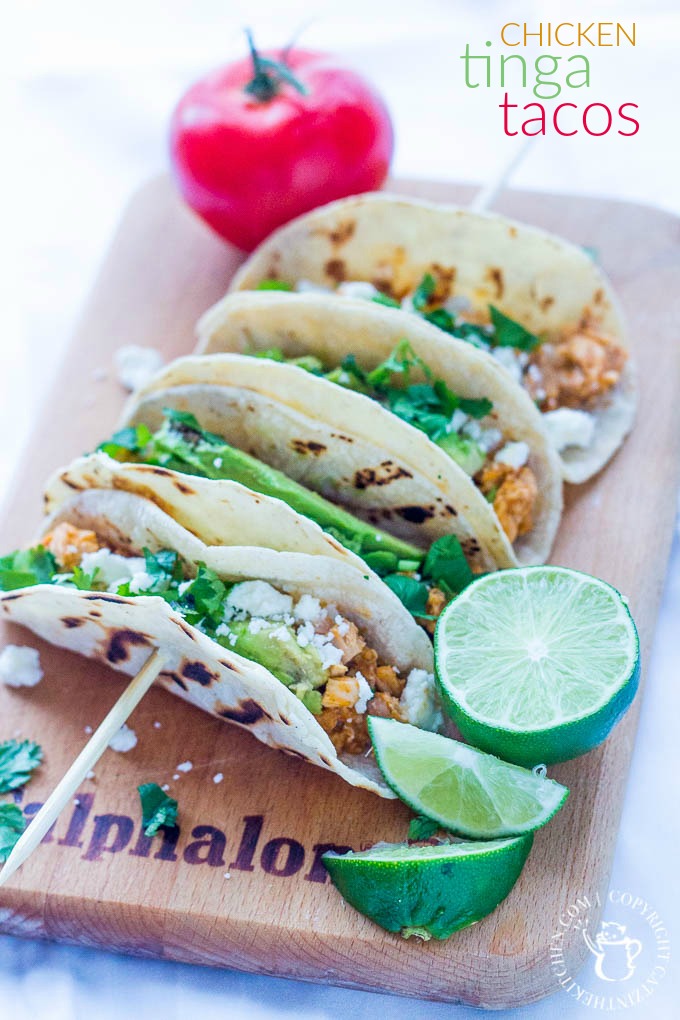 Oh me, oh my! I've been wanting to share this recipe with you for months! But I've held back. Why? Well, I feel like I've posted a lot of Mexican-type food a lot over the past few months, like fish tacos and cheese enchiladas and taco salad and I didn't want you to think that's all we ate! (Even though it pretty much is…) Josh and I keep saying to each other, if we were stranded on a desert island and could only eat one type of food, it would be Mexican food.
But…who gets stranded on a island and is only allowed to eat one genre of food? In some ways, that doesn't sound so bad. Can we make it a tropical island instead of a desert island? It's a silly world we live in, but as long as I've got tacos, enchiladas, and nachos, I'm a happy girl.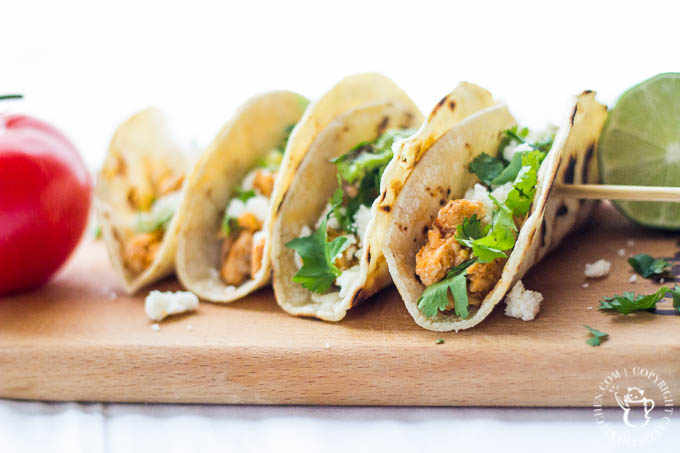 I had no idea what tinga meant when I first stumbled upon this recipe. I literally just saw the picture and drooled. A quick google search told me that tinga is a Mexican shredded chicken dish that's made with red and green tomatoes, chipotle peppers, and onions. Interesting. Yummy.
This particular tinga sauce has all of the "tinga elements" (except for the green tomatoes). But, there is chopped cilantro and sliced avocado to make up for the lack of green in the sauce!
I think I've made this recipe about three or four times now and it's becoming one of my favorites. I almost always have all the ingredients on hand (except for maybe the queso fresco, which I know Josh thinks I should just have on hand!). If you shop at Costco like me, then you know that they practically give the corn tortillas and rotisserie chickens away! Seriously! So half the work is done and the rest of the ingredients hopefully you have on hand in the pantry or in your fridge.
Okay, so they aren't free, but when you compare price and size of the rotisserie chickens from Costco ($5 last time I was there) to the chicken you would buy in a chain grocery store (at my store they are $8-9), then they're, what, not far off half the price? Maybe fully half the price if you buy the organic ones. The corn tortillas are something like $3 a bag at Costco and maybe $5 at the grocery store – so people, we're talking savings of about almost $10 all in.
It makes you want to hop in your car and drive to Costco for some rotisserie chicken and corn tortillas, doesn't it? If only it was possible to leave without spending an ungodly sum on a fifty gallon drum of pickles (or something equally…large and unnecessary).
These chicken tinga tacos are on the light side calorie-wise, and since I don't ever double the recipe (though I should because they are a crowd pleaser!), I like to serve a salad on the side, just so everyone gets a few more greens in their diet (and gets full).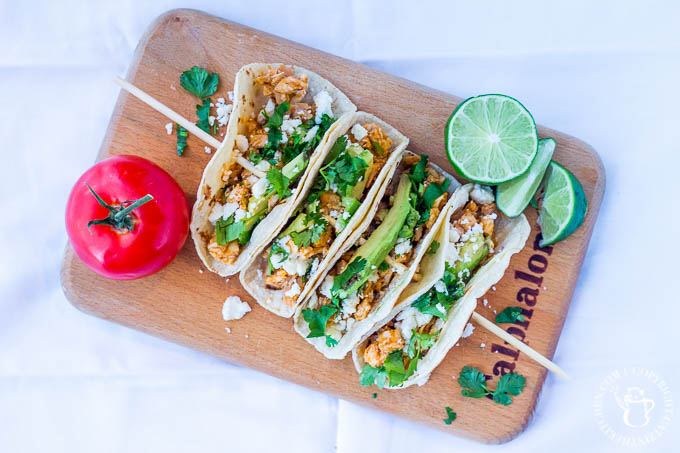 However, I would not look down on you at all for skipping the salad entirely and just making a double batch of this and only eating tacos for dinner! I've been there (many times) and done it and I've never regretted a taco.
#notacoregrets
#eatallthetacos
#vivalatacos
Here's the bottom line, guys. If you're looking for a taco with some simple but delicious flavors and want dinner on the table in 30 minutes, this is dinner for your next Taco Tuesday night. I promise, you're going to love it!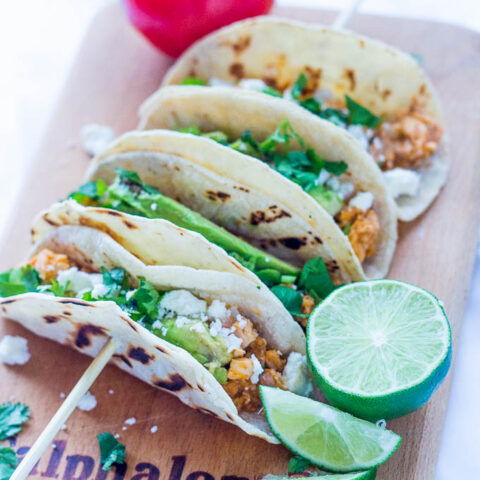 Chicken Tinga Tacos
Whether you love the Latin flavors of a tinga sauce, or have never tried it, these healthy 30-min chicken tinga tacos are a tasty way to get your fix!
Ingredients
1 tbsp extra-virgin olive oil
1 cup chopped sweet yellow onion
2 garlic cloves, minced
1 tbsp fresh oregano
1/2 tsp ground cumin
1 small chipotle in adobo
3/4 cup chopped tomato
1/4 cup unsalted chicken stock
1 tbsp adobo sauce
2 cups shredded chicken breast
1 cup shredded dark chicken meat
1/4 tsp kosher salt
8 (6-inch) corn tortillas, lightly grilled
1/4 cup light sour cream (I like Daisy)
1/2 cup cilantro, chopped
1 ripe peeled avocado, sliced
1 ounce queso fresco, crumbled
4 lime wedges
Instructions
Heat oil in a large skillet over medium heat. Add onion and garlic; sauté for 4 minutes. Add oregano, cumin, and chipotle chili; cook for 1 minute. Add chopped tomato, chicken stock and adobo sauce; bring to a simmer and cook for about 7-8 minutes.
Place tomato mixture in a blender. Remove the center piece of the lid to allow the steam to escape, but cover the whole with a kitchen towel to avoid splatters. Blend until smooth.
Return sauce to pan over low heat and add the shredded chicken and salt; cook for 1 minute. Divide mixture among the tortillas and top evenly with sour cream, cilantro, avocado, and cheese. Serve with lime wedges.
Nutrition Information:
Yield:

8
Serving Size:

2 tacos each
Amount Per Serving:
Calories:

220
Total Fat:

12g
Saturated Fat:

3g
Trans Fat:

0g
Unsaturated Fat:

8g
Cholesterol:

46mg
Sodium:

190mg
Carbohydrates:

14g
Fiber:

4g
Sugar:

3g
Protein:

17g
Nutrition information isn't always accurate.