A DIY Cheese Plate is a great way to jazz up your snack situation for a family game night, a get together with friends, or anytime you're feeling snacky!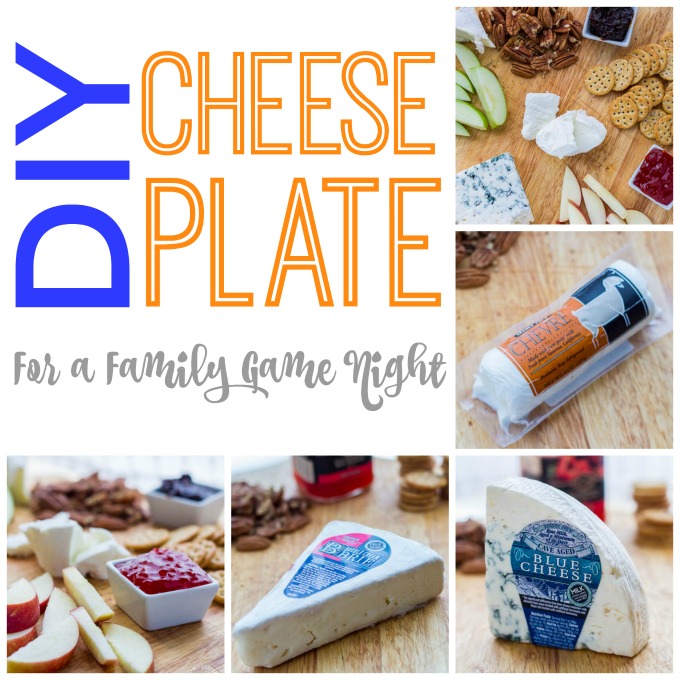 So, you're having a family game night. Or an informal get together with friends. Or you're just really, really snacky.
Okay, you'd have to be pretty dang snacky to want to fix yourself a whole cheese plate…
Anyway, the point is – what's your go-to? Do you order pizza? Pickup some Chinese takeout? Maybe you're one of those special blessed people with a taco truck on the corner? We do all of those things, depending on the crowd (and our taco truck is only about two miles away, so I shouldn't complain…) and there's nothing wrong with that.
But there's also nothing wrong with doing something a little different.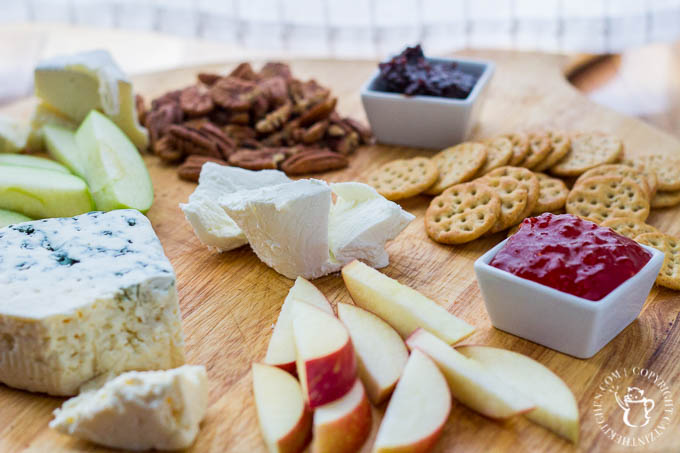 The last couple of times we've actually had the foresight to plan a family game night with our kiddos ahead of time, we've thrown together a big, approachable cheese plate! There isn't any special remoulade or fancy chutney here, and we're skipping the pretty slate presentation with fancy chalked-up cheese identification tags.
Though I really love all that…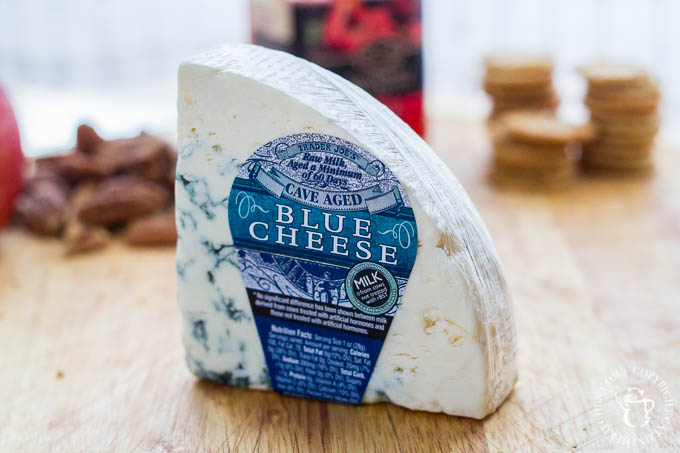 What we've settled on is making a quick stop by Trader Joe's one afternoon and grabbing a few reasonably priced, flavorful cheeses. The choices are numerous, but so far we're loving brie, bleu cheese, and goat cheese. Pair that up with some tasty jams and jellies, some fresh apples and crunchy crackers, and a few choice nuts, and you are in business. The flavor combinations are plentiful and addictive, and our kids are crazy about them. They love that they get to pick the ingredients on their plates out themselves, that they can mix and match as they see fit…
…and that they can eat with their hands!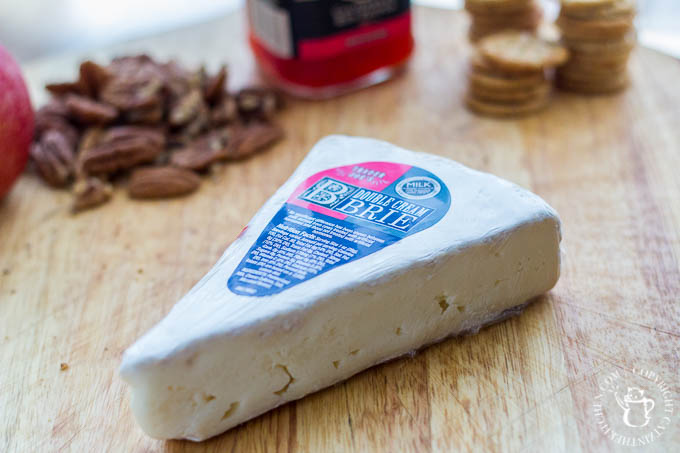 Kids really get into the whole "I wonder what this tastes like with this, or what this would be like on top of this" thing, as well as comparing each other's creations and even getting into a bit of friendly competition. "Okay…this one is the best! You HAVE to try it this way!" And, hey, if your guests aren't under the age of 18, they might still enjoy mixing and matching!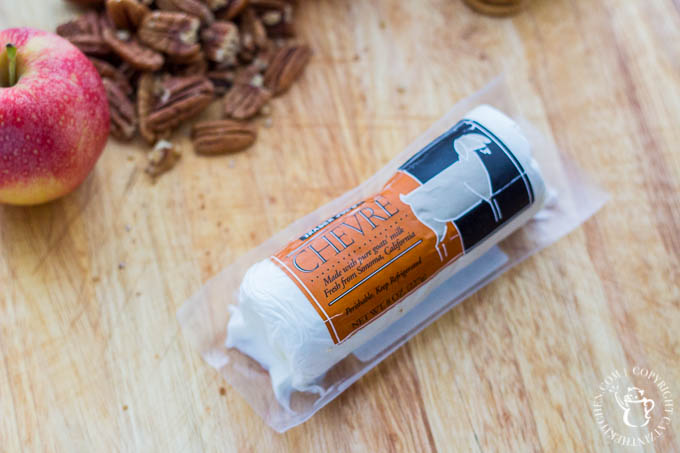 My favorite "secret" ingredients on this plate? The pepper jelly and the fig butter. The pepper jelly is a gently spicy product, a step down from jalapeño jelly heat-wise (also amazing!), while the fig butter is unique, smooth, and bursting with flavor. Pairing up pecans with some pepper jelly and a bit of goat cheese? A serious flavor tour-de-force.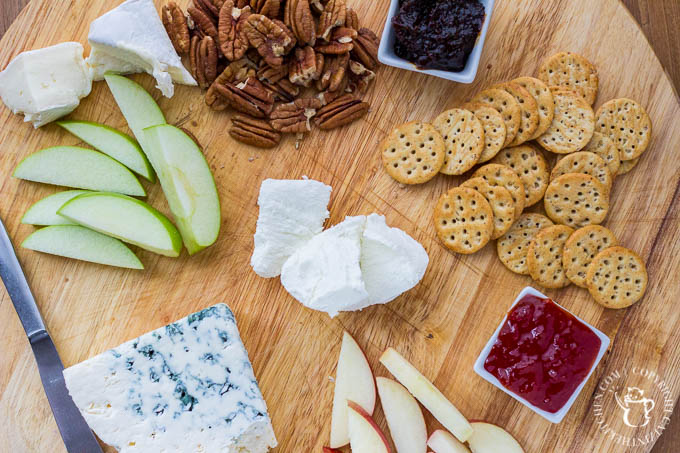 So, why are we sharing this with you? It isn't really a recipe, after all – more of an idea. Well, we really just wanted to encourage you to have fun and be creative with a snacky family game night or get-together! Nothing wrong with ordering some pizza, as we are often known to do, but you also don't always have to slave away in the kitchen for hours to be able to put an attractive spread on the table. A DIY cheese plate is a great middle road, and one we would strongly encourage you to try taking! Enjoy!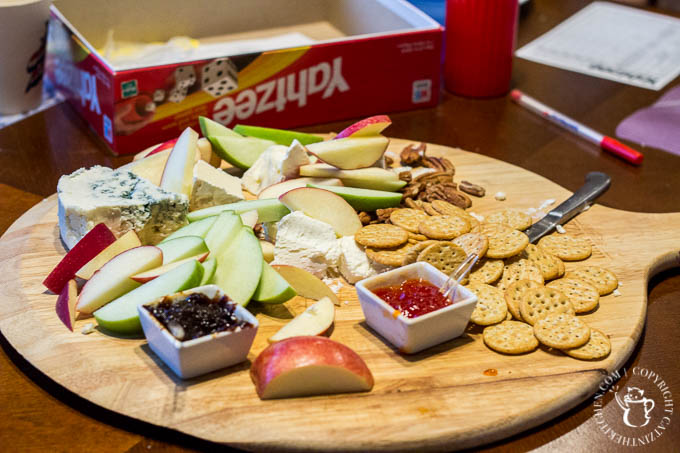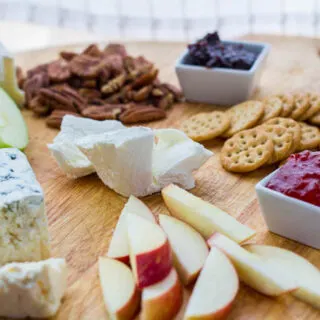 DIY Cheese Plate
A DIY Cheese Plate is a great way to jazz up your snack situation for a family game night, a get together with friends, or anytime you're feeling snacky!
Ingredients
1 cup pecans or walnuts
6 oz goat cheese
6 oz brie cheese
6 oz bleu cheese
3-4 apples (red, green, etc)
1/4 cup fig butter
1/4 cup red pepper jelly
Instructions
Slice or break up cheeses, slice apples, and place fig butter and pepper jelly in shallow dishes.
Place all ingredients on a large platter.
Eat!
Nutrition Information:
Yield:

6
Serving Size:

1
Amount Per Serving:
Calories:

525
Total Fat:

35g
Saturated Fat:

15g
Trans Fat:

0g
Unsaturated Fat:

18g
Cholesterol:

63mg
Sodium:

641mg
Carbohydrates:

38g
Fiber:

5g
Sugar:

28g
Protein:

19g
Nutrition information isn't always accurate, but in this case, it will obviously vary greatly by what you add or takeaway, how many people you serve this to, etc.