If you're looking for a one pan chicken dinner that tastes delicious, is easy, and celebrates autumn's produce, this is it. Your busy night will be a cinch!
We've been slowly easing our kids into their homeschooling year over the last few weeks. We've done a bunch of field trips they've had to write reports on, Grace began pre-algebra a few weeks ago, and this last week she's started Bible study, history, writing, French, and grammar. She's been taking her Shakespearean literature class since September, so she's pretty much acclimated at this point. Well…I think she's still struggling with getting up earlier, but hey…it's not just her and Eden – I'm back to getting up early (as in before 7 am), too!
Which is not easy! On Tuesday, I was in bed by 8:30 and ready to fall asleep. Truthfully…I do love getting up earlier even though I'm not a morning person. If I can make myself wake up while the kids are still sleeping, I can get a lot of stuff done.
Like, finish a whole cup of coffee without it getting cold. Aaahh, that's just one of life's simple pleasures right there.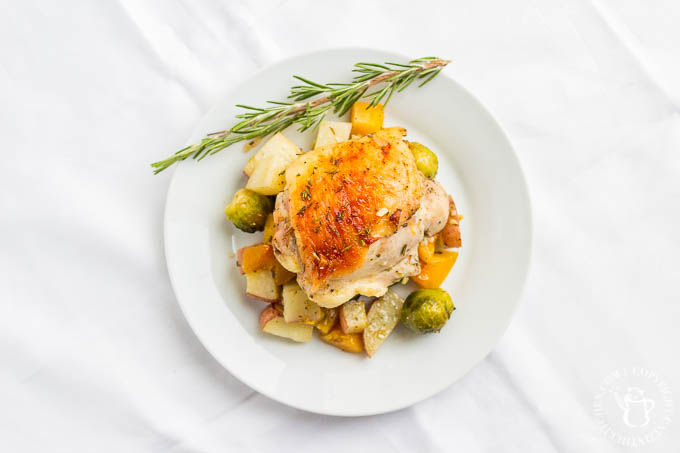 Our Awana kid's club starts back up next week, which means Thursdays instantly become the most hectic evening of the week. I've mentioned we moved out into the country a year and a half ago, which made the trip to and from town about 10-15 minutes longer, depending on traffic and weather, of course.
Come Thursday evening, I better have my A-game on, otherwise, they'll go without dinner or they'll be late to Awana!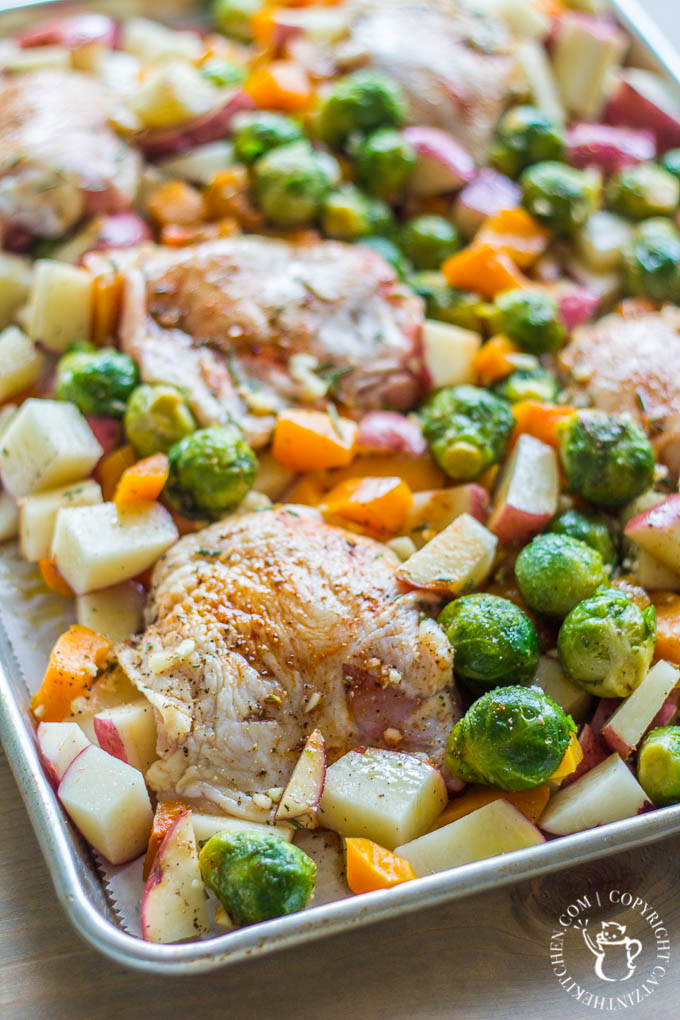 Aside from using my slow-cooker, one pan meals are my evening saving grace when it comes to getting a delicious, filling meal on the table without a lot of work. Assuming I can get my timing right, that is.
I love making sloppy joes because they take virtually no time at all, and one pan meals are exactly the same way. As long as everything I throw on cooks at roughly the same temperature and for the same amount of time, I'm in business.
This particular one pan chicken dinner features bone-in chicken thighs – which I love because they carry so much flavor. They also go on sale fairly frequently, so I'm almost guaranteed a good price, especially if I buy them in those bigger family packs. Butternut squash and brussels sprouts are in season and they sure do look pretty on the pan, too!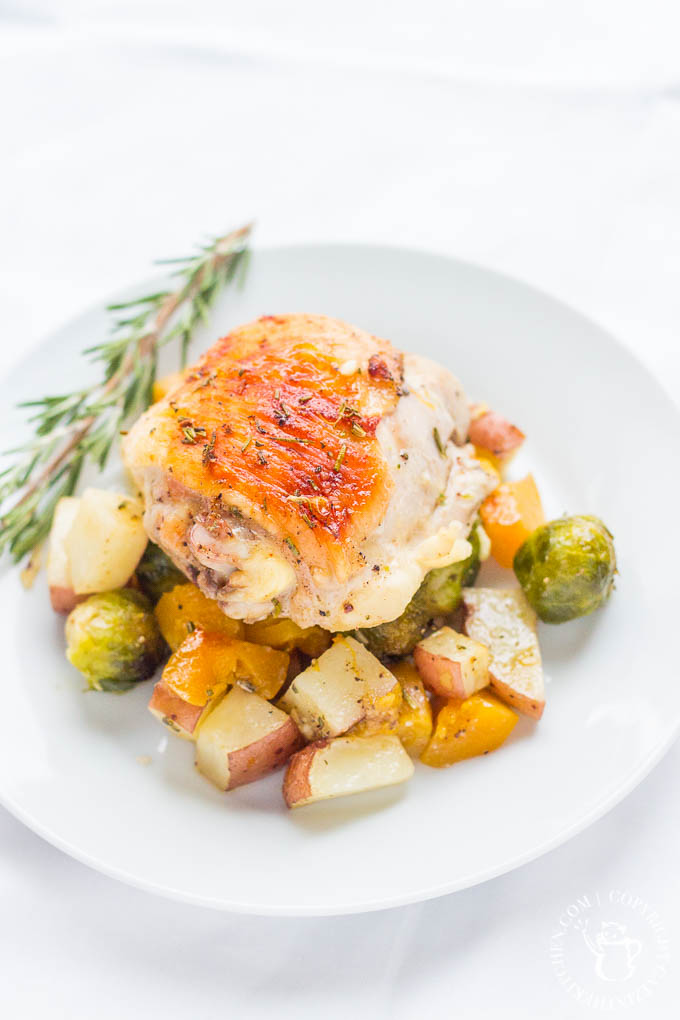 Word to the wise – don't be tempted to buy frozen squash and sprouts for this recipe…they'll be a bit watery as they cook up and lose some of their flavor. Fresh is best when it comes to in-season produce!
My trick to making brussels sprouts not taste so bitter is adding a little sweetness. I love the way real (I'm not talking about that fake stuff!) maple syrup brings out the flavors in whatever veggies you're using. Of course, if you don't have maple syrup, you can sub in agave or honey in its place.
I threw in red potatoes because I had those on hand, but yukon or even russet would be delicious too. I liked the red potatoes because of the flavor and the color it brings out in the pan, plus, potatoes are just a great way to stretch a meal out without getting too expensive!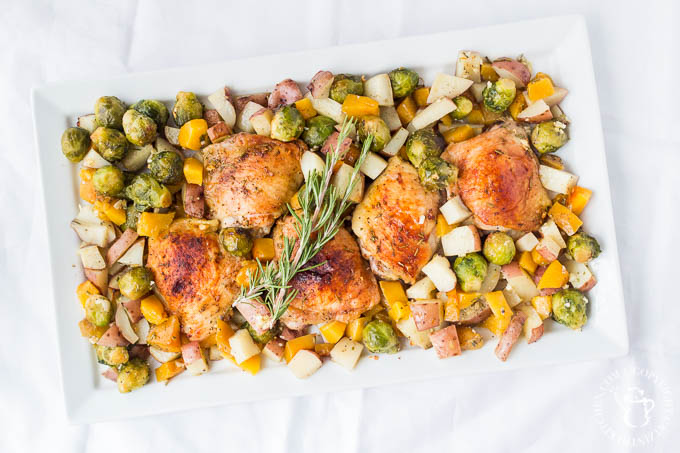 If you're in the market for a new one pan chicken meal that tastes delicious, is easy to prepare, and celebrates some of that beautiful seasonal produce you're seeing, this is it. It will make your next busy night a cinch!
One Pan Chicken with Autumn Veggies
Total Time:
1 hour
15 minutes
If you're looking for a one pan chicken dinner that tastes delicious, is easy, and celebrates autumn's produce, this is it. Your busy night will be a cinch!
Ingredients
4-6 bone-in chicken thighs
1 lb. fresh brussels sprouts, ends trimmed
1 small (about 2 lbs) butternut squash, chopped into bite size pieces
5-6 baby red potatoes, chopped
4 cloves garlic, minced
1 1/2 tbsp fresh rosemary, minced
2 tsp sea salt
1 1/2 tsp pepper
2 1/2 tbsp extra-virgin olive oil
1 1/2 tbsp maple syrup (honey or agave work too)
1 1/2 tsp smoked paprika - roughly 1/4 tsp per thigh
Instructions
Preheat oven to 425 degrees. Line a large rimmed baking sheet with parchment, a silicone mat, or foil sprayed with non-stick cooking spray.
Spread out veggies out evenly over the pan. Nestle the chicken thighs in between the vegetables. Sprinkle the veggies and chicken with sea salt, pepper, garlic, olive oil, maple syrup, and rosemary and toss the vegetable and chicken to coat. Sprinkle smoked paprika evenly over each chicken thigh.
Roast in the oven for 50 minutes - 1 hour, or until chicken is done, registering at 165 degrees when a thermometer is inserted.
Nutrition Information:
Yield:

6
Serving Size:

1
Amount Per Serving:
Calories:

642
Total Fat:

25g
Saturated Fat:

6g
Trans Fat:

0g
Unsaturated Fat:

18g
Cholesterol:

167mg
Sodium:

1055mg
Carbohydrates:

69g
Fiber:

8g
Sugar:

9g
Protein:

40g
Nutrition information isn't always accurate.