Delightful Oregon marionberries, flaky puff pastry, indulgent cream cheese filling, & so simple! You can & MUST make yourself an easy marionberry Danish!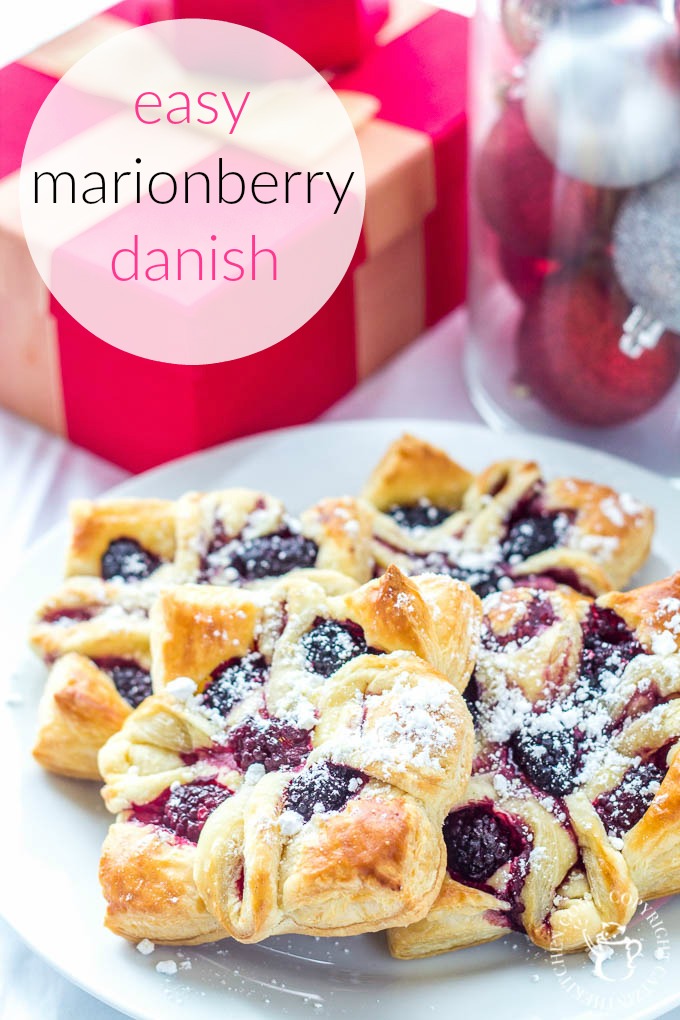 If you read Catz very often, then you know we're deeply fond of berries. And, if you happen to abide in the Pacific Northwest, then you also know we're blessed with berries that are plentiful, accessible, and, typically, pretty affordable! I suppose that's why we cook with them so often – we've done smoothies, overnight French toasts, crêpes, waffles, coffee cakes, pies, cobblers, crisps, jams, pancakes, muffins, and cakes! During the summer, we like to take an afternoon now and again to head out to a local farm and pick them ourselves – it's fun and affordable (no matter what Jim Gaffigan says).
During the winter, though, we don't give berries up. Granted, we do seem to work with cranberries a lot more (It's the bright red color, right? Super festive? I don't know – I need to ask Chels…). But, one of the incredible things about berries (in general) is how well they hold up to freezing! All winter long, the recipes with blackberries, raspberries, marionberries, and blueberries just keep on coming. Typically, we work through the frozen stash we built up from our berry-picking expeditions, and then we supplement with the flash frozen Oregon berries that are available, well, pretty much everywhere (no, I'm not necessarily just talking Whole Foods here – more like Safeway and Fred Meyer!). I knew frozen local berries were pretty readily available, but I had no idea just how many are picked for that purpose – according to our friends at the Oregon Raspberry & Blackberry Commission, 90% of the berries grown in Oregon are flash frozen right after being picked, which makes for some pretty fantastic year-round tastiness. Who knew?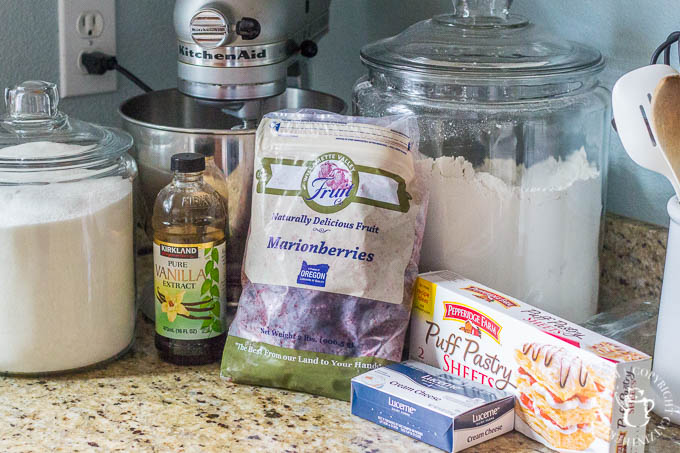 Speaking of the folks over at Oregon Berries, every so often they reach out and ask if we'd be interested in sharing whatever our latest berry obsession is, and because we have so many, we almost always say yes! Because it's wintertime, they're working to get the word out about how tasty and useful flash frozen berries are. As it happened, I had just been experimenting with berries and puff pasty, so the timing seemed perfect!
Enter this incredibly easy marionberry danish recipe. I have always loved cheese danishes with a deep and abiding love (Chels, too!), but there's someone in our house these days who loves them even more…Gracie. My eldest (12) just thinks that cream cheese and puff pastry combination is too die for, and it's pretty much always what she gets from the bakery stand at our local farmer's market (I can't blame her – those things are ridiculous!).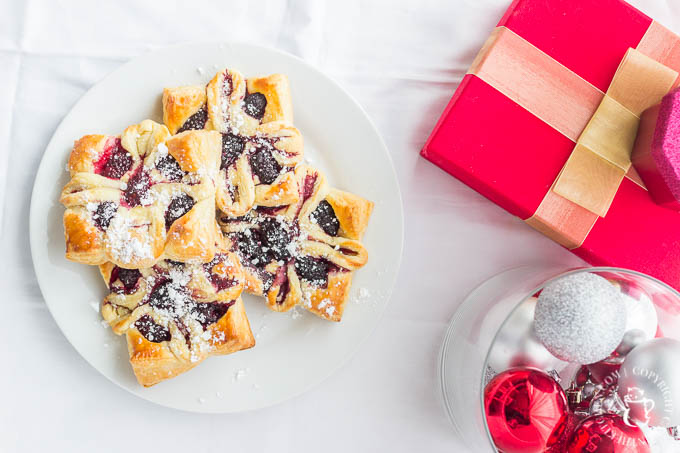 It is pretty outrageous how easy these are to make considering how beautiful and craveable they are. The puff pastry is a gimme, of course – it rises perfectly virtually every time, with that delicate flakiness that makes you want to eat way more than you really should…I would probably eat it by itself. Okay, I have eaten it by itself…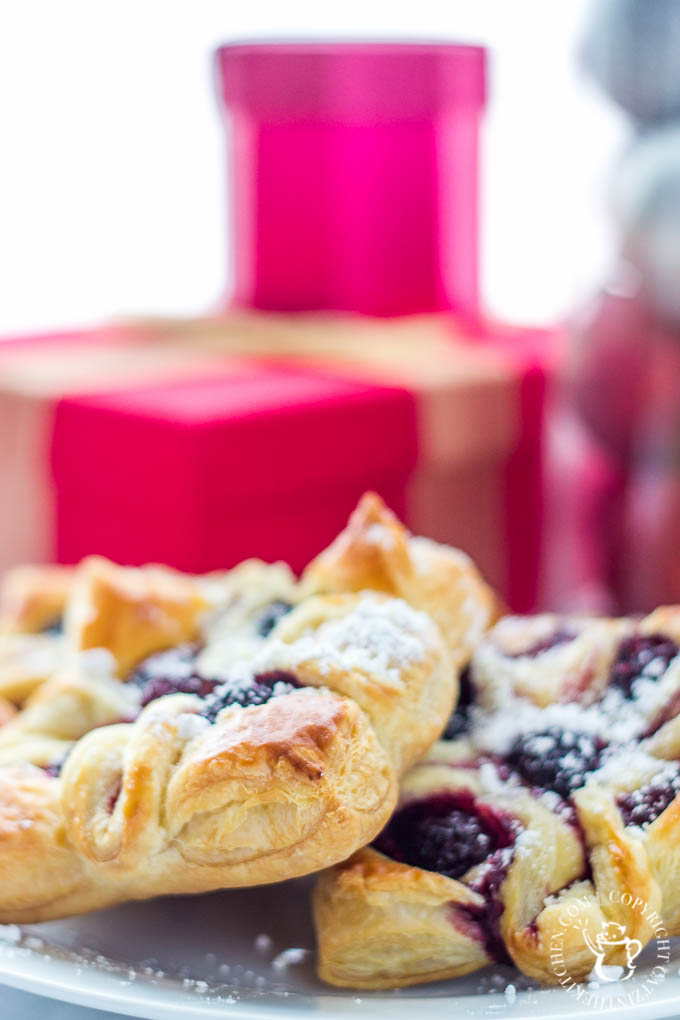 But you don't need to. Not if you have some berries and cream cheese around! These little pastries took about half an hour to make…and lasted about three minutes. We did them once for testing and once for photos, and this is one recipe the kids would not have objected to us needing to test more…
Now, the cutting and folding is the part that looks hard, but I promise you, as someone who doesn't bake and knows nothing about pastries…it's not. It's insanely easy. You simply slice your puff pastry sheet into four squares, slice a little "L" shape into the corner of each square, place your filling in the center, fold the corners up so they meet in the middle, top with berries, add a bit of egg wash to the exposed puff pastry, and bake!
Okay, now, I tried my hand at making you a little video to illustrate. It's a first attempt, so don't judge. It's a little way too fast, and I didn't place the bowl in quite the right place. There should be a shot of the finished product, of course. I have appropriately berated myself about these things, taking the lessons to heart, etc, so no need for you to do so as well. All you need to do is…
MAKE YOURSELF A MARIONBERRY DANISH!
The Oregon Raspberry & Blackberry Commission provided funding to purchase the ingredients used to develop this recipe, though we were not otherwise compensated for writing the post. Of course, all thoughts, photos, opinions and the recipe itself are our own.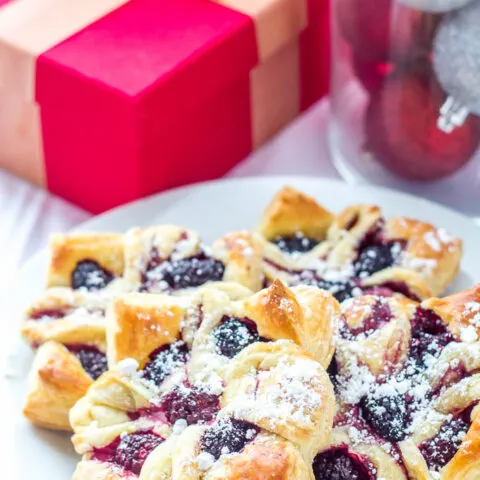 Easy Marionberry Danish
Delightful Oregon marionberries, flaky puff pastry, indulgent cream cheese filling, & so simple! You can & MUST make yourself an easy marionberry Danish!
Ingredients
8 oz cream cheese (at room temperature)
2 cups (40 berries) frozen Oregon marionberries (blackberries or raspberries would also work well)
1/3 cup sugar
2 sheets frozen puff pastry
1 tsp vanilla
2 eggs, divided (yolks and whites separated)
Flour, for work surfaces
Powdered sugar (optional, for topping)
Instructions
Thaw puff pastry at room temperature for no more than 40 min. Sheets should still be cold when you begin working with them.
Preheat oven to 400 degrees.
Line a baking sheet with parchment paper.
Beat together cream cheese and sugar until smooth. Add vanilla and egg yolks and and stir to combine.
Roll out puff pastry on a floured surface, and cut each sheet into four equal squares.
Make "L" shaped incisions in the corners of each square, ensuring that the incisions meet in the corners, but not in the center of the sides.
Spoon 1/8 of the filling into the center of each of the squares.
Lifting from the corners, fold the corners of each square into the center, allowing the connected sides to hold the square shape of the pastry.
Top each pastry with five berries.
Brush the egg whites onto the exposed puff pastry.
Transfer to the baking sheet and bake for about 12-15 min (will vary by oven), or until golden brown. Do not overbake!
Dust with powdered sugar and serve immediately.
MAKE MORE.
Nutrition Information:
Yield:

8
Serving Size:

1
Amount Per Serving:
Calories:

305
Total Fat:

14g
Saturated Fat:

7g
Trans Fat:

0g
Unsaturated Fat:

6g
Cholesterol:

75mg
Sodium:

125mg
Carbohydrates:

40g
Fiber:

1g
Sugar:

24g
Protein:

5g