If you're looking for a simple, elegant meal for Valentine's Day, or any holiday, make this roasted chicken with fresh herbs recipe. It doesn't disappoint!
The first time I ever attempted to make a roasted chicken, I needed to have my mommy by my side, helping me out. Kind of like the first time I had a locker in middle school and couldn't figure out how to even open my lock to get inside my locker. My mom showed up the very next day to help me out. Then there was the time I got my job at Blockbuster Video in high school and my week long training was clear on the other side of town, where I had never yet ventured. My mom and I hopped in my car one day and she had me drive while she navigated our way over there so I could figure it out when the time came…
But…back to the chicken. The first time I worked on a roasted chicken, my parents drove down to my apartment, and while my dad hung out with my kids, my mom walked me through the steps of cleaning the chicken and preparing a basic recipe of seasonings, giving me instructions for how long to cook it, knowing when it was done, etc.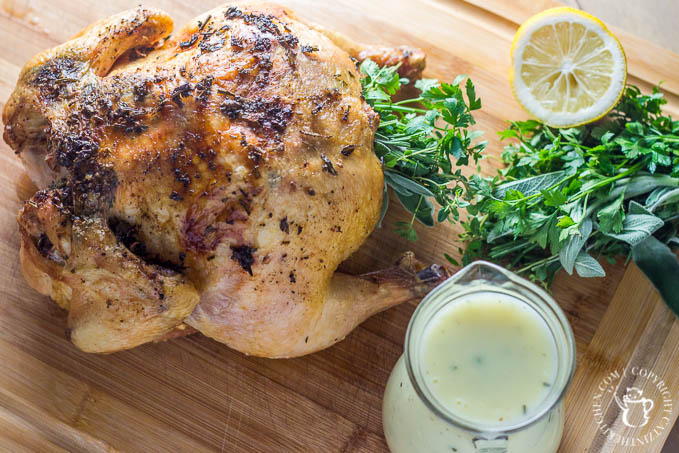 I'm going to assume you already know how to clean a chicken, but if not, here's a quick rundown. Make sure your chicken is completely thawed. Remove all of the insides that are inside the cavity and, if you're like me, discard. If you know how to make gravy out of it, hang onto it and go to town. Rinse the bird under cool water in the sink until the liquid runs clear. (You might want to disinfect your sink when you're done.) There may be some trimming you'll want to do on your bird with a pair of kitchen shears, too, but that's up to you.
When it comes to Valentine's Day, Josh and I usually prepare some sort of (hopefully) delicious meal for our family one night, in addition to a separate date night we have at some point. Last year, we made Bœuf Bourguignon. And it was good – so good that it goes down as one of my favorite things to eat ever. But if you haven't quite got the time for something as involved as that French meal, a roasted chicken is a simple and delicious way to go too. A simple roasted chicken can make a dinner or an occasion feel fancy with a few special touches, like adding fresh herbs!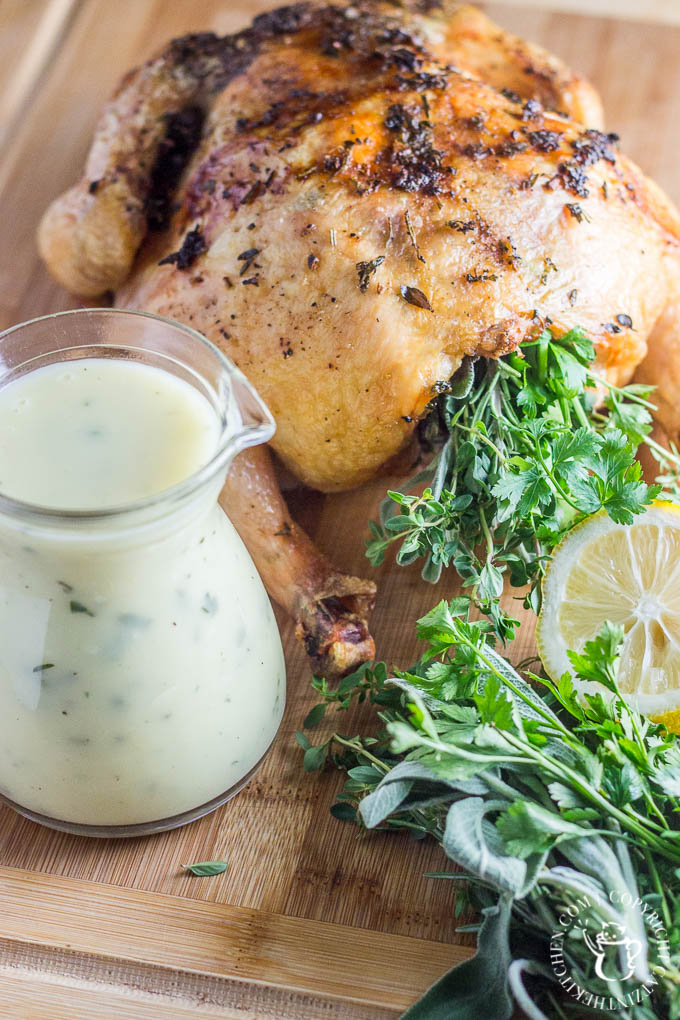 For the herbs, I used parsley, sage, rosemary, and thyme. Yes, like the song! They are natural pairings and it helps that I have a rosemary bush in my backyard that I can run out to anytime I want a fresh herb!
Super convenient, let me tell you!
You will notice that I did not take any pictures of the chicken sliced…you're welcome! I haven't quite figured the carving thing out yet and pretty much destroyed the bird in the process! Whoops!
If you're looking for a really simple, but elegant meal for Valentine's Day, or really any holiday, make sure you make this roasted chicken with fresh herbs. It doesn't disappoint!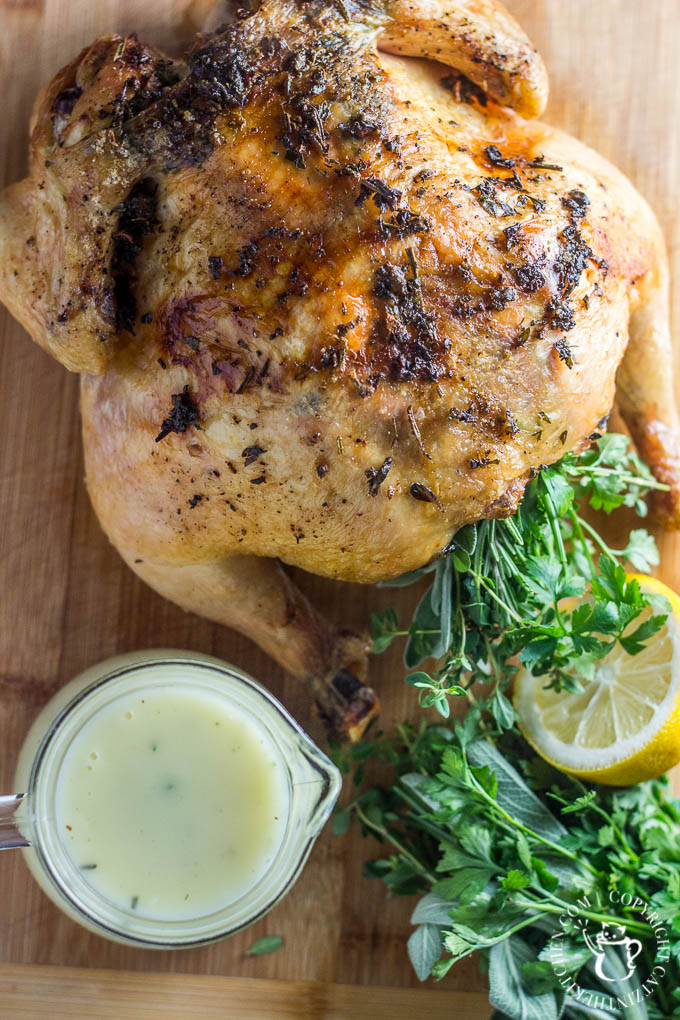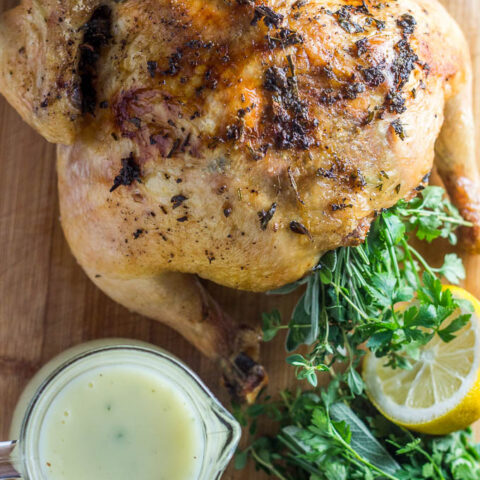 Roasted Chicken with Fresh Herbs
Cook Time:
1 hour
15 minutes
Total Time:
1 hour
40 minutes
If you're looking for a simple, elegant meal for Valentine's Day, or any holiday, make this roasted chicken with fresh herbs recipe. It doesn't disappoint!
Ingredients
1 (4-5 lb) whole chicken, giblets removed, rinsed and patted dry
1 pkg rosemary, divided
1 pkg sage, divided
1 pkg thyme divided
1 bunch flat leaf parsley, trimmed and divided
3 cloves garlic, divided
1 lemon, cut in half
Salt
Pepper
2 tbsp olive oil
1/2 cup unsalted butter, softened
Instructions
Pre-heat oven to 400 degrees. Finely dice 2 teaspoons of each herb, and 2 cloves of garlic minced and mix with the 1/2 cup softened butter until combined. Spread underneath the skin of the chicken and on top. Sprinkle salt and pepper inside the cavity of the chicken, along with the lemon, remaining garlic and herbs.
Roast for 1 hour and 15 minutes to 1 hour and 30 minutes, or until juices run clean.
Allow to rest for 10 minutes and then carve into slices.
Nutrition Information:
Yield:

6
Serving Size:

1
Amount Per Serving:
Calories:

222
Total Fat:

21g
Saturated Fat:

11g
Trans Fat:

0g
Unsaturated Fat:

9g
Cholesterol:

147mg
Sodium:

116mg
Carbohydrates:

2g
Fiber:

1g
Sugar:

0g
Protein:

7g
Nutrition information isn't always accurate.