Carrots, apples, oats, blueberries, cranberries, walnuts, cinnamon and a bit of brown sugar make these healthy cookies amazing & safe for indulging!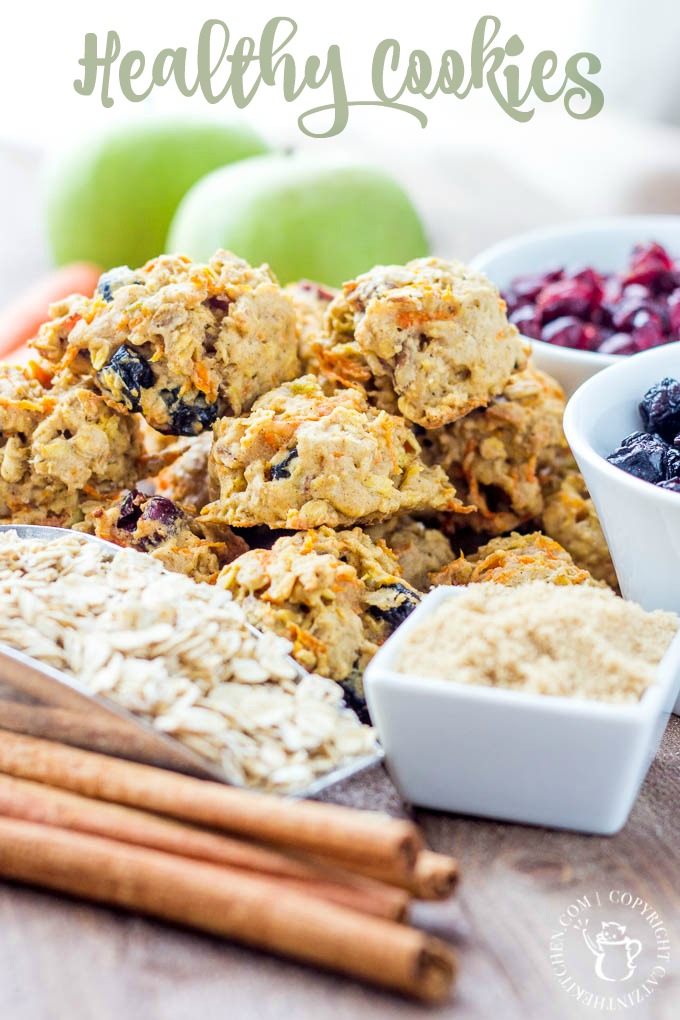 If I'm being honest, I don't bake quite as much as I used to. I mean to, but between you and me, I don't really need the temptation around the house. Usually, just a taste or a sliver of whatever I bake is enough. But then there are the nights when I can picture that sweet treat on the counter or in the fridge and it calls to me…or my husband.
Whoever gives in usually brings it to bed and then the other is stealing bites from their plate, which of course leads to another plate of said treat being brought up to bed.
So…you can see why having brownies, cake, and pie can be a bad thing!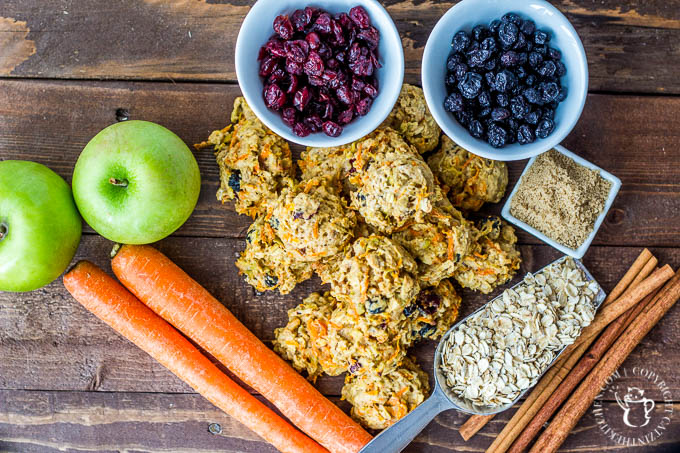 But as much as I love brownies, cakes, and pies…cookies are my weakness. I'm so serious – I can never eat just one and be done! It just takes a willpower I don't possess.
However, this year at the Awana kid's program at our church, we've tried to implement healthier treats for the kids instead of the usual mini cakes and soft, delicious chocolate chip cookies (Mmm!). And I'm just saying, nothing wrong with those packaged mini cakes. They're the quick treat of my childhood and one I could never say no to!
Grace loves to sign up to bring snacks, and I'm more than happy to let her! She found the perfect cookie to share with all the kids, and one all of the parents can appreciate, too!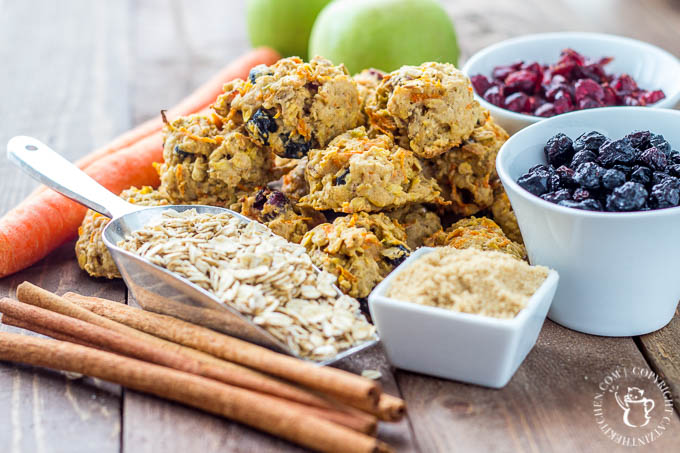 These little healthy cookies have shredded carrots, apples, oats, dried blueberries and cranberries, plus crunchy, chopped walnuts. If all of that good, healthy stuff scares you off, don't let it. These things are addicting! Grace has made them several times and I think the longest they've lasted around here is a day and a half!
Josh eats them before (and after) a workout, and I'll snack on one (or two…or three) after mine! They are perfect for that, or dare I say, to munch on as a little breakfast cookie in the morning?
Either way, you and your kiddos will love these healthy cookies! Plus, they're a great way to sneak in some veggies and fruit into little diets, so you can never go wrong there!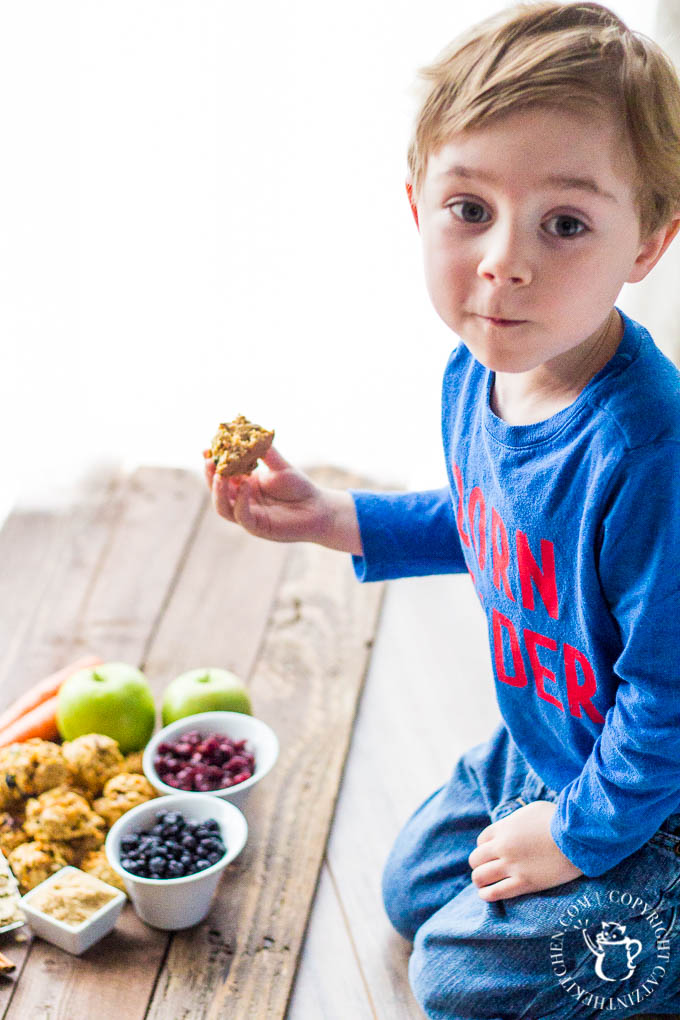 Happy Baking!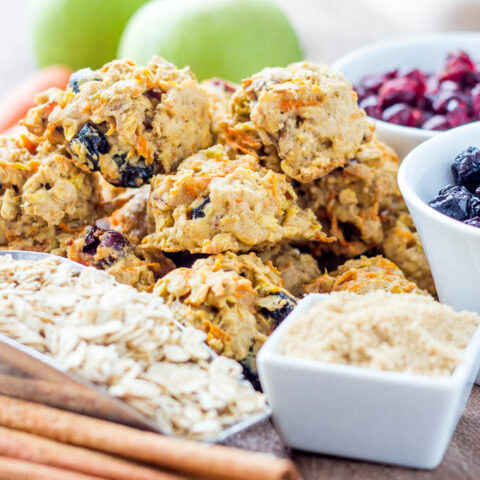 Healthy Cookies
Carrots, apples, oats, blueberries, cranberries, walnuts, cinnamon and a bit of brown sugar make these healthy cookies amazing & safe for indulging!
Ingredients
1 cup all-purpose flour
1 tsp baking powder
1/2 tsp salt
1/2 tsp cinnamon
1/2 tsp nutmeg
1/2 cup brown sugar
1/4 cup melted butter
1 egg, lightly beaten
1 cup rolled oats
1 cup shredded carrot
1/2 cup shredded apple
1/2 cup chopped walnuts
1/4 cup dried cranberries
1/4 cup dried blueberries
Instructions
Preheat the oven to 375 degrees. Line a cookie sheet with parchment paper or a silat.
In a small bowl, whisk together flour, baking powder, salt, cinnamon, and nutmeg.
In a large bowl, stir together the brown sugar and melted butter. Then beat in the egg with a fork.
Stir the flour mixture into the sugar mixture until the batter is smooth. The stir in the oats, shredded carrots, apple, walnuts, and dried berries.
Using a cookie scoop, roll cookies into a ball and place on cookie sheet about 1/2 inch apart.
Bake for 8-15 minutes, until they just begin to turn golden brown on top. Leave them on the baking sheet for an additional 2 minutes before moving them to a wire rack.
Nutrition Information:
Yield:

24
Serving Size:

1
Amount Per Serving:
Calories:

92
Total Fat:

4g
Saturated Fat:

1g
Trans Fat:

0g
Unsaturated Fat:

2g
Cholesterol:

13mg
Sodium:

92mg
Carbohydrates:

13g
Fiber:

1g
Sugar:

6g
Protein:

2g
Nutrition information isn't always accurate.