A simple, fun finger food, especially for the kiddos, these easy homemade chicken strips can help replace (or replicate) that run to the deli counter!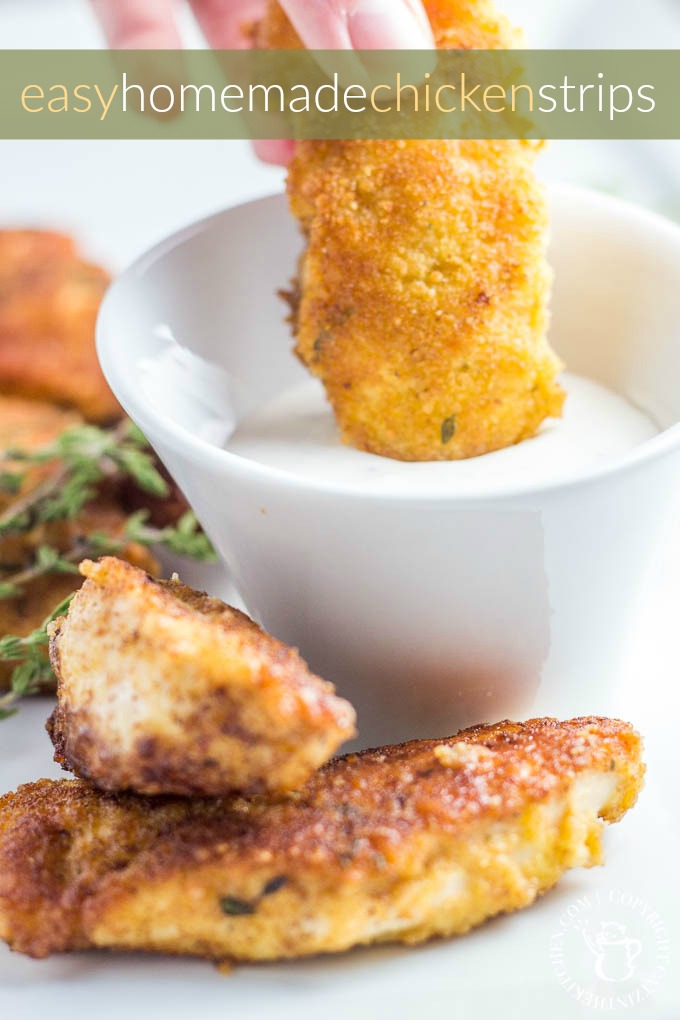 My parents divorced when I was really little, so I grew up splitting weekends between mom's house and dad's house. I was so young at the time, I don't even remember, and since both of my parents remarried, I actually can't remember life without my step-dad or step-mom!
You've heard me talk about what a great cook my mom was and is, I'm sure. Home cooked meals were on the table by 6:15 almost every evening. She put a lot of time and love into those meals.
But…I haven't really shared about my dad's cooking, which was also delicious! On the weekends, I would be with him and my step-mom, and they would make tacos, which are really similar to my baked turkey tacos, or we would do huge breakfasts on Saturday or Sunday mornings (we always had biscuits and gravy with scrambled eggs…and maybe some bacon!). My step-mom baked really good banana bread!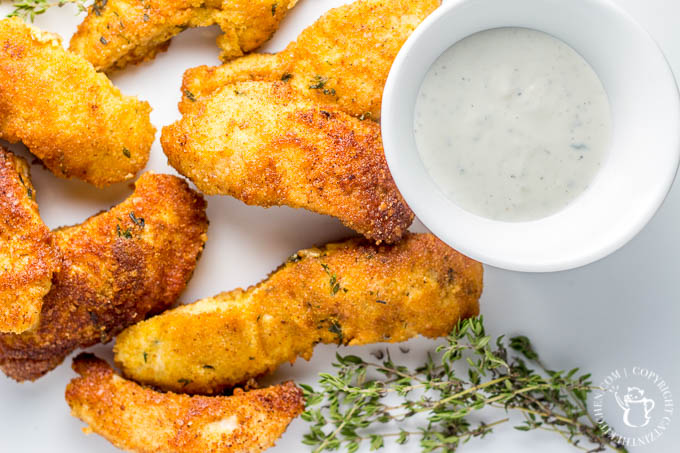 But usually, the Friday nights my dad would come and pick me up from my mom's house would run close to dinner time and since he would have just gotten off from work, Friday night dinners were usually the same thing – Kraft macaroni and cheese with chicken strips from the Safeway deli.
As a kid, I never minded this meal! While macaroni and cheese was not an unusual thing for me to have at mom's house, chicken strips were! And I have yet to meet a kid that doesn't like chicken strips! They were always so good. I would sit in front of the TV with my plate of mac and cheese, a dollop of ketchup on the side to go along with my chicken strips (I've never been much for ranch sauce, except on salads).
While my kids have macaroni and cheese about once a week, I rarely, and I do mean rarely, bring chicken strips into the house. Not because I have a problem with them or I think "I'm above chicken strips", because I don't. I just usually, like my mom, make most of our meals at home and don't buy a lot of frozen or premade items. Believe it or not, that's easier on the budget, too!
I will admit to recently buying frozen chicken nuggets and taquitos from Costco for our Thursday Awana dinner nights. I'm reentering that stage of life where pregnancy zaps all energy, and come Thursday and Friday, I'm done. I need help and Costco is there to bail me out!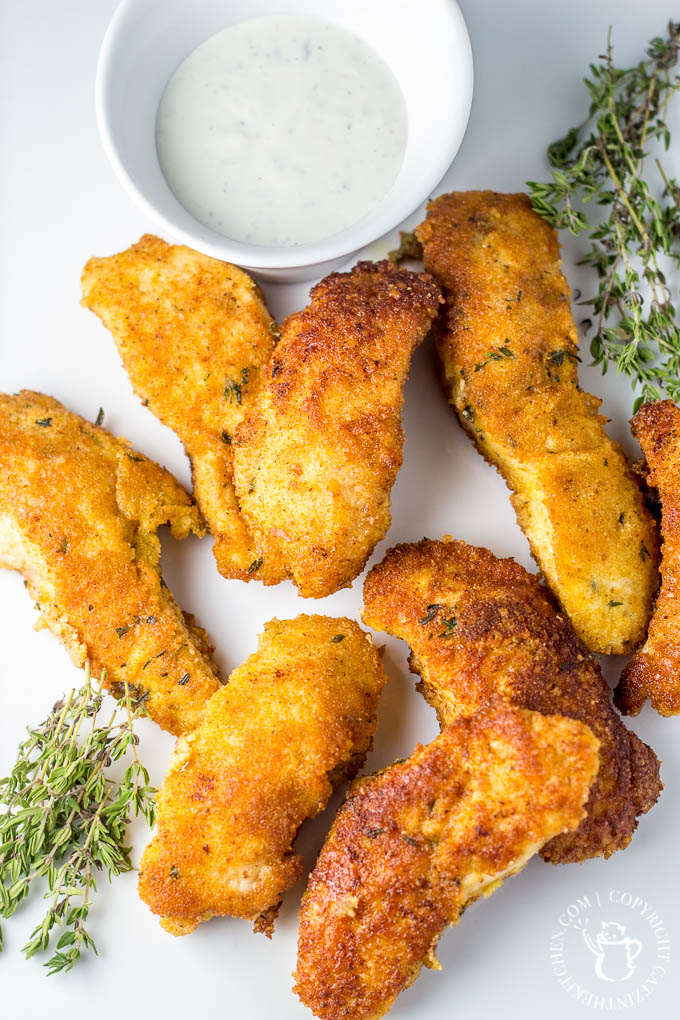 Bless you warehouse stores everywhere!
But I digress… While I'm sure it can certainly be more convenient and easier to run to the store and pick up chicken strips, it is almost as easy and even more delicious to make them at home. I came across this recipe for easy homemade chicken strips maybe two or three years ago, flagged it in my cookbook, and now I've made it several times and it is so yummy! Honestly, it really reminds me of Friday night dinners with my dad.
These chicken strips have parmesan cheese, freshly ground black pepper, and chopped fresh thyme – utterly delicious dunked in ketchup or a blue cheese dipping sauce. Not to mention, the ingredients are really easy to pull together (I'm betting you have most of them on hand already), and once you have your assembly line going – which I suggest should be staged right next to the stove – dinner takes no time at all!
I haven't paired our meal with macaroni and cheese just yet, but I did make a huge fruit salad to go alongside it last time and the kiddos loved it. Fruit salad to them is dessert – can't complain about that!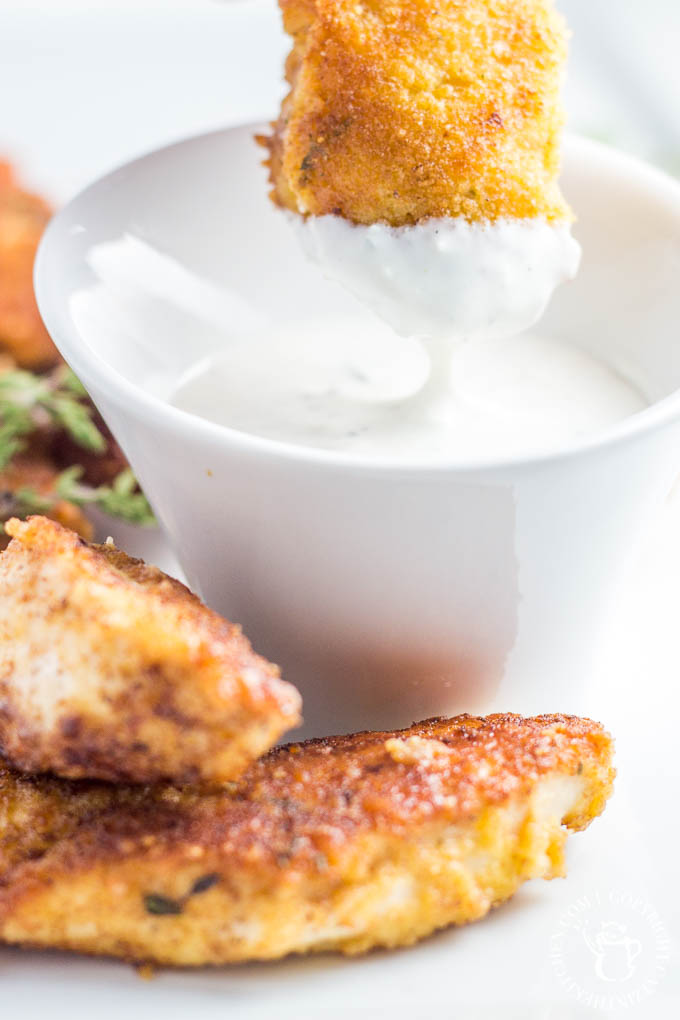 My only caution would be this, this recipe is better made on a non-stick skillet. I've cooked this on stainless steel and non-stick and dare I say, the non-stick was definitely the easier of the two. But, just add more oil as needed if you don't have non-stick. We picked up a non-stick pan (to supplement our normal stainless set) for about $25 at Ross a few months back and it's been money well spent, let me tell you!
If you're craving food from your childhood, make these easy homemade chicken strips for the family. They really are a crispy and delicious fun treat to enjoy once and awhile.
Easy Homemade Chicken Strips
A simple, fun finger food, especially for the kiddos, these easy homemade chicken strips can help replace (or replicate) that run to the deli counter!
Ingredients
4 boneless, skinless chicken breast, sliced into 1/2-inch strips (Time-saving tip, do this a day ahead of time)
Kosher salt and freshly ground pepper
2 large eggs
2 tbsp extra-virgin olive oil, plus more for frying
1 cup plain bread crumbs
1 cup grated parmesan cheese
1 tbsp freshly chopped thyme
2 tbsp unsalted butter
Ketchup, ranch or creamy blue cheese sauce for dipping
Instructions
Pre-heat oven to 250 degrees. Season the chicken strips with salt and pepper.Set aside on a cutting board. In a large shallow pan (I used pie plates) beat the eggs with the oil. In another pan, combine the bread crumbs, cheese, thyme, and a little bit more pepper.
In batches, dredge the chicken in the eggs, then in the bread crumbs. (For extra-crispy chicken strips, dredge one more time in the egg and bread crumb mixture.)
In a large non-stick pan, heat about 1/2 inch oil over medium heat. Melt the butter in the oil. Once the oil is hot enough, add a batch of chicken fingers. Fry until crispy and golden brown on both sides and cooked through, about 3-4 min per side.
Drain on a paper towel-lined plate. Keep the chicken fingers warm in the pre-heated oven while you fry the remaining batches. Serve immediately with dipping sauces of your choice.
Nutrition Information:
Yield:

6
Amount Per Serving:
Calories:

414
Total Fat:

22g
Saturated Fat:

8g
Trans Fat:

0g
Unsaturated Fat:

12g
Cholesterol:

159mg
Sodium:

723mg
Carbohydrates:

17g
Fiber:

1g
Sugar:

2g
Protein:

35g
Nutrition information isn't always accurate.