These silly little undead Halloween treats will delight the young people in your home…and the adults, too! Who doesn't want to munch on sausage mummies?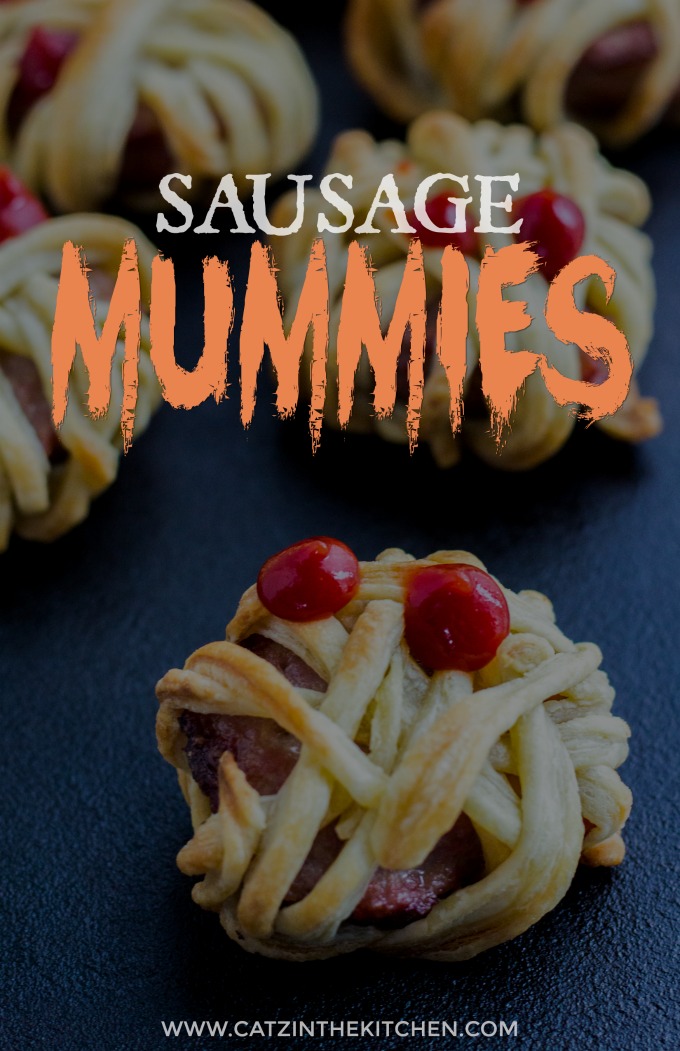 We weren't going to blog (or even make) this silly little recipe, but our nine-year-old, Eden, found it in the Food Network Magazine, and simply had to have it. We had an extra sheet of puff pastry in the freezer (leftover from making apple tartlets…coming your way soon!), along with some breakfast sausage, so we gave in. In the end, the finished product was adorable, festive, and outrageously easy to make, so we figured that we ought to share it. Consider it a break from #pumpkineverything as Halloween approaches!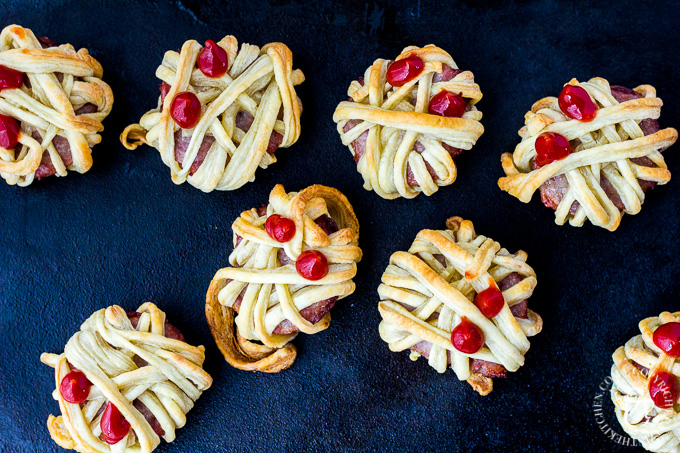 This ghoulish side dish is super simple to make. We had raw sausage patties, rather than precooked, so we baked them on parchment paper on a cookie sheet in the oven for five minutes prior to wrapping them in the thawed pastry dough.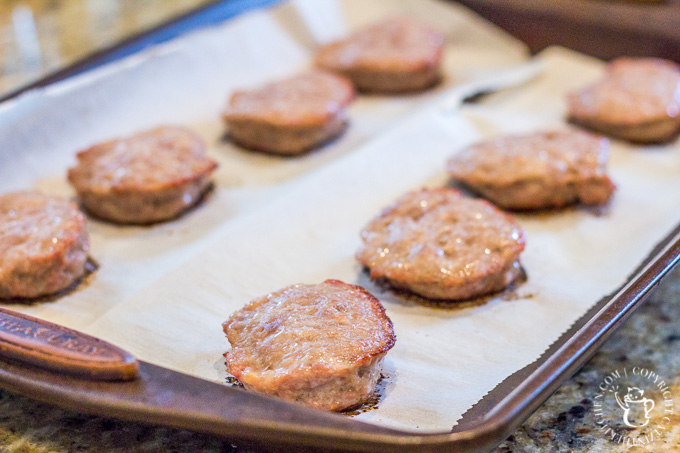 This firmed them up a bit and made them easier to wrap. While they were in the oven, I used a pizza cutter to slice the sheet of pastry dough into strands roughly 1/4 inch wide. I had rolled the pasty dough out to about 10 inches square, though I don't really know how necessary that was. It probably would have been fine just the way it came out of the box (8-9 inches square).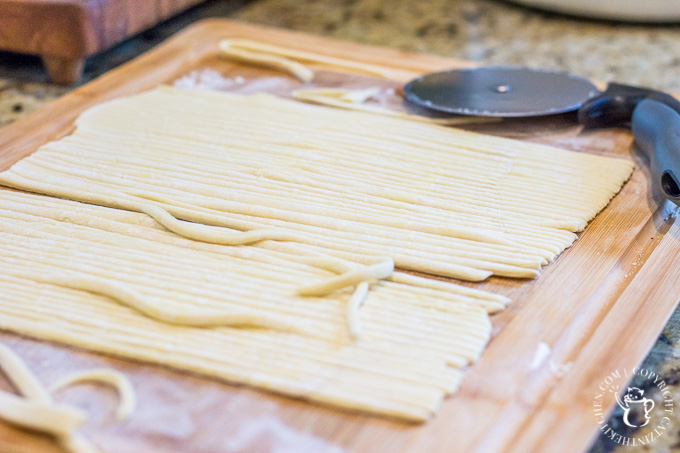 The kiddos and I then proceeded to carefully wrap the sausage patties in the puff pastry dough. Ours weren't quite as pretty as the Food Network's, of course, but these are mummies…how neat and tidy are we really expecting them to be, anyway?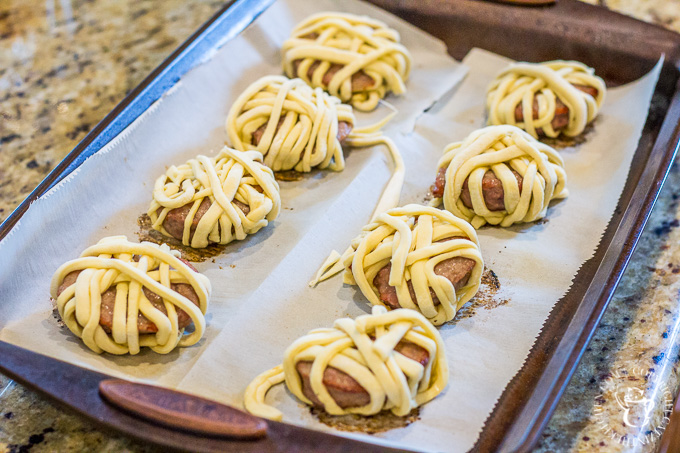 Back in the oven with these odd-looking little creations, and about 15 minutes later they were golden brown. I used my trusty ThermaPen to check the internal temperature of the patties, and we were ready to roll. We added some sinister eyes with dots of ketchup, and proceeded to partake of our miniature undead appetizers.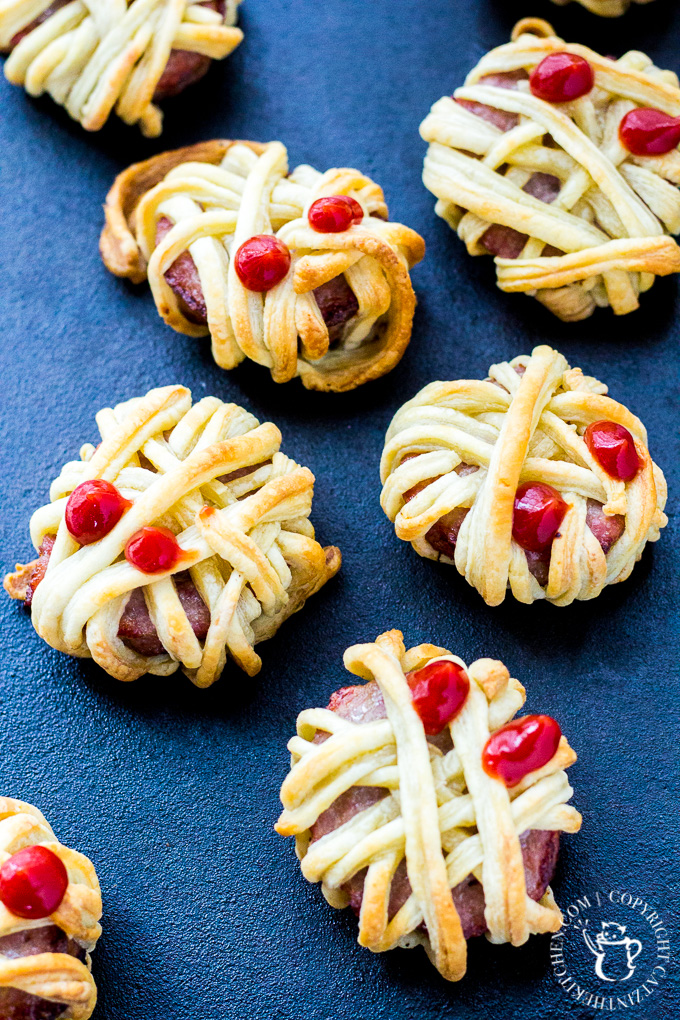 And that's it! Whether you're looking for a fun little kitchen project for the kids to try this weekend, or an easy themed appetizer for a Halloween party, these sausage mummies are a tasty bit of finger food. The puff pastry is flaky and light, while the breakfast sausage is zesty and hearty – a bit like an evil sausage biscuit breakfast sandwich!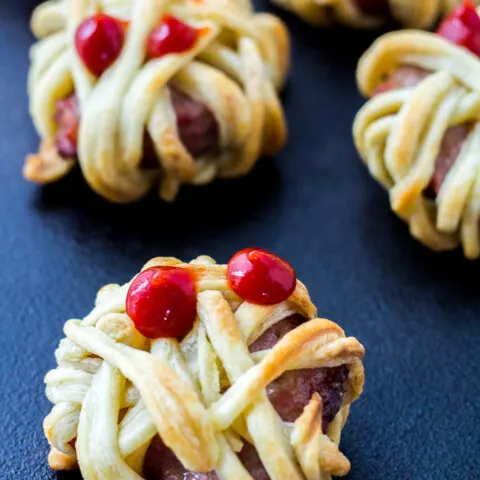 Puff Pastry Sausage Mummies
Yield:
8-12 sausage mummies
These silly little undead Halloween treats will delight the young people in your home...and the adults, too! Who doesn't want to munch on sausage mummies?
Ingredients
8-12 pork sausage patties (about 12 oz)
1 sheet frozen puff pastry
ketchup
Instructions
Preheat oven to 400 degrees and thaw puff pastry according to package directions.
If working with raw sausage patties, prepare cookie sheet by covering in a sheet of parchment paper or foil.
For raw sausage, bake in preheated oven for about five minutes, or until firmed up with a light crust.
Roll puff pasty sheet out on a well-floured surface to about 9 or 10 inches square, and then use a pizza cutter or chef's knife to slice into roughly 1/4 inch wide strands.
Wrap sausage patties in strands of puff pastry.
Bake for another 10-15 minutes, or until puff pasty is golden brown and sausage has reached an internal temperature of at least 145 degrees.
Remove from oven, rest for 3-5 minutes, and dot with ketchup "eyes", if desired.
Nutrition Information:
Yield:

6
Serving Size:

2
Amount Per Serving:
Calories:

179
Total Fat:

14g
Saturated Fat:

4g
Trans Fat:

0g
Unsaturated Fat:

9g
Cholesterol:

40mg
Sodium:

412mg
Carbohydrates:

4g
Fiber:

0g
Sugar:

1g
Protein:

9g
Nutrition information isn't always accurate.