Need a fun, tasty side dish for the 4th of July or any other summer get together? Try this easy recipe for bacon and egg potato salad!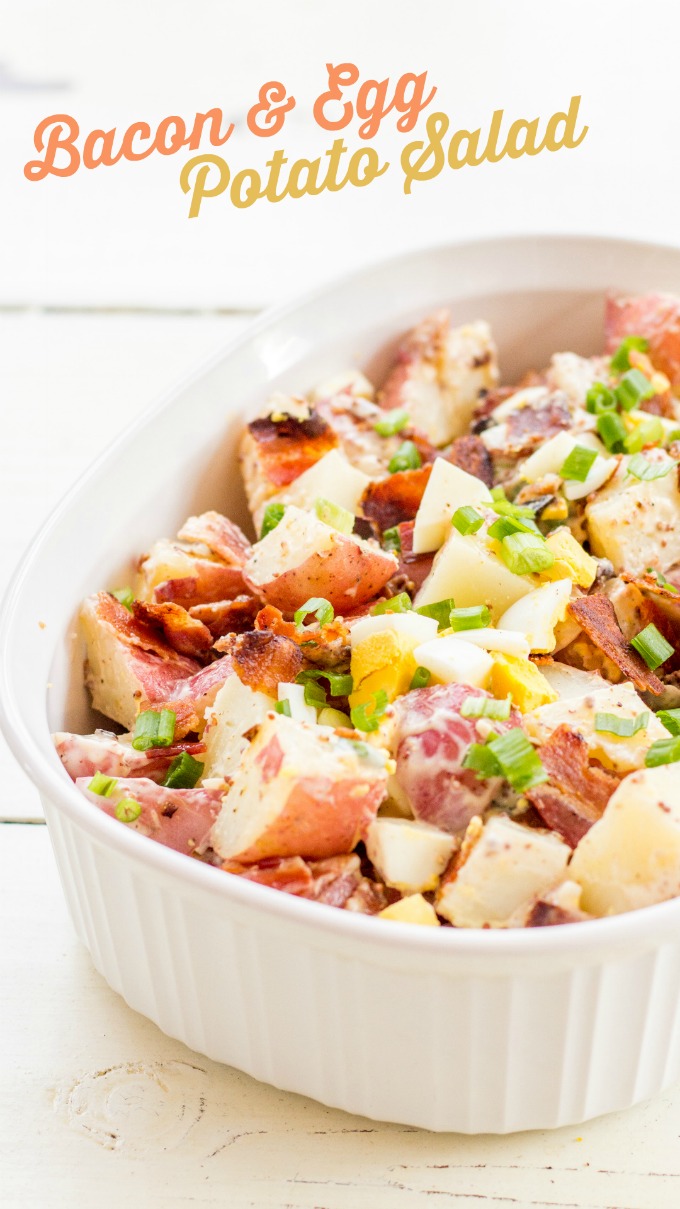 Maybe it's just me, but I'm kind of freaking out that not only is it officially summer now, but that 4th of July is next week! *the end to my allergy suffering is in sight* Please tell me I'm not the only one kind of unprepared for July officially starting on Sunday?
We live in a pretty small town with a lot of "U-S-A" pride around the Fourth. We have a buckaroo, a parade, and a whole festival – which we've never been to (well, the rest of the family did the parade last year, but I stayed behind – very pregnant at that time!). One of these years, we'll have to have everyone down to our house so we can join in on some of the small town fun. But I do love that we live close enough to our families so we can trade off on holidays and spend time with everyone.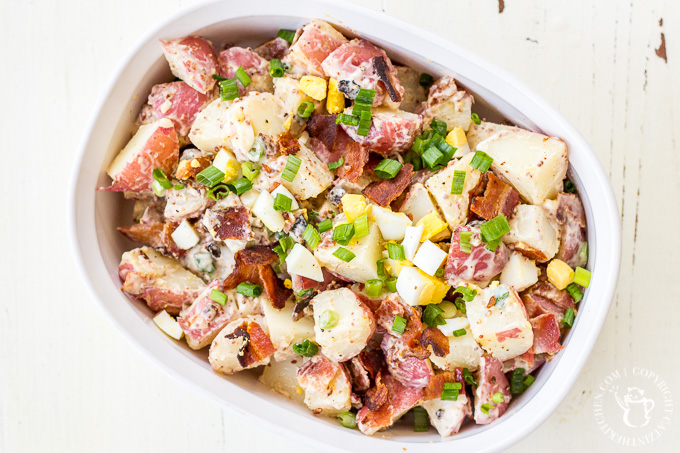 Most of you probably have plans for the 4th of July. Usually, we spend it with Josh's family because his grandparents from Africa are in town over the holiday. But this year, they came early, so we'll get to spend the holiday with my family, and my brother and sister-in-law always throw a gathering at their house and all the cousins play together while the adults helicopter their kids, lol! I'm just joking! There's no helicoptering.
Usually my brother will grill hamburgers or hotdogs and the rest of the family bring sides and dessert. I don't know what I'm bringing yet, but I'm thinking this bacon and egg potato salad is at the top of the list.
I'm not usually a fan of potato salads. I find that they usually have onions in them. Now we all know that I've made peace with onions over the years, but I don't like raw onions in my potato salad. Actually, I don't think I would like cooked onions in my potato salad either. But for some reason, I can do green onions! I don't really understand the reasoning there either except that it adds a pretty color without being this crunchy raw flavor mixed throughout my salad.
This bacon and egg salad has green onions. But, also, it has bacon. And it has hard-boiled eggs. But did you hear what I said? It also has BACON!!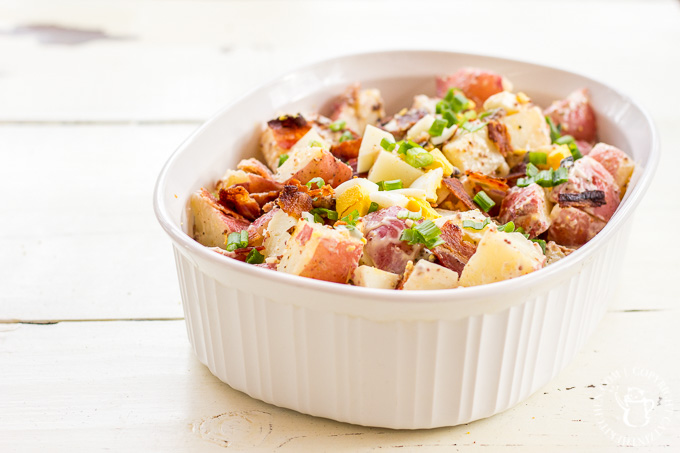 Basically, this makes this the best potato salad ever! Except that then there is the creamy dressing, the delicious red potatoes, the whole pound of bacon and some eggs.
Yeah, I could eat this for any holiday celebrating 'Merica or any summer outdoor party or basically, just…because.
What I like about this dish is that it can be made in advance – always a huge selling point for me!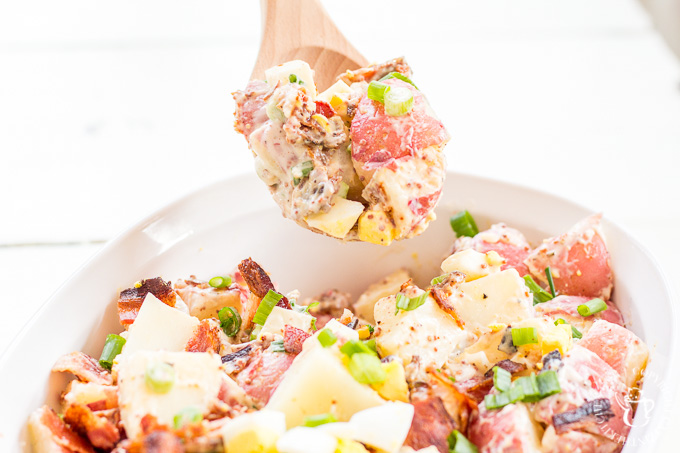 However, I wouldn't throw the whole thing together until about time to serve, that way the dressing stays creamy. I would just keep the ingredients separate or in your serving bowl together before adding the dressing last minute.
I'm just saying – if you're a bacon and egg lover like me, then you will love love love this potato salad version. It's colorful, it feels American because, ya know, bacon and eggs, and it's easy. Which is the kind of dish you want to prepare on a holiday!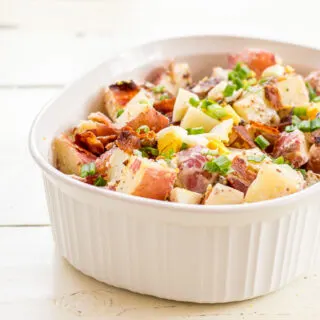 Bacon and Egg Potato Salad
Yield:
4-6 servings servings
Need a fun, tasty side dish for the 4th of July or any other summer get together? Try this easy recipe for bacon and egg potato salad!
Ingredients
2 pounds small-red potatoes, quartered
1 pound bacon, chopped
2 large eggs
2 tbsp red wine vinegar
3/4 cup mayonnaise
3 tbsp whole-grain mustard
6 scallions (green onions), finely chopped
1 tbsp sugar
1/4 tsp smoked paprika -brings out that good bacon flavor
Kosher salt and freshly ground pepper
Instructions
Put the potatoes in a medium saucepan and cover with cold water. Bring to a boil, then reduce heat to medium and cook until fork-tender, about 15 minutes. While the potatoes are cooking, saute the bacon in a skillet (or bake in the oven), over low heat until crispy, about 12 minutes. Drain on paper towels.
Put the eggs in a small pot and cover with cold water. Bring to a boil, then remove from the heat. Keep the pot covered and let stand for 6 minutes. Drain and run under cold water to cool. Peel and chop the eggs and set aside.
Drain the potatoes (do not rinse) and transfer to a baking sheet and let cool for 6-8 minutes. In a small bowl, combine the vinegar, mayo, mustard, scallions, sugar, smoked paprika, and salt and pepper to taste. Transfer the potatoes to your serving bowl and add the bacon and eggs. Fold in the dressing.
Serve at room temperature.
Nutrition Information:
Yield:

6
Serving Size:

1
Amount Per Serving:
Calories:

745
Total Fat:

51g
Saturated Fat:

14g
Trans Fat:

0g
Unsaturated Fat:

36g
Cholesterol:

154mg
Sodium:

1723mg
Carbohydrates:

35g
Fiber:

3g
Sugar:

5g
Protein:

34g
Nutrition information isn't always accurate.
SaveSave