Brunch must be the best meal of the day, right? It certainly will be if you serve this yummy breakfast chorizo hash! Not a chorizo fan? Sub in some sausage!

I'm a big believer in the power of a delicious brunch. But also…just a believer in brunch in general. I'm not really big on the whole getting up early thing, however my new alarm clock has definitely made it easier for me. But, hey, the idea of getting to sleep in a little, which, let's face it, is pretty much a rare occurrence with four kids in the house and the youngest under nine months old. She sleeps good, people, but not that good!
The other reason I adore brunch is because a brunch takes the pressure off the whole "what do I eat for lunch" thing. Which is definitely a problem for me. Lunch is the one meal a day I don't like to plan, make, or eat. Period.
Lunch doesn't excite me in the least. But brunch…oh, how I love a good brunch recipe.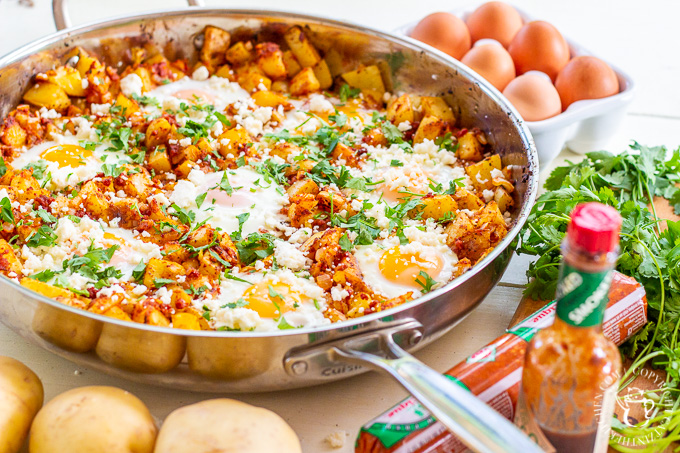 Now, I would say this brunch could be made for breakfast (if you like something like this earlier in the morning) or we've even made it for dinner more recently. And it is just as awesome for dinner as it is for brunch.
Here are some of the reasons why I love this hash:
It's basically a one pan meal. It's a not a true one pan meal because you do use a second pot to boil potatoes in. But other than that, it's one pan, done and done.
It has a Spanish/Mexican twist when you use chorizo as your protein. Now, you could use Italian sausage, but the chorizo just adds this additional layer of flavor that will knock your socks off.
It's beautiful! We eat with our eyes right? Well, this dish is one pretty, pretty meal. I blame the flecks of chopped cilantro, those cheery egg yolks, and the creamy white chunks of queso fresco.
I could really go on and on about this meal, but I'm afraid I would bore you. I will tell you that you do need to have a large oven-proof skillet. Preferably, the largest one you've got in your arsenal. I suppose you could use two oven proof skillets, if needed. Or even a deep cookie sheet in a real pinch!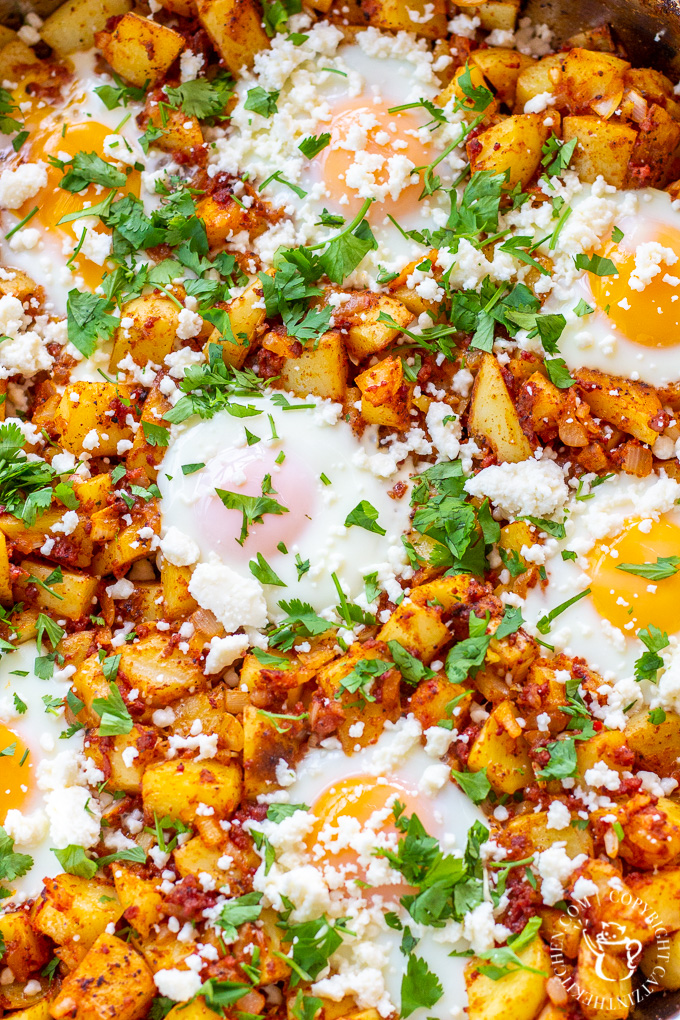 I think what I love about this recipe is that it makes a really great base for building on, especially if your ingredients are not identical to the one in the recipe. You could add chicken sausage or spicy Italian sausage. Play with the cheeses and seasonings, and even swap the golden potatoes for red potatoes.
How can you go wrong with a recipe like this?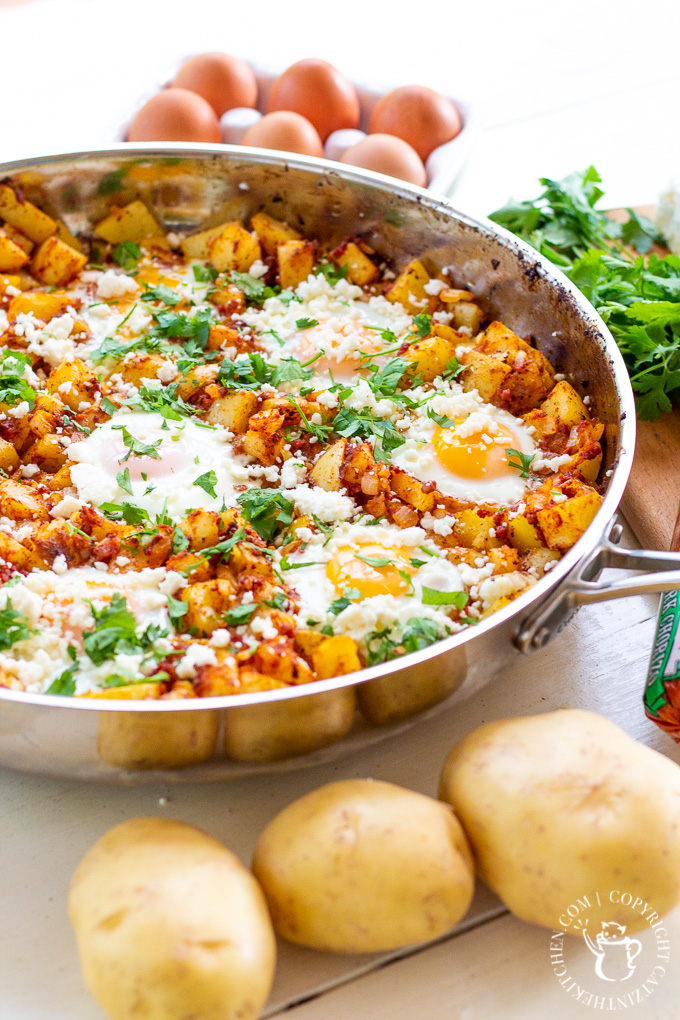 So take my suggestion – get some friends (or just the fam) together this weekend and make this breakfast chorizo hash for brunch. If you're worried about the spice level, don't be. It's not a spicy meal. The chorizo does give it a bit of a little kick, but when we served this for our kids, we didn't tell them the chorizo was spicy, so they didn't go into the meal in automatic defensive mode. And they all loved it and cleared their plates!
Clearly that method worked.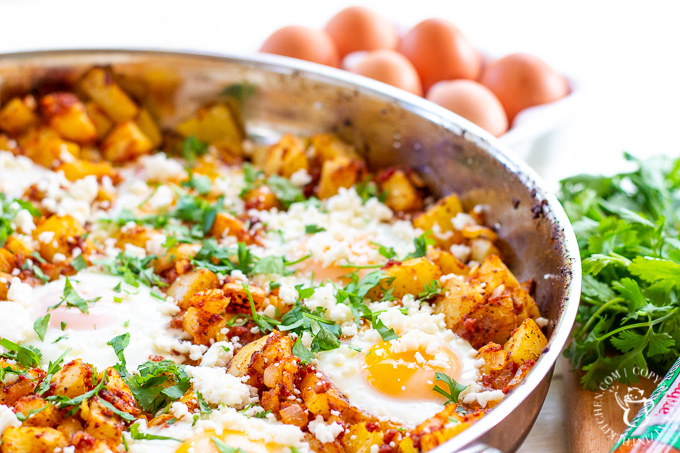 Whatcha waiting for? Grab your grocery list, jot down these ingredients, and get cooking Saturday…late morning!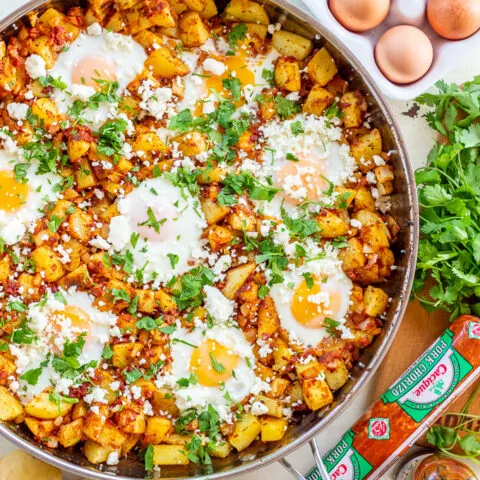 Breakfast Chorizo Hash
Brunch must be the best meal of the day, right? It certainly will be if you serve this yummy breakfast chorizo hash! Not a chorizo fan? Sub in some sausage!
Ingredients
2 lbs Yukon/gold potatoes, cut into 3/4 inch pieces
10 oz or 1 lb ground chorizo
1 large onion, finely chopped
1/4 cup olive oil
1/4 tsp salt
1/4 tsp fresh ground pepper
8 eggs
1 cup of Queso Fresco cheese
3 tbsp fresh cilantro, roughly chopped
Instructions
Preheat oven to 375 degrees. Place potatoes in a large pot and add enough water to cover the potatoes. Bring to a boil. Reduce heat and cook uncovered for 5-7 minutes or until almost tender. Drain.
In a 12 inch oven proof skillet, cook chorizo and onion over medium heat for 8-10 minutes of until cooked through. Remove the chorizo and onion with a slotted spoon and place on a plate. Discard drippings from pan and wipe clean with a paper towel. Using the same skillet, heat oil over medium-high heat and ad the drained potatoes and season with salt and pepper. Cook for 10-15 minutes or until golden brown, turning potatoes occasionally. Stir in sausage mixture and remove from heat.
Pushing little dips into 8 sections of the skillet forming little wells, crack one egg into each well. Bake for 12-15 minutes or until egg whites are set and yolks begin to thicken. Sprinkle with cilantro and cheese.
Nutrition Information:
Yield:

8
Serving Size:

1
Amount Per Serving:
Calories:

562
Total Fat:

38g
Saturated Fat:

13g
Trans Fat:

0g
Unsaturated Fat:

22g
Cholesterol:

250mg
Sodium:

993mg
Carbohydrates:

28g
Fiber:

3g
Sugar:

3g
Protein:

27g
Nutrition information isn't always accurate.