Sometimes you need your pantry to come to the rescue at dinnertime, and that's exactly what it can do with this easy, flexible chicken tortilla pie recipe!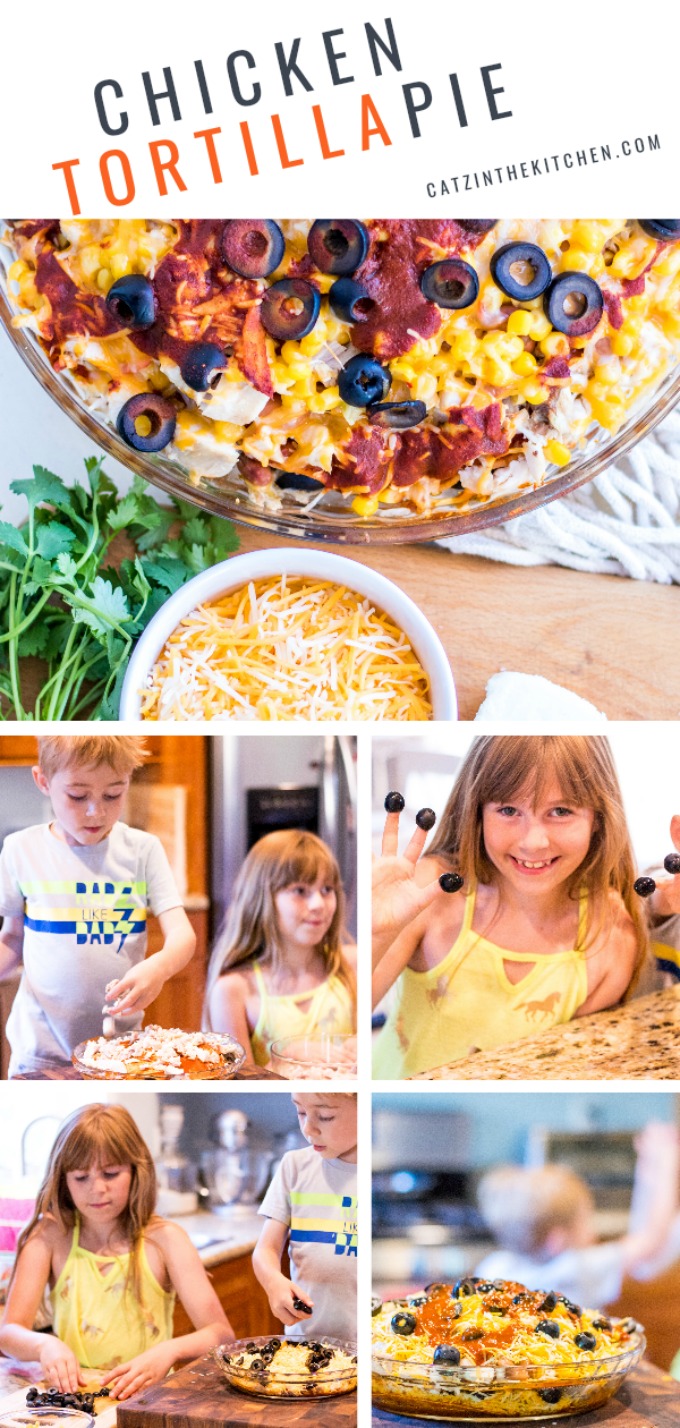 WOW! You guys, I got a lot of feedback last week on this post from Instagram about dinner help and utilizing your pantry to get dinner on the table easily and without a ton of work.
This is one of those things I would totally love to help with! I love cooking from my pantry. I want to let you in on something though – even with a well stocked pantry and fridge, it can be easy to overlook all of those ingredients ways of using them and end up BUYING MORE for no reason!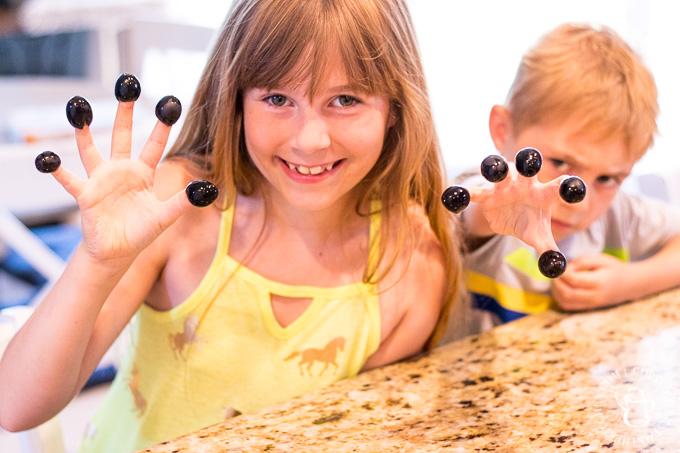 It's a lot of how the world works right? Buy more of this, buy more of that, and I'm just going to stick my hand up in the air and say, "I'm guilty of this!"
Our weekly grocery shopping trips are pretty consistent budget-wise week to week (of course, it's always my personal mission to spend less rather than more), but the quick spontaneous trips to the grocery store for whatever random thing are kind of a killer. Let me just say, it adds up fast and I would love to eliminate that extra spending completely.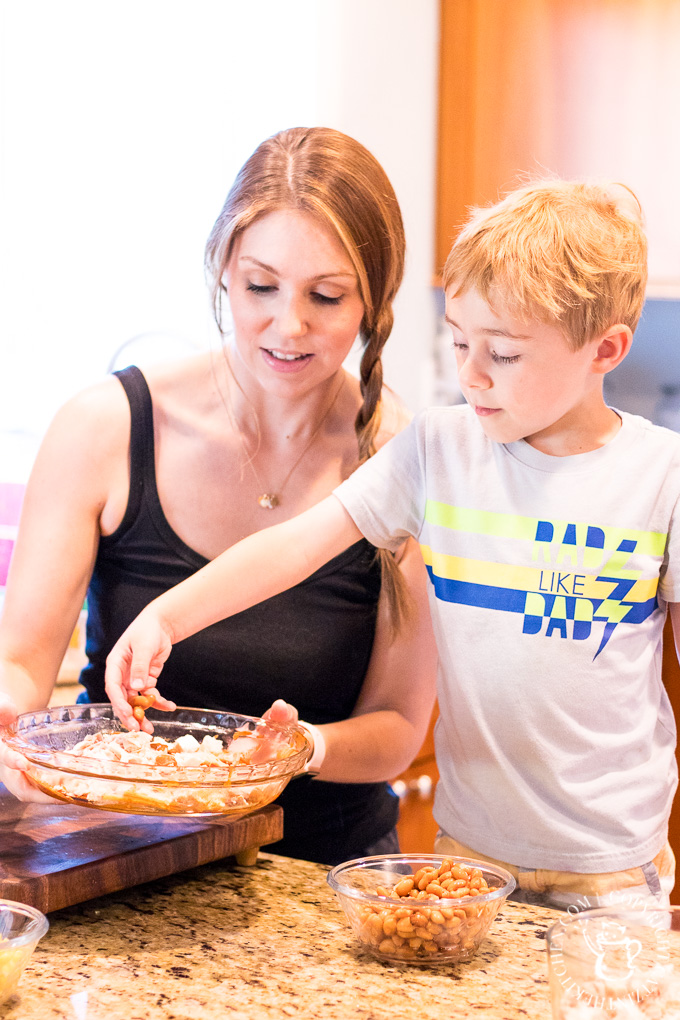 Which is one of the reasons why I think "Pantry to the Rescue" is such a crucial idea. Of course, I would consider most of my freezer stockpiling to be included in this category as well. It's generally stocked with ground beef, rotisserie chicken, ground turkey, and frozen vegetables. Costco is basically one of my favorite places to restock my pantry/freezer loot!
This particular recipe – Chicken Tortilla Pie – is one of those meals that I pull together based specifically on what I have on hand. Actually, a lot of so-called "Mexican" food is like that and I use that term loosely, because it's not real authentic Mexican food. But it can provide a method, which is very useful for someone who is just beginning in the kitchen or someone who is maybe apprehensive to play around with ingredients or recipes.
Just so you know, I would put myself in the latter category. I would never consider myself a recipe developer – more like someone who loves to cook and wants to learn to cook better. And it almost always begins with a method.
I've made this recipe so so many times this summer, and I've made it differently each time, based on what I have on hand in my pantry and freezer. The time before these pictures we're taken, I used ground beef and before that ground turkey and the time before that, rotisserie chicken…because that was what was on hand and would thaw the fastest for the amount of time I had!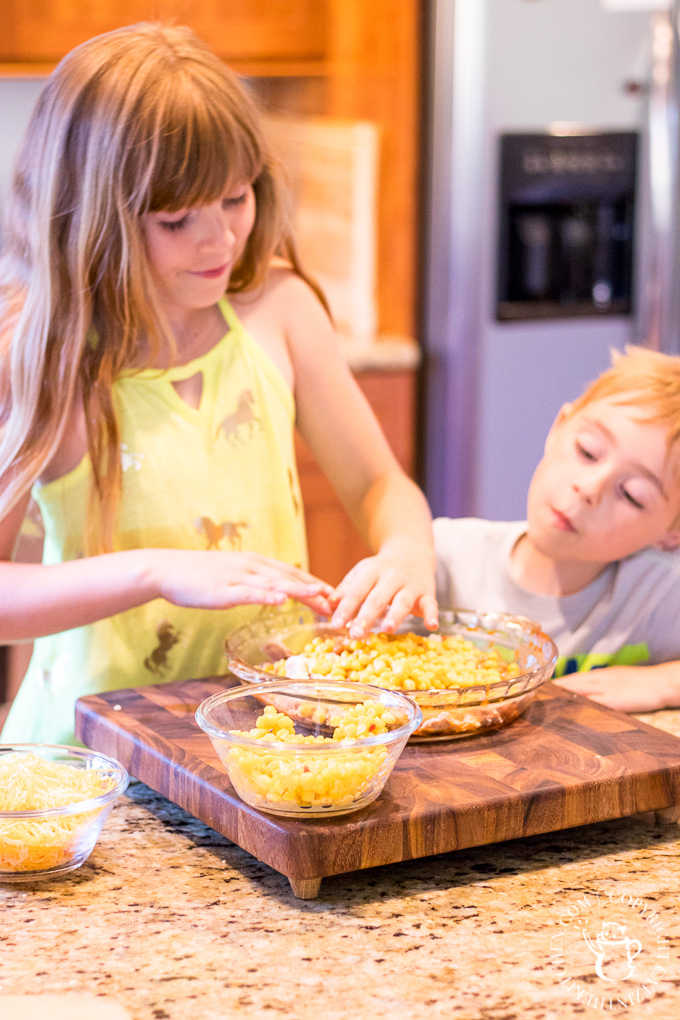 I've also added different seasonings to the ground meats I've used and/or used whatever was leftover in my fridge, like half an onion here, a garlic clove there. This recipe uses corn tortillas which I always have on hand because they are basically free at Costco. Feel free to substitute whatever variety of beans you like (or leave them out) and enchilada sauce. Salsa would also work well in a pinch.
Remember, this recipe is ALL about what you have on hand.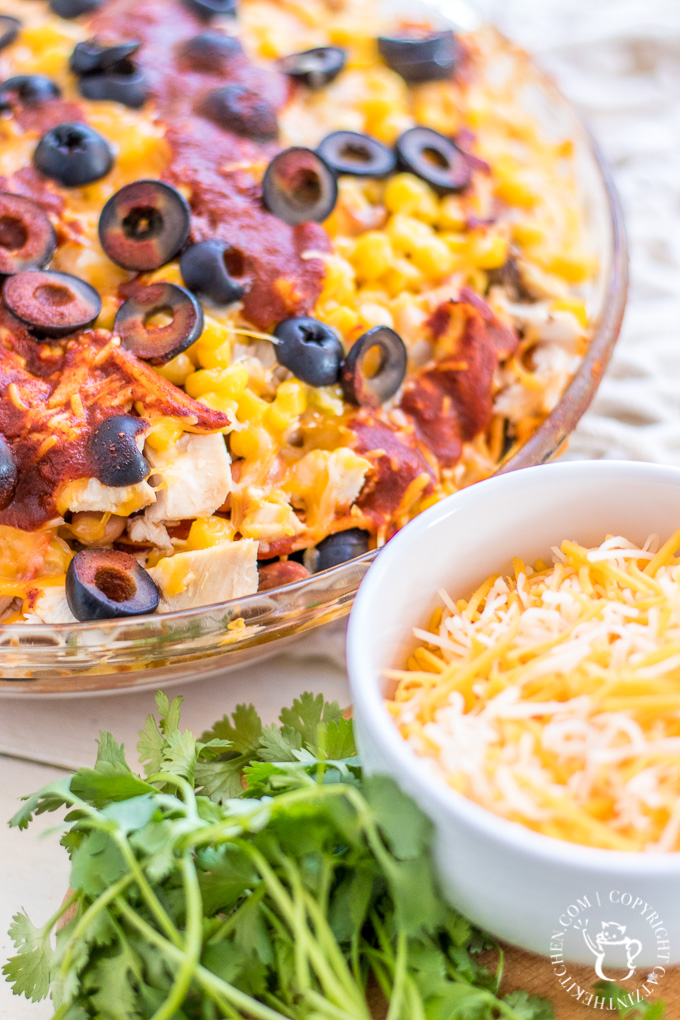 So make it your own and enjoy the process and I would love to hear about whatever variations you make to this recipe!
Chicken Tortilla Pie
Sometimes you need your pantry to come to the rescue at dinnertime, and that's exactly what it can do with this easy, flexible chicken tortilla pie recipe!
Ingredients
2 cups of rotisserie chicken or half a pound of whatever meat you have on hand: ground beef, turkey, etc
1 1/4 cups of enchilada sauce, red or green (salsa would also work, but I would double the amount)
8 corn tortillas
1 (15 oz) can of beans; pinto or black
1 (15 oz) can corn, drained (optional)
2 cups shredded cheese, cheddar, Monterey Jack, pepper jack or a combo
1 (15 oz) can sliced ripe olives
Optional toppings, Cilantro, sour cream, taco/hot sauce
Instructions
Preheat oven to 375 degrees. In a small skillet, warm enchilada sauce over medium heat. Grease a 9-inch pie plate with nonstick cooking spray. Dip four tortillas into the sauce, coating both sides and layer over each other on the bottom of the pie plate.
Layer with half of the chicken, pinto beans, corn, cheese and olives. Repeat the tortilla dipping process, layer the tortillas over the olives and repeat the layers with remaining ingredients. Pour remaining sauce over the ingredients.
Bake for 15-20 minutes and cheese is melted. Serve with your favorite topping ingredients.
Nutrition Information:
Yield:

6
Serving Size:

1
Amount Per Serving:
Calories:

686
Total Fat:

34g
Saturated Fat:

15g
Trans Fat:

1g
Unsaturated Fat:

15g
Cholesterol:

196mg
Sodium:

1198mg
Carbohydrates:

34g
Fiber:

6g
Sugar:

5g
Protein:

60g
Nutrition information isn't always accurate.