Whether you need cookies for a holiday party or just because, make this easy, "improved" recipe for peanut butter chip cookies together with your kids!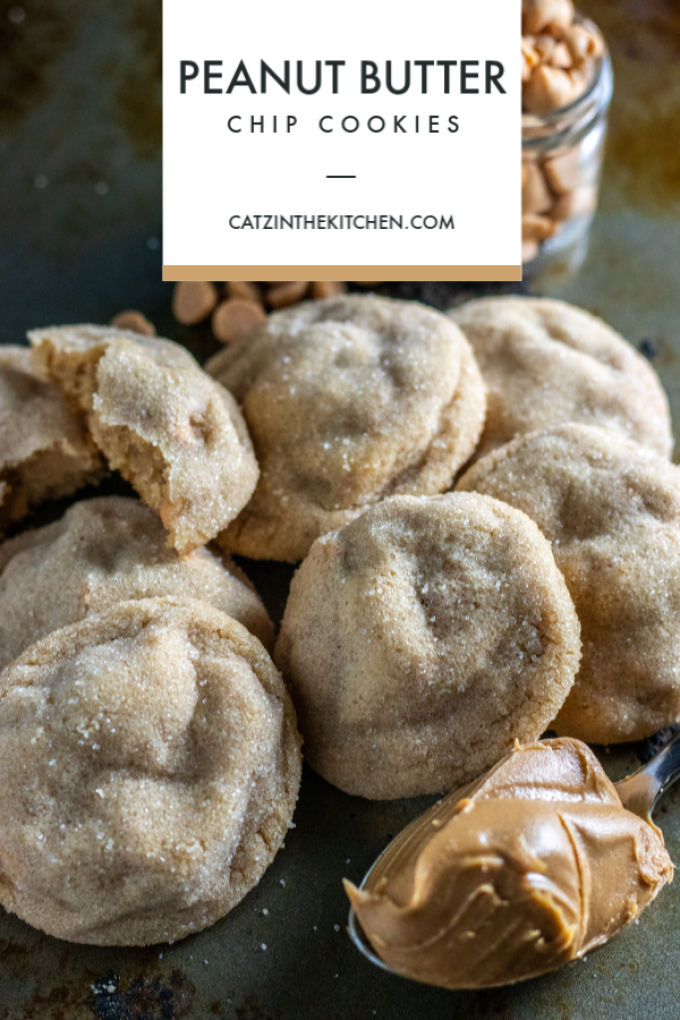 Peanut butter has got to be one of the most beloved ingredients in our house. I suspect a lot of people can probably say that. I've pretty much stopped buying jarred peanut butter from the store, though, and have been buying the freshly ground peanut butter from the health food section instead. For the most part, the kids have made peace with this choice. I mean, there was some pushback in the beginning, but now, when they get Jif or Skippy it feels more like a (admittedly sugary) treat. And you tell me which brand is better…I usually just grab whatever is on sale, haha!
For any recipe I bake that involves peanut butter, I do use jarred peanut butter. I use natural, freshly ground peanut butter if it is for a specific recipe, like this sweet potato and peanut soup – I use natural peanut butter in that recipe because there is no need for the added sugar.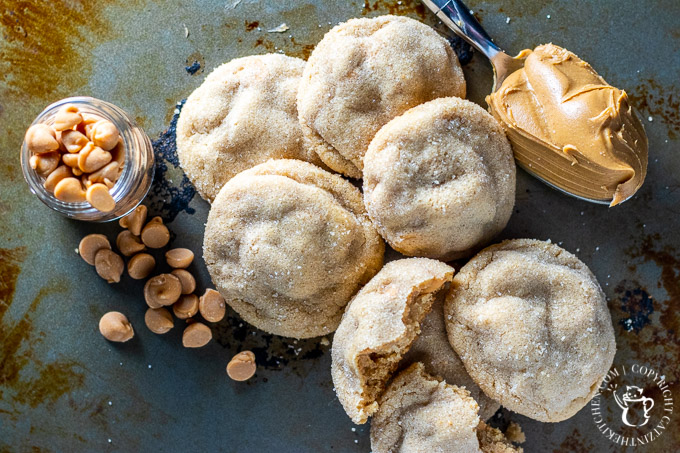 All of that being said…these are not the classic peanut butter cookies we all know and love. Those cookies are special because they are a classic and an original. The peanut butter chip cookie that I'm sharing with you today is a spin off of that classic, an update, or a more modernized version, if you will. You still get the classic peanut butter flavor you love, but so so much more!
I've been trying to create more moments or opportunities for the kids and I to have fun without it involving too many crazy or overly ambitious (read: unrealistic) ideas. I don't think you can ever go wrong with the simple joy of baking. I gathered all of the kids around me in the kitchen, with step stools, bar stools, aprons, and ingredients (except Ruby because she was napping) and assigned them each a task. Christian broke the eggs, Grace whisked the dry ingredients, Eden measured, and I blended. So I hope you'll believe me when I tell you that these cookies were made with love, because they were – it was a total team effort and I loved every minute of it!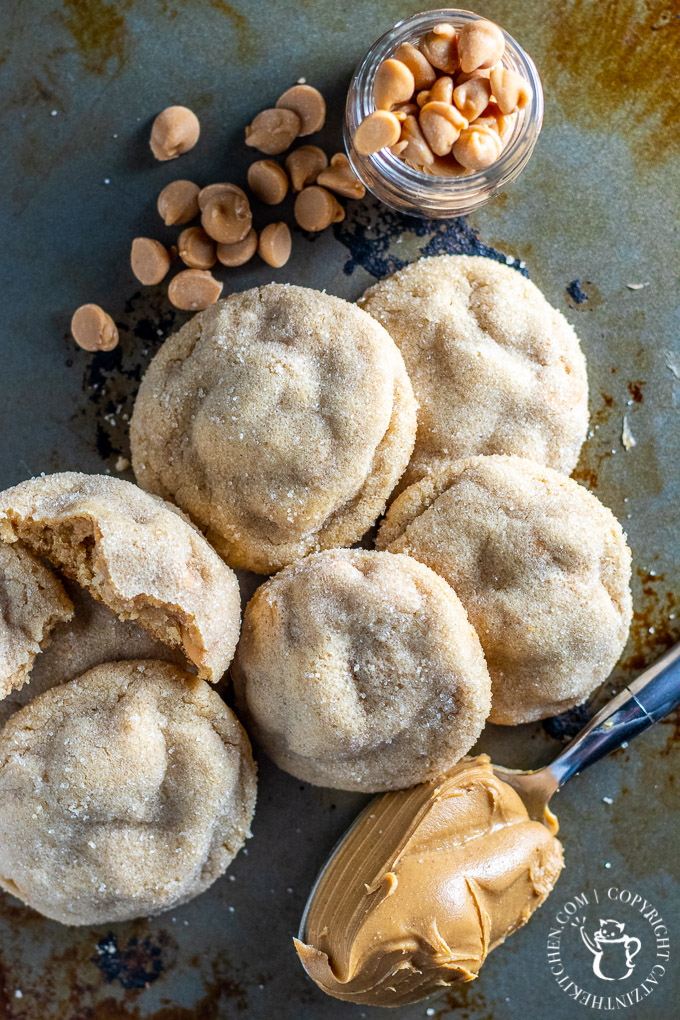 The kids had a blast, too, and the cookies were a hit! If it tells you anything, these cookies didn't last long in our house – in fact, I think they were gone within 24 hours. (Ruby really helped us chow down on them, too). That little munchkin has definitely figured out what a cookie is. She calls it a "cook" and if you ask her if it's good she'll say, "Mmm!"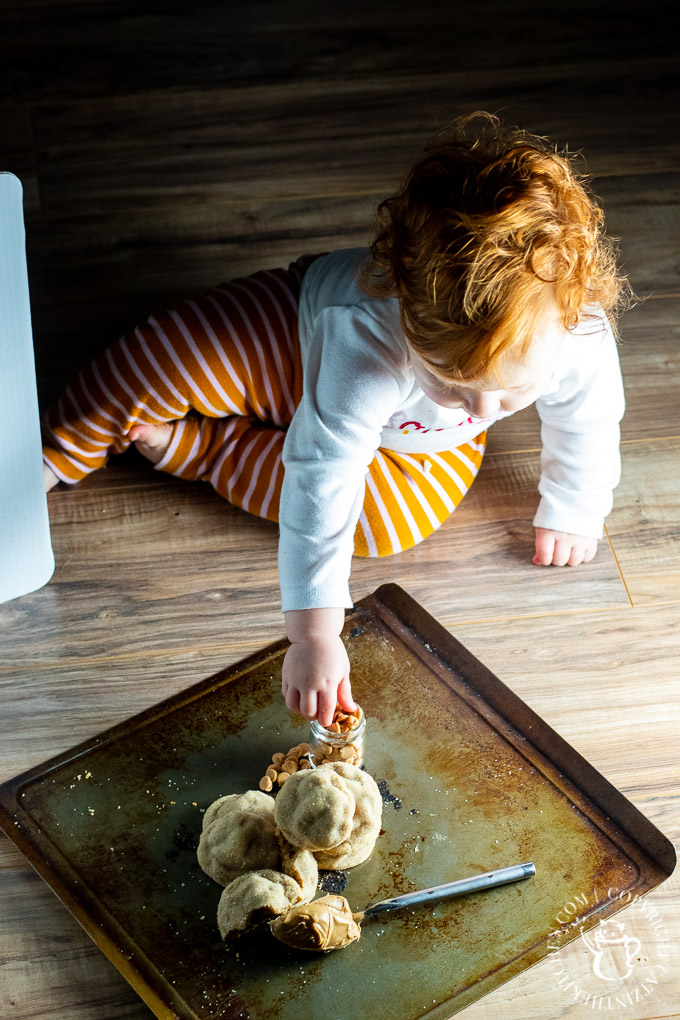 Here's a little "behind the scenes" shot of Ruby trying to steal peanut butter chips while Josh was getting these pictures taken!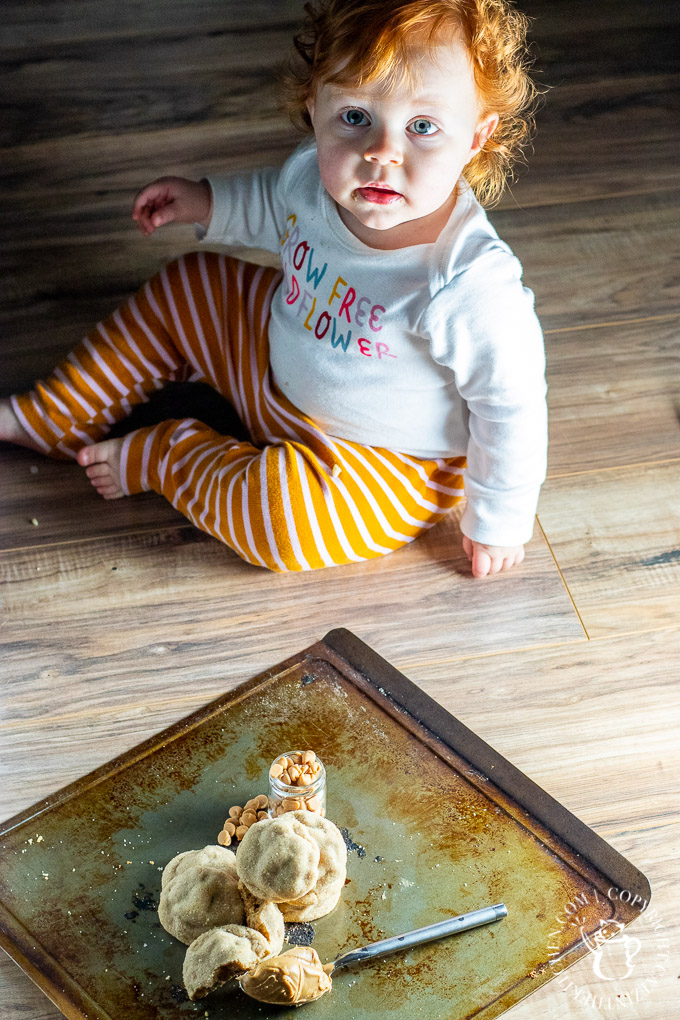 These cookies are really soft (which is how I like my cookies, by the way). They've got the perfect amount of chocolate, but are knocked over the edge with peanut butter chips. And it gets better! We rolled them into balls and dunked them into sugar before baking them!!!
It's almost like a peanut butter snickerdoodle, but without the cinnamon. Did I mention that this is a very simple cookie to make? The only extra thing you may not have on hand are the peanut butter chips, but they are easy to find in the baking section.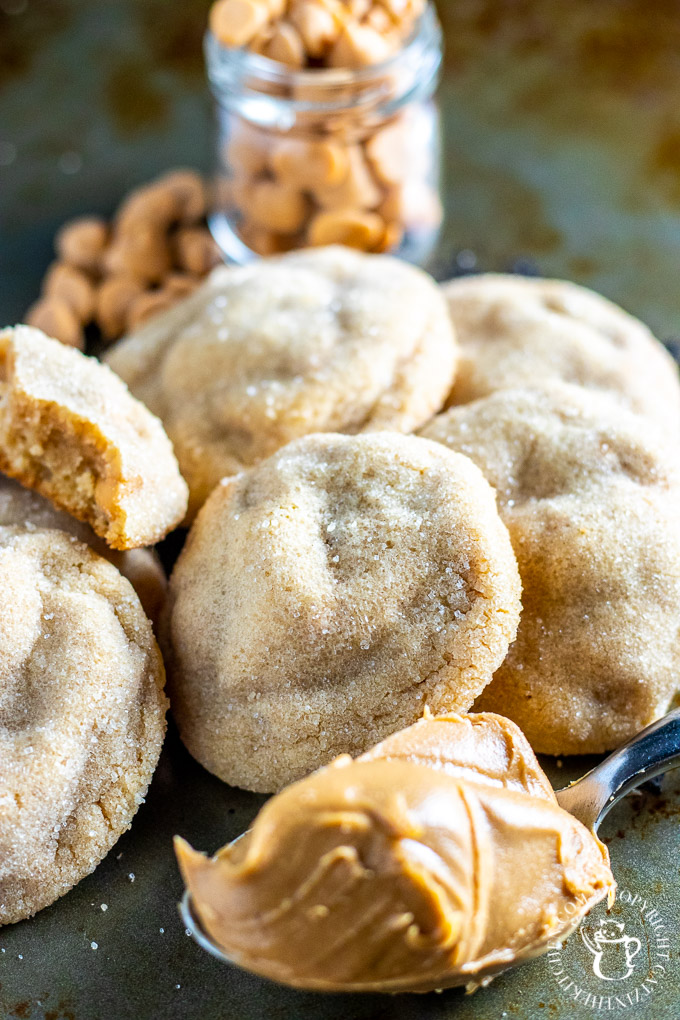 So…what are you waiting for? Grab your little ones this afternoon or weekend and get baking – I hope you all have fun!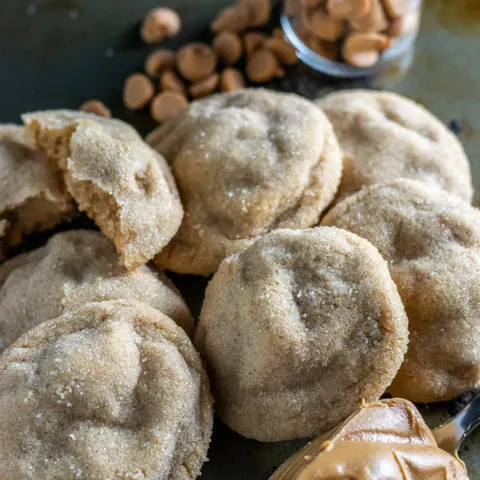 Peanut Butter Chip Cookies
Whether you need cookies for a holiday party or just because, make this easy, "improved" recipe for peanut butter chip cookies together with your kids!
Ingredients
1/2 cup granulated sugar
1/2 cup packed brown sugar
1/2 cup creamy peanut butter (we used Jif)
1/4 cup shortening
1/4 cup butter, softened
1 large egg
1 1/4 cup all-purpose flour
3/4 tsp baking soda
1/2 tsp baking powder
1/4 tsp salt
1 cup peanut butter chips
**granulated sugar for rolling the cookies in
Instructions
Preheat oven to 375 degrees.
Beat 1/2 cup sugar, brown sugar, peanut butter, shortening, butter, and egg in a large bowl with an electric mixer on medium speed. In a smaller bowl, whisk together flour, baking soda, baking powder and salt. Combine the dry ingredients with the wet and beat until blended. Add in 1 cup of peanut butter chips and beat again until evenly distributed.
Shape dough into 1 1/4 inch balls - (I used a medium cookie scoop), after shaping the dough into balls, dip the ball and roll it around in the bowl of sugar
and place 3 inches apart on a baking sheet lined with parchment. (If you don't have parchment paper, just place the cookies on an uncreased pan.
Bake for 9-10 minutes or until light brown. Cool for 5 minutes before placing the cookies on a wire rack.
Nutrition Information:
Yield:

30
Serving Size:

1
Amount Per Serving:
Calories:

135
Total Fat:

8g
Saturated Fat:

3g
Trans Fat:

0g
Unsaturated Fat:

4g
Cholesterol:

11mg
Sodium:

112mg
Carbohydrates:

15g
Fiber:

1g
Sugar:

9g
Protein:

3g