Whether you top this bacon chicken ranch skillet with regular or avocado ranch dressing, this combination of tasty proteins and vegetables is a favorite!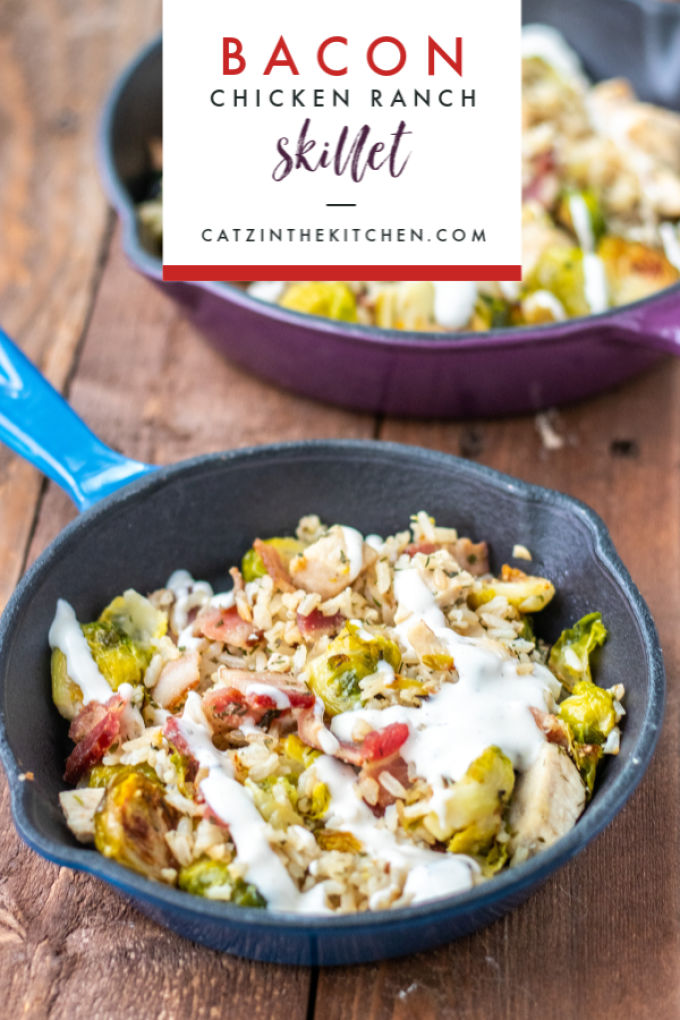 It's a love/hate relationship I have with social media. As a small business/blogger, it is important for me to put my stuff out there if I want to be seen and then have people come to my site for dinner inspiration and encouragement, not to mention the DIY adventures we go on!
I really try to set barriers in place for when I'm off my phone vs when I'm on it. For instance, I tend to watch IG stories while I get ready in the morning. I prop my phone up on my makeup case while go about my hair and beauty routine and then I'm off for awhile until I need to post something, which typically ranges from food, DIY, motherhood, marriage, and my own personal relationship with Christ.
Of course, stories can either be quick or long, depending on what I'm sharing or talking about. I've recently been sick, so I wasn't online a whole lot for a whole couple of weeks, and when I was, it was only snapshots or a few videos of my kids. Just enough exposure to have a presence in my tiny corner of "the net."
Do the cool kids still call it the net? Editor's Note: No. Who remembers that movie??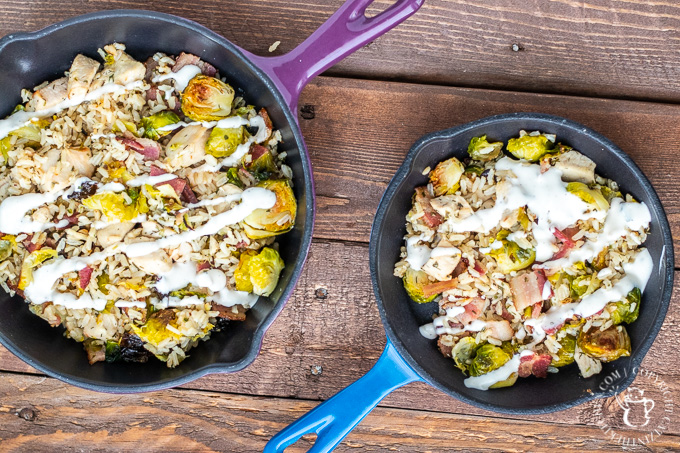 One of the things I occasionally come across are some of my favorite lifestylers (or influencers or whatever they are called) sharing a recipe or two. I try them out sometimes and even share them on here, like the Paleo Chocolate Chip Cookies and file away the really good ones I want to share.
Today, I'm sharing this Bacon Chicken Ranch Skillet from LynzyandCo. I've been making this for dinner for probably close to a year now and it is always surprising to me how much my kids (especially) like it because…one of the main ingredients is brussels sprouts! But, then again, it does have chicken and bacon – which are always winners, along with ranch and rice.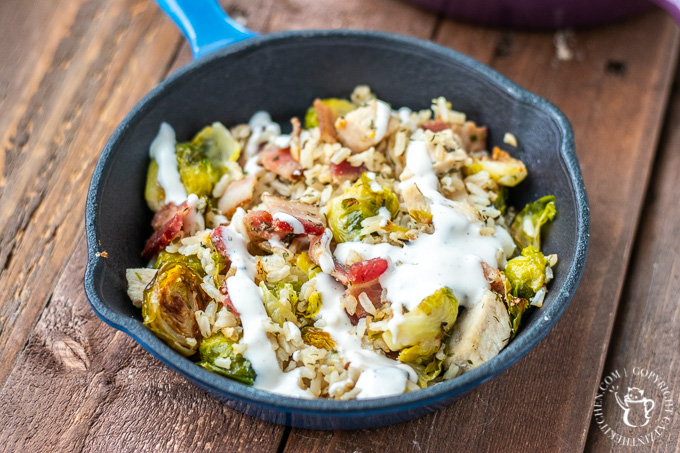 It's a big hit, though not a pantry to the rescue type of dinner because there are a few steps to it, but once you've got it down, it goes pretty fast. And let's just say this…I never have leftovers.
I prefer brown rice in this recipe. I've used both, but I really prefer the flavor of brown rice and I use my trusty rice cooker to cook it. Since brown rice takes longer to cook, I like to start it 10-15 minutes before I actually start dinner. You could cook the bacon multiple ways, too. Lynzy cooks her bacon in the microwave, but I just don't prefer it that way. Depending on my time, I'll either cook it in the oven and break it up in pieces later, or chop it into lardons (which is a fancy way of just saying your slicing the bacon into small pieces) and fry it in a pan. I usually go this method, the frying pan method that is, because it frees up the oven to roast the brussles sprouts, which in my opinion is the best and only way to cook brussels sprouts – but that is just this humble stay at home cook's opinion.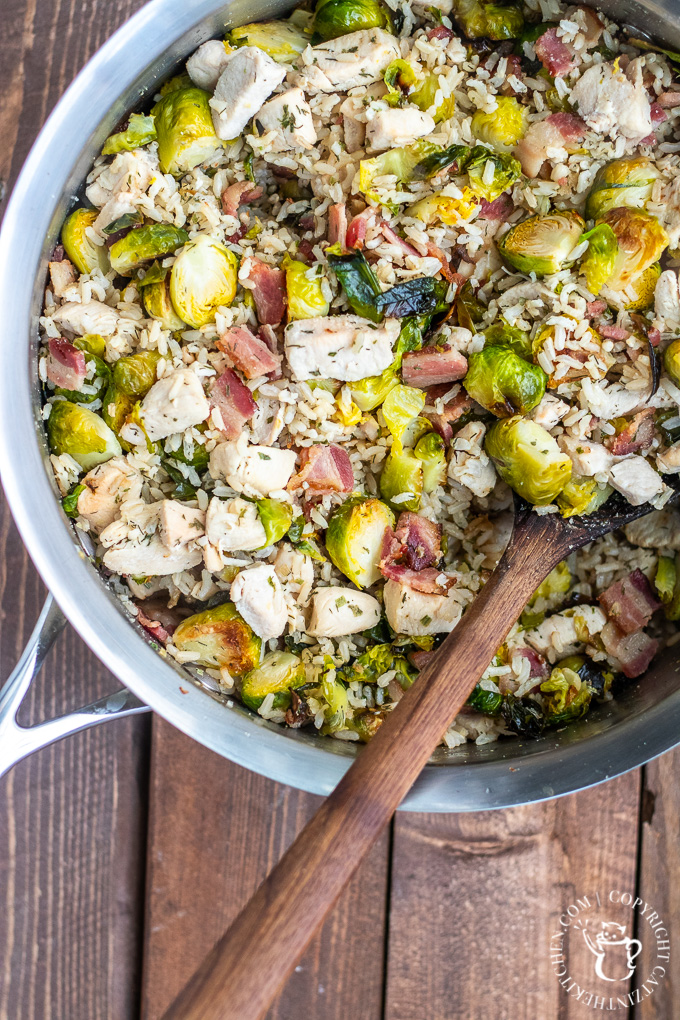 Everything at the end gets mixed together, so use your biggest pan to cook your chicken in because, well, you're going to need it – there are a lot of ingredients in this baby! But guess what, when you have so many amazing ingredients in one dinner, you don't need sides. I cook this and serve only this with dinner and it is very filling.
The kids like to top their skillet dinner with a bit of ranch sauce. Josh and I prefer an avocado ranch dressing (Bolthouse Farms makes an excellent one), or Trader Joe's Siracha ranch is an adult favorite, too.
I hope you guys will try out this meal – it happens to be Eden's top requested dinner as of late and when I find recipe gems like this from social media, I just want to share them with you, too!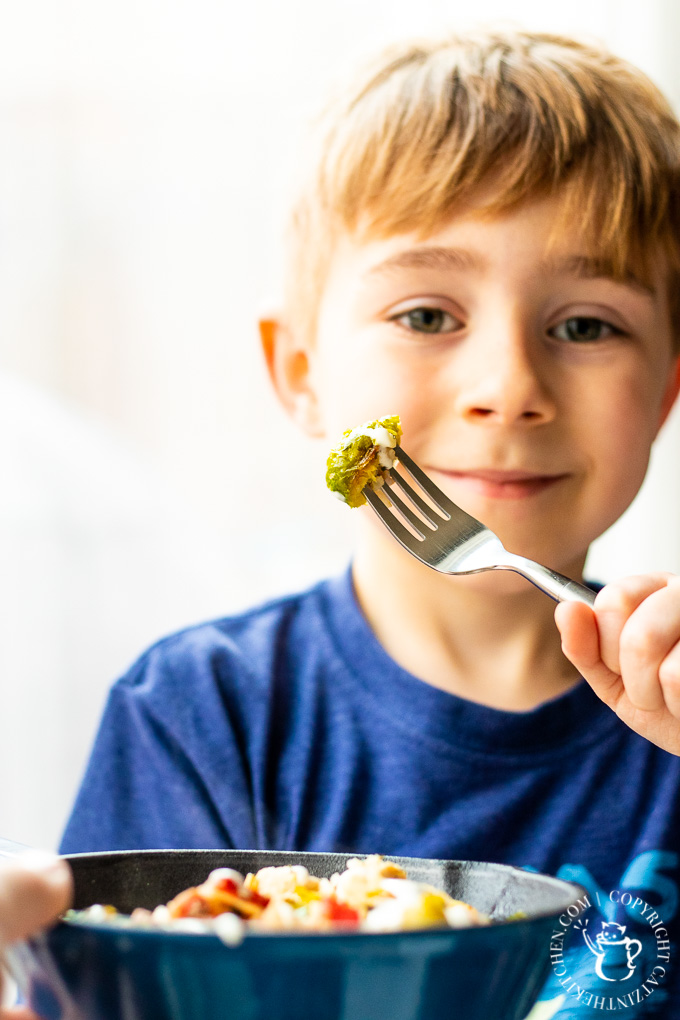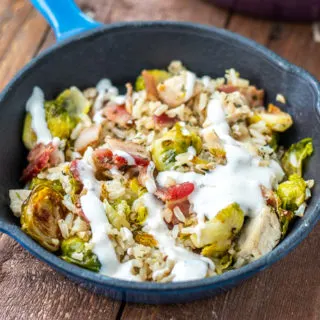 Bacon Chicken Ranch Skillet
Whether you top this bacon chicken ranch skillet with regular or avocado ranch dressing, this combination of tasty proteins and vegetables is a favorite!
Ingredients
3 boneless, skinless chicken breast (about 1.5-2 lbs)
1 lb. bacon, chopped
1.5 lbs brussels sprouts, stems cut and halved
1 tbsp avocado oil or olive oil
2 cloves garlic, minced
3 cups cooked brown rice ( I used the rice cooker)
2 tsp dried parsley
1 1/2 tsp dried dill
2 tsp onion powder
1 1/2 tsp garlic powder
1/2 tsp dried mustard
Salt and pepper to taste
Dressing options: Ranch, Siracha Ranch (Trader Joe's), Avocado Ranch, Salsa Verde Ranch
Instructions
Preheat oven to 375 degrees. Line a baking sheet with parchment paper. Place the sprouts on the baking sheet, drizzle with oil and sprinkle lightly with salt and and minced garlic and toss together. Roast for 25 minutes.
While the Brussels sprouts are roasting, place the chopped bacon into a skillet and saute on medium-high heat until cooked through and crispy. Ladle the bacon onto a paper lined plate and drain the grease. In a high-sided pan, cook the chicken in a little oil until cooked through and browned on medium-high heat.
When the chicken is cooked through, add the bacon, roasted Brussels sprouts, and rice and toss. Sprinkle in the ranch seasoning mixture, parsley through salt and pepper. Lightly toss together making sure the seasoning is evenly mixed through. Drizzle lightly with dressing of choice and serve.
Nutrition Information:
Yield:

8
Serving Size:

1
Amount Per Serving:
Calories:

593
Total Fat:

34g
Saturated Fat:

9g
Trans Fat:

0g
Unsaturated Fat:

23g
Cholesterol:

99mg
Sodium:

1234mg
Carbohydrates:

33g
Fiber:

4g
Sugar:

3g
Protein:

38g