This recipe for Slow Cooker Lemon Pepper Chicken lets you get a tasty, nutritious, and affordable dinner on the table with minimal effort!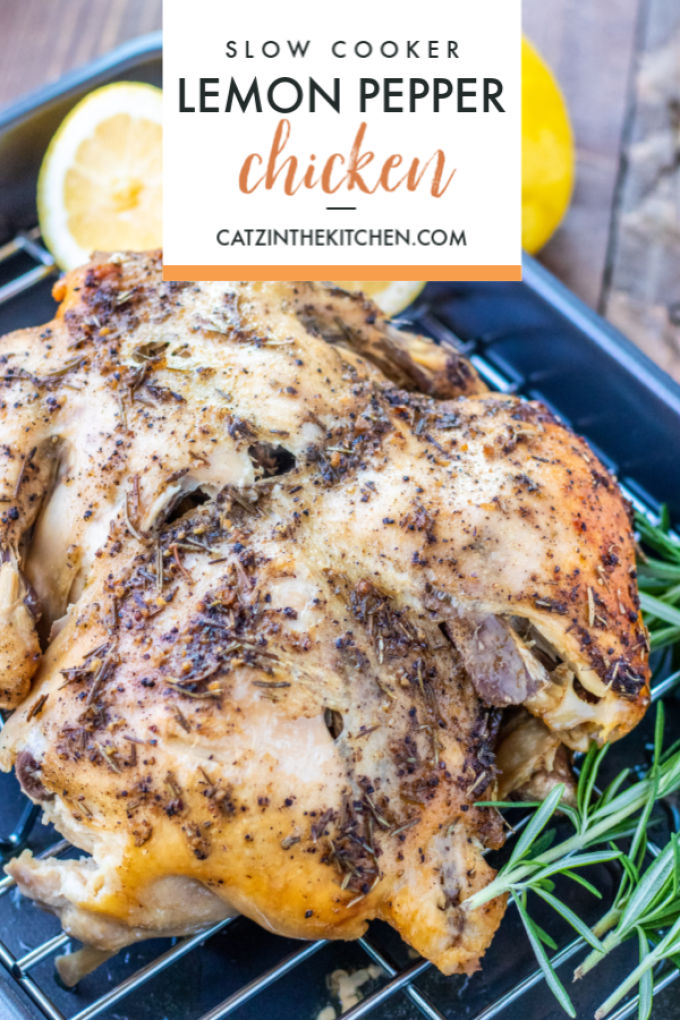 The first time I ever made a roasted chicken was in the slow cooker and this was probably 10 years ago. I remember that my mom came over to show me the steps and, well, maybe provide a little moral support with a good hearty shake at teasing, too.
At the time, I had just started this food blog and learning how to roast a chicken was one of the ways in which I hoped to learn to grow. I mean, you can do a lot with a whole chicken if you know what you're doing, like making soups, grilling – looking at you beer can chicken! – smothering them with delicious rubs, using them to make other meals (or…you can just do I do and buy a whole rotisserie chicken from Costco), or in this case, use the whole chicken for one particular meal.
But in all of the years that I've been roasting a chicken for my family, I've only ever cooked it in the slow cooker that one time. Why? I don't really know. I guess part of me thinks that there is something sort of special about roasting a chicken in the oven with a bunch of veggies and potatoes. As nice and delicious as that sounds and is, it is a bit more work and to be honest, right now in my current season of life, using the slow cooker meets my needs a little better than a roasting pan.
Any other moms feel me on this?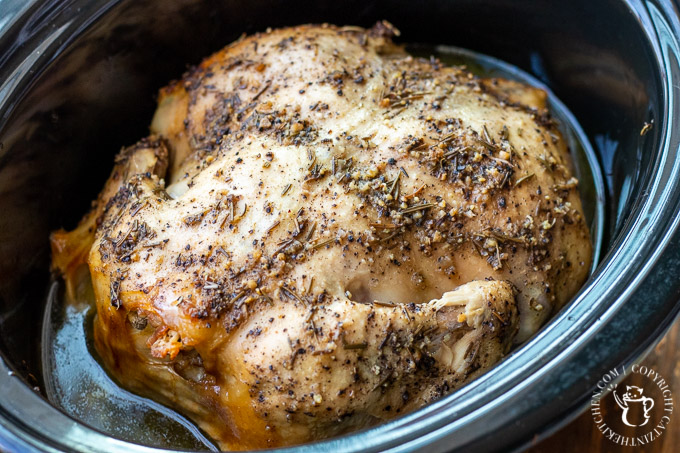 I was reading a blog post the other day about how one mom finally gave in and bought those Uncrustable PB&J sandwiches and how she used to consider it "bad mom" food. Can I tell you guys something? I totally related to that post. I went through a phase where I made everything from scratch, like birthday cakes and brownies, and everything else in between and I honestly judged and looked down my nose at the moms who took the easy way with their "bad mom" food. I felt better about myself when they bought that stuff and you know what, that kind of thinking was not only bad, because it was and is prideful, but in my mind it became some sort of competition…and then, lastly, it robbed my kids of some easy, yummy snack food.
Believe it or not, my kids actually prefer most boxed cake mixes! And I've come to the conclusion that there is nothing wrong with that at all! I still make a lot of my baked goods from scratch, but sometimes it's okay to take the easy way.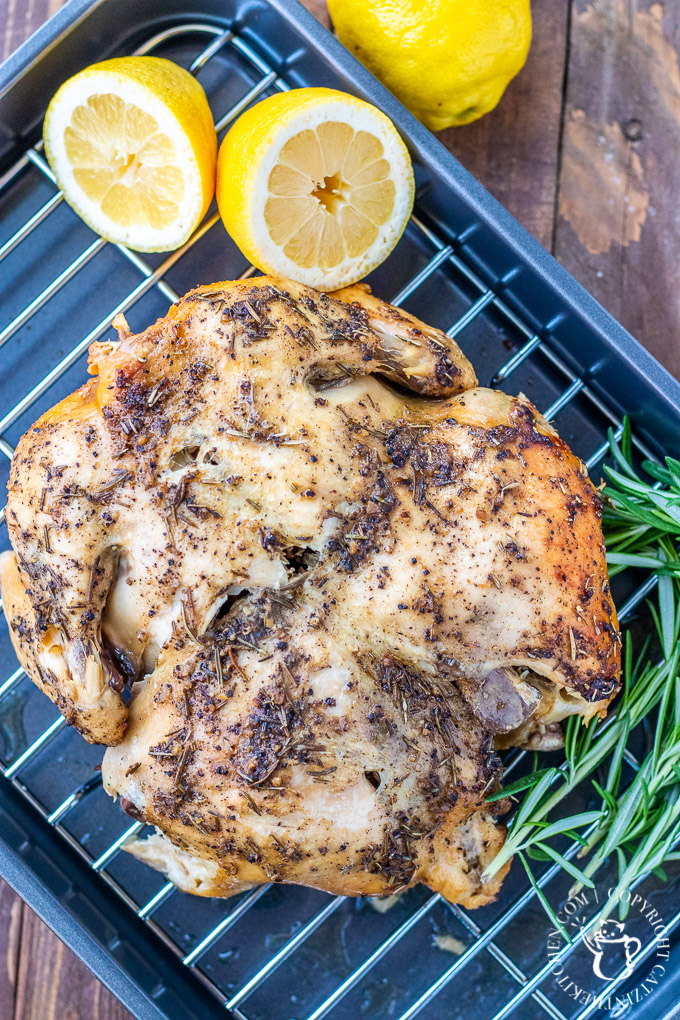 While this Slow Cooker Lemon Pepper Chicken may not be the same thing as actually roasting the chicken with a bunch of veggies and potatoes like Ina Garten would, it is a much simpler and easier route for busy moms or on the go, busy people in general!
I really like the lemon pepper flavor because I feel like it is one of those seasonings that works well all year around, but still tastes fresh, and aside from the fresh rosemary (and, of course, sometimes the chicken), I pretty much always have everything on hand, making this a perfect pantry meal! And using the crockpot in the warmer months keeps your house much cooler if you don't have an a/c unit (we didn't have A/C for most of our married life – it felt rough sometimes, especially when pregnant!) I feel ya and I still want you to be able to eat a good dinner.
The next time you're at the store and you see the whole chickens on sale, go ahead and buy one or two. Freeze one and use the other one to get dinner on the table fast. It tastes good, it's easy, and there's a lot of flavor here – in fact, using the slow cooker may just become your new favorite way to cook a whole chicken!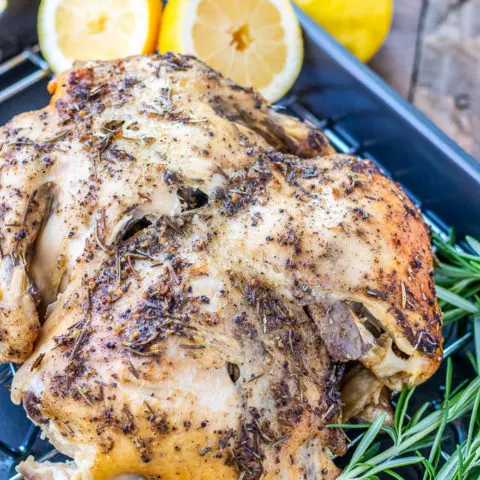 Slow Cooker Lemon Pepper Chicken
This recipe for Slow Cooker Lemon Pepper Chicken lets you get a tasty, nutritious, and affordable dinner on the table with minimal effort!
Ingredients
1 (4-5 lb) whole chicken, giblets & neck removed
2 tbsp olive oil
2 1/4 tsp lemon pepper seasoning
1 tsp dried rosemary
1/2 tsp garlic powder
1 1/2 tsp sea salt
Freshly ground pepper
3 cloves garlic, smashed
1 lemon, halved and sliced
Instructions
Rinse chicken until water runs clear and pat dry. Make a foil ring or a small cooling rack (I use the one that came with my Instant Pot) and place in the bottom of the slow cooker. Place the whole chicken on top of the foil ring and place inside the cavity of the chicken the sliced lemon and garlic cloves.
In a small bowl, combine the spices and oil to make a rub and baste all over the top of the chicken and along the sides and legs.
Cover and cook on low for 6-8 hours or high for 3-4 hours or until the internal temperature reads 165 degrees.
To get that crispy skin on top, transfer chicken to a small baking dish and broil for 3-5 minutes or until chicken is browned on top. Serve.
Nutrition Information:
Yield:

8
Serving Size:

1
Amount Per Serving:
Calories:

180
Total Fat:

8g
Saturated Fat:

2g
Trans Fat:

0g
Unsaturated Fat:

4g
Cholesterol:

401mg
Sodium:

750mg
Carbohydrates:

2g
Fiber:

1g
Sugar:

0g
Protein:

25g