This homemade Spanish rice is as easy as the boxed rice you buy at the store, more flavorful, and healthier. This is the perfect side to your taco nights.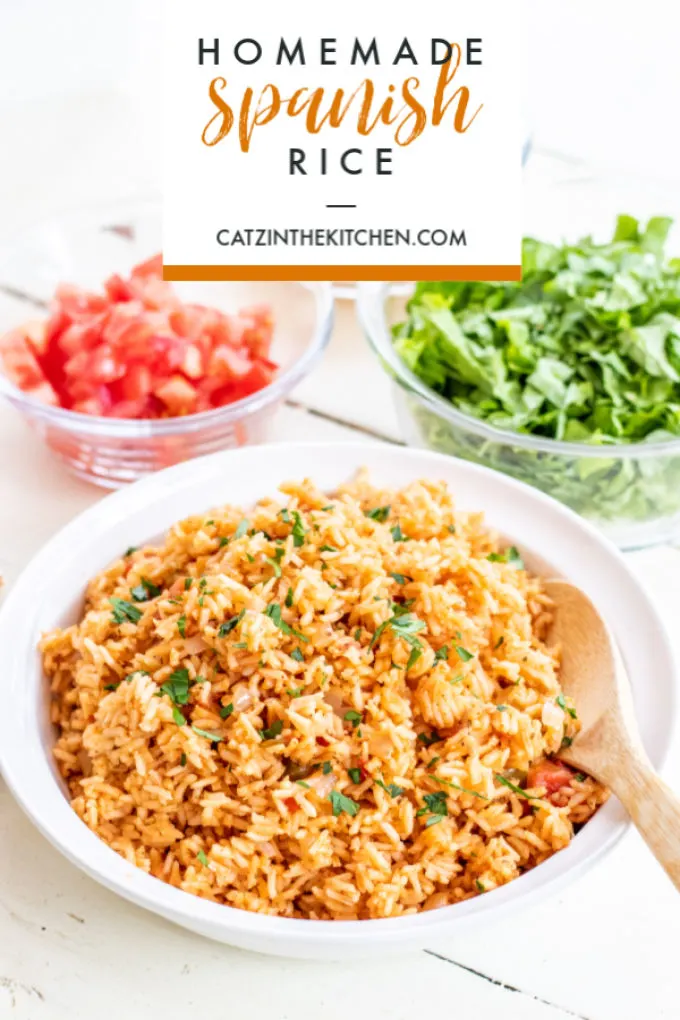 This post originally appeared on Catz in July of 2014. It's been remade and rephotographed, and after five years, it seems like a good time to share it with you again! We continue to make it regularly, and the recipe continues to be a perfect side to many a Mexican-style dish!
I think I'm like a lot of people. I love the idea of eating healthy and cutting prepackaged foods out of my family's diet. With some foods the transition is easy. With other foods, it's not so easy. I'm happy to say that we've been successful for the most part. Frozen pizza is a real rarity around our house, now that we make our own pizza (okay, and, yes, we love Papa Murphy's, but that's basically freshly made, right…?), and I don't buy those frozen dinners you throw into a skillet and serve (exceptions carved out here for Trader Joe's!). Around these parts, I pretty much make everything myself. Sure, I'll take some help from the store with some bagged salad kits, cake mixes, frozen french fries (for those days when I just don't have time to make my own fries!), and once a week I allow my kids that blue box of macaroni and cheese… #nojudging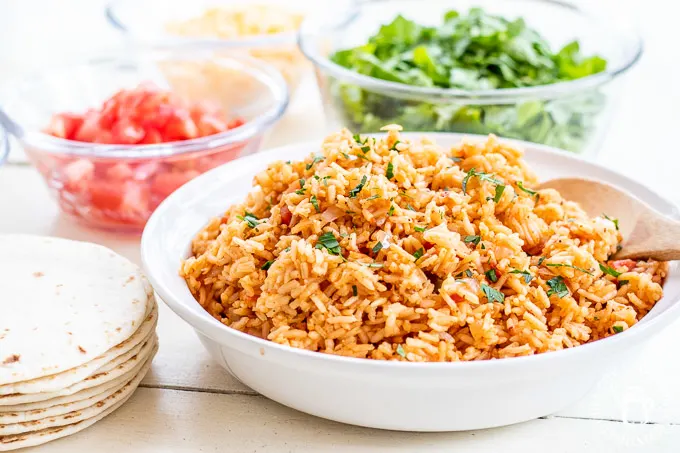 I have, however, always made an exception for Spanish rice from the box for taco nights. I've never found a recipe that quite works for me. On taco nights, I'm usually doing a lot of multitasking in the kitchen, from stirring taco meat, to checking on side dishes and dicing up tomatoes, olives, and whatever else happens to grace the tops of our tacos – all the while I have a toddler hanging onto the back of my legs asking for "Mama," making sure one kid is picking up the living room while the other is setting the dinner table. Mommas – I know you can relate! If tossing prepackaged seasonings and so on into a skillet makes my life a bit easier so that I'm not frazzled over one more dinner item – then I'm probably going to end up kicking the healthy eating attitude out the door to save my sanity.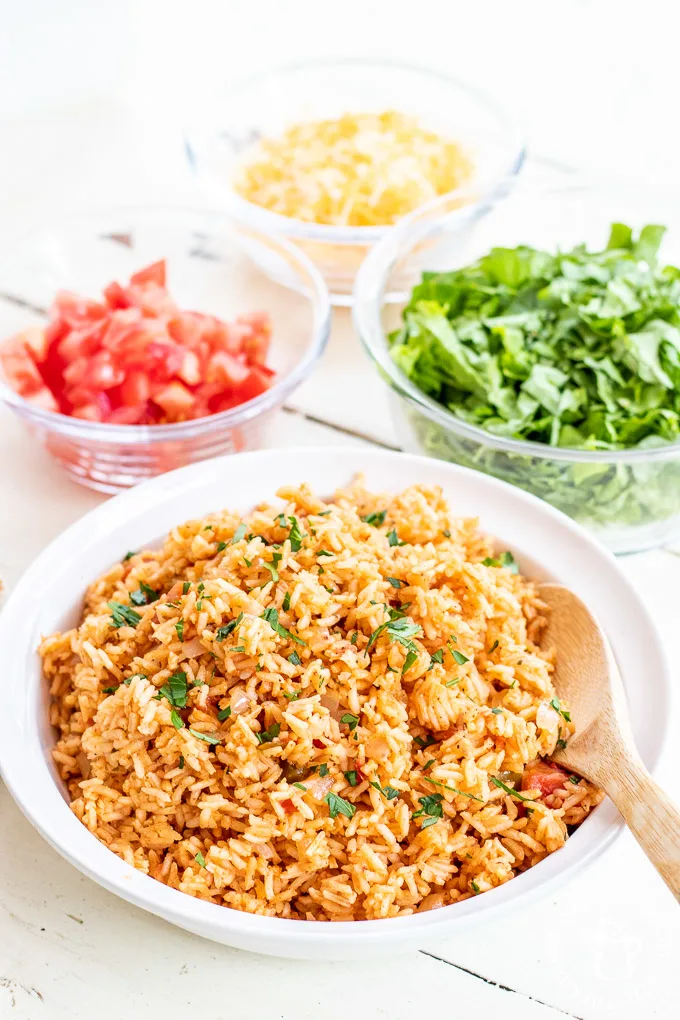 Enter this easy and flavorful homemade Spanish rice! This is one rice dish that I did not ruin (I'm notorious for fixing undercooked rice). This rice not only got cooked all the way through, but was also just as easy as opening up that boxed stuff. No joke! Not only did it taste way better (go figure), but it is a lot healthier than the boxed stuff, too. That's something I can get behind and make happen in my kitchen on busy nights, minus the mom guilt.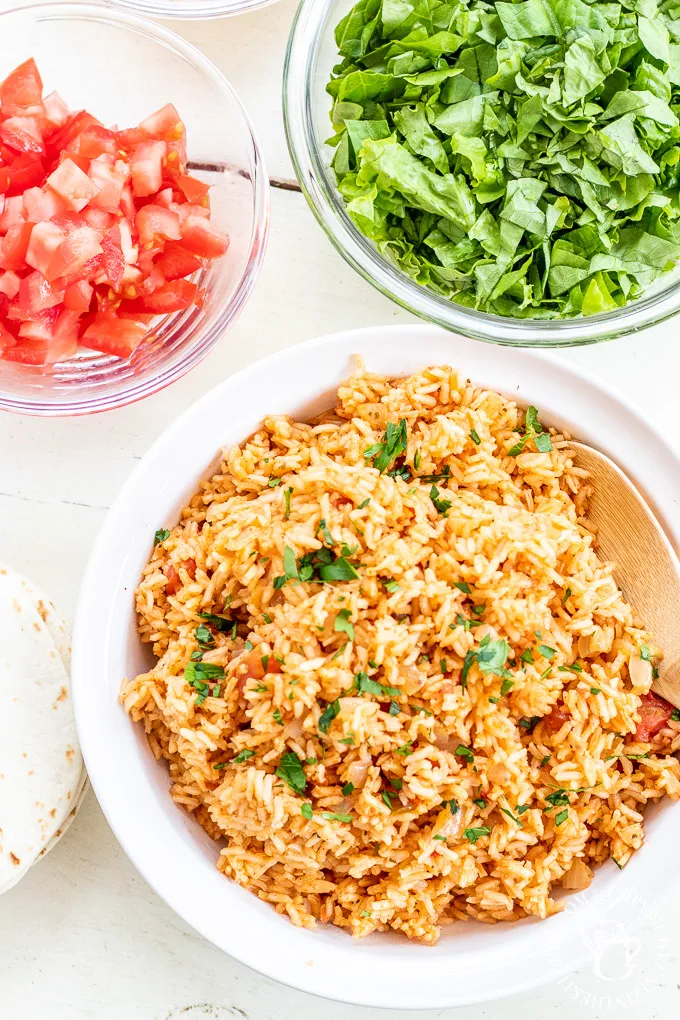 Homemade Spanish Rice
This spanish rice is as easy as the boxed rice you buy at the store, more flavorful, and healthier. This is the perfect side to your taco nights.
Ingredients
2 tbsp vegetable oil
1/2 of a small onion, chopped
1 1/2 cups uncooked white rice
1/4 tsp chili powder
2 cups chicken broth
1 cup chunky salsa
Instructions
Heat oil in a large skillet over medium heat. Stir in onion and cook until the onion becomes soft and translucent. About 5 minutes. Make sure you don't burn the onion.
Mix rice into skillet, stirring often. When rice begins to brown, stir in chili powder, broth, and salsa.
Reduce heat, cover and simmer for 20 minutes, or until liquid has been absorbed.
Nutrition Information:
Yield:

6
Serving Size:

1
Amount Per Serving:
Calories:

239
Total Fat:

5g
Saturated Fat:

0g
Trans Fat:

0g
Unsaturated Fat:

4g
Cholesterol:

2mg
Sodium:

619mg
Carbohydrates:

43g
Fiber:

1g
Sugar:

2g
Protein:

5g