Just as good today as it apparently was at the Waldorf Hotel 120 years ago – just easier now – you've got to whip up this easy eggs benedict recipe!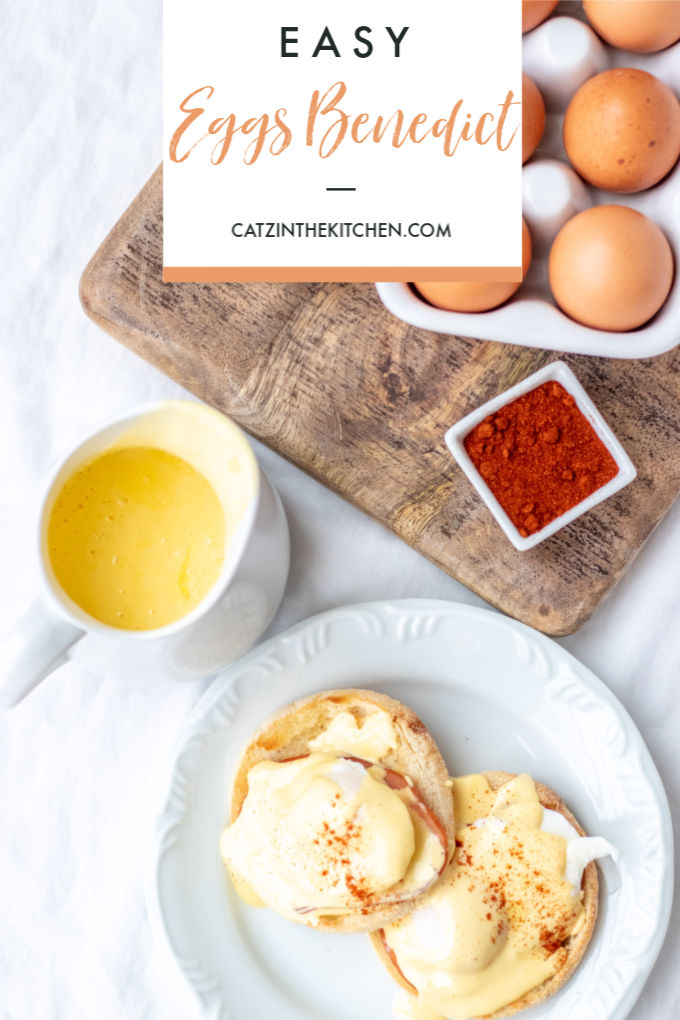 This post originally appeared on Catz back in January of 2014. In the six years since then, we've continued to make this recipe on a regular basis, and enjoy it! I've personally developed into a bit of an Eggs Benedict fanatic – can't help but try any and all variants I see on menus at restaurants! This is a basic, simplified, approachable way to get tasty eggs benedict on your brunch table.
Eggs Benedict. It's that meal that everyone likes to order at a breakfast establishment because it seems elegant and cultured, but with an ingredients list that is relatively simple, pronounceable, and short. Because it's colorful. It comes in pairs. It's cheerful. Its ingredients are named after countries (English muffins? Canadian bacon?). Basically, it's a friendly, approachable meal that still seems European enough to be just slightly exotic to the American palate.
Also, it tastes amazing. Poached eggs ("cheese sauce," to quote Julie & Julia) and hollandaise sauce? Yes, please. Julia Child describes "sauce hollandaise" the following way in Mastering the Art of French Cooking, Volume One: "It is probably the most famous of all sauces, and is often the most dreaded, as the egg yolks can curdle and the sauce can turn." It can turn. Terrifying. I have no idea what that means. Luckily, the advent of the electric blender means that "sauce hollandaise" is no longer dreaded (though many still seem to find it intimidating) – in fact, it's downright simple.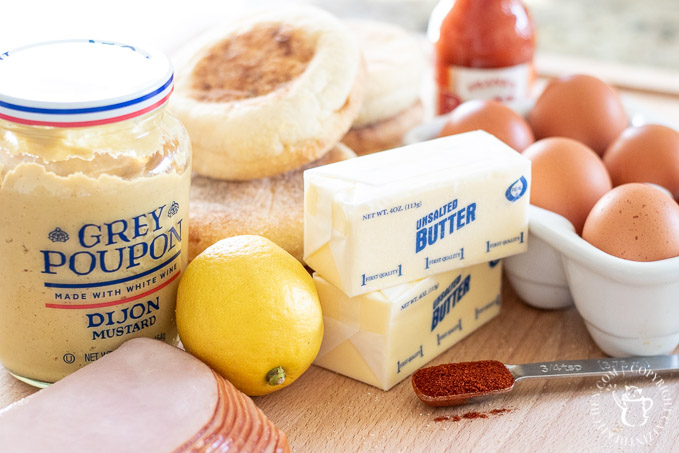 Two of our favorite blogs, Taste and Tell and The Pioneer Woman, both have easy blender hollandaise sauce posts, and while they're each quite excellent, I actually prefer Deborah's at Taste and Tell. The addition of a bit of Dijon mustard and a dash of hot sauce adds a delectable tang, and I've never had it turn out anything but mouthwateringly delicious
Now, the poached eggs on the other hand…well, hopefully you already know how to poach eggs. Excellent! Go forth and poach! And…if you don't…well, don't be afraid to try it. Ree Drummond (The Pioneer Woman) has a great tutorial on it, though I must admit, I don't find the swirling of the water particularly helpful. Personally, I find it easiest to get a pot of boiling water as hot as possible, crack in an egg, and then use a slotted spoon to help keep it together while it cooks for a moment or two. This is incorrect, I realize. The water is to be barely simmering, the eggs are to be completely fresh, or, if such eggs are not available, a poaching pan is to be used. I get it. I understand. I will try to get a poacher and correct my ways. In the meantime, I make this work. I've had poached eggs in a purportedly authentic (American) French boulangerie, so I'd like to think I know what they're supposed to taste like – these are basically there. They just take a bit of extra babysitting. And sometimes they're mildly disastrous. But, hey, if you lose one…throw in another!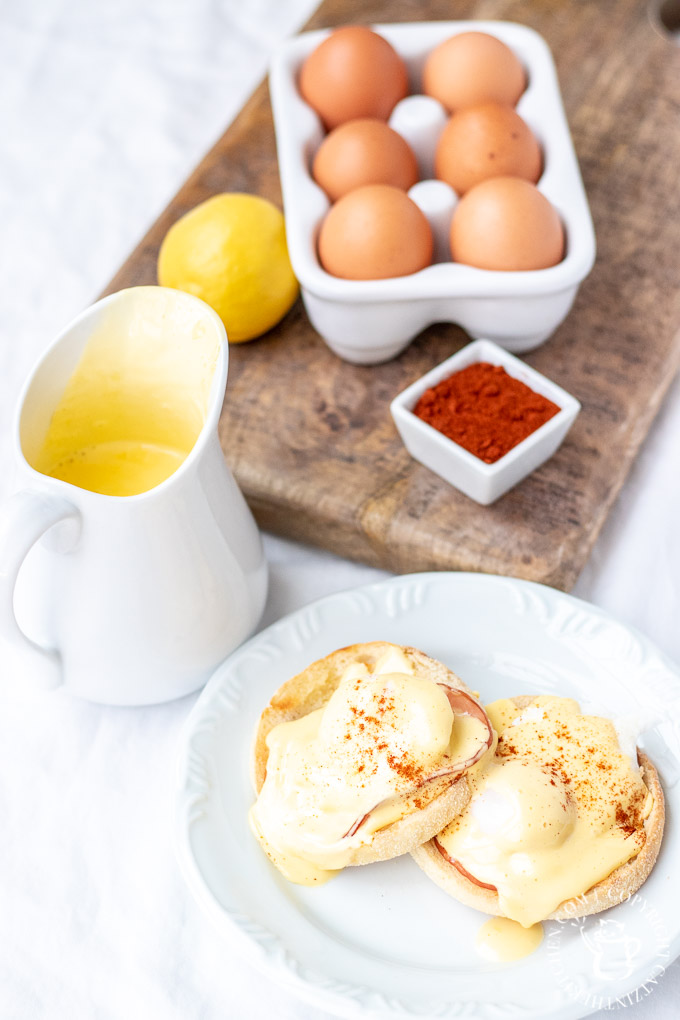 As an aside, you might wonder, as many do (do they, though?), where this delectable breakfast dish received its admittedly odd nomenclature. Honestly, to the best of my knowledge, there is no verifiable answer. There does exist, however, a letter claiming that in a 1942 issue of The New Yorker magazine, an interview with one Lemuel Benedict revealed the origin of this wonderful breakfast tradition. According to the letter writer, who claims to be a second cousin of Lemuel's, Mr. Benedict concocted the dish while ordering off-menu (You knew that ordering off-menu and off the menu mean opposite things, right? Sort of like flammable and inflammable meaning the same thing?) at the legendary Waldorf Hotel one morning in 1894. According to Benedict lore, the chef at the Waldorf was impressed enough with the meal to add it to his highly regarded menu, thus giving birth to decades of indulgent brunches everywhere.
True story or not, Eggs Benedict is generally one of the best breakfast dishes you can make, in my humble opinion. It's easy, relatively quick, inexpensive, and elegant. How many meals can you really say that about? So, what are you doing? Why are you still reading this? Go! Make hollandaise sauce! Poach eggs! Toast English muffins! Bask in the culinary marvel that is Eggs Benedict!
Easy Eggs Benedict
Just as good today as it apparently was at the Waldorf Hotel 120 years ago - just easier now - you've got to whip up this easy eggs benedict recipe!
Ingredients
3 English muffins, sliced
6 eggs
6 slices (about 5 oz) Canadian bacon
3 egg yolks
1/2 tsp Dijon mustard
1 tbsp lemon juice
dash of hot sauce
1/2 cup (1 stick) unsalted butter
pinch of paprika (smoked, if possible)
Instructions
Fill a large pot with water and bring it to a rolling boil.
Crack eggs into boiling water, poaching for approximately 2 minutes, or until yolks are light yellow and the white of the egg has cooked around the yolk. Remove poached eggs and place on plate. Allow water to continue to boil.
Melt butter in a small saucepan.
Blend egg yolks, lemon juice, Dijon mustard, and hot sauce for a few seconds in a blender, then, with blender running, slowly pour in very hot melted butter (be very careful – hot butter may splatter). Continue to run blender for a moment or two, until sauce becomes thick.
Spread a small amount of butter on English muffin halves. Broil English muffins and Canadian bacon for one or two minutes on high, or just until the edges of the muffins begin to brown. Remove from oven, and place English muffins on plates. Top with Canadian bacon.
Place poached eggs back in boiling water for about 10 seconds, then remove with slotted spoon, allowing excess water to drain back into the pan. Place one poached egg on each of the English muffins.
Top with hollandaise sauce, sprinkle very lightly with paprika, and serve immediately.
Nutrition Information:
Yield:

6
Serving Size:

1
Amount Per Serving:
Calories:

229
Total Fat:

13g
Saturated Fat:

4g
Trans Fat:

0g
Unsaturated Fat:

7g
Cholesterol:

292mg
Sodium:

423mg
Carbohydrates:

14g
Fiber:

1g
Sugar:

0g
Protein:

14g
Nutrition information isn't always accurate.